Story & Photos by Traveling While Black in Seattle
Hi everyone! We are Anthony and Marlie Love, the travel duo behind Traveling While Black in Seattle. We moved to Seattle in 2019 and have been visiting places around Washington State and sharing our experiences ever since.
We review our trips based on the drive from Seattle, level of fun, and how comfortable it was visiting as Black travelers. Below, you'll find some of our favorite destinations outside of Seattle that were comfortable and fun for us to explore.
This blog post was created in partnership with State of Washington Tourism. All thoughts and opinions are those of the author.
Bellingham
One of our earliest trips after moving to Seattle was a visit to Bellingham to celebrate Anthony's birthday. We planned the trip through Just Your Suitcase Personalized Travel Experiences, and it was an amazing experience. The owner, Scott, created an itinerary that was the perfect fun-filled day.
Our first stop was a morning hike up to Oyster Dome on Blanchard Mountain. It was long, but the views of the water and islands made it worth it. Next on the itinerary was lunch at the Horseshoe Café, which offered great food in a comfortable environment. After lunch, we checked into the historic Hotel Leo right in downtown Bellingham. They provided a welcoming and comfortable experience and even went above and beyond by having cupcakes and a birthday card waiting for us in the room.
As Black travelers, we felt comfortable throughout this Washington trip. We encountered other black people on the trail and in the city, and the people we encountered were friendly and welcoming. Walking through the city gave a very diverse and inclusive vibe.
We give our visit to Bellingham a 4/5 for Drive Grade, a 5/5 for Level of Fun, and a 5/5 for Comfortability for Black People.
>> Watch the Bellingham Episode
Walla Walla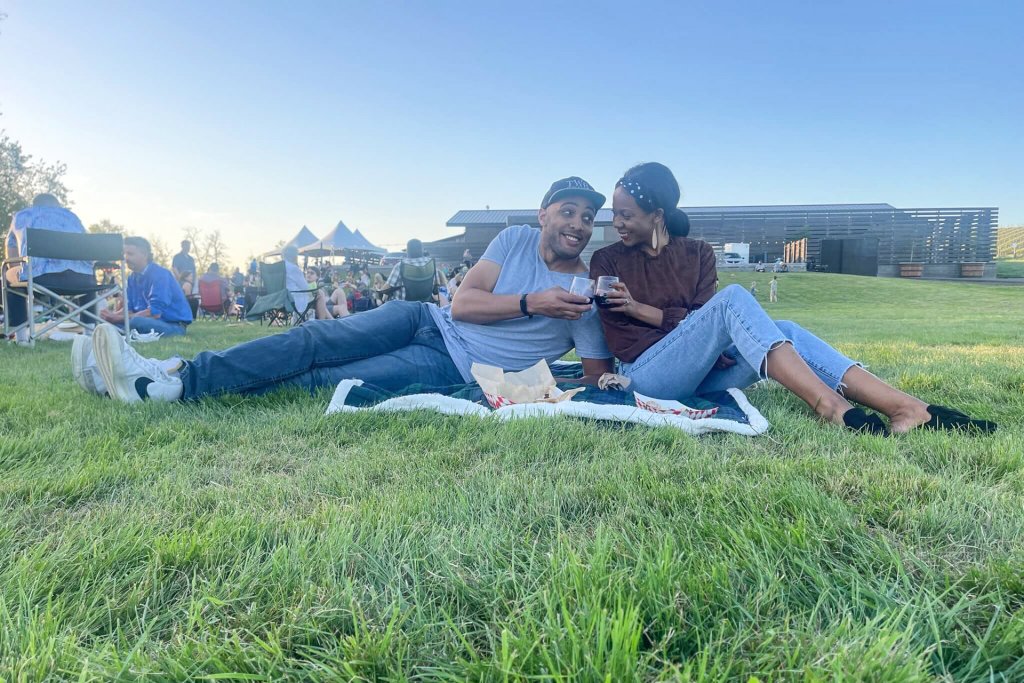 Walla Walla has to be one of our favorite cities! The wine, the people, and the beauty are unmatched. Since it's located in southeast Washington, the drive to Walla Walla took a little over 4 hours but was comfortable and had captivating views.
When it comes to the level of fun, Walla Walla doesn't disappoint. We stayed at The Wesley, which is within walking distance of downtown. The property offers a vacation within itself thanks to private patios with grills and cozy indoor lounges.
Walla Walla is known for wine, so we had our fair share of tastings. One unique experience was at Patterson Winery, where we not only enjoyed delicious wine but also had the opportunity to learn to play Pétanque, a lawn game. It was a blast. We also explored local history with a visit to the Fort Walla Walla Museum. Located on the grounds of a 19th-century military fort, the museum tells the story of the region and its Indigenous peoples. For restaurants, Bacon & Eggs is an amazing place for brunch, and AK's Mercado has a fun vibe with great breakfast tacos. We also loved Crossbuck Brewing and TMACS, which is great for a quick bite or date night.
Moreover, we were pleasantly surprised by the comfortability and warm hospitality we experienced as Black travelers to this part of Washington. The staff and locals made us feel genuinely welcome, and we were delighted by the number of other Black visitors we encountered. The small-town friendliness and random conversations with strangers added to the overall positive experience. We wholeheartedly recommend Walla Walla as a welcoming and comfortable destination for all.
We give our visit to Walla Walla a 5/5 for Drive Grade, a 5/5 for Level of Fun, and a 5/5 for Comfortability for Black People.
>> Watch the Walla Walla Episode
Vancouver
For this episode, we drove down to check out Vancouver WA (not to be confused with Vancouver, BC). The drive down from Seattle took us around 2.5 hours, but the smooth ride and scenic views made it quite enjoyable.
Our daytime exploration of Vancouver's downtown and waterfront pier was great, but the highlight of our trip was the Haunted Walking Tour hosted by the Clark County Historical Museum. Our tour guide, Brad Richardson, the executive director of the museum, took us on a spooky journey around the city, sharing stories of real-life haunting occurrences and the supernatural. We had goosebumps, but it wasn't too scary, so it's great for families with members aged 10 or above.
We were happy to find that everyone we interacted with was welcoming and proud to recommend things to do in their city. Moreover, we saw other Black people throughout the day, and they all had positive things to say about Vancouver.
We give our visit to Vancouver a 4/5 for Drive Grade, a 5/5 for Level of Fun, and a 5/5 for Comfortability for Black People.
>> Watch the Vancouver Episode
Yakima Valley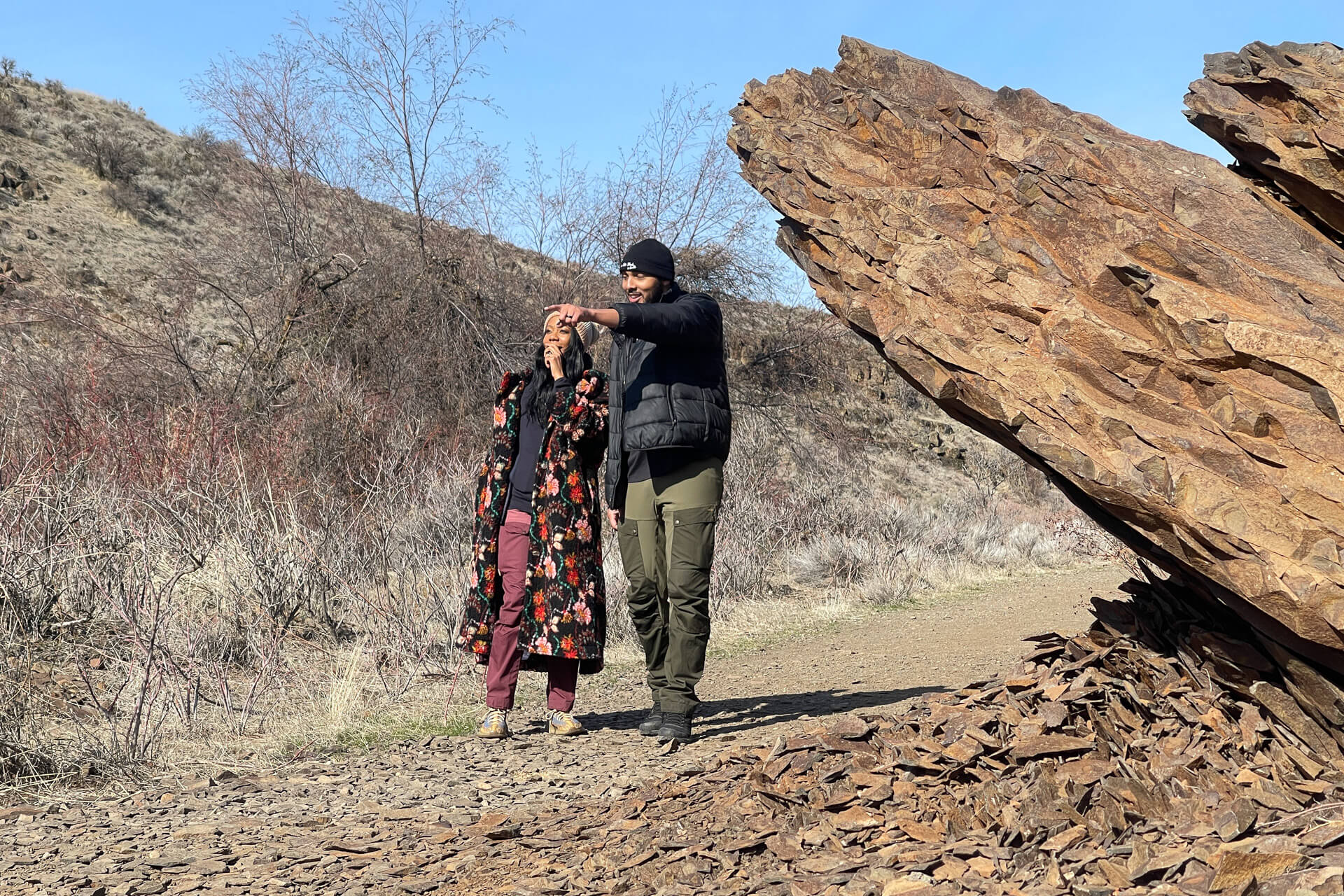 The Yakima Valley east of the Cascades is known for its top-notch breweries, amazing restaurants, and award-winning wine, and we were not disappointed during our visit. The drive from Seattle to the Yakima Valley was just under 2.5 hours, and the views along the way were breathtaking.
Being in the heart of Wine Country, we started our visit by having brunch at Treveri Cellars in the city of Wapato. Treveri is a family-owned sparkling wine house that provides tastings and tours of the property. Next, we chose to check out the Cowiche Canyon Trail. The flat rocky path runs along Cowiche Creek and in between cool rock formations that were created by volcanic lava flows millions of years ago. Walking the trail almost felt like we were walking on a different planet.
We even got a chance to experience an amazing couples' massage at the Ummelina Yakima Valley Spa Retreat downtown. Overall, we had a fantastic experience exploring the Yakima Valley. We enjoyed learning about the different cultures in the area and the people we encountered at the places we went were friendly and welcoming. The warm weather, great food and wine, and beautiful landscapes make it a perfect destination for outdoor lovers.
We give our visit to the Yakima Valley a 5/5 for Drive Grade, a 5/5 for Level of Fun, and a 4/5 for Comfortability for Black People.
>> Watch the Yakima Valley Episode
Spokane
Spokane is located on the eastern side of the state and has a lot to offer. The first time we went to Spokane was during the summer (view the summer episode here), and we also went back and visited in winter so you can see what to expect no matter what season you visit.
Despite the long 4-hour drive from Seattle, the views were amazing, even in the winter. It's important to note that when traveling through Snoqualmie Pass, it's always best to check the conditions ahead of time.
During this visit, we checked out First Avenue Coffee, where we tasted some delicious organic coffee. Our next stop was Riverside State Park near downtown. With 14,000 acres and 55 miles of hiking trails, it's a nature lover's paradise. We were excited to see the popular Bowl and Pitcher entrance, which leads to a suspension bridge with stunning views of the river and nature.
Next, we headed back into the city to check out No-Lie Brewery. They offer a range of beers and even offer a full-service dining experience with views of the Spokane River. We can recommend everywhere we went because the people we encountered were friendly and welcoming.
We give our visit to Spokane a 4/5 for Drive Grade, a 5/5 for Level of Fun in Winter, and a 4/5 for Comfortability for Black People.
>> Watch the Spokane (Winter) Episode
Olympia
We wanted to see what Washington's capital city had to offer and visited during their LoveOly Summer Festival. The festival promised live music and interactive art exhibits, and it did not disappoint.
When we went, the journey to get there was a bit of a hassle due to traffic and highway work, but once we arrived, we had fun! The festival had a carnival vibe with street performers and activities for both kids and adults, and the Biergarten offered local seasonal brews and a great location near the performance stage. In addition to the festival, we also took the time to explore the waterfront and the Olympia Farmers Market, which offered an abundance of food options.
What surprised us the most was how comfortable Washington's capital is for Black travelers. We were delighted to see the number of Black faces we encountered during our visit and even had the opportunity to speak with some of them to learn about their experiences in the city. It was heartwarming to hear their positive experiences, and it made us feel even more comfortable throughout our visit.
Overall, our visit to Olympia was a fantastic experience, and we highly recommend it.
We give our visit to Olympia a 3/5 for Drive Grade, a 5/5 for Level of Fun, and a 5/5 for Comfortability for Black People.
Lake Chelan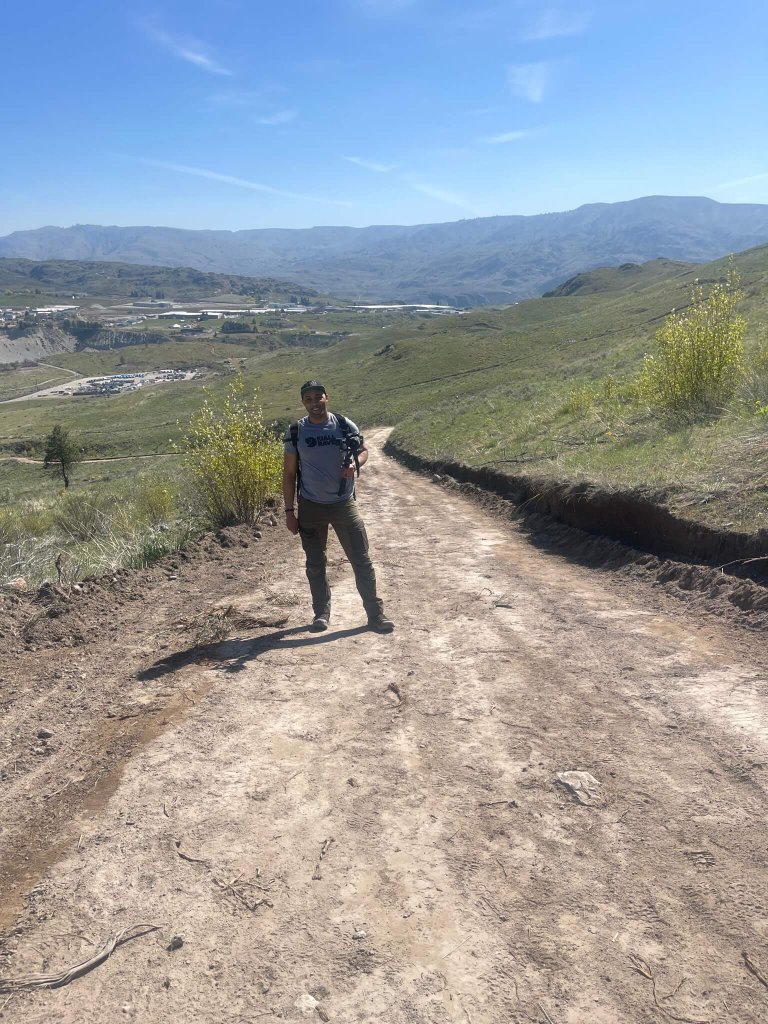 Located in the middle of Washington, Lake Chelan is an area known for its trails and lakes. It is the third deepest lake in the U.S. and offers a range of outdoor activities like boating, fishing, and hiking. The drive to Lake Chelan from Seattle is just under 3 hours and the views are breathtaking.
We stayed at Grandview On The Lake, which offers deluxe condominiums and suites with direct access to the lake. We did a lot of relaxing, but we also checked out the easy River Loop Trail in Chelan Riverwalk Park and Elephant Head Trail, which offers a spectacular payoff view. The hike starts steep but eventually evens out to a gradual climb. We recommended going in the morning before it gets too hot.
You can't go to Lake Chelan without trying the wine. We stopped by Cairdeas Winery in the town of Manson for wine tasting with spectacular views. We also had some great food during our visit. Sorrento's Ristorante at Tsillan Cellars and The Bistro at Lake Chelan are both great options for a date night. We are still thinking about our meals at these places!
We give our visit to Lake Chelan a 5/5 for Drive Grade, a 5/5 for Level of Fun, and a 5/5 for Comfortability for Black People.
>> Watch the Lake Chelan Episode
Vashon Island
Vashon Island sits in Puget Sound, and to get there we took the Fauntleroy Ferry from West Seattle. The drive to the ferry wasn't bad, but the wait to board the ferry was long. Nevertheless, the ferry ride was smooth, and we were comfortable staying in our car.
Once we arrived at Vashon, our first stop was The Hardware Store for lunch. The food and service were great, and we felt comfortable in the restaurant. We then went to Anu Rana's, a locally owned coffee shop, where the owners were very friendly. Our next destination was the Vashon Cultural Arts Center, where we checked out a powerful gallery of 24 large portraits of Black people who were wrongfully killed, exhibited outside of the building. The exhibit was both awesome and heartbreaking.
We then headed to Point Robinson Lighthouse, which offers stunning views of the East Passage, Tacoma, and Mount Rainier, as well as walking trails and picnic tables. We ended our day by getting some takeout from Gravy, a Black-owned restaurant that offers American food with Southern and French influences.
We give our visit to Vashon Island a 3/5 for Drive Grade, a 5/5 for Level of Fun, and a 5/5 for Comfortability for Black People.
>> Watch the Vashon Island Episode
Winthrop (Methow Valley)
We were eager to explore this part of Okanogan County, fondly called Okanogan Country by the locals. From the county seat Okanogan to the quaint town of Winthrop in the Methow Valley, we embarked on an unforgettable Wild West adventure.
Our road trip to Winthrop was quite the ride, taking us around 4.5 hours through multiple highways. But the stunning mountain views along the way more than make up for the lengthy drive. Upon reaching Winthrop, we checked into the charming Mount Gardner Inn, a cozy family-run hotel that truly captures the Old West vibe. But y'all know we couldn't be in a Western-themed town without getting our cowboy and cowgirl on! So, we saddled up at JD Outfitters for a horseback ride through the Methow Valley. The ride included a quick lesson, and we transformed into bona fide cowboys and cowgirls in no time.
Next, we sampled delicious offerings at Methow Valley Ciderhouse. The highlight, though, was joining the locals at the Earth Day Celebration at Doran Ranch in Twisp. The event was great, with food trucks, games, and live music. We truly felt like part of the community!
You know what really struck us during our trip? The genuine warmth and friendliness of the people. Despite being among the few Black travelers we noticed, we were welcomed with open arms. Greetings at the Farmers Market and the Earth Day Celebration made us feel right at home. Plus, finding BIPOC-owned businesses like Methow Valley Ciderhouse gave us a sense of inclusivity in the community.
We give our visit to Winthrop (Methow Valley) a 4/5 for Drive Grade, a 5/5 for Level of Fun, and a 5/5 for Comfortability for Black People.
>> Watch the Winthrop (Okanogan) Episode
Port Angeles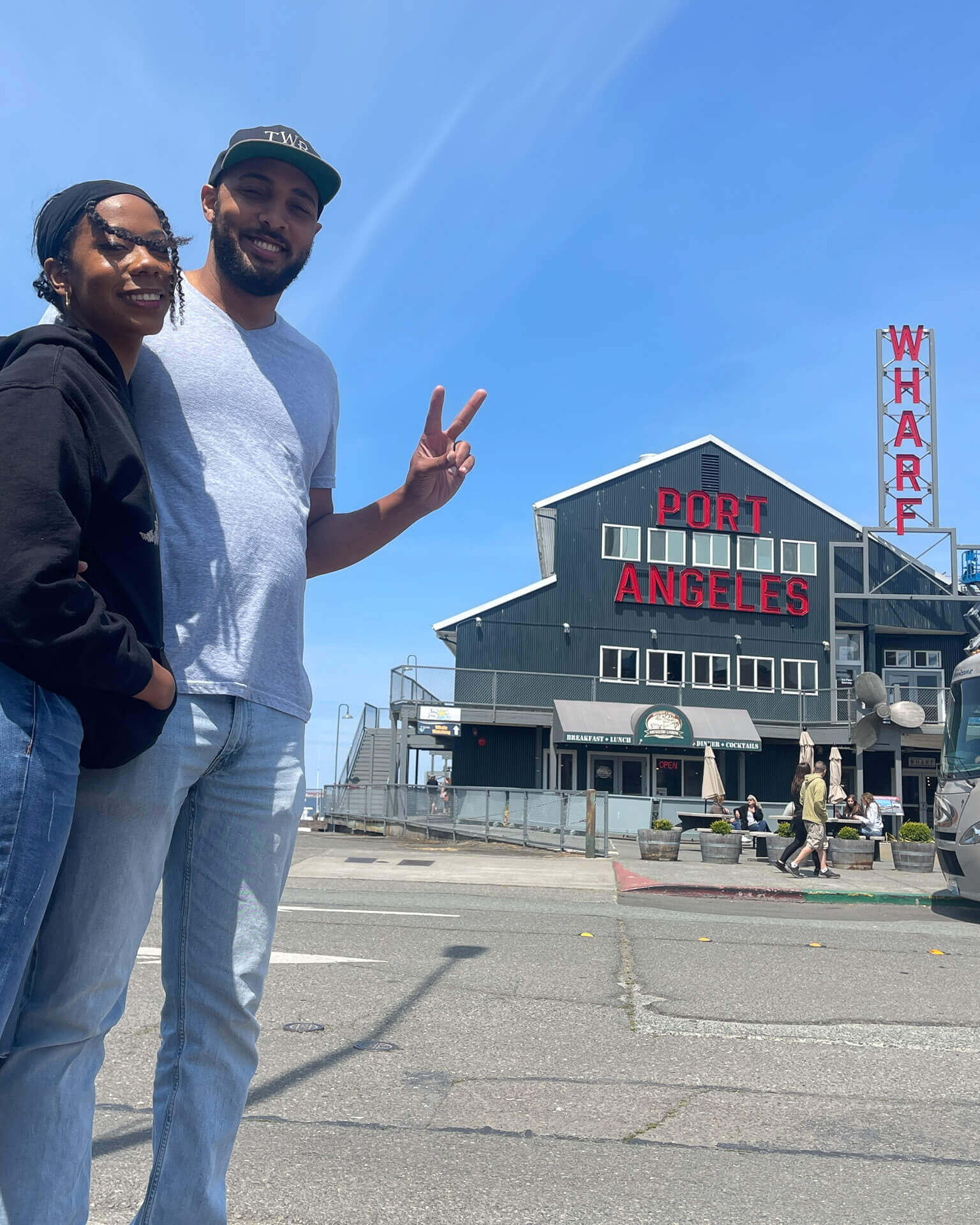 Situated on the northern coast of the Olympic Penisula, Port Angeles offers breathtaking views of the Olympic Mountains and the Strait of Juan de Fuca. The average travel time is around 2.5 hours, but we opted for the scenic route by taking the Edmunds/Kingston Ferry. While this extended our journey to more than 3 hours, the ferry ride provided stunning views and made the trip more enjoyable.
Known for its proximity to Olympic National Park, Port Angeles is a haven for outdoor enthusiasts. On this visit, our primary focus was on immersing ourselves in the city's rich history. We began with the Port Angeles Underground Heritage Tour. Led by our knowledgeable guide, Steve, we explored the underground tunnels and former establishments of Port Angeles. This two-hour tour provided us with fascinating insights, including the city's ambitious endeavor to elevate its downtown streets in the early 1900s.
Following the tour, we visited the Elwha Klallam Museum, a significant cultural institution run by the Lower Elwha Klallam Tribe. Here, we learned about the Indigenous peoples of the Olympic Peninsula and gained a deeper understanding of the region's heritage. These experiences added a layer of fun and enrichment to our trip.
Throughout our visit, we were pleased to find a welcoming and inclusive atmosphere for Black travelers in this coastal Washington city. From the restaurants and shops to the interactions with locals, we felt comfortable and accepted. Moreover, we were pleasantly surprised to encounter other Black individuals during our time in Port Angeles. This inclusivity and diversity made our experience even more enjoyable.
Overall, Port Angeles offers a delightful blend of natural beauty and cultural exploration. Additionally, don't miss the opportunity to rent an E-Bike from Discover E-Bikes, allowing you to explore the nearby beaches and landscapes.
We give our visit to Port Angeles a 4/5 for Drive Grade, a 4/5 for Level of Fun, and a 4/5 for Comfortability for Black People.
>> Watch the Port Angeles Episode
Leavenworth
Although this Bavarian-style town is famous for its Christmas decorations, we decided to visit in the off-season. The drive is a bit over 2 hours, and as we drove through the pass, we were blessed with spectacular views.
We stayed overnight at the Sleeping Lady Mountain Resort, which was a great experience. The resort was beautifully built, and each cluster of cabins was named after something in nature. We decided to take a bike tour with Bavarian E-Bike Tours. It was a 16-mile tour that took us through beautiful scenery while learning about the town's history and landmarks. We stopped occasionally to take pictures, soak in the scenery, and catch a rest if needed. Overall, we had a lot of fun and learned a lot about the town.
The town is welcoming to all visitors, and we felt no discomfort during our visit. We think Leavenworth is worth a visit any time of year for fantastic views, great lodging, and fun activities.
We give our visit to Leavenworth a 5/5 for Drive Grade, a 5/5 for Level of Fun, and a 5/5 for Comfortability for Black People.
>> Watch the Leavenworth Episode
Ocean Shores
Our first visit to Washington's coast was to Ocean Shores. Living in Seattle, sometimes we forget how close we are to the Pacific Ocean. The drive to Ocean Shores was just over 2 hours, and we got to see different towns with their own unique character.
Upon arriving in Ocean Shores, we were immediately greeted with tons of activities, such as shopping, moped rentals, and even go-karting. But the thing that we were most excited about was experiencing the beach. It was chilly when we visited in July, but with a hoodie, shorts, leggings, a hat, and some shades, we were good to go. And let us tell you, the view of the endless blue sky, sand, and ocean was breathtaking. We had a blast just chilling by the ocean, enjoying the views, and dipping our toes in the water.
What's more, we felt comfortable throughout the day, seeing other Black people, and even the local grocery store staff were really friendly. Ocean Shores is definitely a place we recommend everyone check out at some point, especially Black travelers in Washington.
We give our visit to Ocean Shores a 4/5 for Drive Grade, a 5/5 for Level of Fun, and a 5/5 for Comfortability for Black People.