Nestled in the eastern foothills of the North Cascades, the valley stretches from Mazama to Pateros and includes Winthrop, Twisp, Carlton, and Methow.
Many people make the larger towns of Twisp and Winthrop their base for exploring the area, but there are plenty of options for lodging throughout the Methow Valley, including the Freestone Inn in Mazama and Sun Mountain Lodge outside Winthrop. No matter the location or time of year, visitors will find easy access to exciting outdoor activities, great dining, and a thriving arts scene.
Metho Valley in the Spring
Spring in the Methow Valley is announced by yellow arrowleaf balsamroot flowers popping up on almost every hillside and hiking trails reemerging as the weather warms. The valley is home to a sprawling network of trails for every fitness level. In general, trails are snow-free from early May to November. Most Methow Valley trails are dog-friendly, although four-legged friends are not permitted on trails in North Cascades National Park.
For those who prefer to get out and about on two wheels, the Methow Valley offers superb mountain bike trails, while road cyclists can enjoy hundreds of miles of back roads.
The spring and early summer season is also a fantastic time for bird watching. Be on the lookout for waterfowl, raptors, grouse, woodpeckers, hummingbirds, and passerines.
Methow Valley in the Summer
In the summer, the stunning North Cascades Highway with its Alps-like views is open and lined with sightseers, and Old-West Winthrop polishes its cowboy boots to welcome them. The Methow Valley Rodeo is here on both Memorial and Labor Day weekends, while in mid-July the Winthrop Rhythm and Blues Festival draws music lovers for a three-day event.
Visitors craving outdoor recreation and adventure are spoiled for choice, with fishing, camping, horseback riding, river rafting, rock climbing, and more at their fingertips. Those looking to avoid the summer crowds can head north to the remote Pasayten Wilderness, which covers more than 500,000 acres and includes at least 160 bodies of water.
Nearby swimming holes such as the Methow River beachfront in Carlton or Pearrygin Lake near Winthrop provide the perfect place to beat the summer heat.
Methow Valley in the Fall
Fall is the perfect time to soak in the spectacular changing foliage colors from a hike or drive. Hikers head for the alpine zone to admire the larch trees that punctuate the evergreens with bursts of color and to look for the first dusting of snow on craggy peaks.
Early fall is a great time to visit the nearby Enchantments area in the Alpine Lakes Wilderness, as you're likely to find fewer crowds. Due to the area's popularity, permits are required for both overnight and day use. Just be aware that snow on the ground is likely in September and October.
Many of summer's popular activities, from horseback riding and golfing to water sports, are on offer but with a fraction of the crowds. Although days are getting shorter, the weather still invites visitors to dine outdoors at the valley's many restaurants or enjoy a flight at the Old Schoolhouse Brewery.
Taste your way through farmers' markets sampling local produce, cheese, and more. At the Methow Valley Farmers Market in Twisp and the Winthrop Market, open early April through October, visitors will come away with fat squash, leafy kale, and crisp apples.
Methow Valley in the Winter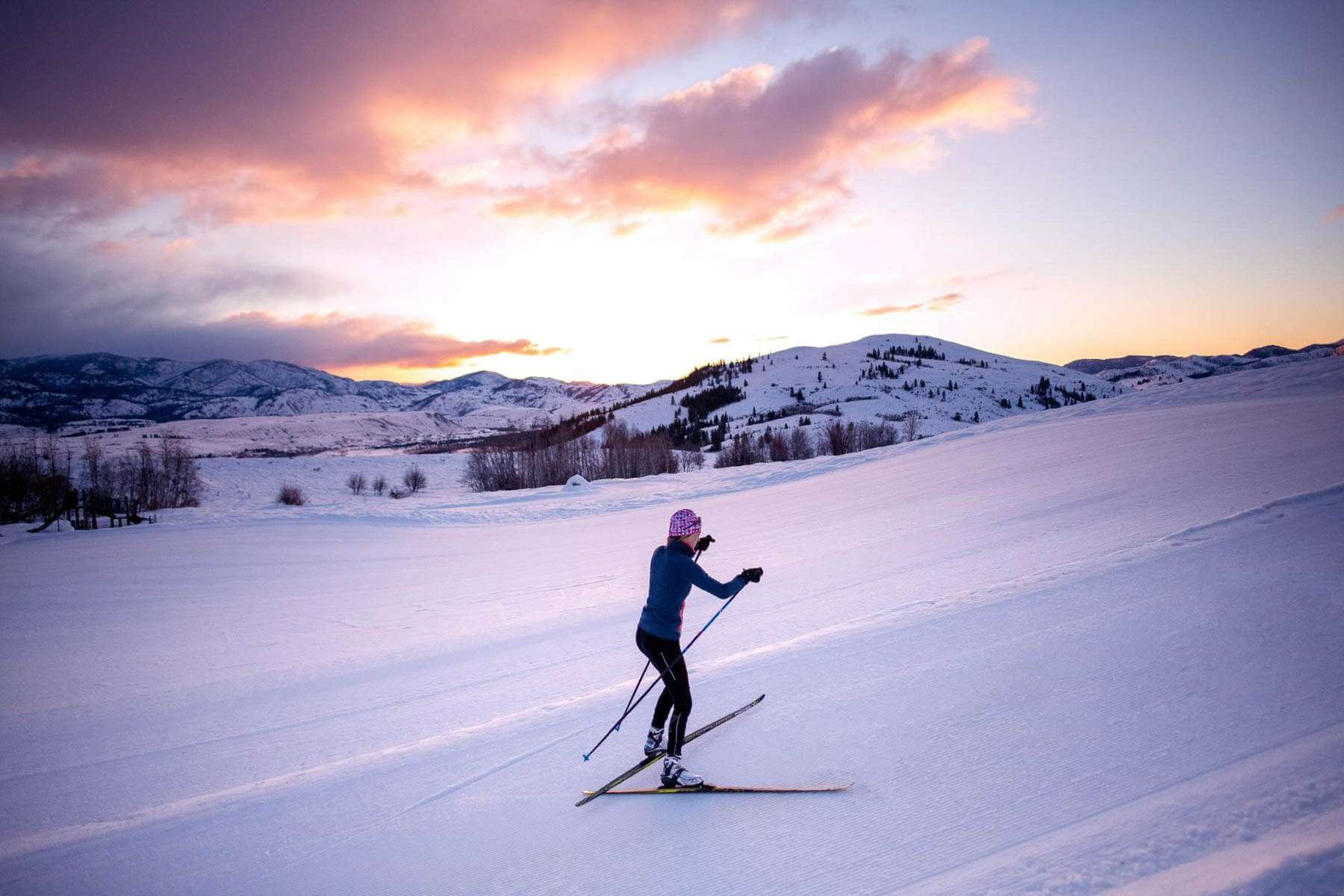 Come winter, the valley transformers into a magical wonderland complete with snow-covered peaks and clear, bluebird days. Winter sports enthusiasts will love exploring the network of 130 miles of trails maintained by the Methow Valley Sport Trails Association, which bills the area as the largest cross-country trail system in North America. Visitors will also find options for fat biking and snowshoeing.
Just 15 miles east of Twisp, the tiny downhill ski resort of Loup Loup Ski Bowl offers a low-key experience. With one quad chairlift and a poma lift, Loup Loup Ski Bowl draws locals aplenty but precious few crowds.
Winter is also a great time to curl up inside with a good book at one of the many lodging options or experience the valley's thriving arts, music, and theater scene. The Methow Valley is home to several wonderful local galleries, including Winthrop Gallery, The Confluence, and TwispWorks. History buffs will enjoy the Methow Valley Interpretive Center and Shafer Historical Museum.
In early March, the three-day Balloon Roundup is a photographer's dream. Watch as the skies over Winthrop fill with dozens of hot-air balloons. While many balloon rallies are held in summer months, this festival allows visitors to also experience the Methow Valley's fantastic winter recreation.