By Andrew Collins
Crisscrossed by dramatic waterways, including the mighty Columbia River, and dotted with thousands of lakes of all sizes, Washington offers plenty of freshwater swimming holes, both beloved and hidden. You can find everything from shallow pools perfect for young kids to bracing, glacially fed streams that'll cool you down after a hike. The options are endless.
Western Washington Swimming Holes
Battle Ground Lake
Situated within an ancient volcanic caldera in the foothills of the Cascade Mountains, serene Battle Ground Lake is the focal point of a densely forested state park that's ideal for a quick day trip from Vancouver (20 miles away) or a peaceful camping adventure. Swimmers appreciate the calm, spring-fed waters, while families like the gentle wading beach and playground. Stocked with trout, this is one of the area's top fishing holes too.
Lower Lewis River Falls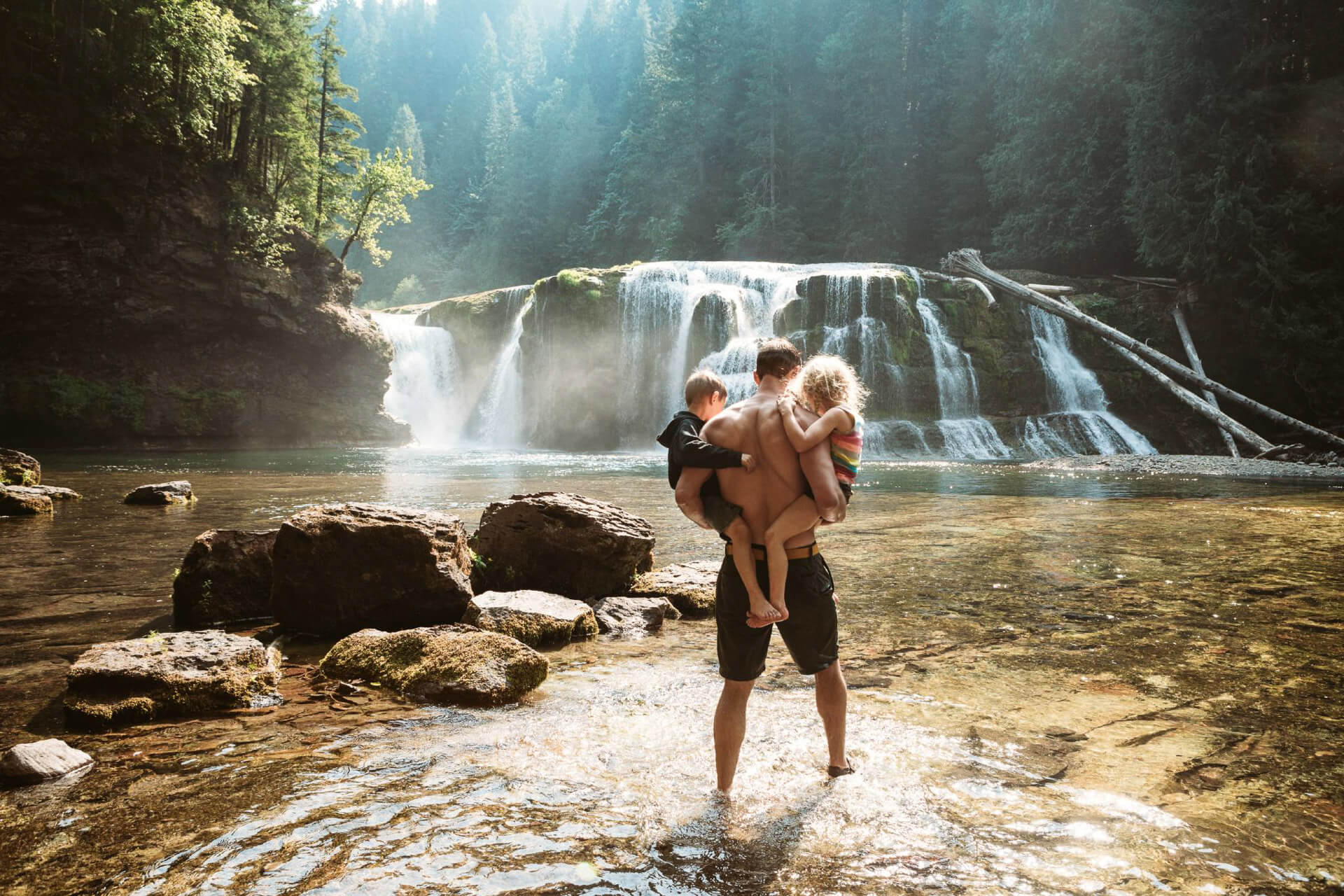 Allow about an hour to make the picturesque 40-mile drive from Carson through the old-growth woodlands of Gifford Pinchot National Forest to reach Lower Lewis River Falls. The dramatic falls span some 200 feet—even the best photos can't quite convey what it's like to view it in person. For the chance to cool off in the swimming hole at the base of the falls, you can park in the adjacent day-use lot or hike here via a gorgeous 6.3-mile out-and-back trek on Lewis River Trail #31. Note that parking is by advance reservation only from mid-June to mid-September.
Related: 10+ Gorgeous Waterfalls in Washington
Cranberry Lake
You'll find Whidbey Island's loveliest freshwater swimming hole on the western shore of Cranberry Lake. It's a favorite feature of Deception Pass State Park, which is also famous for its dramatic cantilever bridge that carries vehicles over a narrow 180-feet-deep gorge. In fact, from Cranberry Lake's designated swimming beach, you're just a 200-foot stroll to the driftwood-strewn shore of Puget Sound. Keep an eye out for raptors and seabirds!
Rock Quarry Pool
In the charming town of Tenino, roughly midway between Olympia and Centralia, you can dive into the emerald waters of Rock Quarry Pool, which was created from an old sandstone quarry that operated in the late 1800s. The bracing 58-degree pool has two sections, both with lifeguards: a shallow side that's appropriate for kids and a deep side that reaches depths of 90 feet.
Note that as of summer 2023, the pool was closed for renovations but is expected to reopen sometime in late 2023. Check the website before you go.
Lake Whatcom
The rippling blue-green waters of Lake Whatcom stretch for about 10 miles from Bellingham and offer plenty of swimming holes. Wade in from the quiet, wooded shoreline of Lake Whatcom Park, which boasts a meandering trail with easy access to the lake, or dive off the docks at Bloedel Donovan Park, a bustling green space offering myriad recreational amenities.
Related: Insider's Guide to Bellingham
Rocky Brook Falls
Less than a 10-minute drive from gorgeous Highway 101 on the west side of Hood Canal, the refreshing pool at the base of 220-foot Rocky Brook Falls is an excellent swimming hole in Washington. It's particularly dramatic—if a tad chilly—during the spring snowmelt. You may spy salmon swimming in these pure waters. A short drive away, the famous shellfish restaurant Hama Hama Oyster Saloon is a memorable place to refuel after your swim.
Madison Park Beach, Lake Washington
Drawing a diverse and spirited crowd of families, students, LGBTQ+ folks, digital nomads, and others, Madison Park Beach flanks an alluring 400-foot span of Lake Washington on Seattle's east side. Set your blanket on the grassy lawn, set up a picnic lunch from one of the nearby restaurants, and swim out to take in the views. Lifeguards are on duty in the summer months.
Lake Cushman
This spectacular oasis nestled within the mossy, rugged Olympic National Forest is one of the largest freshwater bodies of water on the Olympic Peninsula. As you swim in glacially carved, turquoise Lake Cushman, take in the eye-popping views of snowcapped Mount Ellinor and the lush surrounding canopy of firs, cedars, and hemlocks. The best point for entering the water is Skokomish Park Beach, which is just 7 miles up a twisting mountain road from Highway 101 in Hoodsport.
Central and Eastern Washington Swimming Holes
Bear Lake
Join outdoorsy folks of all ages at peaceful Bear Lake, a hidden gem that anchors a 166-acre woodland park with pine-shaded hiking trails, picnic tables and grills, and a laid-back swimming beach. The lake's spring-fed waters are clean and cool and also attract paddlers and fishing enthusiasts. Although this pastoral Washington swimming hole feels a world away from civilization, it's just 20 miles north of downtown Spokane.
Methow River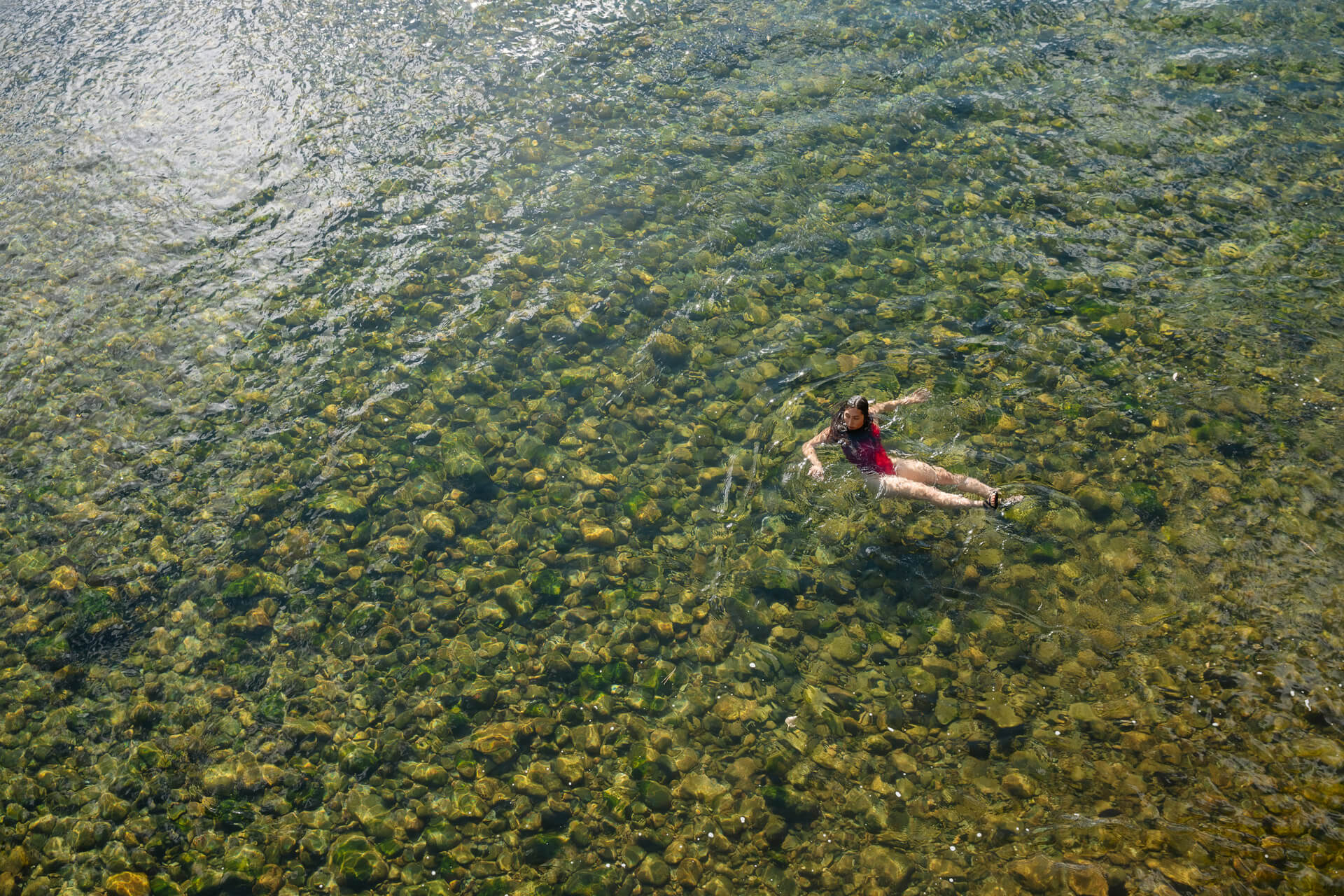 Originating in the craggy mountains just east of North Cascades National Park and accessible from twisting Highway 20, which is part of the fabled Cascade Loop scenic driving route, the Methow River ranks among the most pristine bodies of water in the state. On its 80-mile journey east to the Columbia River, it offers numerous spots close to the road to hop in for a refreshing dip, many of them in the outdoorsy hamlet of Mazama (with its famous general store) and the Old West–inspired town of Winthrop. This crystal-clear waterway is also a fave for rafting and float trips.
Related: Discover Year-Round Fun in the Methow Valley
Bradbury Beach, Lake Roosevelt
Rarely crowded even on summer weekends, Bradbury Beach is one of the prettiest and most accessible swimming areas along the shore of Lake Roosevelt, which is actually a 125-square-mile impounded section of the upper Columbia River stretching from Grand Coulee Dam to the Canadian border. Just off Highway 25 and near the cute logging and farming town of Kettle Falls, this crescent of sand borders a grassy area with grills and picnic tables.
Bumping Lake
At an elevation of nearly 3,500 feet above sea level, Bumping Lake offers the perfect opportunity for a bracing swim on hot days in the sunny Yakima Valley, which lies about 40 miles east. It's also a popular camping destination. Located about 10 miles off Highway 410, this secluded alpine lake is one of the more secluded swimming holes in Washington State. It's surrounded by breathtaking hiking and mountain biking trails and greatly appeals to those looking to unplug and commune with nature.
Related: Where to go Camping Throughout Washington
Illia Dunes
Beat the heat by taking a dip at Illia Dunes, a 150-acre recreation and wildlife area on a broad bend of the Snake River, just downriver from Lower Granite Dam Fish Ladder Visitor Center. The rolling, grassy hills of the Palouse form the backdrop at this shallow swimming area popular with Washington State University students in Pullman. Pack sunscreen, water, and a beach hat or umbrella, as there's no natural shade at this sun-kissed oasis.
Kachess Lake
Quiet, minimally developed, and surrounded by forested hillsides, Kachess Lake is surprisingly easy to get to—it's just a few miles north of Interstate 90 and Lake Easton State Park, between Ellensburg and Seattle. The best spot to dip your toes in the cool alpine waters is at the southern tip of this fjord-like 400-foot-deep lake that curves for about 10 miles north, deep into the primordial wilderness of Okanogan-Wenatchee National Forest. Kachess boasts a picturesque campground and is also a prime location for fishing and paddling. Keep in mind that though it draws more crowds, Lake Easton also has a pretty swimming beach.
Related: Best Places for Kayaking in Washington
Sacajawea Historical State Park
Located at the confluence of the Columbia and the Snake rivers in Pasco, this park is popular for swimming thanks to its generally calm and shallow waters. After taking a dip, you can view exhibits about the Lewis and Clark Corps of Discovery expedition and the region's Sahaptian-speaking Indigenous tribes at the Interpretive Center. It's a centerpiece of the 267-acre Sacajawea Historical State Park, which also contains a related art installation designed by Maya Lin that's part of the Confluence Project.
Tips for Safe Swimming in Washington
Summer through early autumn is the prime season for enjoying the swimming holes of Washington State, but quick forays into some of the state's waters can be enjoyable even during the cooler months.
Be sure to observe posted rules and realistically assess your ability with respect to water temperatures, currents, and depths. Many popular swimming areas aren't staffed by lifeguards. Avoid swimming alone, and always keep an eye on kids and less experienced swimmers. And in these often-cool Washington waters, take it slow, consider using a lifevest or floating device, and stay close to the shore.
For more information, check out these water safety tips from Recreate Responsibly.