From cascading waterfalls surrounded by lush green moss in the west to thundering falls in dry canyons in the east, there are plenty of areas to see waterfalls in Washington State. Here are some fantastic falls that should not be missed.
Where to Find Epic Waterfalls in Washington
Snoqualmie Falls
Snoqualmie
Plunging 268 feet down a cliff, these stunning falls near Snoqualmie famously appeared in the television series "Twin Peaks" and are a sight to behold. One of the state's most famous waterfalls, Snoqualmie Falls is also one of the easiest to visit. Only 30 miles from Seattle, the area features two observation points and is family- and pet-friendly.
In addition to taking in this iconic view, visitors can also learn about Indigenous culture and the history of the falls, which are protected by the Snoqualmie Tribe.
Nooksack Falls
North Cascades, Mount Baker area
Located off Mount Baker Highway in the northwest corner of the state, Nooksack Falls plummets 88 feet in two segments down the North Fork of the Nooksack River. Less than a mile from the road, watch the clear aqua-hued waters spill over the edge of a jumbled mass of dark rock. Visitors to the area can also explore nearby North Cascades National Park.
Marymere Falls
Olympic National Park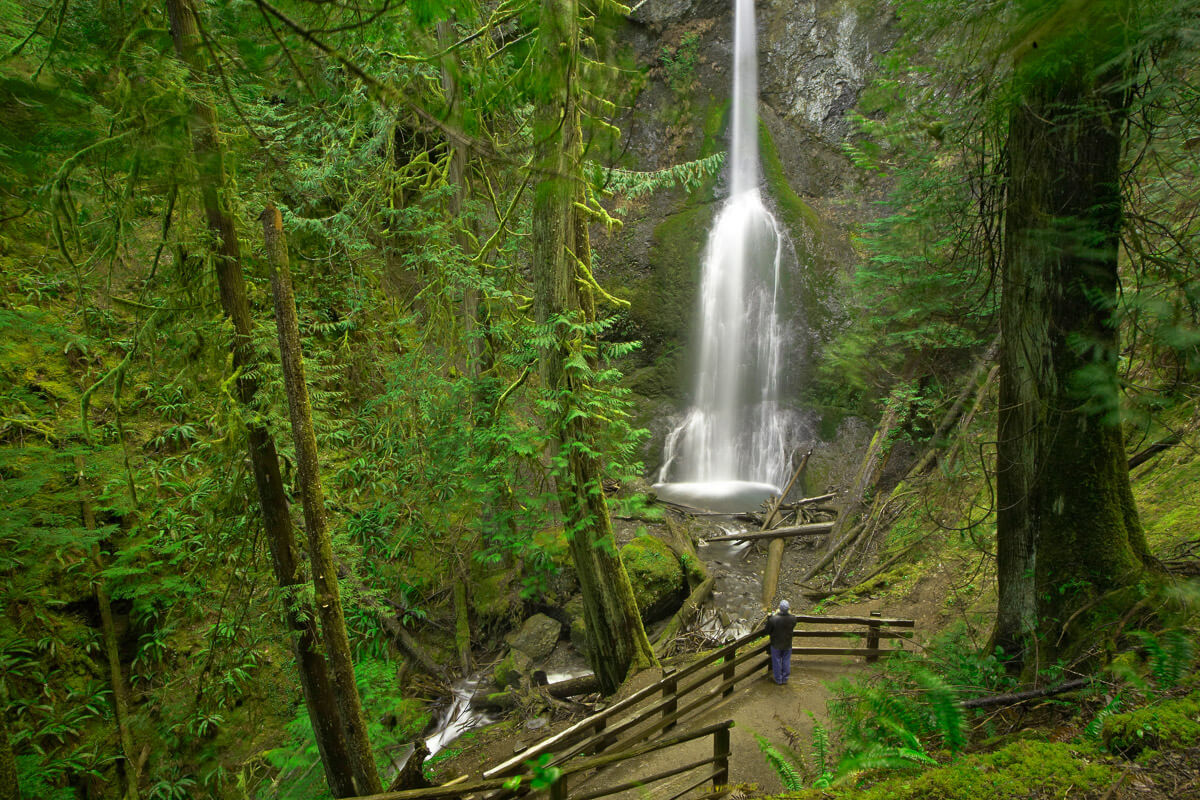 This roaring waterfall, sometimes partially frozen in the deep winter, cascades nearly 100 feet into a narrow basin. Check out the falls from a terracing loop trail with both upper and lower viewpoints. The densely forested trail — shrouded in old conifers with an understory of ferns — can be accessed from the Storm King Ranger Station, as well as the historic Lake Crescent Lodge. With minimal elevation gain, this waterfall is a great choice for families.
See Also: Family Friendly Winter Hikes
Spokane Falls
Spokane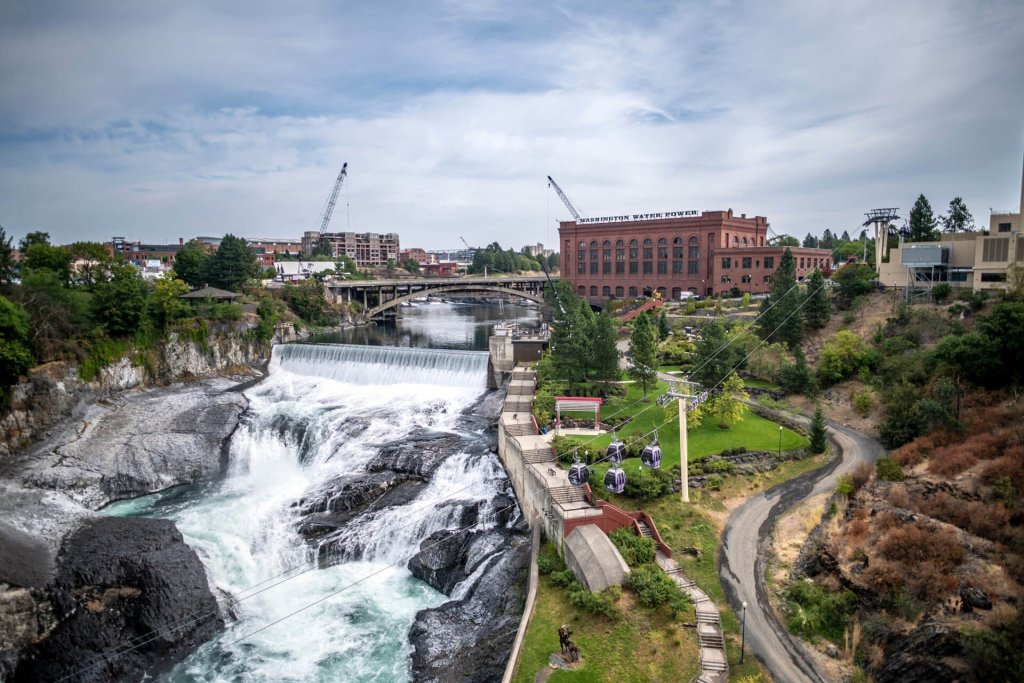 Winding through Spokane in Eastern Washington, Spokane Falls is the largest urban waterfall in the United States. Visitors can take in the falls from multiple spots on land, such as at Riverfront Park, Huntington Park, or from pedestrian suspension bridges. For a birds-eye view, consider a 20-minute ride on the SkyRide gondola cable car. Time your visit for late spring when the mountain snow runoff is at its peak. It's easy to see why Native American tribes consider the place sacred.
Angel Falls & Covel Creek Falls
Lewis County Near Randle
See two beautiful waterfalls during one hike with this route near Randle in Gifford Pinchot National Forest. The Angel Falls Loop includes a stop by Covel Falls (also known as Curtain Falls). Enjoy a walk through dense, peaceful forest before arriving at the first falls. For a more stunning view, continue on to Angel Falls, which cascades over a series of granite slabs before reaching Covel Creek.
Palouse Falls
Eastern Washington, near Starbuck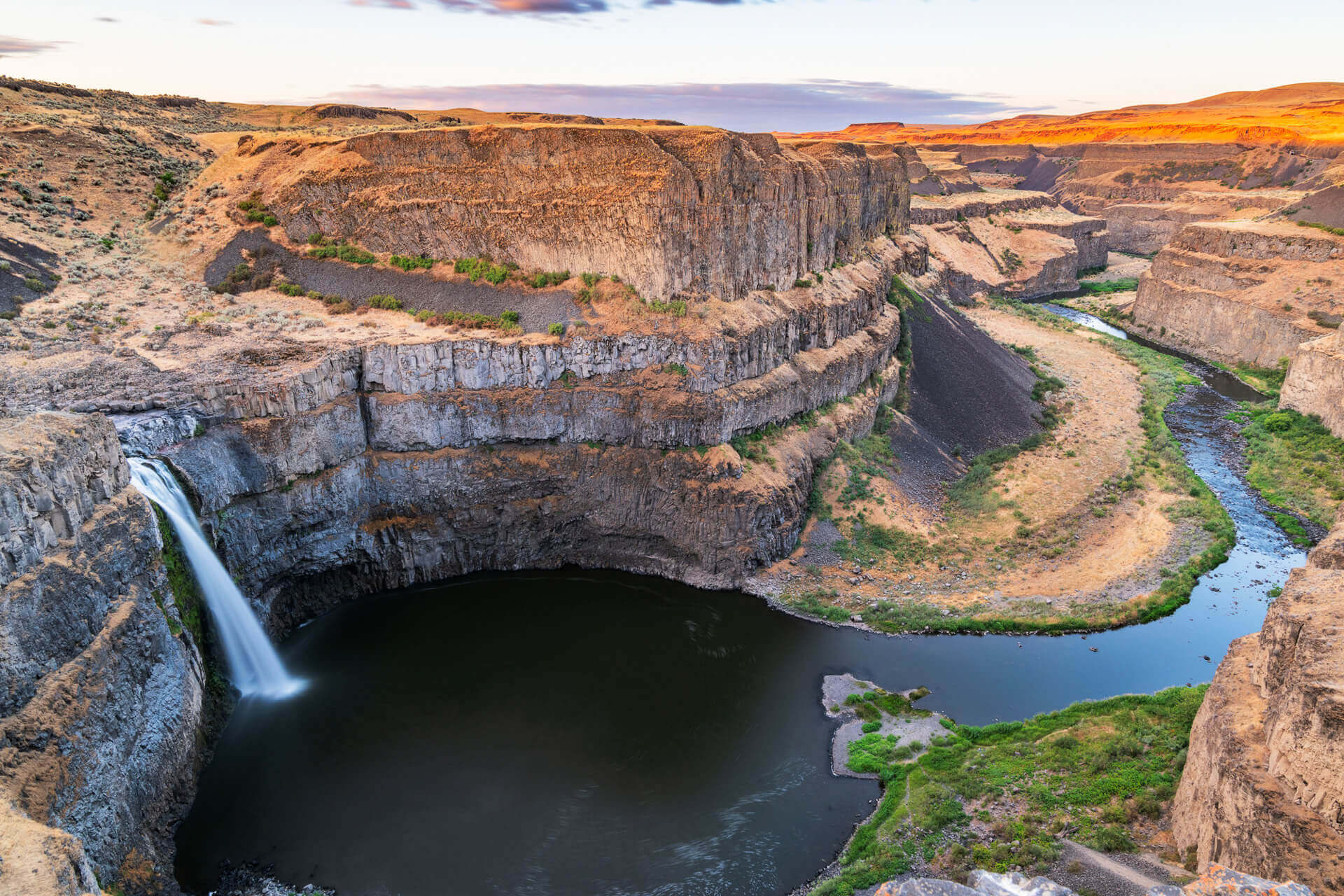 Another of the well-known waterfalls in Washington, this gem on the eastern side of the state was named the official state waterfall in 2014. Plummeting nearly 200 feet into a spectacular canyon carved by Ice Age floods, the falls are a photographer's dream. Time your arrival for sunset to see the layers of rock bask in misty, golden light.
Note: The falls are located in Palouse Falls State Park. In January 2022, state Parks and Recreation Commission voted to permanently close the pool at the bottom of the falls, the cliff sides with narrow trails above the pool and the top of the falls. The closure also includes the Castle Rock formation.
See Also: Best Stops Along the Palouse Scenic Byway
Sol Duc Falls
Olympic National Park
In Olympic National Park, an easy 1.6-mile roundtrip hike through lush old-growth forest takes visitors to Sol Duc Falls, which cascades over mossy rocks into a narrow chasm. The trail to the falls starts beyond the Sol Duc Hot Springs Resort, a favorite destination spring through fall.
See Also: Visiting Olympic National Park
Lewis River Falls
Gifford-Pinchot National Forest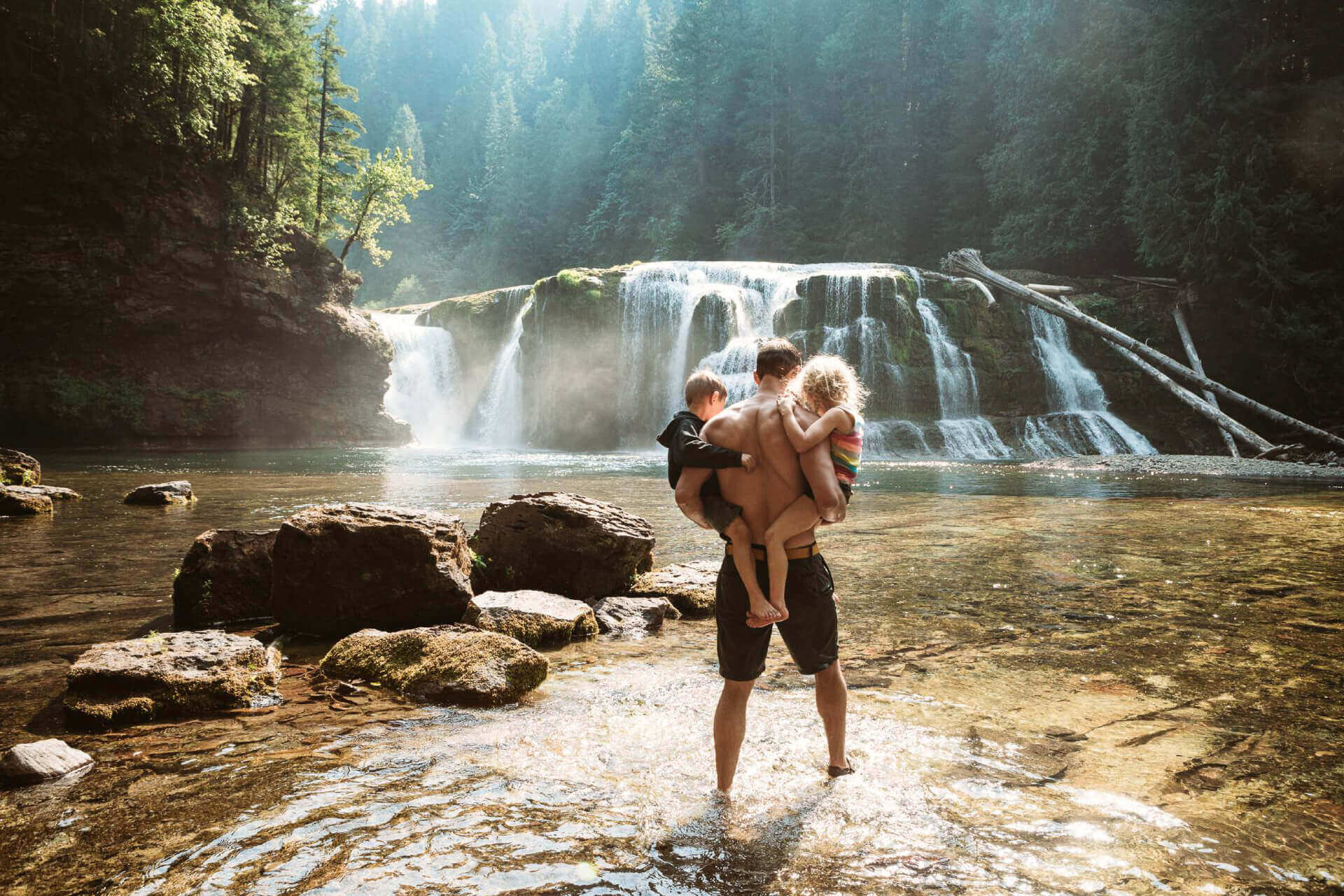 Towering cedars, lush moss, and three waterfalls (Lower, Middle, and Upper) beckon outdoor seekers to this section of forest. The hike to Lower Lewis River Falls is fairly flat, making it a great option for the whole family, especially in spring when the water is flowering strong. At 43 feet tall and 200 feet wide, the lower falls are a sight to behold. For more stunning views, continue to the middle and upper sections of the falls.
Comet Falls
Mount Rainier area
In addition to profuse wildflower displays and alpine views, Mount Rainier National Park boasts the roaring Comet Falls, which drops more than 300 feet down a sheer cliff. Getting to Comet Falls involves a 3.8-mile roundtrip hike from the trailhead at Van Trump Park. Due to its popularity, aim to arrive at the trailhead early in the morning or visit on a weekday.
Panther Creek Falls
Columbia River Gorge area
In the Gorge Region north of Carson you'll find this short, easy out-and-back trail perfect for those seeking a less visited waterfall. Panther Creek Falls features two tiers of segmented waterfalls flowing down about 50-70 feet.
Wallace Falls
Central Cascades near Gold Bar
Those looking to work a bit for their waterfall view will appreciate Wallace Falls, one of the most popular waterfalls in Washington. Located in Wallace Falls State Park north of Gold Bar, hikers can choose from a short hike or a longer 5.5-mile roundtrip option with multiple viewpoints. To avoid the crowds, plan to visit on a weekday.
Bridal Veil Falls
Central Cascades near Index
Another well-known waterfall in the Central Cascade Mountains is Bridal Veil Falls. At only 4 miles roundtrip, this hike offers epic views without tons of mileage. Climb the flight of steps paralleling the falls and marvel as the water cascades down a sheer 100-foot rock face like a veil.
Note: Due to its popularity, it's best to visit this waterfall early in the day during the week. Weekends see crowds and limited parking as hikers flock to the waterfalls and Lake Serene. Please be mindful of "no parking" signs.