By Pia Hallenberg
A road trip along the Palouse Scenic Byway is one of the best ways to experience Washington's Palouse Region. Covering the southeast corner of the state, the Palouse is best known for its photogenic rolling hills and farmland. Highway 195 cuts south from Spokane to Pullman and beyond, offering the chance to explore small towns and sightseeing destinations.
How to Road Trip the Palouse Scenic Byway
There's no right or wrong way to drive the Palouse Scenic Byway. The route includes Highway 195 in additional to other area highways such as Highway 27 and Highway 26, so there are many options for where to start. Head south from Spokane or start from the west with a visit to the breathtaking Palouse Falls State Park. You can also base yourself in Pullman to explore the attractions over multiple days.
View a map and suggested driving routes.
Palouse Scenic Byway Attractions and Towns
Palouse Falls State Park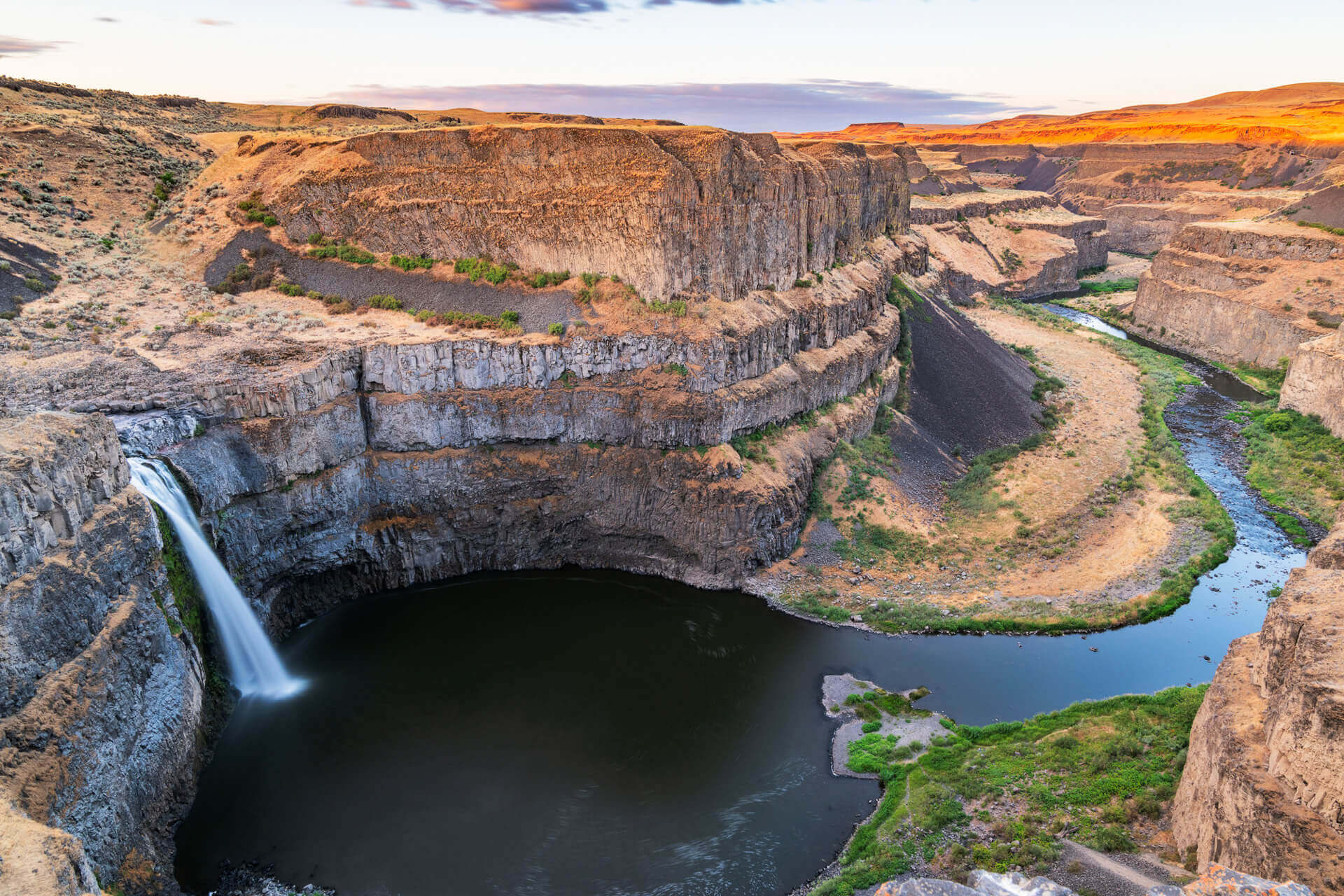 If you've never been to this park, prepare to be dazzled. Located off Highway 261, the 200-foot-tall waterfall thunders over the characteristic brown rock ledges of Eastern Washington, and it's especially impressive in spring and early summer during runoff season. Palouse Falls was designated the state waterfall in 2014, after elementary school students at nearby Washtucna School petitioned the legislature. The 94-acre park has a picnic area and shelter, as well as designated walking paths, and it's ADA accessible. Open from 6:30 a.m. to dusk.
Tip: If heading to the Palouse Scenic Byway from Seattle or elsewhere in Western Washington, this should be your first stop. If coming from Spokane or from the east, Palouse Falls is worth the additional miles and travel time (about 1.5 hours from Colfax).
Related: Gorgeous Waterfalls to See in Washington
Pullman
Home to Washington State University, there is plenty to do in this college town. WSU's Bear Center is dedicated to research, education, and conservation of bears, and during the non-hibernation season (April through October) you can watch the bears meander around in their enclosure located at the intersection of Grimes Way and Terre View Drive. There are no indoor tours at the moment. For more information and an updated schedule visit bearcenter.wsu.edu
Don't forget to stop at Ferdinand's Ice Cream Shoppe for a scoop or some legendary Cougar Gold cheese. Ferdinand's is located inside the Food Quality Building and is open on most weekdays serving up Cougar Tracks ice cream (vanilla, fudge, and peanut butter cups) as well as mint chip, strawberry, and many other delicious flavors.
If ice cream doesn't cut it, stop for dinner at The Foundry Kitchen and Cocktails where you can sit outside on the heated patio or cozy up in a booth indoors. The Foundry serves delicious craft cocktails, hearty sandwiches, and burgers. Another downtown restaurant, The Black Cypress, was recognized in the outstanding hospitality category by the James Beard Foundation.
The city is also home to the annual National Lentil Festival. Held at the height of summer, this festival celebrates that the Palouse grows a quarter of all lentils in the United States. Spot the festival mascot, Tast E. Lentil, and enjoy parades, music, and booths full of activities. This two-day festival a hit with all ages.
Uniontown & Dahmen Barn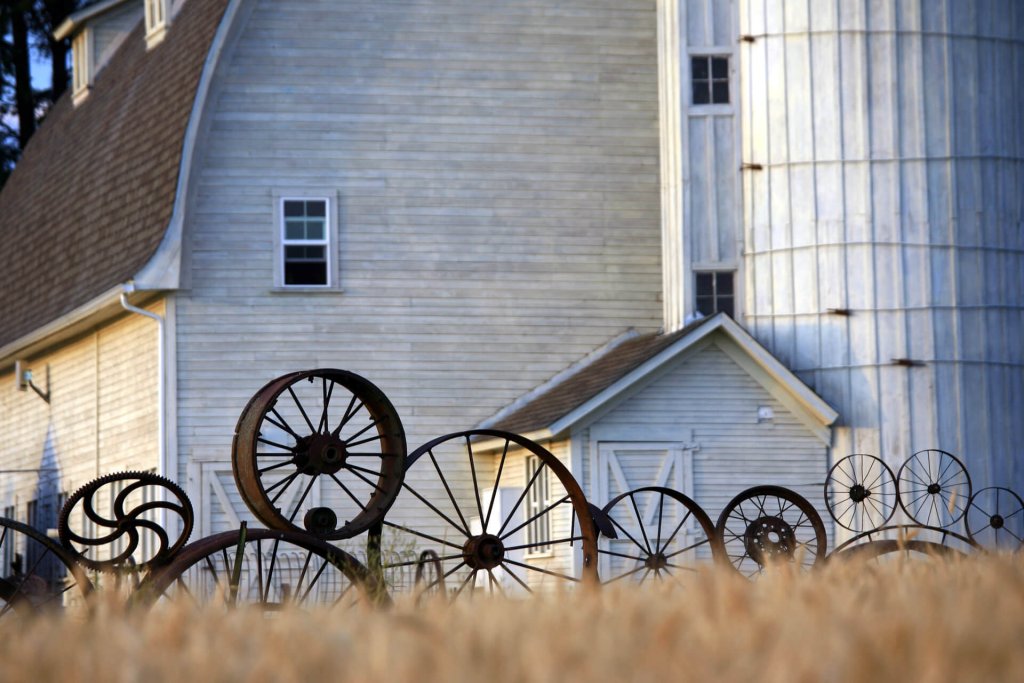 South of Pullman and just north of Uniontown you'll find the Dahmen Barn. Built in 1935, this stately barn was home to a commercial dairy until 1953. It's easily recognized by its iron fence made of wheels and gears from farm and steam equipment. In 2004, the Dahmen family donated the barn to the Uniontown Development Association, which restored it so it could be used as a center for Palouse-area artists. It opened to the public in 2006 and has since been known as Artisans at the Dahmen Barn. Stop in and browse among ceramics, paintings, jewelry, and quilts.
In Uniontown, a small community of farmers and artists, stop by the Wawawai Canyon Winery to sample bold Washington red wines from grapes grown in nearby Wawawai Canyon. Winemaker Ben Moffett planted the first vines here in 1994, and Wawawai became the first commercial winery in Whitman County since prohibition.
Advertisement
If visiting the first weekend in March, attend the annual Uniontown Sausage Feed. The event brings in hundreds of people to this small community south for a dinner of homemade sausages, mashed potatoes, and dessert.
Related: Small Towns in the Palouse Region
Boyer Park and the Lower Granite Dam
Located about 30 minutes southwest of Pullman, Boyer Park can be found on the sandy brinks of the Snake River. Not only can you swim and boat here, but you can also fish, hunt, and camp. The park is open year-round, and recreational opportunities vary with the seasons. Nearby motels make for solid lodging if you don't want to camp. Boyer Park truly offers some of the best recreational opportunities in Eastern Washington.
Steptoe Butte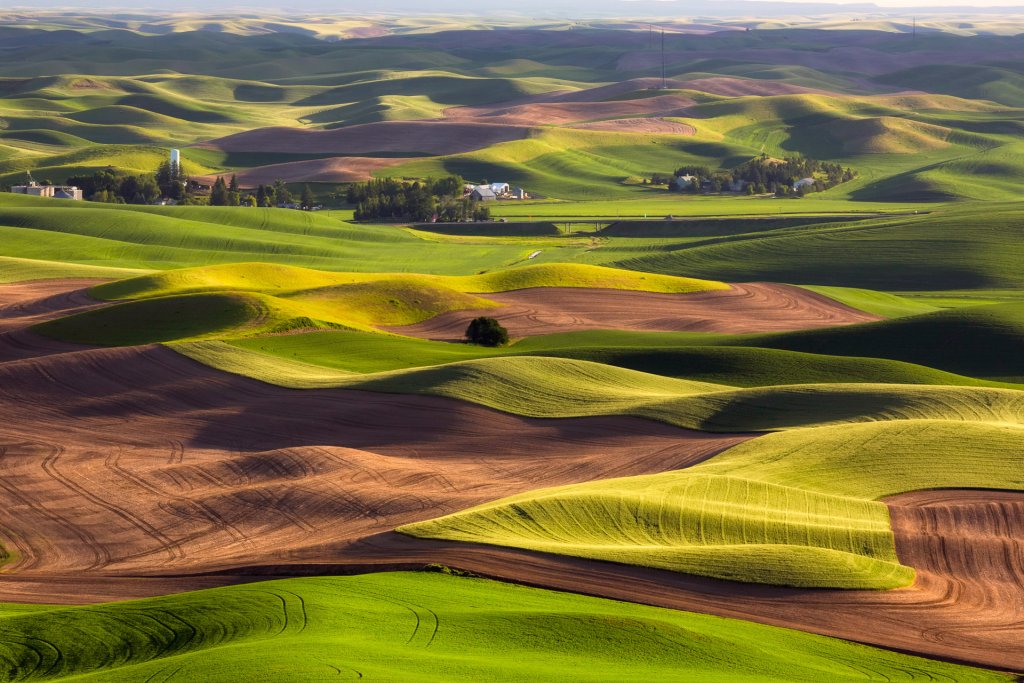 One of the most well-known views along the Palouse Scenic Byway, Steptoe Butte is a State Park Heritage Site and a highlight for photographers. From the windy parking area up top you have a 360-degree view of the Palouse, which in spring unfolds like a vintage quilt with blocks in all shades of green and canola yellow. The summit is 3,612 feet above sea level and on a clear day, you can see into both Idaho and Oregon.
Park at the bottom and hike or bike up, or you can drive all the way to the top. This is a shared and winding road, so drive carefully. The quartzite butte is formed of some of the oldest rock in Washington, and Native Americans refer to it as Power Mountain. It was renamed Pyramid Peak by early European settlers, and finally named after Colonel Edward Steptoe who fought in the Battle of Rosalia. It was dedicated as a state park on July 4, 1946.
There are many wonderful picnic sites around the bottom of the butte, including covered picnic shelters and there are bathrooms at the entrance and the top.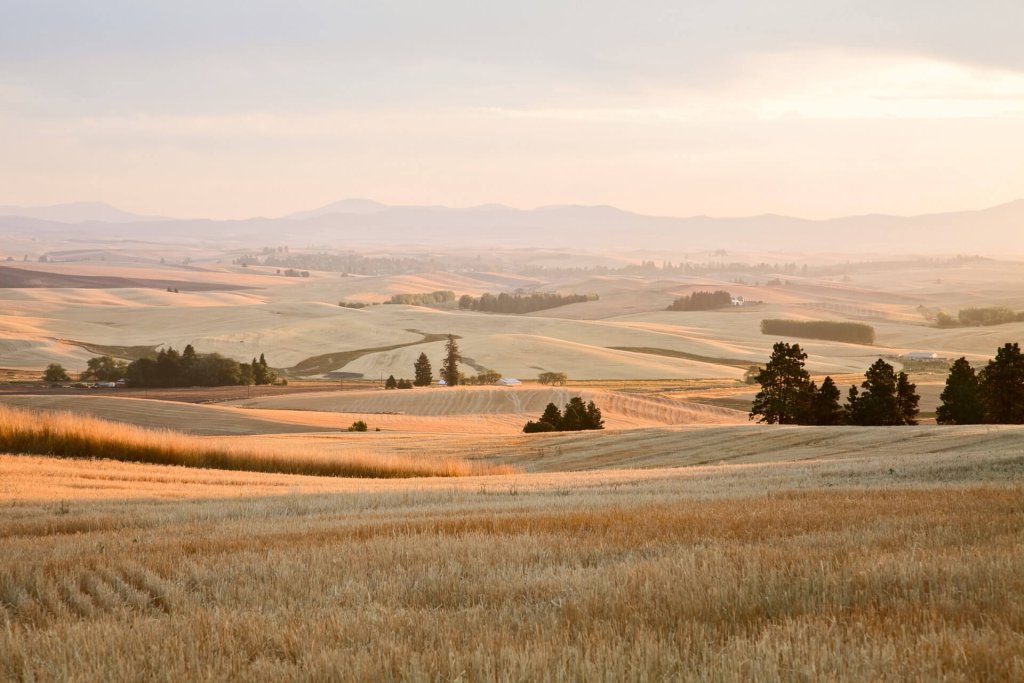 Colfax
This community south of Steptoe Butte State Park is home to the supposedly haunted St. Ignatius Hospital. Built in 1894, the hospital ceased operations in 1968 before transitioning to serve as a long-term care facility. Vacant since 2003, the hulking, 50,000-square-foot red-brick building has been featured by a variety to TV shows and publications thanks to reports of paranormal activity.
Purchased in 2021 by Laura and Austin Storm, the pair hopes to restore and repurpose the aging building. Until those plans come to fruition, they offer various ghost tours of the hospital and run Bully for You: Vintage & Found, one of many vintage and antique shops that dot the town's Main Street along with dining options, such as FDM Coffee Bar. 
Advertisement
A visit to Colfax wouldn't be complete without a stop at The Codger Pole, also on Main Street. This 65-foot-tall chainsaw sculpture is made of four separate cedar logs, featuring the carved faces and names of 50 local football players. The story goes that the 50 players first clashed on the football field in 1938, when Colfax lost to nearby St. John. A rematch was organized in 1988 – featuring the same 50 players – and Colfax came out the winner. Town boosters claim it's the largest football monument and the largest chainsaw sculpture with a human likeness, in the world.
If visiting in September, you can attend the annual Colfax Railroad Days. This community event features exhibits of model and life-size train engines, historical displays, western reenactments, and a street fair.
Related: Discover Washington's Scenic Byways
Kamiak Butte
This National Natural Landmark is just off State Highway 272 east of Colfax. It features more than five miles of hiking trails, covered by dense forest. The summit reaches 3,641 feet above sea level and offers stunning views of the Palouse. Kamiak is home to a rich flora and fauna, and it's not as barren as Steptoe Butte. It's also not as visited and offers beautiful walking trails along which to enjoy the view of the Palouse.
Palouse
Located near Kamiak Butte and the Idaho border off Highway 27 is the tiny town of Palouse. The town is home to the Roy M. Chatters Newspaper and Printing Museum (open Saturdays and by appointment). The museum features a flat-bed printing press, Linotype machines, and more. The Palouse River also runs through town and is popular with kayakers. Every September, the community holds Palouse Days, which features a car show, barley bar relay, and other activities.
Rosalia & Steptoe Battlefield State Park
Just south of Spokane off Highway 195, Rosalia is a beautiful little town with a somewhat bloody history. It's probably most famous for the Steptoe Battlefield, where U.S. forces lead by Lt. Col. Steptoe clashed with Spokane, Palouse, Yakama, and Coeur d'Alene Native American tribes in 1858. On May 17, Steptoe was forced to retreat and the battle was considered a major victory for local tribes.
About the Author
Pia Hallenberg is a Spokane-based freelance writer who runs a successful cybersecurity writing business. She's an award-winning journalist whose first love is writing about travel and local destinations. Her work has appeared in The Spokesman-Review and other publications around the world.