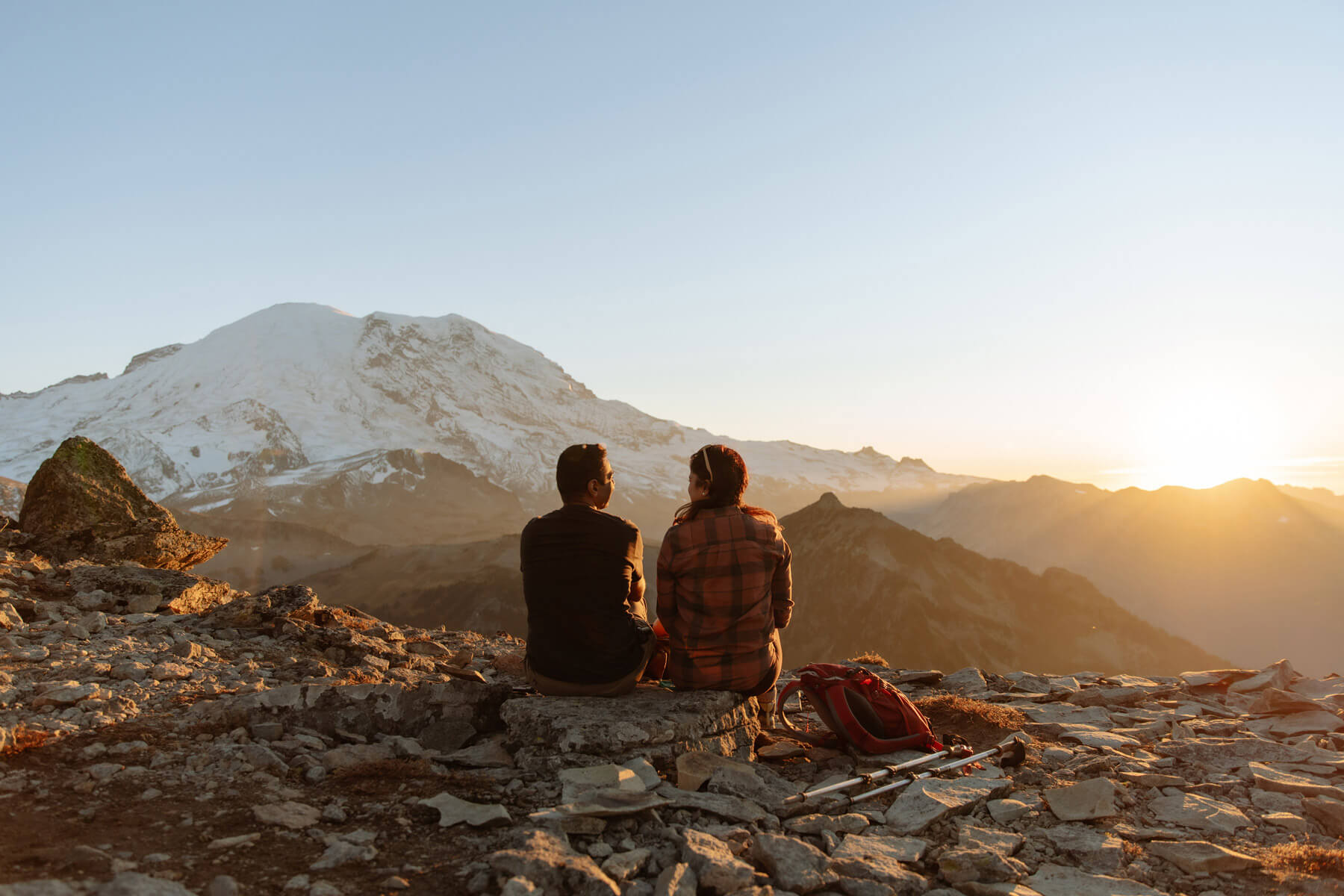 Visiting Mount Rainier National Park
Find alpine meadows, old-growth forests, and Washington's highest peak at Mount Rainier National Park.
Towering 14,410 feet above sea level, Mount Rainier is a state icon. An active volcano, the mountain is also the most glaciated peak in the contiguous United States. From hiking among wildflowers in the summer to snowshoeing and skiing in the winter, the park is a year-round recreational paradise.
With multiple entrances and a myriad of sights and activities to choose from, it can be tricky knowing where to start. Read on to make the most of your visit.
Getting to Mount Rainier National Park
Several major cities including Seattle, Tacoma, Yakima, Olympia, and Portland, Oregon, are within 200 miles of the park. Those coming from Seattle can usually reach the park in about 2.5 hours.
While the park has multiple entrances, the Nisqually Entrance on the southwest side of the park is the only entrance open year-round. This is where you'll find Paradise, which is famous for its glorious views and wildflower meadows.
Tip: Note that using GPS to search for the entrance will often lead you astray. The park service recommends using a physical map or entering this exact address into GPS: 39000 State Route 706 E, Ashford, WA 98304.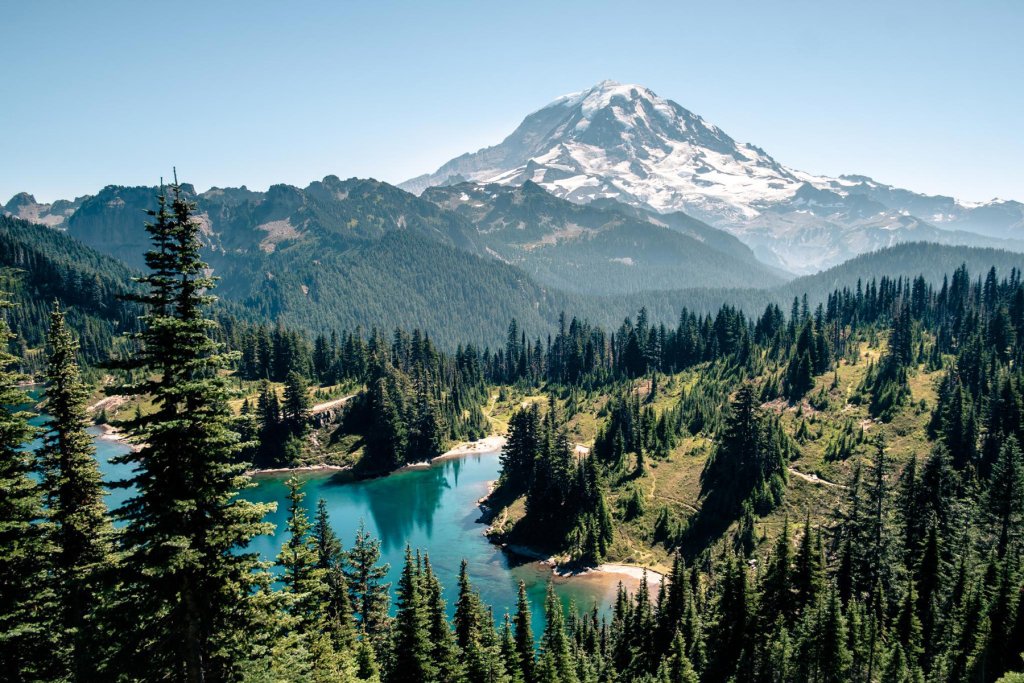 In addition to Nisqually, visitors can gain access to the park from the northwest at Carbon River or from multiple east entrances. Use an east entrance if you're looking to visit Sunrise, the highest point in the park that can be reached by vehicle. Find detailed directions.
The closest international airports are Seattle-Tacoma (SEA) and Portland, Oregon (PDX). Yakima Air Terminal to the east of the park is also served by major airlines.
Tip: To avoid peak crowds, plan your visit for early in the day during the week in summer or during the shoulder months in spring and fall, which are beautiful times to visit the park.
The months of July and August see longer waits, busy trails, and limited parking. Check the National Park Service for more tips on avoiding summer congestion, and be sure to also check for any road closures before heading out.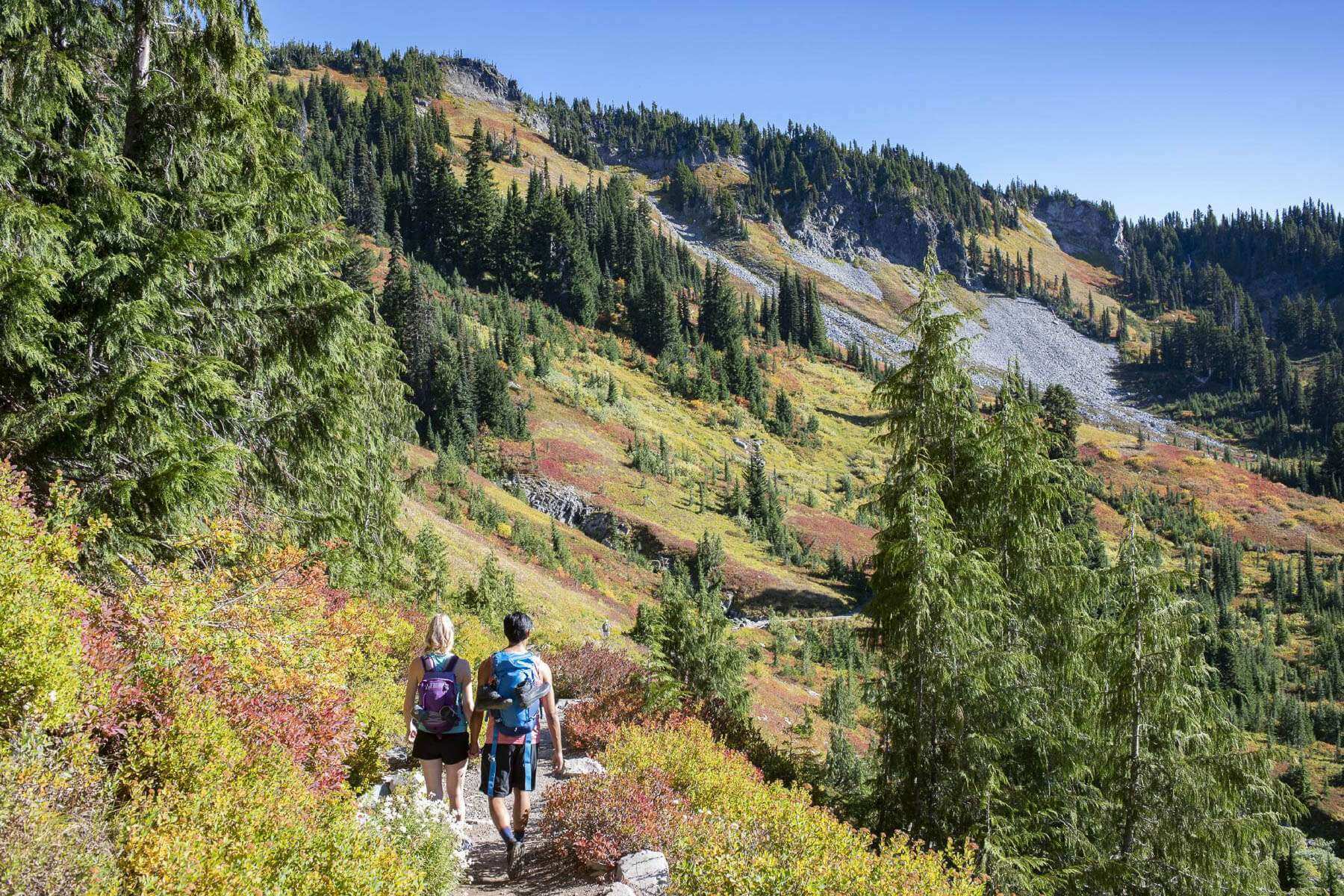 Things to Do
From scenic drives to epic hikes, there's no shortage of sights and attractions to keep you busy.
Climbing
As the most heavily glaciated peak in the contiguous United States, Mount Rainier draws thousands of people each year who hope to ascend the volcano. There are more than 20 climbing routes and ski descents via four main trailheads. Climbers must obtain a climbing permit in person and pay the annual climbing fee. Learn more about climbing.
Advertisement
Day Hiking & Backpacking
Boasting more than 260 miles of maintained trails winding through everything from old-growth forests to high subalpine meadows, Mount Rainier National Park offers tons of day hikes. Visitors will find everything from short family friendly trails to strenuous hikes leading to waterfall views. Even a portion of the Pacific Crest Trail weaves in and out of park's boundary along the eastern side.
Those looking to sleep under the stars in the backcountry must obtain a permit for the park's many wilderness backpacking sites. The popular Wonderland Trail, a 93-mile trail that encircles the mountain, offers 18 trailside camps and three non-wilderness camps. Due to high demand during the summer, reserving a wilderness permit is highly recommended.
Wildflower Viewing
Mount Rainier is home to hundreds of species of wildflowers. Some of the best viewing opportunities can be found at Sunrise and Paradise, which are famous for their impressive meadows that break into a riot of colorful blooms during mid-July and August. The park maintains dozens of trails perfect for wildflower viewing, just be sure to prepare yourself for crowds during peak summer season.
Winter Recreation
Mount Rainier is a popular winter recreation destination thanks to abundant snowfall and fantastic views. Visitors can enjoy many winter activities, from snowshoe walks and sledding to snowboard, snowmobiling, and skiing.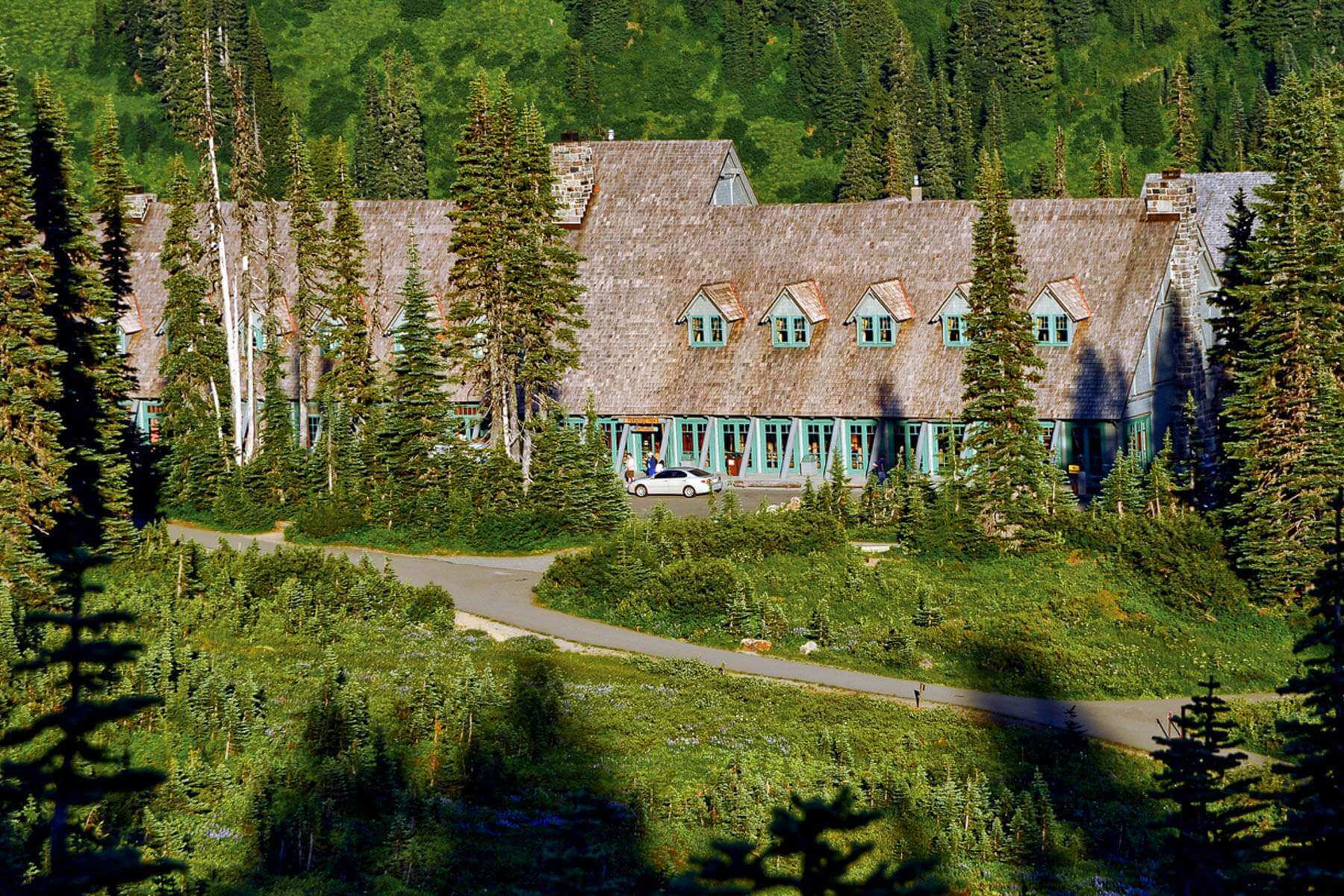 Where to Stay
With so much to see and do, you'll certainly want to stay the night.
Mount Rainier Campgrounds
Mount Rainier National Park operates three campgrounds that are open seasonally: Cougar Rock, Ohanapecosh, and White River. Mowich Lake offers a small primitive campground for tents only. There are also numerous wilderness camping sites. Be sure to book early to secure your spot.
Mount Rainier Lodges
In addition to campgrounds, there are also two historic lodging options in the park. Paradise Inn opened in 1917 and offers 121 guest rooms, dining room, and gift shop. Located at Paradise, the inn is open seasonally and offers easy access to hiking trails. In the Longmire Historic District, National Park Inn offers 25 rooms, a casual restaurant, and a general store located in a vintage 1911 log cabin.
Nearby Communities
Gateway communities surrounding the area make a great base for a day of exploring. You'll find an exhaustive list of lodging options, from affordable roadside motels to charming country inns.
Ashford: Just minutes from Mount Rainier National Park's only year-round entrance (and access to Paradise and Longmire), attractions in Ashford include locally owned shops and galleries, community parks, and family friendly eateries.
Crystal Mountain: Here you'll find Crystal Mountain Resort, home to the highest elevation dining experience in all of Washington, as well as seasonal hiking, horseback riding, scenic gondola rides, skiing, snowboarding, and snowshoeing. Due to its popularity, lodging books up early for summer stays.
Elbe: This small town is big on trains. Here, visitors can dine in a train car or stay overnight in a caboose. The Elbe foothills offer trails for ATVs and horseback riding.
Enumclaw: The largest gateway community near the park, Enumclaw is a historic logging town with a variety of local businesses and public parks for hiking, fishing, and other recreation.
Packwood: Base yourself in Packwood for access to the nearby Ohanapecosh entrance on State Route 123 in the southeast corner of the park.
Additional Resources
For more inspiration, check out VisitRainier.com or the national park website. In addition to lodging and helpful tips, you'll find everything you need to book your trip or find the perfect hike or attraction.