By Jay Kuehner
Washington's relatively temperate winter climate invites families to get outdoors and on the trails throughout the state's diverse terrain. From moss-floored forests in the west (often misted by dazzling waterfalls), to the rolling agrarian hills of the east (dusted with snow come winter), kids can engage with a variety of landscapes during these family friendly winter hikes in Washington.
At lower elevations with less vertical trekking or cumulative snow, the region remains accessible for families throughout the season. Think of it as one vast playground, where families can commune together in awe of the natural beauty here in the heart of the Pacific Northwest.
Family Friendly Winter Hikes in Washington
Cape Flattery
Location: Olympic Peninsula
1.5 miles roundtrip, 200 feet elevation gain
This gently sloping seaward trail through coastal forest culminates at the northwesternmost point of the contiguous lower 48 states. Kids can meander on the broad trail, before a length of boardwalk channels them toward a most spectacular sight of the ocean, revealed from a series of platforms that feel as if they are floating above the Pacific. A network of sea caves below, the ever-changing hues of the water, and Tatoosh Island — with its abundance of marine life — offer several visible points of interest. The cape is located on historic tribal land, home of the Makah people. A Makah Recreation Pass is required to park at the trail.
Related: Things to do on the Olympic Peninsula
Cowiche Canyon Conservancy
Location: Yakima Valley
3 miles point to point, mostly flat
The Conservancy, located on the shrub-steppe landscape typical of the vast Columbia Basin, is a diverse habitat featuring over 20 miles of trails where birders, bikers, and hikers can enjoy expansive vistas on rolling, sage-studded terrain. The 3-mile Cowiche Canyon trail follows the creek along an old railroad grade through a riparian zone, crossing nine bridges along the way. Several spur trails can be combined for shorter or longer loops connecting to the rim. Kids can listen for bird calls, spot beavers in the creek, or appreciate the area's geology, making this a fun family winter hike in Washington.
Twin Falls
Location: Olallie State Park/North Bend
2.3–2.6 miles roundtrip, 500 feet elevation gain
Initially hugging the south fork of the Snoqualmie River, this well-groomed family-friendly trail is a classic. With its gentle yet challenging-enough grade and relatively low altitude, this hike features a rewarding reveal for young ones and adults alike: a three-tiered waterfall with staged access by way of a dramatic network of stairs. Look for a large boulder before the climb begins, and continue to keep eye out for peek-a-boo views of the falls as you ascend to the benches. The deciduous tree line in winter allows for even better views. An added bonus? Leashed dogs are also welcome on this trail. A Discover Pass is required.
Related: 7 Stunning Waterfalls in Washington
Marymere Falls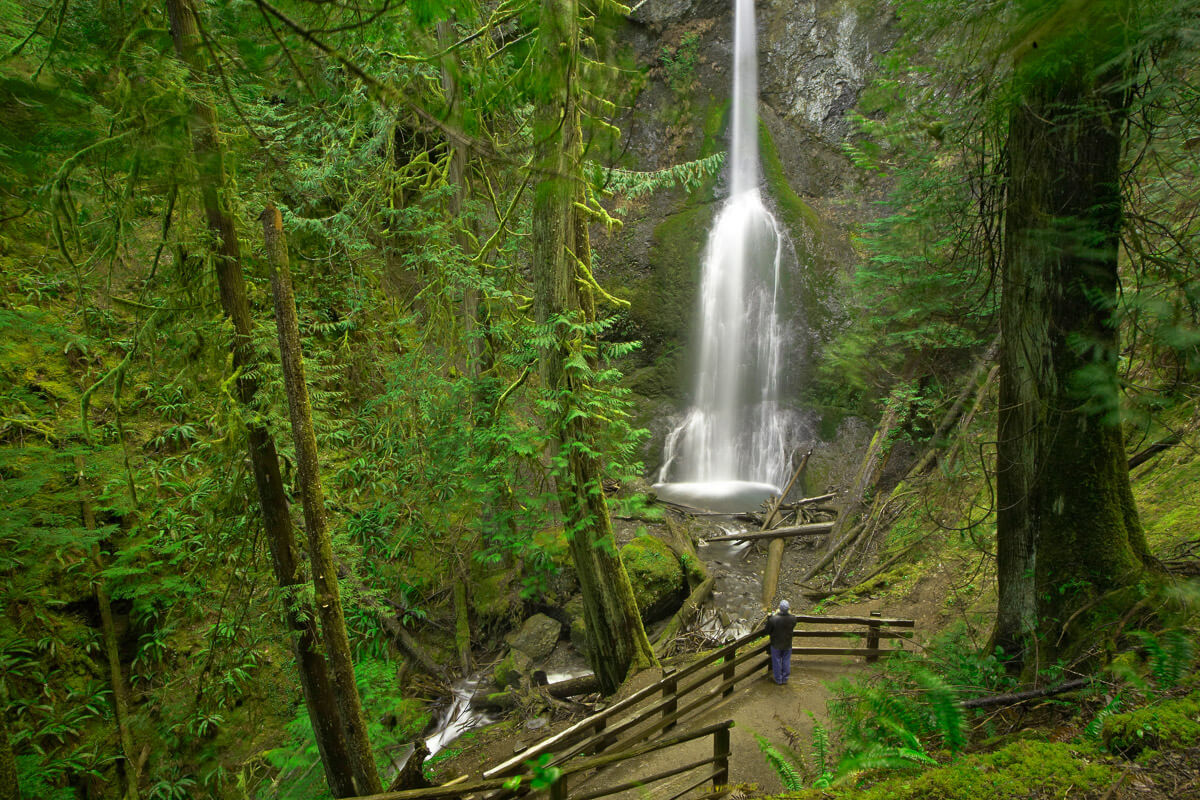 Location: Olympic National Park
1.8 miles roundtrip, 500 feet elevation gain
Stunning Lake Crescent is worth the trip alone, but kids will delight to discover nearby a roaring waterfall, sometimes partially frozen in the deep winter, cascading nearly 100 feet into a narrow basin. Check out the falls from a terracing loop trail with both upper and lower viewpoints. The densely forested trail — shrouded in old conifers with an understory of ferns — can be accessed from the Storm King Ranger Station, as well as the historic Lake Crescent Lodge. Curious kids can also extend their hike along the lake with the Moments in Time interpretive nature trail. An Olympic National Park Annual Pass, or America the Beautiful Pass, is required.
Related: Guide to Visiting Olympic National Park
Advertisement
Catherine Creek Loop Trail
Location: Columbia River Gorge
2.5 Miles, 750 feet elevation gain
Off of Old Highway 8 along the scenic eastern Columbia River Gorge lies the Catherine Creek Recreation Area, a prime site for wildflowers in spring that also makes for a great — and less crowded — ramble in winter, with sweeping views of the river and beyond. The loop trail accesses upper meadows rich in biodiversity, so kids are advised to maintain proper trail etiquette, and are rewarded with sights of an old (as in, millennia) natural basalt arch. On a clear day, look for Mount Hood in Oregon. Meanwhile, young birders with binoculars can see a variety of species perched, at play, or on the hunt. South of the highway there is a shorter, groomed interpretive trail that takes children closer to the water.
Bowl and Pitcher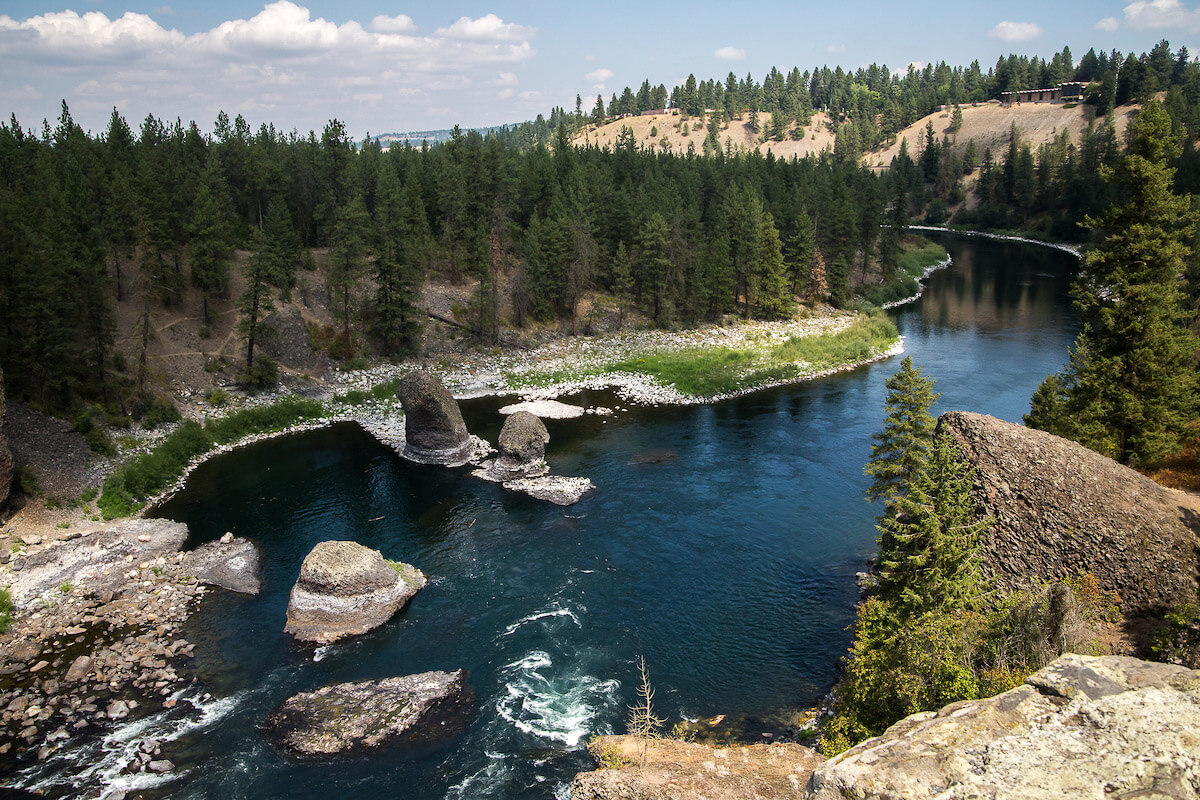 Location: Riverside State Park, Spokane
2.1 miles, 166 feet elevation
A swinging bridge over the Spokane River makes this an exciting outing for young ones, and the traverse is rewarded with large basalt outcroppings that appear to have been dropped down directly in the rushing waterway. Wander through the dry pine forest along the river bank, using trail #25 (with designated cardinal directions) to follow a short loop perfect for the whole family. A Discover Pass is required.
Related: Spokane City Guide
Cascade Falls Trail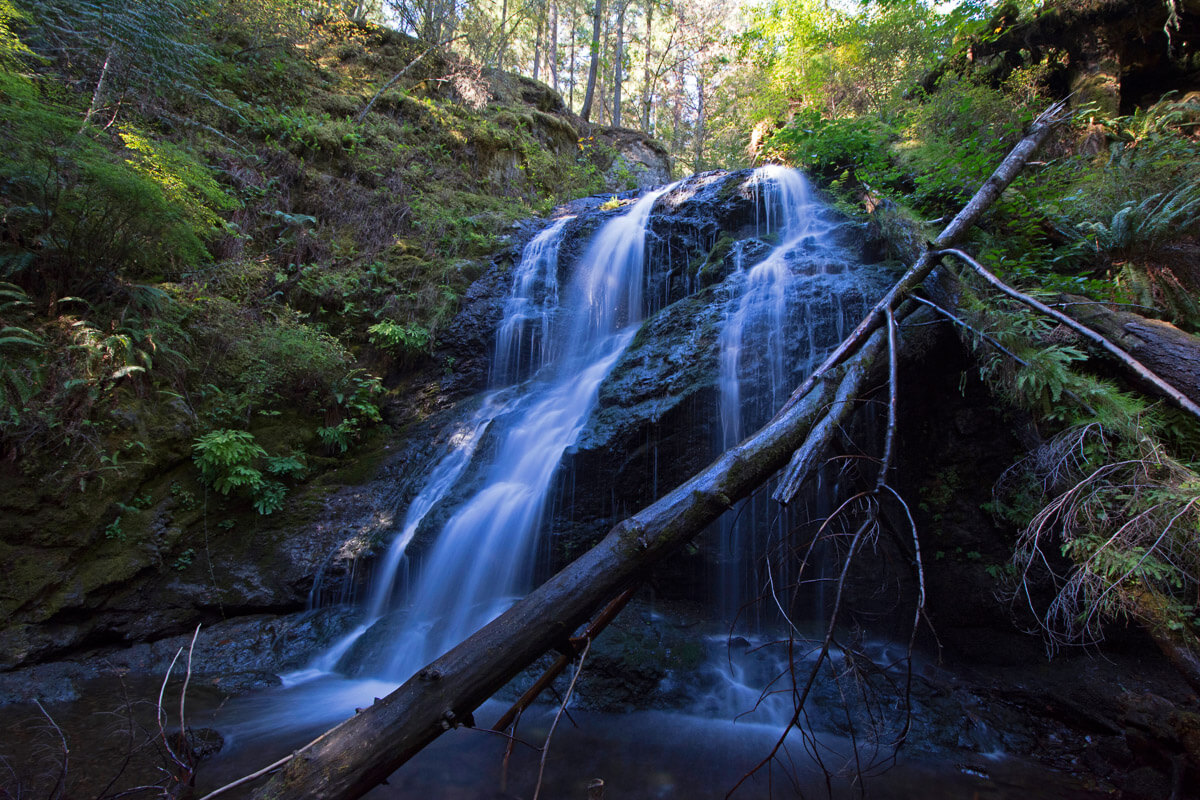 Location: Moran State Park, Orcas Island
3 miles, roundtrip, 200 feet elevation gain
"An ancient castle perched on an island, deep within a mountain forest" — so describes the child's view of the observation tower crowning Mount Constitution in Moran State Park, on beautiful Orcas Island. It's a must-see, but kids can further boost the wow factor by venturing into the park's sloping old-growth evergreen forest. Here, water flows down from Mountain Lake to Cascade Falls, the tallest waterfall in the San Juan Islands.
Descend to the lower viewpoint by way of a bridge crossing for an up-close experience. This natural spectacle can be accessed from multiple points: take the trail from Cascade Lake for a longer outing, or simply approach from the designated parking site off Mount Constitution Road. As a bonus, see if you can discover three other waterfalls — Hidden, Cavern, and Rustic — nearby. A Discover Pass is required.
Related: Get to know the San Juan Islands
Advertisement
Carbon River Rain Forest Nature Trail
Location: Mount Rainier National Park
0.6 miles, roundtrip, Minimal elevation gain
Do your kids want to get up close to Mount Rainier, but winter snow is keeping you from it? Consider the park's northwest corner at Carbon River, where a rare temperate rainforest can be found far inland. Featuring a short singletrack trail, the way is lush with ferns and other flora beneath spruce and cedar. Interpretive displays line the planked boardwalks, and kids can witness the cycle of "nurse logs" generating new growth, evidence that here everything is truly alive. Mount Rainier entrance fee or America the Beautiful Pass is required.
Related: Guide to Visiting Mount Rainier National Park
Winter Hike Safety
While these are all designated as family friendly winter hikes in Washington, weather conditions can often change unexpectedly, so be prepared. Check the WSDOT website for road conditions before heading out, and the Washington Trails Association for trip reports from fellow hikers. The following items will increase your safety on the trails:
Navigation device
Rain jacket (waterproof)
Extra warm layers
Gloves
Hat
Headlamp/Flashlight with extra batteries (it gets dark early in the winter)
Small first-aid kit
Water
Food
Emergency blanket/bivy
Fire-starting device (waterproof matches)
Pocket knife
Whistle
A note with directions in case of separation
Don't let winter slow you down — get out and explore on one of these family friendly winter hikes in Washington.
About the Author
Jay Kuehner is a writer, trail runner, and consultant who lives in Seattle but calls the Pacific Northwest home. He seeks alpine ridgelines and long winter swells. Favorite trail: Enchantments traverse. Preferred wave: La Push, Chosen neighborhood: Ballard