The San Juan Islands are an archipelago of more than 170 named islands and rocks. Visitors come for the natural beauty, slower pace, local dining, and world-class outdoor activities. The climate is temperate year-round, and the area gets half the amount of rain that Seattle does.
The islands of San Juan, Orcas, and Lopez are the most populated and offer the widest selection of amenities for tourists. Each island has its own personality and charm. Whether you're looking to hike to a lookout, sip craft beers, or browse local art galleries, you'll find it in the San Juan Islands.
Due to their popularity, hotels and ferry reservations book up quickly during the summer months. Consider visiting mid-week or during the lovely months of spring or fall for fewer crowds.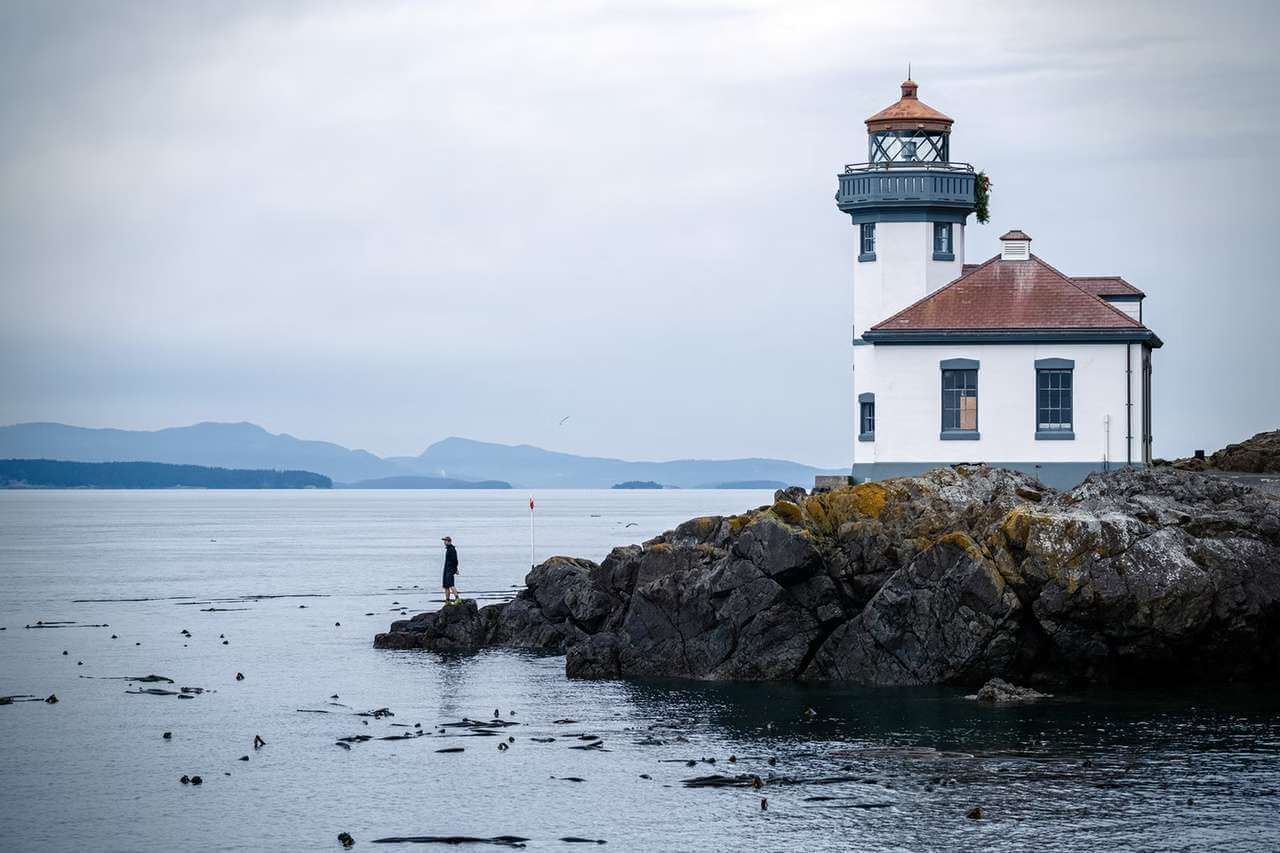 San Juan Island
San Juan Island is home to Friday Harbor, the island's historic and walkable hub. Whale-watching and kayak tour operations are headquartered here along with a wonderful array of boutiques, restaurants, and galleries. History buffs and nature enthusiasts alike will enjoy exploring the Whale Museum, while beer lovers will appreciate sampling suds at San Juan Island Brewing Company.
Outside of town you'll find farmland, forests, pebble beaches, alpacas, national historical parks, San Juan Vineyard, and the rolling hills of Pelindaba Lavender Farm.
Set on a bluff at the west end of the island, Lime Kiln Point State Park offers prime whale watching from land and a quaint lighthouse.
On the island's northwest corner, Roche Harbor offers a quieter slice of island life complete with a historic hotel, outdoor sculpture park, and large marina.
Orcas Island
Locals call their home "the emerald isle," and for good reason—the island is a brilliant sight with the varying greens of its terrain and the shimmering blue sea. Orcas Island is home to Moran State Park and Mount Constitution, the highest point in the archipelago. Hike or drive to the summit for sweeping views and to climb a replica stone watchtower.
In addition to outdoor recreation, the island boasts a thriving local art scene, which visitors can experience at the galleries in Eastsound or Olga.
Eastsound serves as the island's downtown, complete with boutiques, restaurants and cafes, a community theater, and museums.
Lopez Island
Laid-back Lopez Island is known for its friendly residents and bikeable roads. Embrace a slower pace as you soak in rolling pastoral views or explore Spencer Spit State Park.
Don't miss Lopez Village, where you can find cafés, galleries, bookstores, and a variety of shops. Visitors can also enjoy a tasting at Lopez Island Vineyards.
Shaw Island
The smallest ferry-served island, Shaw, has limited visitor amenities. This quiet island is home to a Benedictine monastery, a general store, and a campground at Shaw County Park.
Getting to the San Juan Islands
Getting to the islands is part of the fun. Although they are accessible by charter flight and private boat, many visitors choose the scenic route and arrive by ferry from Anacortes on the mainland. Washington State Ferries operate all year, and there are several sailings each day to and from the main islands.
A ferry is perfect for those who want to bring a vehicle for easy exploring, just be sure to make a reservation in advance. Walk-on passengers can purchase tickets online or pay before boarding. Learn more about the reservation system and reservation release dates at Washington State Ferries.
Places to Stay
From cozy bed-and-breakfasts and small hotels to resorts and cottages, there are plenty of lodging options in the San Juan Islands to suit every taste.
On San Juan, Friday Harbor House, Trumpeter Inn Bed & Breakfast, Roche Harbor Resort, and Lakedale offer a variety of accommodations on different parts of the island.
Orcas also offers options aplenty, from the Outlook Inn in Eastsound to Rosario Resort & Spa and Otters Pond Bed & Breakfast. Camping and vacation rentals are available as well.
As for smaller Lopez, visitors will find everything from boutique hotels like The Edenwild to cozy cottages.