Story & Photos by Local Adventurer
Seattle is surrounded by natural beauty and charming communities. One of the best ways to experience this beauty is by taking a ferry to one of the nearby islands. Each island has its unique charm and attractions, making them perfect Seattle day trips to explore by ferry.
We're Esther and Jacob of LocalAdventurer.com, and we spent three days exploring the nearby islands to put together a guide to help you plan your next Seattle day trip by ferry. Whether you're visiting just for these day trips, or extending your visit to Seattle, rent a car to make the most out of these destinations. We stayed at the Kimpton Palladian Hotel in downtown Seattle, which was the perfect home base for these day trips from Seattle by ferry.
3 Seattle Day Trips by Ferry
1. Bainbridge Island
Bainbridge Island offers a mix of outdoor activities and artistic experiences, making it one of the best Seattle day trips by ferry. Start your day at Blackbird Bakery with pastries and coffee before heading out to explore the island, which is where pickleball was invented!
If you play pickleball, don't miss the chance to play at Founders Courts, where they have open play every Monday to Thursday morning. In town, you can pick up pickleball souvenirs at Island Life Artisan Gifts and Millstream Bainbridge. The Bainbridge Island Historical Museum even has a section dedicated to the history of pickleball and is free to visit.
After playing with the locals, grab lunch at Ba Sa for some tasty Vietnamese food followed by tea at Bainbridge Apothecary and Tea. As you leave town, stop by to meet Pia the Peacekeeper Troll, a massive sculpture created by artist Thomas Dambo. For your next activity, take a hike through the scenic Grand Forest or visit Bloedel Reserve, named one of North America's 10 best botanical gardens by USA Today.
Afterward, can choose to return to the city or continue onto the Kitsap Peninsula, where you can shop local in Bremerton or pay your respects at the grave of Chief Sealth, the Squamish chief for whom Seattle is named. As your day winds down, you can either drive back the long way to Seattle or head back to the ferry for the short ride across. Depending on the ferry schedule, driving could be faster.
How to get to Bainbridge Island
Ferries to Bainbridge Island depart from the Seattle Ferry Terminal in downtown and the ride takes roughly 35 minutes. Find current ferry schedules here and calculate the fares for this route here. It's also possible to get back to Seattle without taking the ferry. The drive will take you along the Kitsap Peninsula, across the Narrows Bridge in Tacoma, and back to Seattle via Interstate 5.
2. Whidbey Island
Whidbey Island has activities for nature enthusiasts and history buffs alike. We started our day on the north side of the island, then made our way back down to the ferry so we didn't have to backtrack. First up is Deception Pass State Park, where the North Beach provides the best view of the iconic bridge. For a quieter hiking experience, explore the Ala Spit County Park Trail, a lesser-known trail that avoids crowds.
Then head over to Oak Harbor's colorful Murals by Allgire Project for some fun photo ops before exploring historic Coupeville, where you'll find cute shops and scenic views. Don't miss the hundreds of starfish under the pier! The scenic Admiralty Head Lighthouse is also located near Coupeville.
For lunch, we recommend Seabolt's Restaurant. We had the fish and chips and clam chowder, and they hit the spot!
At Ebey's Landing, head to the Bluff Trail where you'll hike to spectacular views to the west. This popular trail can get busy during the summer months, so consider visiting in fall or spring for a quieter experience. If you happen to visit during the busier season, there are still a ton of other trails to explore to lower the impact on the beautiful parks. At Fort Casey State Park, you get a glimpse into the past. The fort was active up until the mid-1940s.
If you still have time, you can stroll through Meerkerk Garden's beautiful rhododendron gardens or take in the art at Earth Sanctuary. In Langley on the south end of the island, you'll find boutique shops and art galleries. You can even stop at Ott & Hunter to savor some local wines before heading back.
Getting to Whidbey Island from Seattle
Ferries run regularly from Seattle to Whidbey Island. Check the Mukilteo / Clinton Ferry Schedule here to plan your day and time for your return. You can find how much the ferry ride will be using this calculator (it depends on the type of vehicle and number of people traveling).
Keep in mind that on summer weekends and holidays, waits can be up to 3 hours during peak times for this ferry trip from Seattle. If you want a quieter experience, consider visiting mid-week or during the fall or spring.
3. Vashon Island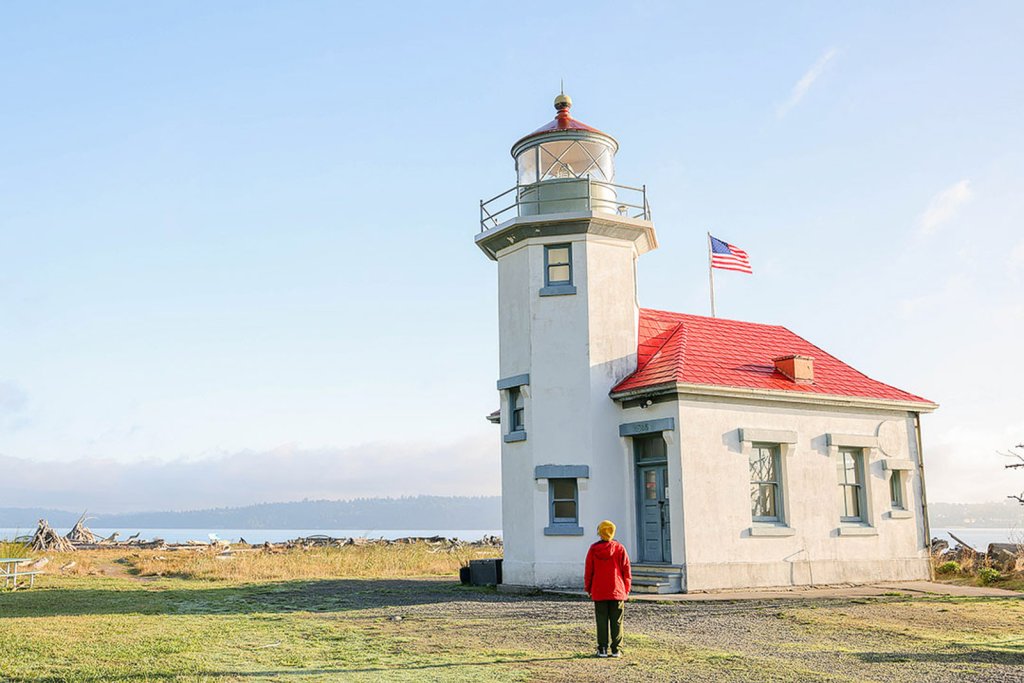 Similar in size to Bainbridge, Vashon Island is located to the south between Seattle and Tacoma and offers a blend of outdoor beauty, roadside farm stands, and artistic wonders. Start your morning exploring Point Robinson Lighthouse, where you can also see the whimsical Oscar the Bird King Troll sculpture, another creation by artist Thomas Dambo. As you're leaving, keep an eye out for Flora Hill Popsicle Stand along the road. It's a self-service spot where you can get popsicles and sodas.
Next, wander the trails in Dockton Park and Forest before heading to Vashon Island Coffee for some pastries and coffee. They also have a market, bookstore, and a bunch of historical items inside.
To explore more of Vashon Island, leave your car in town and rent an e-bike from Vashon Adventures. They have maps and directions to recommended spots. See the art at Vashon Center of the Arts or pick up fruits and goodies at Country Store and Farm. You can ride over to Shinglemill Trail or relax at Fern Cove. Also check out the cheese and Mango Lassi at Venison Valley Farm & Creamery, another roadside self-service stand.
For food, check out Cafe Vino Olio for wine, coffee, and bagels, or May Kitchen for Thai food.
See Also: Discover Washington's Local Coffee Roasters
How to get to Vashon Island
Ferries to Vashon Island depart from the Fauntleroy terminal in West Seattle. Check the Washington State Ferries website for ferry schedules and ticket prices. If you want to see another Thomas Dambo troll, stop by Lincoln Park before or after your trip to the island. You can also reach Vashon via the Point Defiance / Tahlequah ferry route in Tacoma.
Tips for Planning Seattle Day Trips by Ferry
Plan Ahead: Check ferry schedules in advance and arrive early, especially during weekends and holidays.
Rent a Car: When you're exploring the larger islands like Whidbey (or if you want to explore outside of town), renting a car will make it much easier to get around.
Pack Essentials: Carry essentials like water, snacks, comfortable shoes, and weather-appropriate clothing. In Washington, it's always a good idea to pack a raincoat, and we love wearing waterproof knit shoes during all our travels.
Check Hours: During the off-season, many businesses on the islands may have limited hours or days they are not open. Check current hours when planning your outing.
Be Mindful of Time: Islands have specific ferry schedules, so be mindful of the time to avoid missing your return ferry.
These Seattle day trips by ferry offer a magical escape from the city's hustle and bustle. Whether you're into nature, art, or simply relaxing by the waterfront, Whidbey Island, Bainbridge Island, and Vashon Island have something for every traveler. With a bit of planning, you can embrace the unique experiences each island has to offer and let the enchanting beauty of Washington State leave you in awe on one of these ferry trips from Seattle.
About the Author
Esther and Jacob are the founders of Local Adventurer, one of the top 5 travel blogs in the US. They believe that adventure can be found near and far and hope to inspire others to explore locally.

Find them on their blog, Instagram (Esther + Jacob), YouTube, and Pinterest.