By Ellee Thalheimer
From exploring tide pools and hiking to camping, here's how to experience this popular park.
Under two hours from Seattle, Deception Pass State Park boasts 14.6 miles of saltwater shoreline and three lakes, giving visitors a wealth of things to do. Search for sea stars and neon anemones in tidal pools, hike through coastal old-growth forests, fish for salmon, kayak the calm bays and lakes, or marvel at the rugged coastline views. It's easy to see why this is Washington's most-visited state park.
At around 4,000 acres, this massive park spans parts of two neighboring islands, Fidalgo Island and Whidbey Island. The parklands are connected by Canoe Pass Bridge and Deception Pass Bridge, an architectural gem that was completed in 1935. Standing 180 feet above the swirling waters, the bridge was added to the National Register of Historic Places in 1982 and is an attraction in itself.
Getting to Deception Pass State Park
Highway 20 runs through the park, and visitors can choose to arrive either from the north or south. From the south, you can take the Mukilteo Ferry to Clinton on Whidbey Island, then head north via Highway 525 and Highway 20. If you'd rather avoid taking a ferry or are coming from the north, you can connect to Highway 20 from Interstate 5 near Burlington.
The main entrance to the park is on Whidbey Island, turning onto Cornet Bay Road. On the Whidbey side, you can explore Cranberry Lake, West and North Beaches, Goose Rock, and Cornet Bay. Coming from the north on Fidalgo Island, visitors can access Rosario Beach, Pass Lake, Bowman Bay, and Lighthouse Point.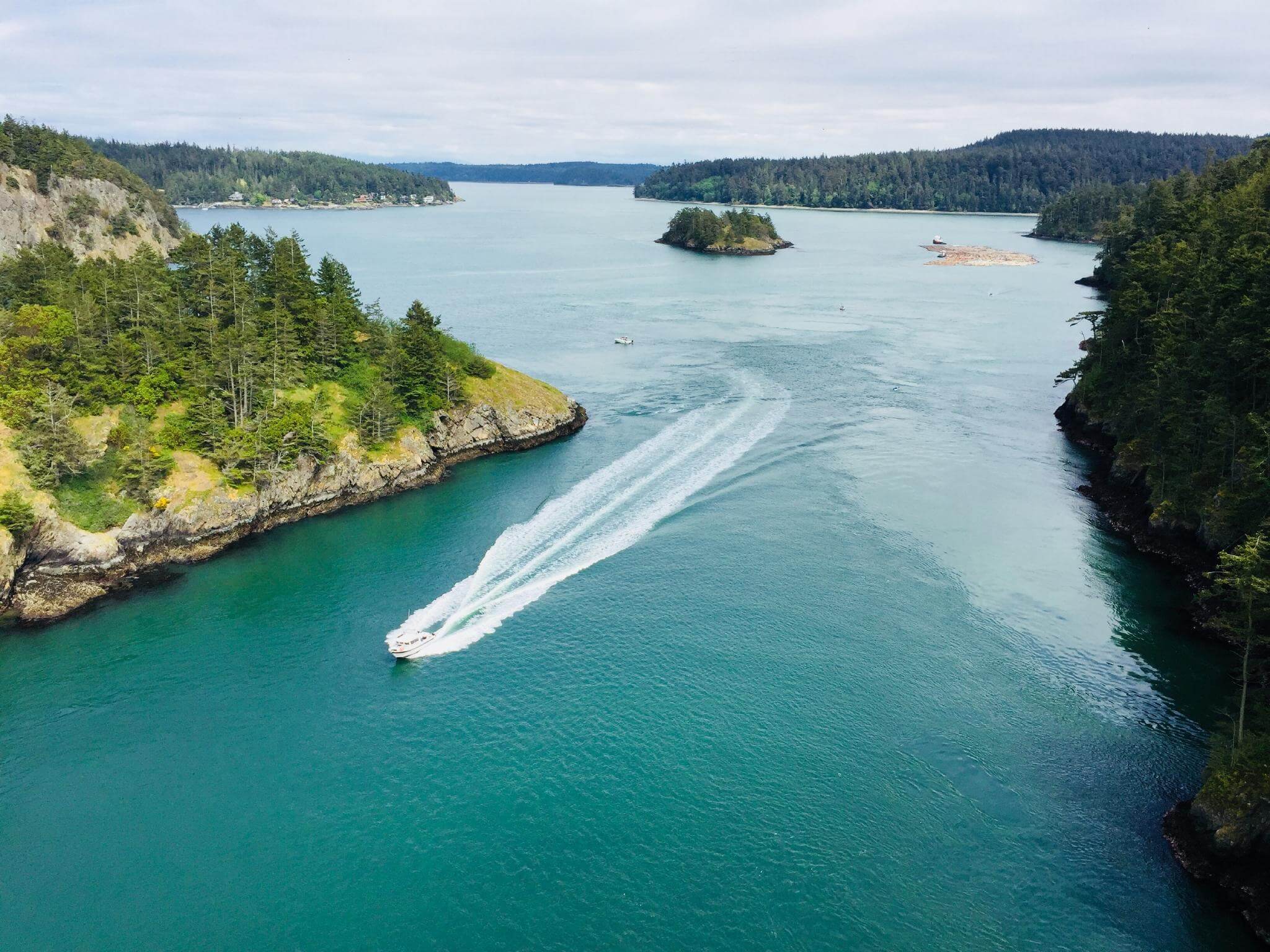 When to Visit Deception Pass State Park
Summer is peak season, with campgrounds usually fully booked every day from Father's Day through Labor Day, plus weekends booked as early as April. To avoid crowds, consider visiting mid-week or during the shoulder seasons of spring and fall. Mid-September to October and April to May can be great times to explore outside of the colder winter months.
Travel Tip: For day visits, park rangers suggest arriving before 11 a.m. to secure parking (the park opens at 6:30 a.m. in the summer and 8 a.m. in the winter.) While the park is open year-round, some facilities, parking lots, and trails close late fall through winter.
Things to Do at Deception Pass
The diversity of landscape – dramatic cliffs rising from the sea, freshwater lakes, beaches, forests, marshes, and wetlands – means there are plenty of recreational activities in Deception Pass State Park. For some history, stop into the Civilian Conservation Corps (CCC) Interpretive Center, a repurposed bathhouse that pays homage to the impact of the organization's initiatives in Washington – including infrastructure for the Deception Pass Bridge.
Beaches and Tide Pools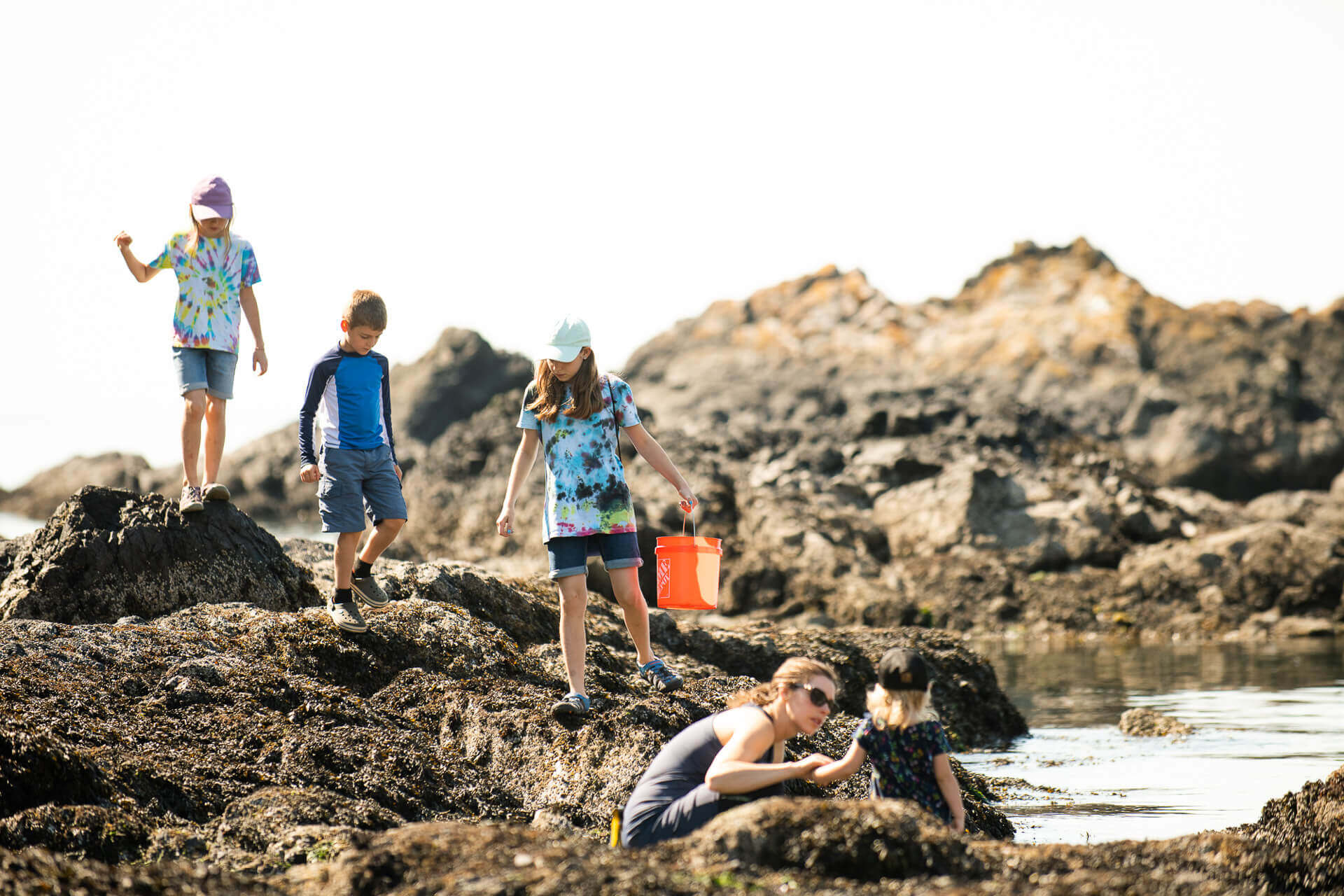 With thousands of miles of shoreline, it's no surprise that exploring the tide pools and learning about the area's sea life is one of the park's biggest draws. During the summer, visitors can register for guided tide pool tours to discover the magic of low tide. Or explore the Rosario Tide Pools at your own pace (just be sure to follow the yellow rope trail and not remove any critters).
Hiking
Within the park, 38 miles of hiking trails (1.2 miles of ADA trails) cover incredibly varied terrain, from evergreen forests to lake basins and rocky shorelines. The Sand Dunes Interpretive Trail at West Beach is a highlight. Along the easy 0.8-mile trail, enjoy an observation deck, views of Rosario Strait, and interpretive signs that explain seaside vegetation.
For a summit hike, head up Goose Rock (4.3 miles), the highest point on Whidbey Island. Along the way, take in views of the Cascade and Olympic mountains as well as the Deception Pass Bridge. Possibly the most iconic hike in the park is Lighthouse Point via Bowman Bay and Rosario Beach Trail. During the 5-mile hike, edge along the dramatic coastline cliffs of Rosario Head, explore forests of hemlock and Pacific madrone, and check out the trusses of the Deception Pass Bridge from Lighthouse Point. For an under-the-radar hike, consider Hoypus Hill on Whidbey Island.
Kayaking and Paddle Boarding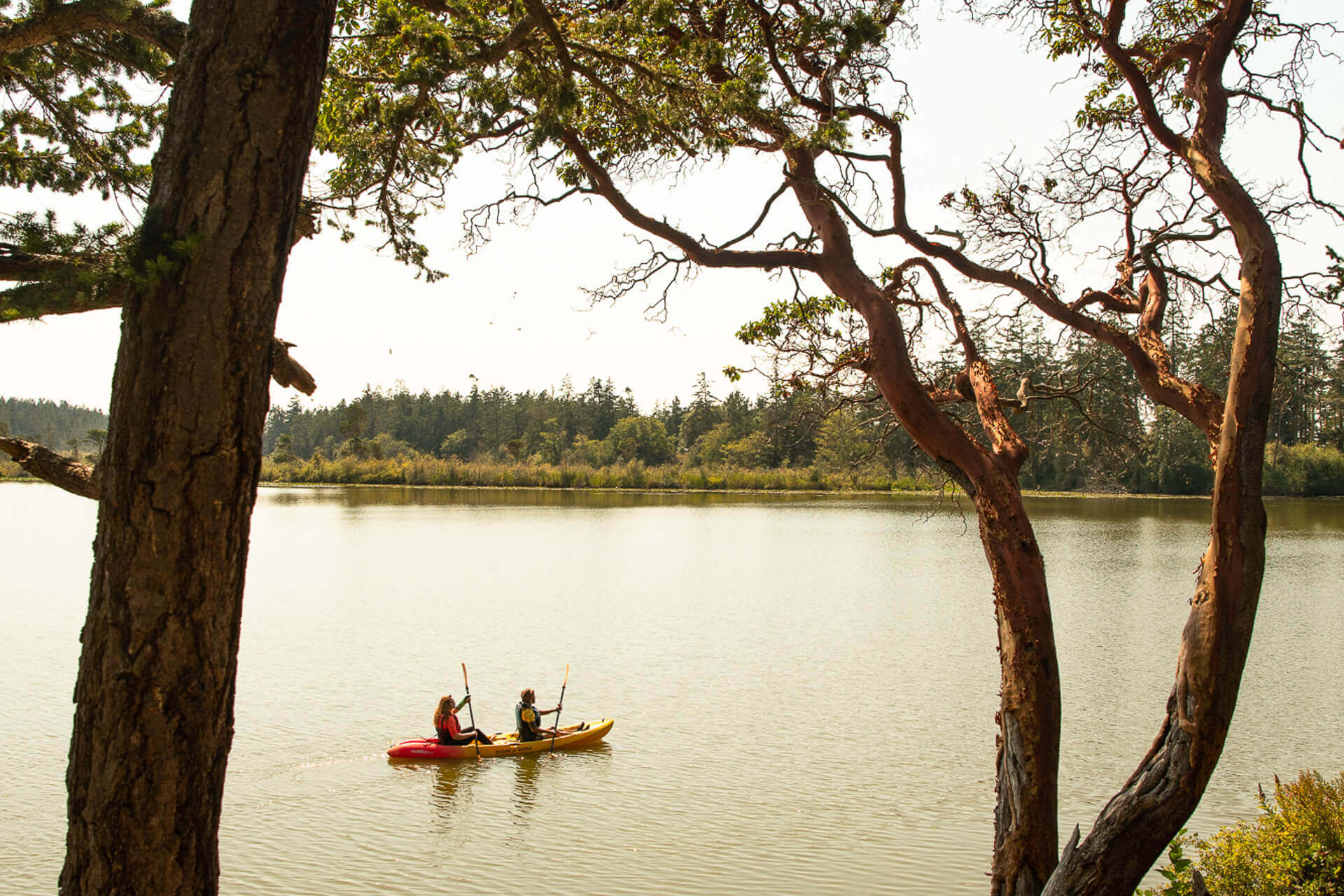 To the north of the Deception Pass Bridge, the protected waters of Bowman Bay offer a great spot to launch. From there, paddlers can avoid the strong currents in the narrows of Deception Pass, opting to explore sea cliffs to the north, tiny Deception Island, and the handsome coastline of Rosario Beach. Watch for harbor seals, porpoises, and whales as well as an abundance of bird species. Before heading out, make a plan to avoid areas with dangerous currents. Alternatively, check out Cranberry Lake, a calm, freshwater option rich in wildlife. Rentals are available at both Bowman Bay and Cranberry Lake. Please note the park has a $7 launch fee per watercraft.
Related: Best Places for Kayaking in Washington
Fishing
Saltwater anglers flock to Deception Pass from mid-summer through early autumn in pursuit of salmon. Along the coastline, the most popular areas to fish are North Beach and West Beach. While West Beach has easy access, it's also more crowded and exposed to the westerly winds. Accessing North Beach requires a short hike, but that doesn't stop salmon enthusiasts from lining the shore from the North Beach Amphitheater to the Deception Pass Bridge during peak season. Coho salmon are the main annual draw, but lingcod, shrimp, smelt, herring, and crab also are abundant in these waters. The inland lakes such as Pass and Cranberry also offer great freshwater fishing. Fishing licenses are required.
Related: Explore Washington's Best Fishing Spots
Guided tours
Whether you're looking for a water adventure or an educational experience, there are ample guided tour options to choose from. Deception Pass State Park runs a robust ranger-led program. Their summer hike series features Marine Mammal Mondays, Trail Tuesdays, Wednesday Summits, and Throwback Thursdays. Plus, there's a new Tide Pool Tour. They also have a Junior Ranger program, a Family in Nature program from January to May, and evening events like concerts or educational talks. Check out their calendar for up-to-date programming.
On the water, you can learn about the history and wildlife of Deception Pass from the seat of a high-speed, catamaran-style jet boat with Deception Pass Tours. From June through September, they also offer whale-watching tours that glimpse humpbacks, minke, and gray whales as well as orcas.
In the early fall, anglers can hop aboard fishing charters during peak coho season with Highliner Charters, while paddlers can explore the tranquil waters with Anacortes Kayak Tours. These are just some of the tour options you can find at Deception Pass State Park.
Related: Discover Washington's Islands Region
Places to Stay
Visitors can choose to base themselves inside the park at one of the campgrounds or stay in one of the nearby communities such as Oak Harbor, La Conner, or Anacortes, which are all less than 20 minutes by car from the park. For large groups, Cornet Bay Retreat Center inside the park has group facilities and bunk accommodations for up to 55 people.
Camping at Deception Pass State Park
The park offers three campgrounds: Quarry Pond (open year-round), Bowman Bay, and Cranberry Lake. Bowman Bay Campground is located near a favored kayak launch site on Fidalgo Island and is the smallest and most secluded with 18 tent sites and two utility sites. The most popular and largest is Cranberry Lake Campground, which sits on a narrow piece of land between the lake and North Beach.
Travel Tip: All of these campgrounds stay busy and book out far in advance, especially during summer. To snag a site, go to Washington State Parks reservations page ideally nine months in advance (when reservations open) to get preferred dates.
Related: Where to Camp Throughout Washington
Lodging near Deception Pass
This lodge boasts expansive views of the San Juan Islands, Swinomish Channel, and Mount Baker. To celebrate the Swinomish Tribe, each room is decorated with Native American touches and local artwork. The adjoining casino has entertainment and plenty of gaming, from slots to table games.
Located a stone's throw from the calm waters of Penn Cove on Whidbey Island, Captain Whidbey Inn is a historic 1907 lodge tucked away in an old-growth forest. Stroll the grounds, lounge in a hammock, or enjoy a local wine on the deck of its waterfront restaurant.
On the banks of the Swinomish Channel in La Conner, this lodge has a sunset-perfect outdoor patio on the water. The suites embrace a Northwest aesthetic and have channel-view balconies. Room service is provided by Oyster and Thistle, which serves Northwest cuisine.
This historic boutique hotel looks out over Guemes Channel in the heart of downtown Anacortes. The seasonal Rooftop Lounge serves farm-to-table cuisine, while the Apothecary Spa offers indulgent relaxation with a eucalyptus steam room and services like hot-stone massages.
The Coachman Inn in Oak Harbor is a Whidbey Island institution. The local couple who opened it in 1977 still runs it today. Under 15 minutes from Deception Pass, this hotel has a seasonal pool, sundeck, and covered hot tub.
Deception Pass Parking
All parking within the park requires a Discover Pass, which you can purchase online or at one of the automated pay stations within the park. Pay stations can be found in the parking lots of West Beach, Cornet Bay Boat Ramp, and the lot south of the Deception Pass Bridge and allow you to purchase a one-day or annual pass. You can also self-register with cash, using envelopes and slot boxes at 27 spots throughout the park.
Travel Tip: If you are camping in the park, there is no need to buy a Discover Pass to park your vehicle at your site, as the parking is included in the campground fee.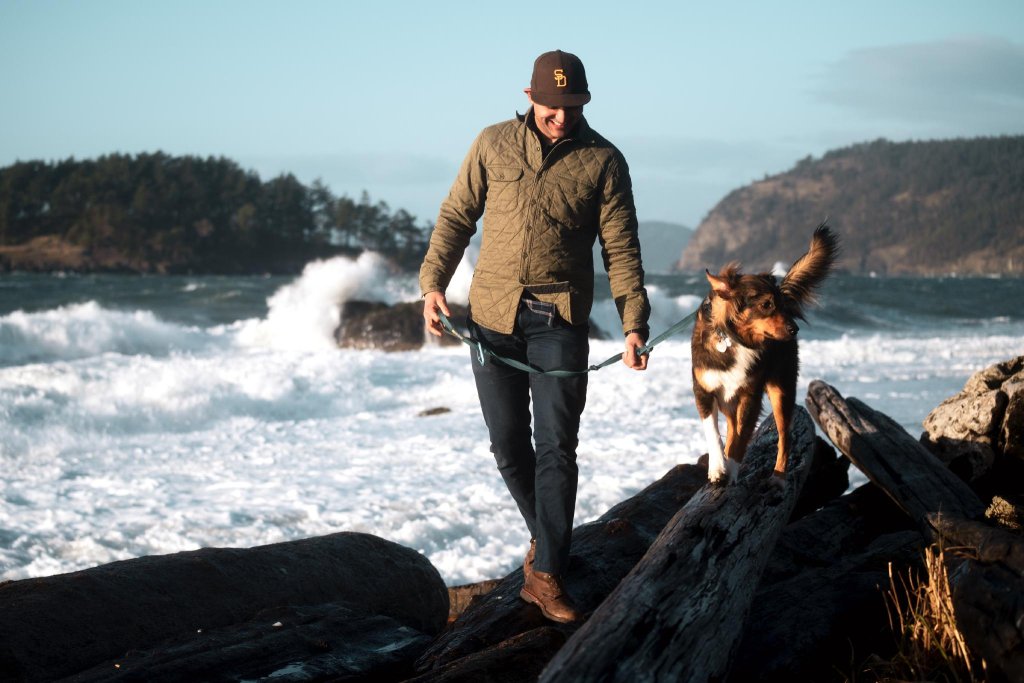 Deception Pass State Park FAQ
What is the best time of year to visit Deception Pass State Park?
While summer is the most popular time to visit due to warm weather, it's also the most crowded, with parking and camping often filling up. Don't underestimate the beauty of spring and fall. It's also easier to find parking outside of the summer months and on weekdays.
Are there picnic areas at Deception Pass State Park?
There are 37 bathrooms and 300 day-use picnic tables scattered throughout the park, many off of North Beach. Visitors can reserve covered picnic shelters as well.
Is Deception Pass State Park pet-friendly?
Pets are welcome at Deception Pass State Park. However, they are required to be on leash, even on the beaches. To protect the environment, pets are not allowed at Rosario Tide Pools.
Is camping available at Deception Pass State Park?
There are three campgrounds within the park, one on Fidalgo Island and two on Whidbey Island. Quarry Pond Campground on Fidalgo is open all year. Go to Washington State Parks reservations page to reserve a site. Reservations open nine months in advance, and it's recommended to make your reservation as early as possible.
What are the park entrance fees and operating hours?
There are no entrance fees for the park, but a Discover Pass is required to park. Parking is included in the campground fee for those staying overnight. In the summer, the park is open from 6:30 a.m. to dusk and in the winter from 8 a.m. to dusk.
What wildlife can I expect to see at Deception Pass State Park?
Tons of wildlife inhabit the varied environments and seascapes within the park. In the ocean, people spot seals, orcas, and a variety of whales. Inland, expect to see many bird species and possibly deer, coyotes, and otters.
Are guided tours available at Deception Pass State Park?
There are many options for guided tours in the park. The rangers plan and lead a robust program that includes everything from interpretive hikes to tide pool exploration. Private businesses also offer guided kayaking, fishing, whaling watching, and jet boating in the park.
How did Deception Pass get its name?
In the late 1700s, British Royal Navy officer and expedition leader George Vancouver was on a mission to map the region. He named the pass "Deception" because the geography led him to believe that Whidbey Island was a peninsula, not an island.
About the Author
Ellee Thalheimer is a freelance writer and guidebook author based in the Pacific Northwest who has contributed to publications like Lonely Planet Guidebooks, Alaska Airlines Magazine, and Adventure Cyclist Magazine. When she can't get outside, she writes fiction, drinks local IPAs, and perfects her handstands.
Featured image: Photo by Jared Thompson