From moss-draped forests on the Olympic Peninsula to shimmering lakes in Eastern Washington, the state's diverse landscapes provide stunning backdrops for camping. Whether you're looking for adventure on the water, the perfect basecamp for hiking, or simply a place to stargaze away from city lights, you'll find plenty of options spread throughout the state.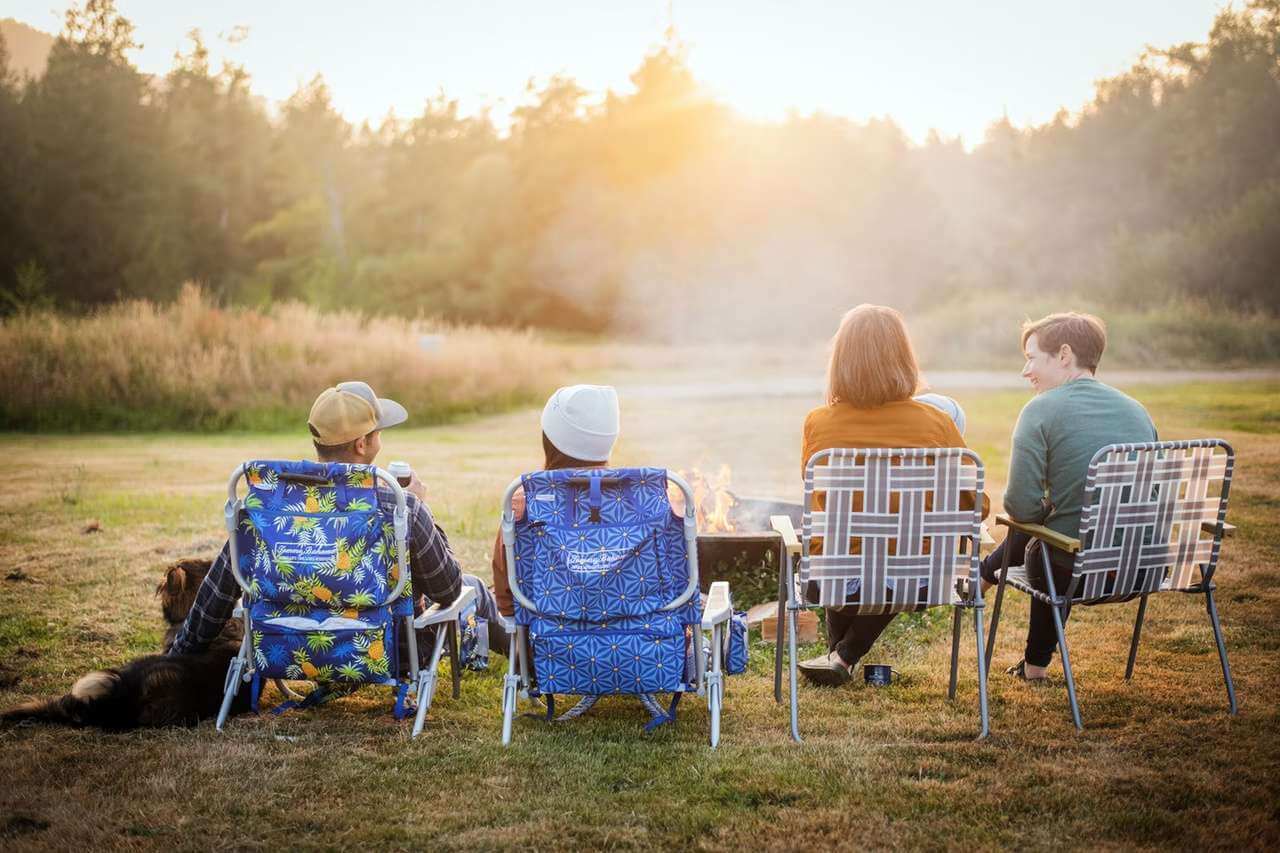 Camping in Washington by Region
The State of Washington is vast and home to 11 tourism regions. With so much area to cover, it's hard to know where to start. No matter which part of the state you're ready to explore, there's a campground for you. While many campgrounds can be found in federal or state forests and parks, privately held KOA campgrounds and RV resorts are also plentiful.
Many campgrounds come with full hookups and dump stations, while others offer limited amenities. Be sure to check the campground website before heading out.
During the busy summer months, many campgrounds require reservations. You can check availability and make reservations at some campgrounds by phone or online at Recreation.gov or Washington State Parks. Certain types of reservations, such as split reservations, must be made by calling the Reservation Center at 888-226-7688.
Below are some options that can be found in each of the state's regions.
Related: Beautiful Campgrounds in Washington for Every Interest
Beaches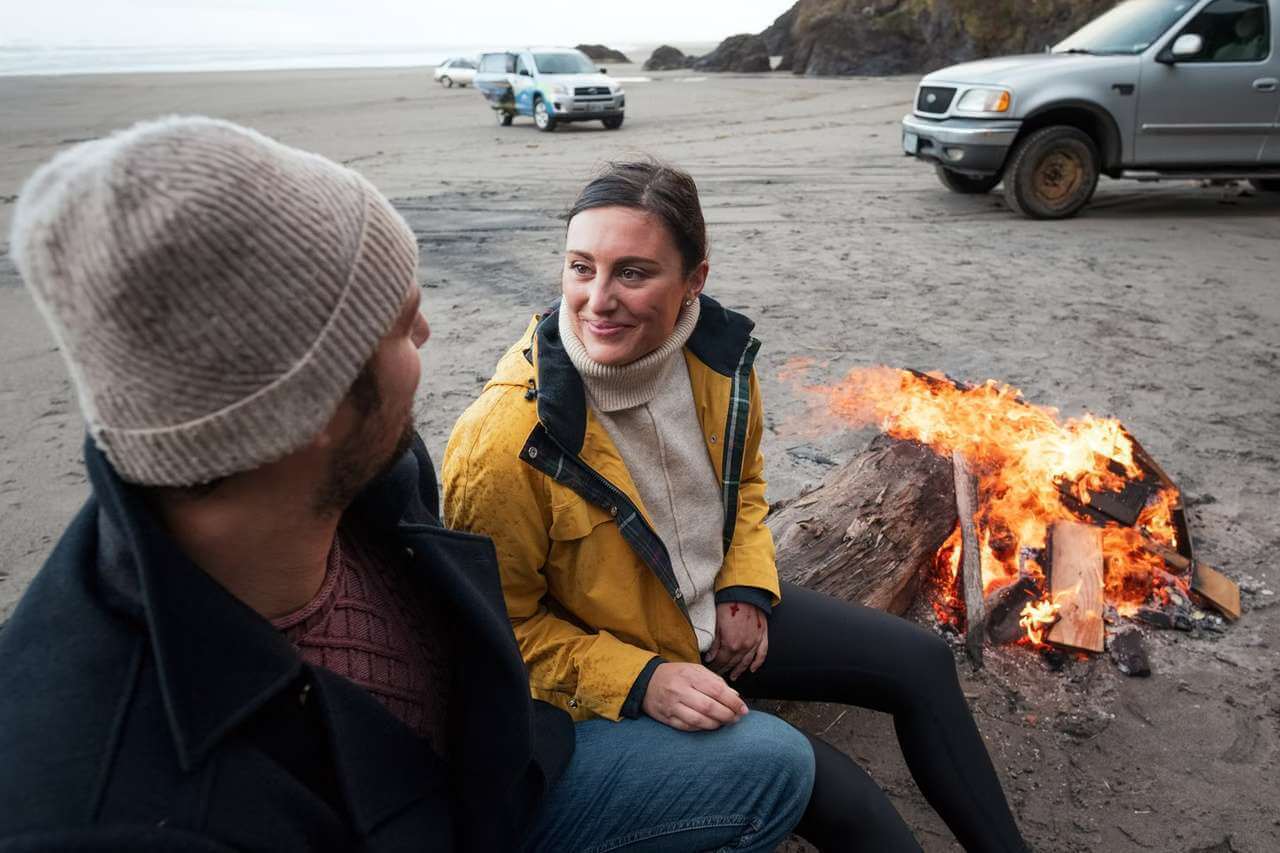 Cape Disappointment State Park, Ilwaco
This massive camping park spans 2,023 acres along southwest Washington's Long Beach Peninsula, which is fronted by the Pacific Ocean. Campers can enjoy easy access to hiking trails through old-growth forests and along beaches. The area is great for families looking to spend time in the sand. Amenities include 137 standard campsites, 50 full-hookup sites, 18 partial-hookup sites, eight restrooms, and 14 showers.
Ocean City State Park, Ocean Shores
Just outside quaint Ocean Shores sits Ocean City State Park. The 257-acre park features ocean beach, dunes, and thickets of shore pines along with 149 standard campsites, 29 full-hookup sites, four restrooms, and nine showers. The park backs North Bay Natural Preserve and is a great location for birders and those looking to dig for razor clams.
Gorge
Paradise Point State Park, Ridgefield
This park's name speaks to its peaceful atmosphere along 6,000 feet of freshwater shoreline. Located 15 miles north of Vancouver, the park offers easy access to the Lewis River and is a popular swimming spot for families. Features include 49 standard campsites, 18 partial-hookup sites, two yurts, restrooms, and showers, plus a disc golf course.
Beacon Rock State Park, Skamania
This older forested campground is less frequented and perfect for those camping by tent or smaller RV while exploring the Columbia River Gorge. Easy access to hiking at Beacon Rock and other sights like the nearby Bonneville Dame make this a great pitstop. The campground has 28 standard campsites and closes seasonally.
Islands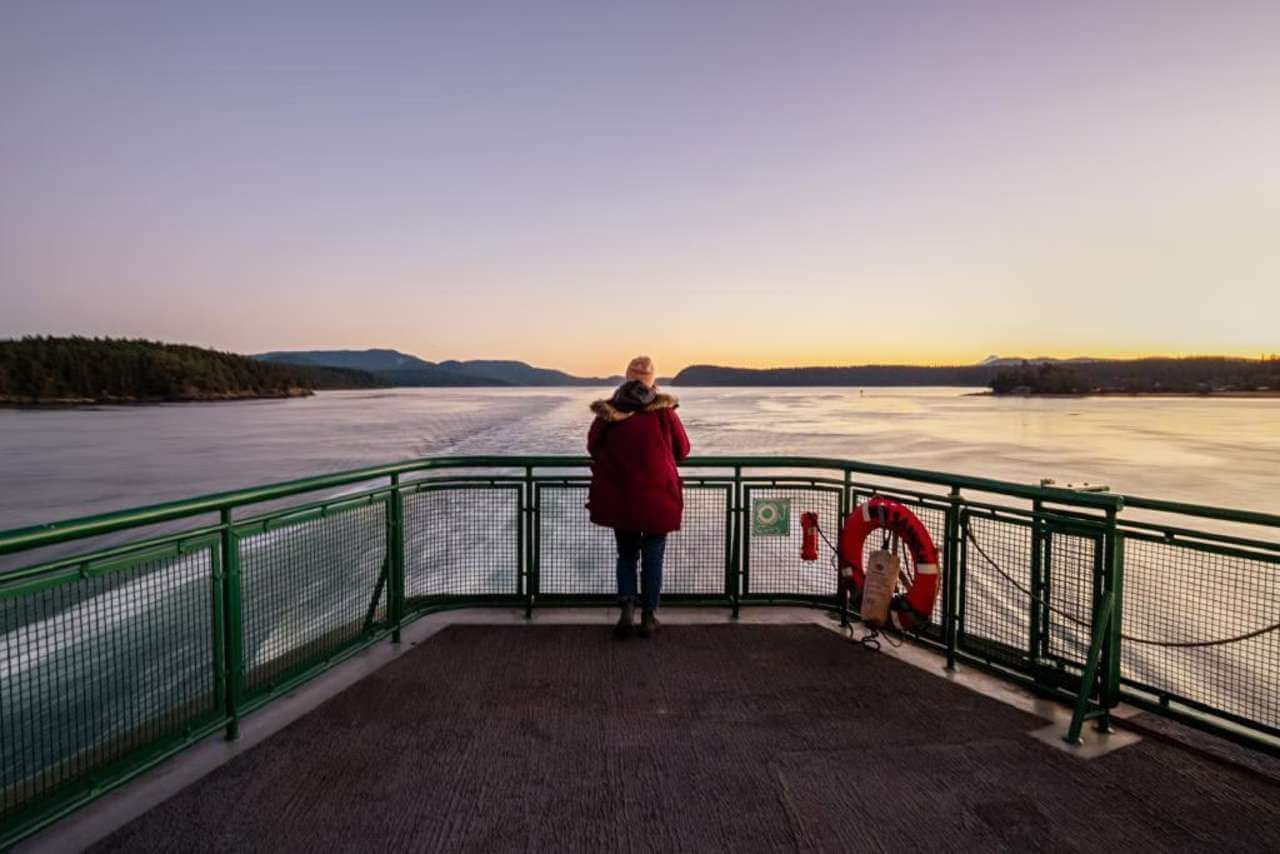 Moran State Park, Orcas Island
Located in the beautiful San Juan Islands, this park offers three separate campsites around Cascade Lake with sites suitable for everything from primitive camping to RV parking and glamping. All sites are near restrooms with showers. Visitors can enjoy boating, swimming, and paddling on the lake as well as easy access to the park's popular hiking trails.
Deception Pass State Park, Whidbey & Fidalgo islands
If you're craving salt air, towering forests, and fantastic views, grab a campsite at popular Deception Pass State Park. Spread across Whidbey and Fidalgo islands, the park boasts multiple campgrounds, 172 tent sites, 134 partial-hookup sites, 20 restrooms, and 10 showers. Families can take a dip in Cranberry Lake or search for shells along miles of shoreline, while birdwatchers will find no shortage of species to spot.
Metro Puget Sound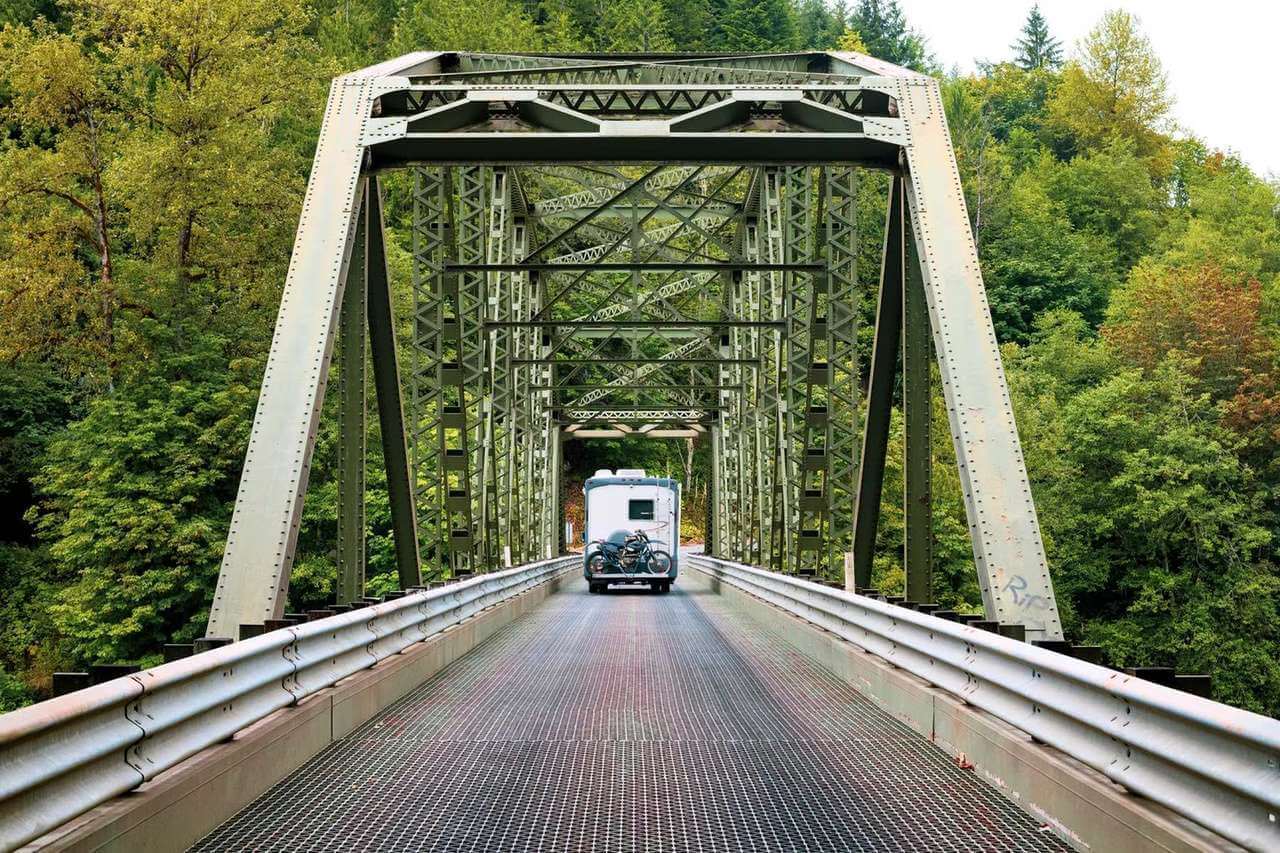 Dash Point State Park, Federal Way
Set along the glittering waters of Puget Sound, this popular destination for water recreation is a great getaway from the nearby cities of Seattle, Tacoma, and Federal Way. Featuring 3,301 feet of saltwater shoreline, this park is a favorite for skim boarding, birdwatching, and family fun. Campground amenities include 114 standard campsites, 27 utility campsites, four restrooms, and six showers.
Middle Fork Campground, North Bend
Embrace solitude in the forest outside of Seattle at Middle Fork Campground in Mt. Baker-Snoqualmie National Forest. Located along the Middle Fork of the Snoqualmie River, the site features 36 tent or trailer units (none with electrical hook ups) surrounded by towering Douglas firs, cedars, and western hemlocks. The area is a prime spot for hiking and fishing during the summer months.
Advertisement
Palouse
Starbuck/Lyons Ferry Marina KOA, Starbuck
Stay along the Snake River in Starbuck at this KOA, where you'll find a campground, marina, camp store, and restaurant. Nearby waterfalls — including Palouse Falls, the official state waterfall — rock formations, and fishing mean you don't have to go far to explore the area's riches.
Fields Spring State Park, Anatone
This 826-acre forested state park nestled in the Blue Mountains of southeastern Washington is the perfect spot for those looking to disconnect. Located about 30 miles south of Clarkston, the park has 20 camping spaces suitable for tents or RVs. Amenities include restrooms, showers, and a kitchen shelter. Take in colorful wildflower-covered hills during the spring and powdery snow perfect for skiing during the winter.
Peninsulas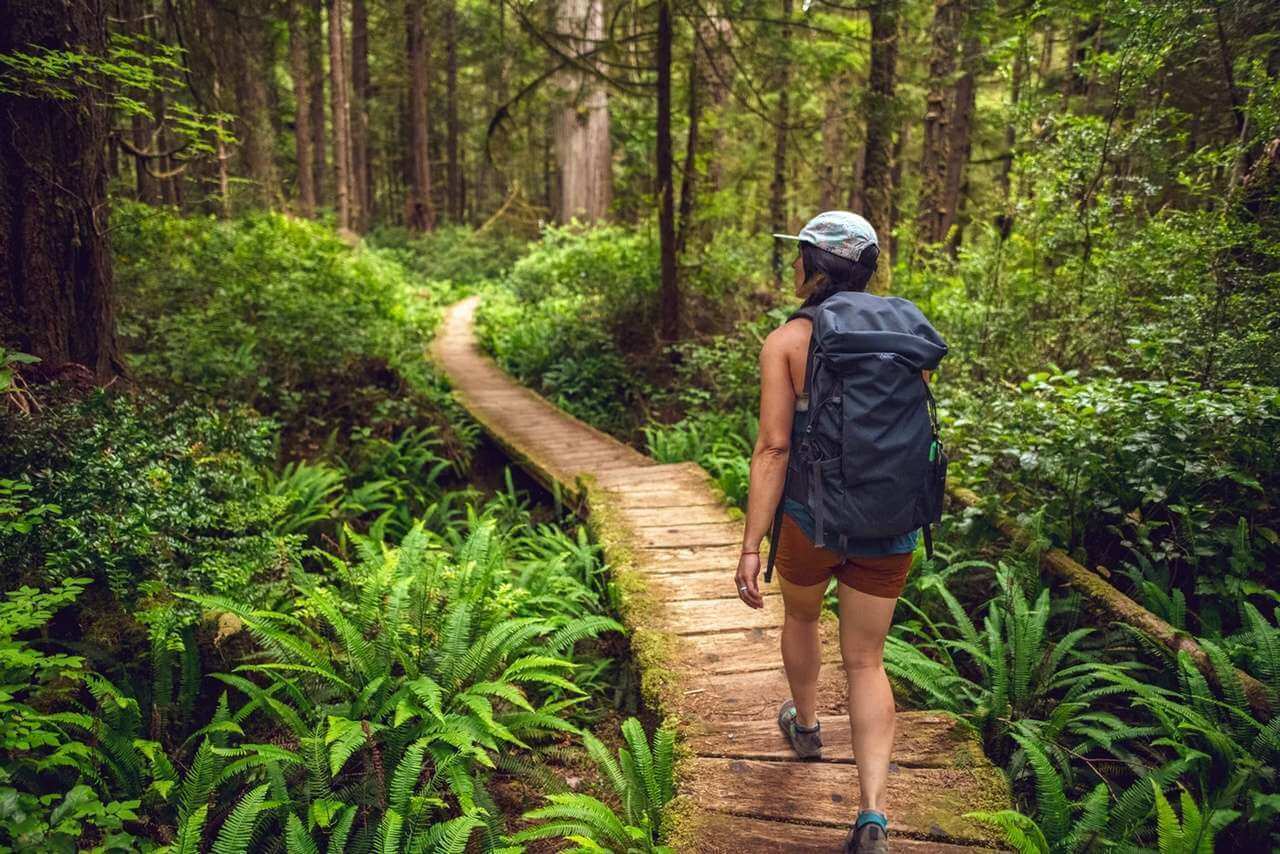 This campground on the Olympic Peninsula sits about 3 miles from the stunning sea stacks and driftwood-strewn shores of Rialto Beach. This campground within Olympic National Park requires reservations June-September and offers 94 campsites fit for tents and RVs, some with views of the Quillayute River.
Sol Duc Hot Springs RV & Campground, Olympic National Park
Pools fed by mineral hot springs and abundant hiking trails through old-growth forest make this campground in Olympic National Park stand out from the rest. Located along the Sol Duc River, the campground offers 82 tent sites and 17 RV sites. Note: Due to the campground's popularity, advance reservations are strongly encouraged.
Advertisement
Ponderosa
Pitch your tent along the Spokane and Little Spokane rivers in Riverside State Park outside Spokane. The Bowl and Pitcher campground boasts 16 standard campsites, 16 partial-hookup sites, and restrooms with showers. Campers can enjoy freshwater fishing, boating, and access to miles of hiking and biking trails.
Edgewater Campground, Colville National Forest
Perched on the banks of the Pend Oreille River in the Colville National Forest, this campground is less heavily trafficked than nearby Noisy Creek Campground. Visitors can enjoy boating, hiking, fishing, and views of the Selkirk Mountains. The site is conveniently located along the International Selkirk Loop, a scenic drive that runs through Washington, Oregon, and British Columbia.
Salish Sea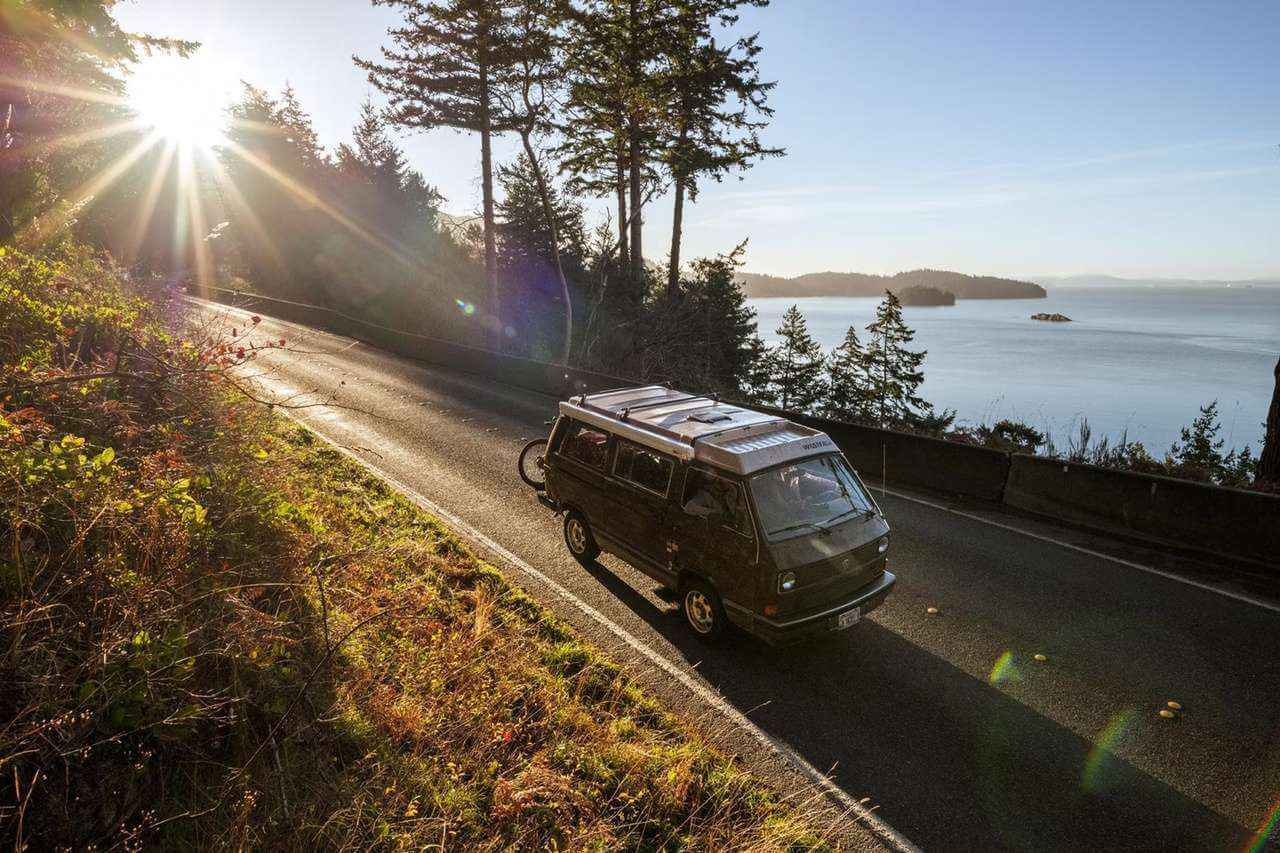 Larrabee State Park, Bellingham
Known for its beautiful sunsets and views of the San Juan Islands, Larrabee State Park boasts 8,100 feet of saltwater shoreline on Samish Bay south of Bellingham. Located off scenic Chuckanut Drive, outdoor enthusiasts will love the campground's easy access to hiking trails, freshwaters lakes, and multiple coves. Amenities include 51 standard tent sites, 26 utility sites, eight primitive sites, and six showers.
Douglas Fir Campground, Glacier
Explore the North Cascades from the Douglas Fir Campground in Mt. Baker-Snoqualmie National Forest. The campground sits along the North Fork Nooksack River and offers easy access to outdoor recreation. Hikers can enjoy the easy and scenic Horseshoe Bend Trail, while rafting enthusiasts can take on rapids upstream. Amenities include around 30 standard sites for tents and RVs, vault toilets, and a historic sheltered picnic area.
Advertisement
Trails & Lakes
Steamboat Rock State Park, Banks Lake
Located on the end of Banks Lake, Steamboat Rock State Parks offers dramatic views and plenty of outdoor recreation for those seeking adventure. Stretch your legs with a hike before cooling off in the lake, which offers 320 feet of dock, seven boat launches, and ample room for anglers, swimmers, and paddlers. The main campground has 26 standard campsites, 164 full-hookup sites, seven restrooms, and many showers. Due to popularity, be sure to make a reservation in advance for camping April-October.
Icicle River RV Resort, Leavenworth
Minutes from the quaint Bavarian town of Leavenworth in the foothills of the Cascade Mountains, this resort offers 75+ RV sites. Located on 50 acres and home to a portion of the Icicle River, the park offers campers the chance to immerse themselves in nature while still enjoying amenities such as internet access and laundry facilities.
Volcanoes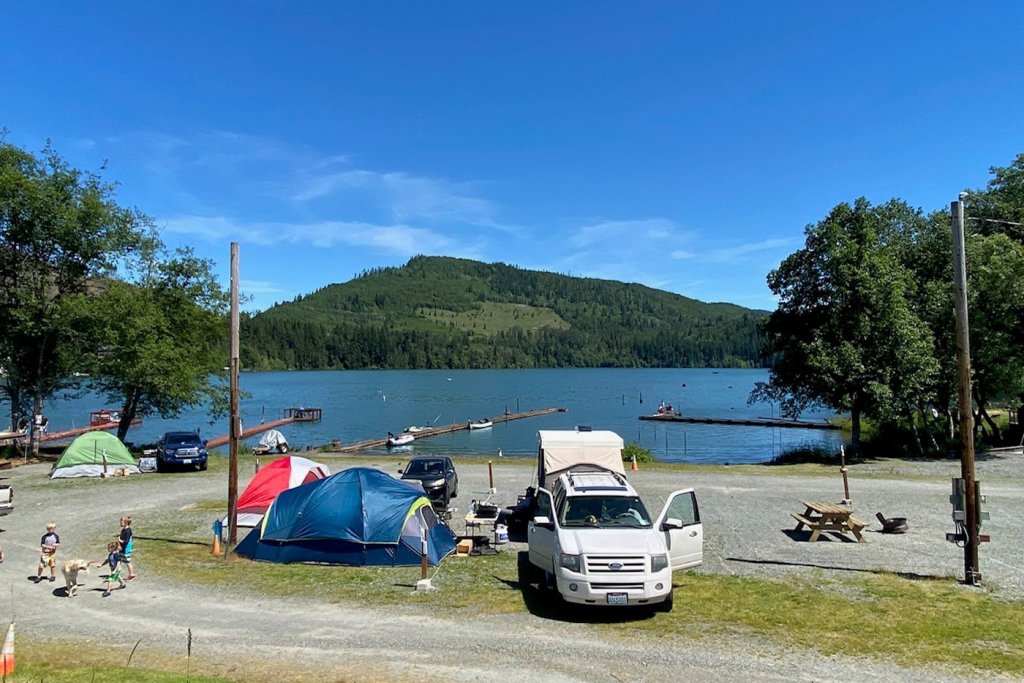 Lion Dens Campground, Mineral Lake
Operated by the Mineral Lake Lions Club, this 12-acre campground on the south shore of beautiful Mineral Lake offers 97 campsites and is perfect for fishing and other water activities. Open from mid-April until mid-November.
Situated along the waters of the Swift Reservoir, Swift Forest Camp is operated by PacifiCorp and makes a great base for those seeking outdoor adventure. The campground provides easy access to Gifford Pinchot National Forest and the south side of Mount St. Helens National Volcanic Monument. Amenities include 93 individual campsites, toilets, boat ramp, and swimming beach.
Cougar Rock, Mount Rainier National Park
One of two campgrounds in the park with campsites that can be reserved, Cougar Rock is a short drive to the popular Paradise area of Mount Rainier, known for wildflowers in spring and summer. The campground is adjacent to the Nisqually River and surrounded by dense forests. Amenities include 173 campsites, flush toilets, and picnic tables.
Wine Country
Yakima Sportsman State Park, Yakima
Created in 1940 by the Yakima Sportsman's Association, this park promotes preservation of natural resources along the Yakima River. Anglers and birders flock to the area, which is home to 140 bird species thanks to an extensive wetland of marshes and ponds. Families can enjoy the park's juvenile fishing pond, which is stocked with rainbow trout. At night, the area provides great opportunities to stargazing. The park has 37 standard campsites, 37 full-hookup sites, two restroom, and four showers.
Located on Lake Wallula in eastern Washington, campers can enjoy boating, hiking, swimming, and fishing for salmon and steelhead. The park is adjacent to the McNary National Wildlife Refuge, which provides habitat for migrating waterfowl and other wildlife. Amenities RV/tent sites, restrooms with showers, and a playground.
Additional Resources
FreeCampsites.net provides a thorough list of campsites in Washington, color-coded to easily identify if they are free and if they require a pass or permit. Each campground listed has GPS coordinates, amenities, and number of campsites.
For unique stays, Hipcamp works with landowners – known as hosts – to offer tent and RV camping, cabins, treehouses, and glamping, while membership-based Harvest Hosts offers RV camping at local farms, wineries, and breweries.