The rush of snagging a fish from Washington's waters is hard to beat. From trolling for salmon along the coast to hooking bass on freshwater lakes, anglers are spoiled for choice in Washington. Whether you're a beginner or a seasoned angler, you'll find plenty of spots to drop a line throughout the state.
The Washington Department of Fish and Wildlife stocks many lakes, and come winter there's even ice fishing for perch, walleye, and trout out on the Lind Coulee arm of Potholes Reservoir. Fishing in Washington is truly a year-round experience.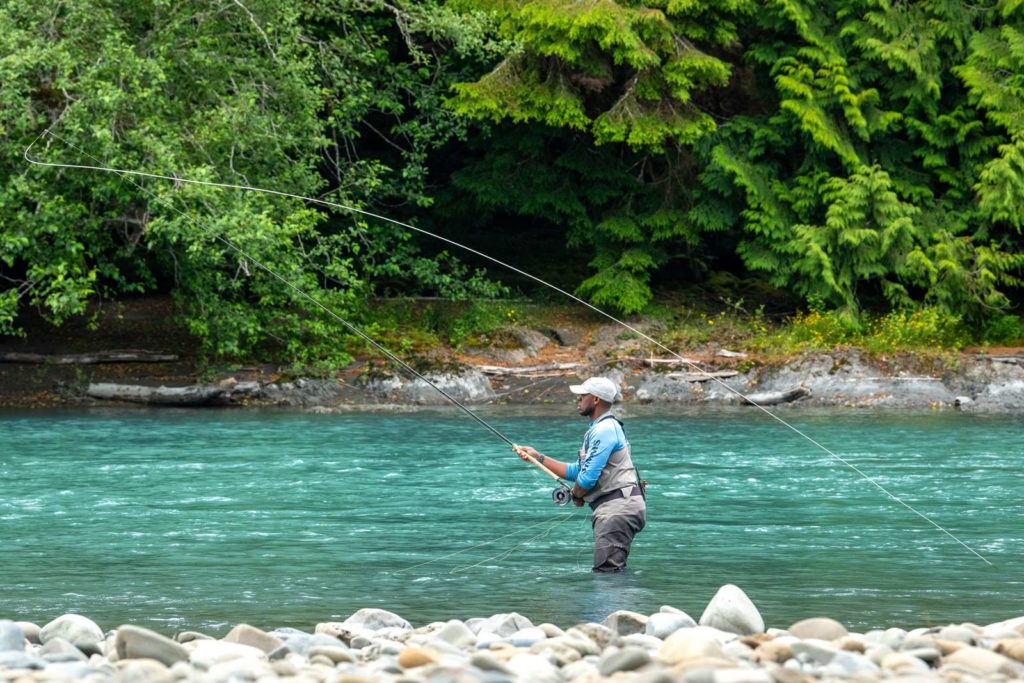 Where to Go Fishing in Washington
From abundant lakes to miles of coastline, explore some of the best areas to go fishing in Washington.
Lowland Lakes
Washington is home to thousands of lowland lakes, providing anglers of all ages plenty of opportunities. Lake Washington in Seattle offers great year-round fishing and holds dozens of species including rainbow trout, small and largemouth bass, perch, and seasonally salmon. Many piers dot lake, providing easy access to the lake's bounty.
In Eastern Washington, Lake Roosevelt offers up white sturgeon, rainbow trout, kokanee, walleye and smallmouth bass as the star attractions. The lake is open for fishing year-round, except for sturgeon, which are subject to special rules and seasons. Moses Lake and Lake Chelan are also solid options on the eastern side of the state.
Along the Oregon border, Lake Umatilla offers good fishing for smallmouth bass, walleye, and other warmwater species. Steelhead and salmon can also be found in this pool of the Columbia River.
High Lakes
While many high-elevation mountain lakes are fishless, those with fish populations offer anglers a spectacular experience complete with camping, wildlife viewing, and scenic vistas.
Beginners should try one of Fish & Wildlife's "getting started lakes," which are relatively easy to access and offers a good idea of what you can expect fishing high lakes. Baker Lake in the Mount Baker National Recreation Area provides excellent fishing for kokanee from April through June and again in the fall.
In Chelan County, Heather Lake can be reached via a popular 3.3-mile trail and offers good opportunities for westslope cutthroat trout and rainbow trout. While many high lakes require a hike, some options, like Forlorn Lakes in Gifford Pinchot National Forest, are accessible by vehicle.
Rivers & Tributaries
The Columbia River is an exhilarating or as picturesque as landing a king salmon out of the Columbia River. There is often great opportunity to catch big salmon here. The tributaries such as the Cowlitz and Kalama rivers are a good bet for fishing below the Bonneville Dam.
Close to a million pink salmon return to the Skagit River each year, while rivers farther inland are known for their spirited steelhead. That's especially true in the Heller Bar area of the Snake River, near Clarkston, where thousands of the feisty fish pass through from August to March.
Popular fly-fishing spots include the Spokane River, which is easily accessible from the city, and as well as the Yakima River, which offers up ample trout. Out on the Olympic Peninsula, the Queets River is an fantastic option for winter steelhead.
Advertisement
Marine Areas
Marine areas include areas such as Puget Sound, Hood Canal, the San Juan Islands, and the Pacific Ocean. Westport, on the Pacific Coast, lures with the opportunity to fish deep waters and haul in chinook and coho salmon, as well as albacore tuna, halibut, and rockfish.
Coho salmon can be caught by anglers casting from public beaches around Puget Sound. Popular fisheries in the winter and spring include the Tacoma Narrows, Fox Island, and Purdy Bridge.
Fishing Regulations
Before heading out, make sure you check the state's fishing regulations and have the proper recreational fishing license. The annual fishing pamphlet details rules and regulations statewide and is available to download from the Fish & Wildlife website.
It's also important to check for any emergency rule changes affecting the species or location you're fishing. For up-to-date information on regulations, download the Fish Washington app.