By Ellee Thalheimer
Washington State is a kayaker's dream. Paddle mountain-view lakes lined by an impressive cityscape in the heart of Seattle, or soak in the sunset in Bellingham Bay before floating over otherworldly bioluminescence once the sun sinks.
East of the Cascade Mountains, nature preserves and parks offer flatwater destinations rich with wildlife and solitude. Whether you're an expert with your own equipment or a beginner on a guided tour, there is something for everyone. Summer is peak season, but kayaking is possible year-round in many spots. Below are some stand-out places for kayaking in Washington State. View a map of locations here.
Where to go Kayaking in Washington
Lake Union & Lake Washington, Seattle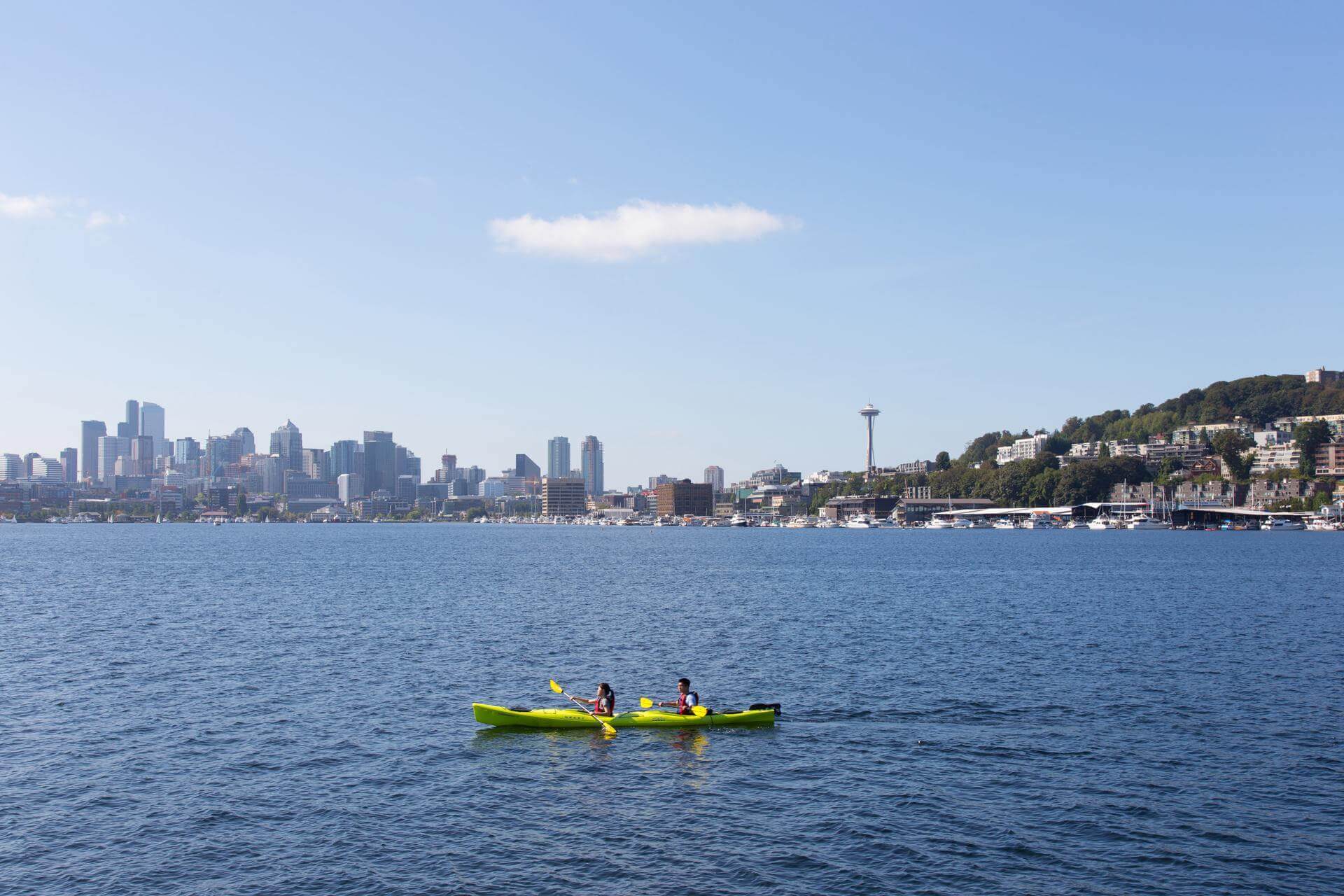 Season: All year
Good for: Nature in the city, skylines
Seattle's bays and lakes offer an escape into nature. Paddlers flock to Lake Union in the center of the city and to the much larger Lake Washington, which lines Seattle's eastern flank. Kayakers can take in the city skyline as well as snow-capped mountains in the distance. Rental businesses abound, making it easy to get out on the water. For a change of perspective, hit the water at night. REI rents kayaks and guides a city lights tour of Lake Washington. Participants watch the sunset light up Mount Rainier, then paddle under the peaceful cover of night, the city glimmering from shore.
Related: Discover Washington's Water Activities
Spokane River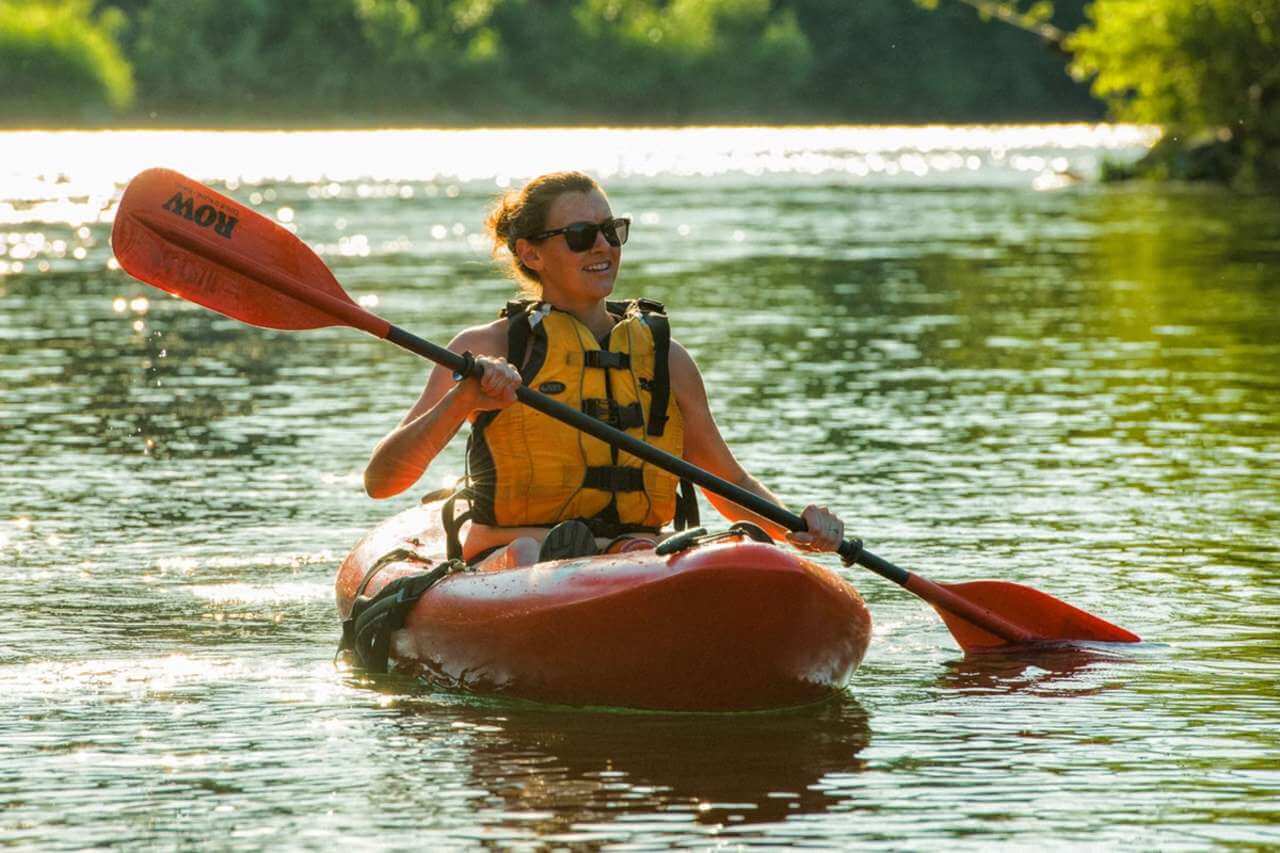 Season: All year
Good for: relaxing cool-down, pints
Winding through downtown Spokane in Eastern Washington, the Spokane River provides a serene, easily accessible way to escape the summer heat. Right downtown on the Centennial Trail under the Division St. bridge, Fun Unlimited rents kayaks from the waterfront. To take advantage of both the lovely riparian environment and the cityscape, opt for Fun Unlimited's Paddle & Pint self-guided adventure. Paddle to restaurant patios on the river, hitting up some of Spokane's favorite brew spots – like No-Li Brewhouse, which serves craft beer made with locally sourced ingredients. Or pull up to Osprey and tuck into truffle fries and a pulled pork sandwich on its swanky deck.
Willapa Bay
Season: All year
Good for: Abundant wildlife
In the southwest corner of the state, the Long Beach Peninsula insulates Willapa Bay from the Pacific Ocean. Seven rivers and numerous creeks flow into the bay, creating protected paddling through salt marshes, estuaries, and tidal flats. Keep your eyes peeled for seals, sea lions, river otters, shore birds, waterfowl, and possibly porpoises. Willapa Paddle Adventures offers guided tours in the bay as well as kayak rentals. If you go solo, pay attention to tide charts, as kayakers can become stuck in the mud flats when the tide goes out. For safety tips and destinations, check out the Willapa Bay Paddle Trail. Long Island is a popular paddling destination within the Willapa National Wildlife Refuge, with primitive campsites and protected old-growth cedar forests.
Related: A Family Getaway to Long Beach WA
San Juan Islands
Season: All year
Good for: Bioluminescence, whale watching
With its calm waters, evergreen forests, craggy inlets, and incredible whale watching, the San Juan Islands are an international kayaking destination in Washington. The tidal exchanges around the islands cause currents and upwellings to surface micro-organisms, which congregate in the bays. If disturbed by a wave or paddle, some of these organisms produce bioluminescence, which appears like bursts of sparkling blue-green light. This phenomenon is best seen at night in calm waters. Kayakers can cut through the peaceful waters, creating a glow-in-the-dark wake. On San Juan Island, Discovery Kayaks will bring you on a bioluminescence tour starting in Griffin Bay south of Friday Harbor, launching just before sunset. There are also many places to rent kayaks on the island, such as Sea Quest.
Advertisement
Moses Lake
Season: Spring-Fall
Good for: Sun during the shoulder seasons
In the sage-strewn desert between the Tri-Cities area and Spokane, Moses Lake is an oasis with 120 miles of shoreline. When other regions of the state get a bit soggy in the fall and spring, lake lovers follow the sunshine here. The city of Moses Lake sits along the shore and offers plenty of services, including kayak and paddle board rentals at Lakeshore Water Sports. At its southern point, check out the sand dunes and mudflats that are home to blue herons, red-winged blackbirds, cranes, and bald eagles. Hoping to encourage non-motorized recreationists, the city created the Moses Lake Water Trail, which is a helpful tool for prospective paddlers.
Hood Canal
Season: All year
Good for: Wildlife and shellfish
This waterway separates the Kitsap Peninsula from the Olympic Peninsula. Not only does Hood Canal provide a scenic spot for kayaking in Washington, but it also offers the chance to spot tons of wildlife – eagles, seals, river otters, and more – and slurp fresh oysters. Hood Canal Adventures, a biologist-owned company based in Brinnon, combines the best of both worlds on their Oysters on the Beach kayaking tour. Kayak 1.5 hours to a secluded beach crowded with oysters, which paddlers can shuck right there. During crabbing season (July-September), kayak crabbing is also an option. If you want to paddle solo, Hood Canal Adventures rents kayaks as well.
Related: A Salish Sea Oyster Road Trip
Advertisement
Blake Island State Park
Season: All year
Good for: Mountain views, wildlife
Not far from Seattle, in the middle of the Puget Sound, Blake Island Marine State Park is a 475-acre island with 5 miles of sand and gravel shoreline. It's only accessible by watercraft and has stunning views of the Olympic Mountains and the Seattle skyline. Launch from Alki Beach (just 15 minutes from downtown Seattle) for a 4-mile paddle or launch from the Southworth ferry terminal on the Kitsap Peninsula for just 1 mile of paddling. The island is part of the Kitsap Peninsula National Water Trail – the only natural saltwater trail in the country – which extends along 371 miles of extraordinary shoreline. Exotic Aquatic Scuba and Kayak guides tours to Blake Island from Fort Ward on Bainbridge Island. If heading out from the Seattle area, Alki Kayak Tours rents kayaks from Alki Beach.
Bellingham Bay
Season: All year
Good for: Sunsets, multi-day adventures
Toward the Canadian border, Bellingham Bay is a calm alcove of the Salish Sea bordered by the Chuckanut Mountains. The bay itself is dotted with islands and contains pocket estuaries teeming with wildlife. Visitors have plenty of options for kayaking in this part of Washington. For a multi-day adventure, Bellingham-based Moondance Sea Kayak Adventures guides tours to nearby Lumni and Clark islands. For evening adventures, head out with Dragonfly Kayak Tours to experience sunset or mesmerizing bioluminescence. Visitors who want to rent their own kayaks can look to KayakShare in Marine Park.
Lake Crescent
Season: Spring-fall
Good for: Water visibility, swimming holes, Olympic National Park
Inside the northern border of Olympic National Park, Lake Crescent is surrounded by the thickly forested foothills of the Olympic Mountains and is one of the best destinations for lake kayaking in Washington State. As a glacially-carved lake, it's both deep (624 feet) and extremely clear, with visibility sometimes up to 60 feet down. Check out its wild shores with kayaks rented from Lake Crescent Lodge, where you can paddle to Devil's Punch Bowl, an azure swimming hole. For a guided adventure, Elevate Outdoors based out of Port Angeles will take visitors on an afternoon kayak tour. Since the lake is inside Olympic National Park, you'll need a National Parks Pass to visit.
Bateman Island, Columbia & Yakima Rivers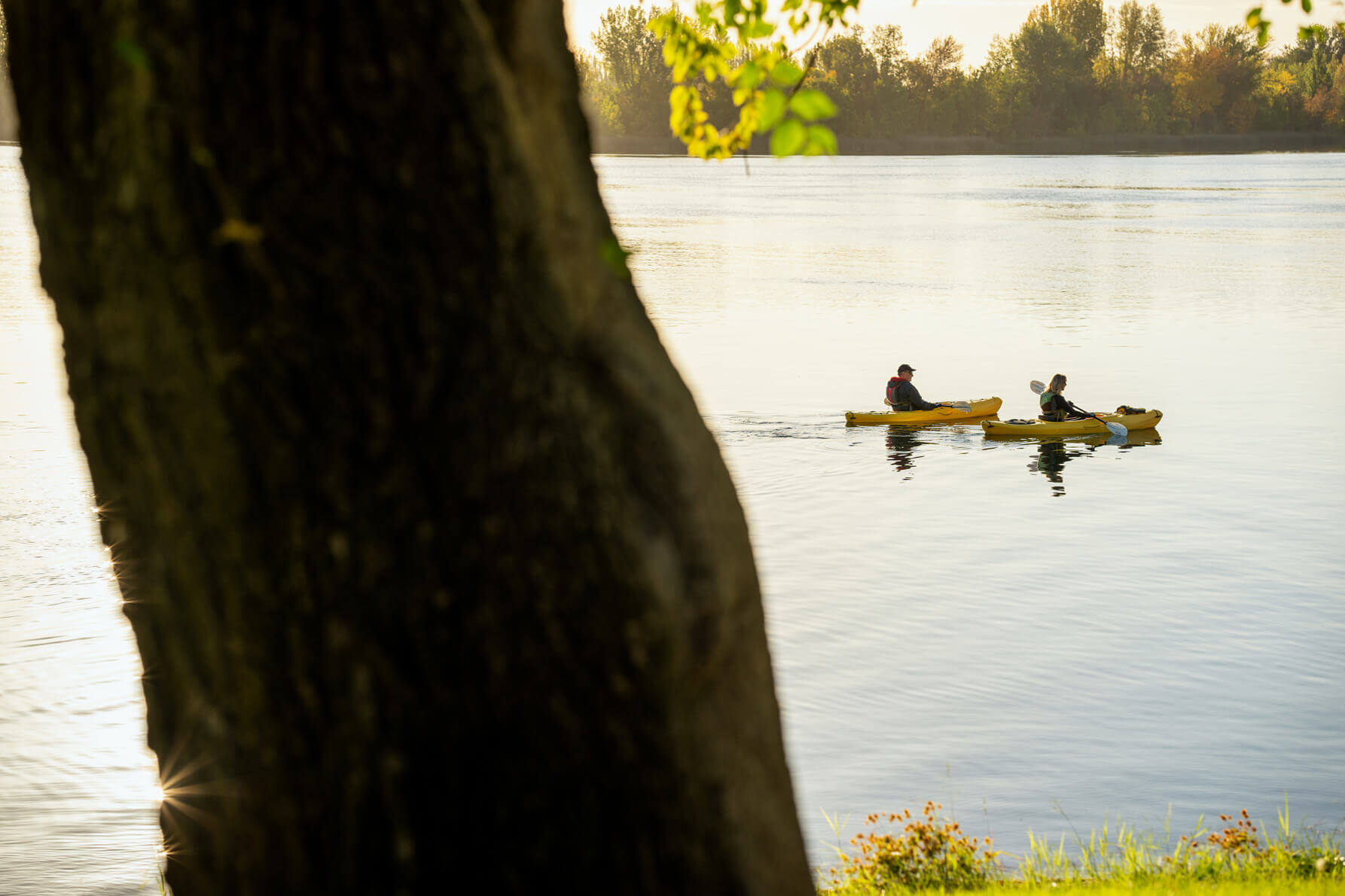 Season: All year
Good for: Birding
In the Tri-Cities area east of the Cascade Mountains, you'll find another great spot for kayaking in Washington. Here the Columbia and Yakima rivers converge at Bateman Island, creating a wildlife-filled flatwater area. Circumnavigate the island or visit other small surrounding islands. Keep an eye out for pelicans, great blue herons, and egrets. Bateman Island is also the terminus of the 31-mile Tapteal Water Trail, which explores a watershed recognized as one of the most diverse, scenic, and biologically productive systems in the Pacific Northwest. Bateman Kayak and Canoe will drop off and pick up kayak rentals from the Bateman Island launch for a half-day adventure, or they can do drop offs and picks up at any of 10 launches on the Tapteal Water Trail.
Northern Coast of the Olympic Peninsula
Season: All year
Good for: Wildlife, coastline
On the north coast of the Olympic Peninsula between Sequim and Port Angeles, the Dungeness National Wildlife Refuge is dedicated to protecting migratory birds and marine mammals. Its 770 acres includes Dungeness Spit, one of the longest saltwater sand spits in the world, which stretches its thin finger of sand over 5 miles into the Strait of Juan de Fuca. From Cline Spit County Park, kayakers can paddle Dungeness Bay to spy harbor seals and a myriad of bird species. Note you can only land on the end of the spit and need to secure a permit. You can rent kayaks from Dungeness Bay Cottages, which operates a private beach. Alternatively, take a guided tour with Elevate Outdoors to Freshwater Bay, about 30 miles west, where you'll see colorful tidal life such as sea stars and anemones.
Curlew Lake
Season: Spring-fall
Good for: kayak fishing
Just north of Republic in Northeast Washington, glacier-carved Curlew Lake nestles in the foothills of the rugged Kettle River Range. The lake is known for some of the best trout, tiger muskie, and bass fishing in the state, but kayakers also frequent the area. On the east side of the lake, Fisherman's Cove Resort rents kayaks. Though the main body of the lake can get busy with jet skiers and boats, the north and south ends have shallows that preclude motors, making them perfect spots for kayaking.
Lake Easton
Season: Spring-fall
Good for: Easy getaway
Lake Easton State Park is a forested, 697-acre park in the eastern foothills of the Cascade Range, tucked at the base of Cabin and Monahan mountains. Just over an hour east of Seattle off Highway 90, it offers a serene escape from the city. Unlike the neighboring lakes, Lake Easton only allows motorized boats with up to 10 horsepower due to shallows and underwater stumps (which aren't an issue for kayaks). Paddlers love to explore its forested inlets and beaches. To visit, you'll need a Discover Pass.
Kayaking in Washington – Water Safety
Keep your cool and be water-wise while enjoying Washington's waterways by following some of these safety tips.
Be aware of all paddlers' abilities and comfort levels to ensure everyone feels safe. If kayaking with children, designate an adult as a watcher.
Check the weather forecast and, when applicable, tide tables.
Respect the water. Cold water is common in Washington, even in the summer months. Obey safety signs, and know your limits.
Check local ranger, national forest, or national park websites for updates, closures, and warnings.
Share float plan details with someone, including timelines and launch/exit locations.
Bring life jackets and a whistle.
Be prepared in case of immersion, from extra clothes to an emergency blanket.
Know how to re-enter a kayak.
About the Author
Ellee Thalheimer is a freelance writer and guidebook author based in the Pacific Northwest who has contributed to publications like Lonely Planet Guidebooks, Alaska Airlines Magazine, and Adventure Cyclist Magazine. When she can't get outside, she writes fiction, drinks local IPAs, and perfects her handstands.