Story & photos by Learners and Makers
When we emerged from the spruce forests and the welcoming towns, the broad sands greeted us, and beyond, the endless expanse of the Pacific Ocean glistened in the spring sunshine. Our family of four—Jodie, Anthony, 8-year-old Aster, and 11-year-old Connor—felt like we were on an island. Yet a mile and a half behind us, we could look east across Willapa Bay to the mainland just beyond. And over the next few days, we would explore things to do in Long Beach, WA with kids, from clam digging to history.
This visit was sponsored by State of Washington Tourism and Visit Long Beach Peninsula. However, this article reflects our own personal opinions and experiences.
About the Long Beach Peninsula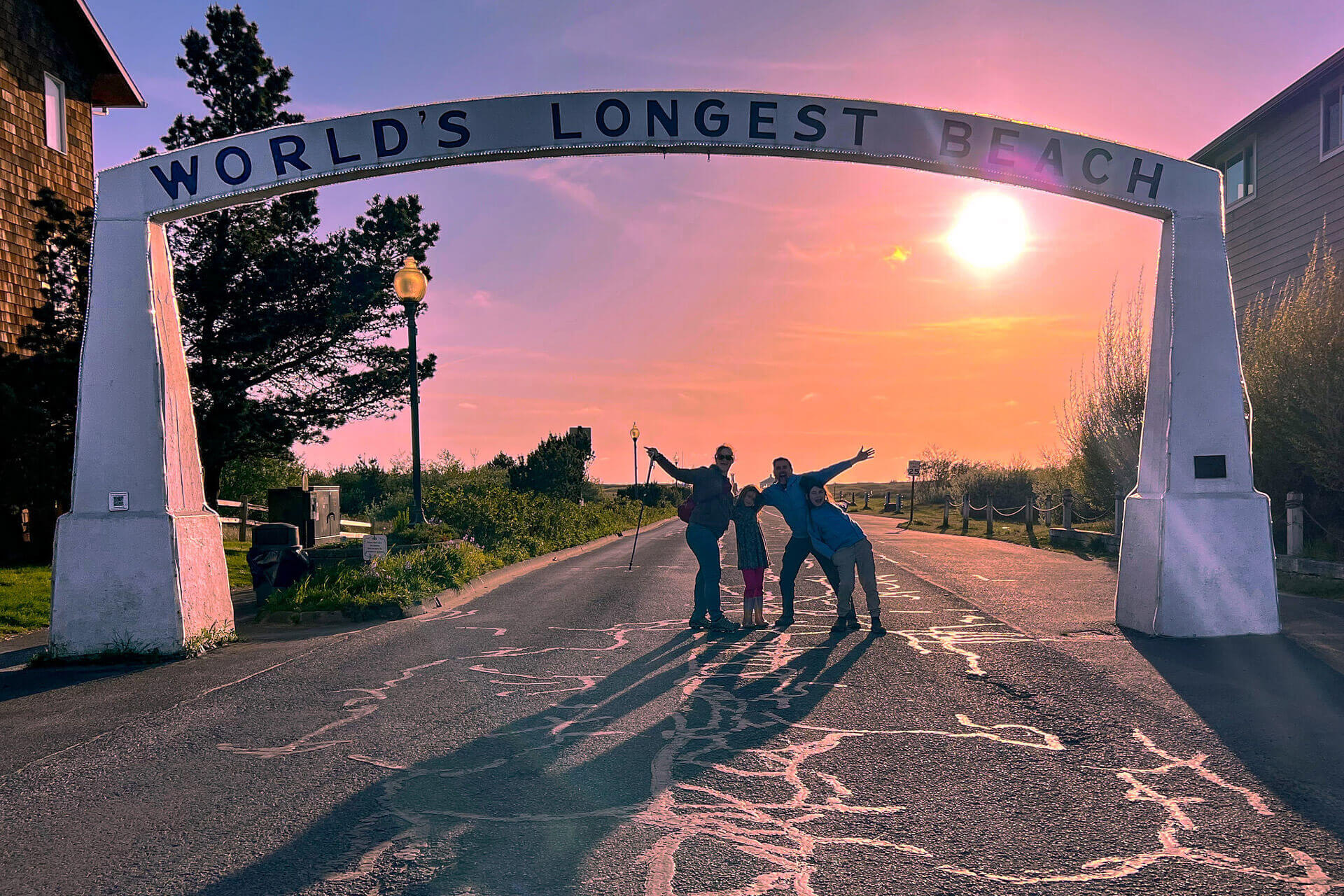 Situated at the southwestern edge of Washington State, the towns and coastline of the Long Beach Peninsula are only about a two-and-a-half-hour drive from Portland and Tacoma. From Leadbetter Point State Park in the north to Cape Disappointment State Park in the south, this 28-mile-long spit is only 43 square miles. Yet the peninsula is packed with things to do.
Most of the western shore is a continuous public beach that's over 20 miles long. A paved network of coastal trails opens up nature and outdoor access to people with a range of mobilities. Small towns are welcoming and continue to improve access to travelers with mobility considerations, from senior citizens with joint issues to amputees such as Jodie.
Advertisement
From state parks to local communities, history, culture, and fascinating interests come alive, all in an area where you can drive from tip to tip in about an hour. When visiting the area (especially outside of high season) we suggest calling ahead for open hours.
Is Washington's Long Beach Peninsula a good place to visit with kids?
Yes. Long Beach Peninsula has a range of accommodations, destinations, and family friendly activities. Natural attractions abound, along with two state parks that combine getting outside with cultural and historical activities. The small area also means less driving time and more family fun time out and about.
Stay: The Breakers Condo Rentals, Long Beach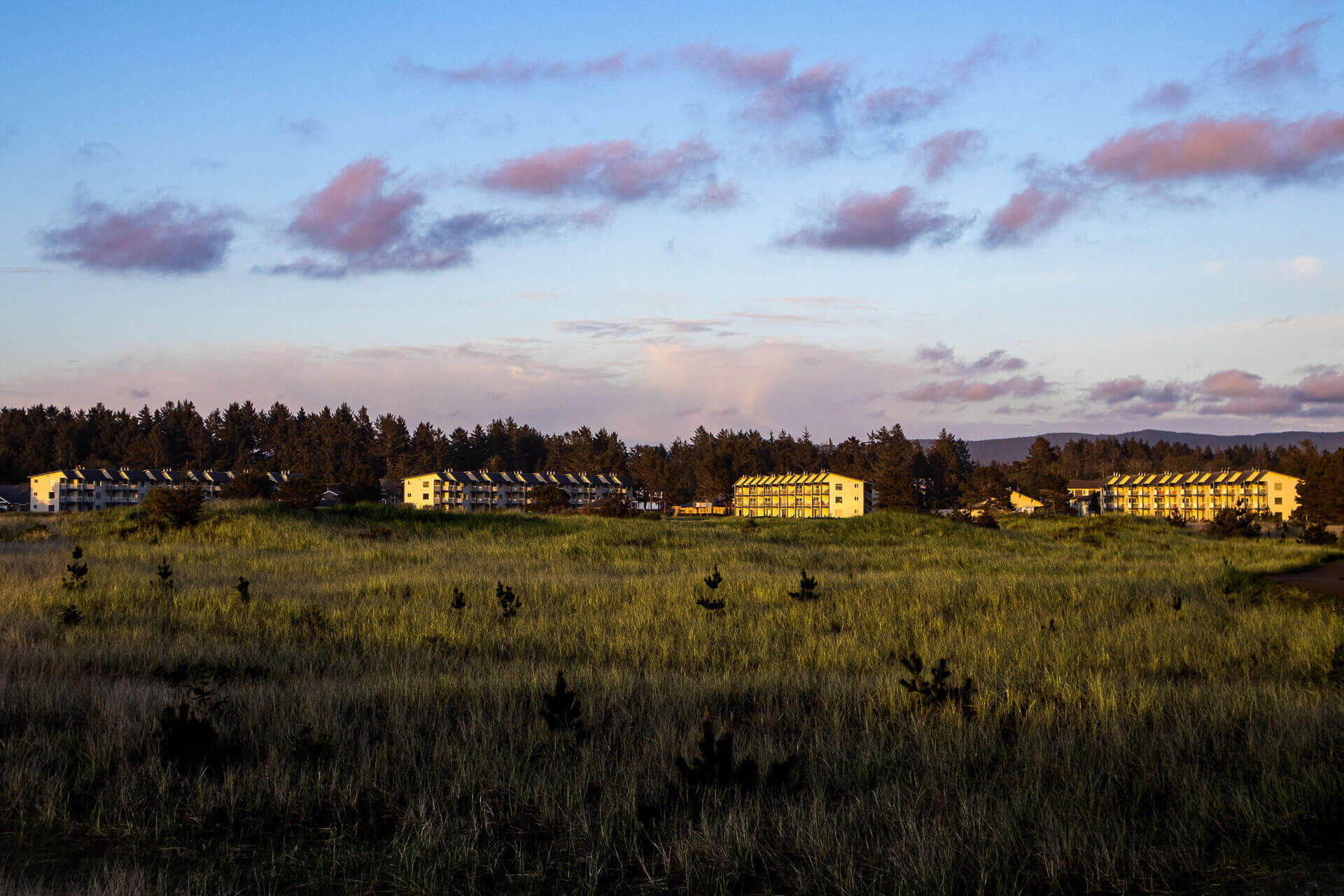 As much as we love traveling the country in our 25-foot RV, we appreciate when the four of us can spread out. Just a couple of minutes from downtown Long Beach toward the southern end of the peninsula, The Breakers is a gateway to the nearby beach.
That beach, in fact, used to be about 2,000 feet closer. Jetties added to the area resulted in sand buildups that have extended the beach nearly half a mile out from where it used to be.
The Breakers specializes in condo rental units. Our first-floor, one-bedroom included a pullout couch for the kids. The full kitchen made it easy to knock together snacks or meals. Also on the property, we could splash in the indoor pool, soak in the indoor hot tub, picnic at a covered shelter, or romp on the outdoor playground. The comfortable space helped us feel at home. Plus, we knew we'd be putting the kitchen to work after the next morning's clamming session.
Things to Do in Long Beach WA With Kids
Wander the Paved Discovery Trail
From the parking lot near The Breakers, we could easily get on the Discovery Trail. This paved trail has some elevation changes, but overall it's a broad, accessible trail that provides beach access as well as sites of cultural or historic interest.
Side paths lead to the beach itself. One evening, Anthony took a solo stroll to unwind and take in the May sunset. The calm trail wound through dunes and dune grasses. Rich orange light flowed over the ocean and the dunes. Anthony settled down on a calm, quiet beach, and watched the sun go down, a serene way to finish the day in a serene place.
Dig for Razor Clams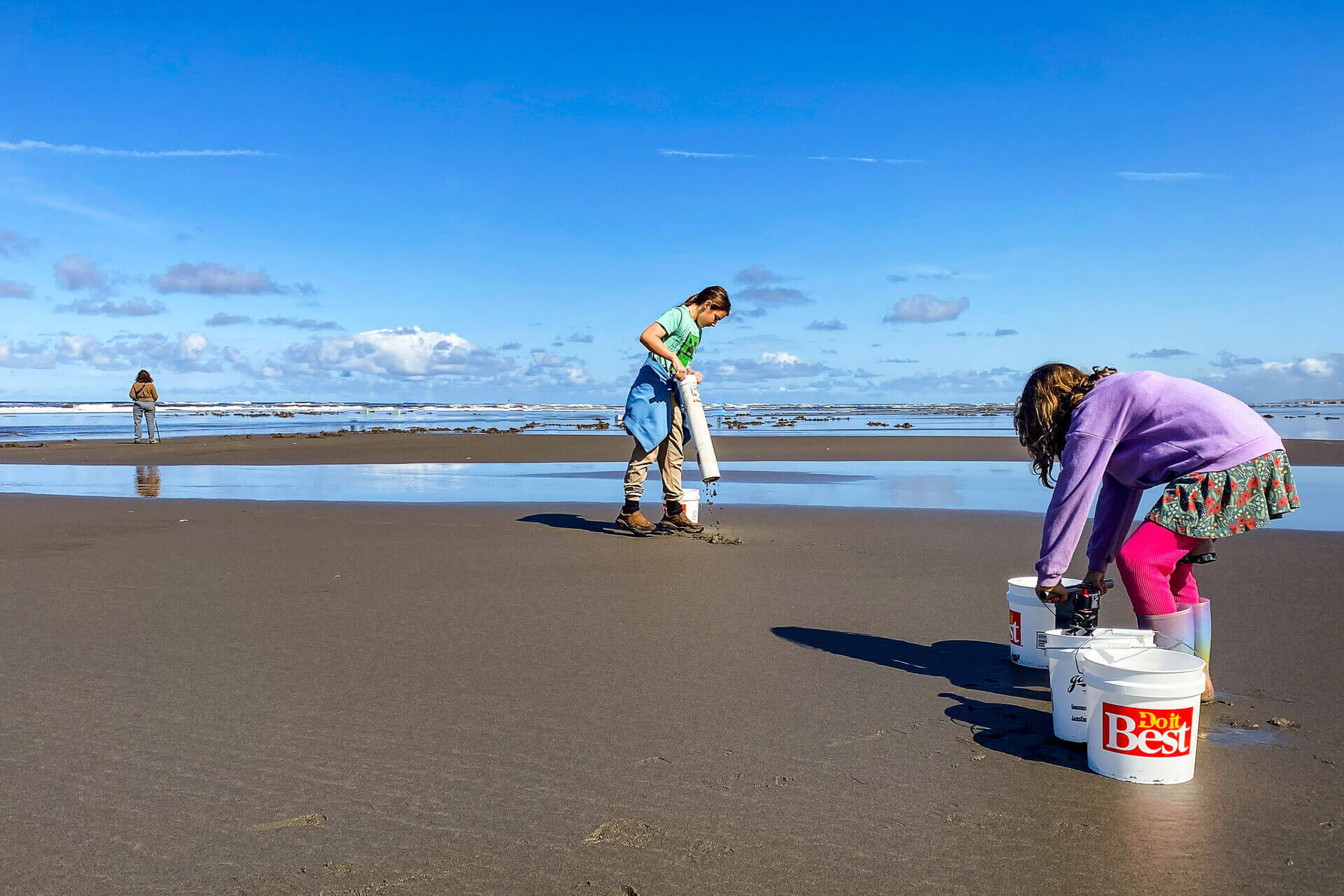 When you hear about razor clamming on the Washington coast, you might encounter tales of misty, chilly morning digs, or late-night low tides full of digging in the dark.
Our clamming day dawned clear, mild, and warm. We'd been advised that the best clamming window is two hours before low tide. After a stop by Jack's Country Store for our razor clam licenses (one per clammer 15 years old and older) and a few supplies, we parked on the road at the Oysterville Road Beach Approach on the northern end of the peninsula, unloaded our buckets (one container per clammer) and clamming guns, and made our way to the tideline to look for clam signs.
Figuring out how to clam was actually pretty easy, especially once you know how to identify the three signs of a razor clam. Scanning the sand, Jodie quickly became a master of spotting the dime-sized "dimples," "doughnuts," and "keyholes" that had Aster, Connor, and Anthony dashing to wherever she pointed. We ran and laughed as we quickly dug in our clam guns (PVC pipe lengths with a cap, T-bar handle, and a top hole you cover with your finger to create a vacuum as you pull up).
Connor dug his into the sand, then twisted and tugged before pulling it free. We giggled as the thick cylinder of wet sand plopped out, and Connor started looking for the coppery-brown shell of a razor clam. Before we knew it, we had just about caught our limit.
Back at The Breakers, we cleaned up the clams at the designated clam cleaning area. We dredged and fried up some of our catch. Best of all, our RV freezer now has ready-to-cook clam meat, just begging for the right night to crank up a pot of chowder.
Bring History Alive at Cape Disappointment State Park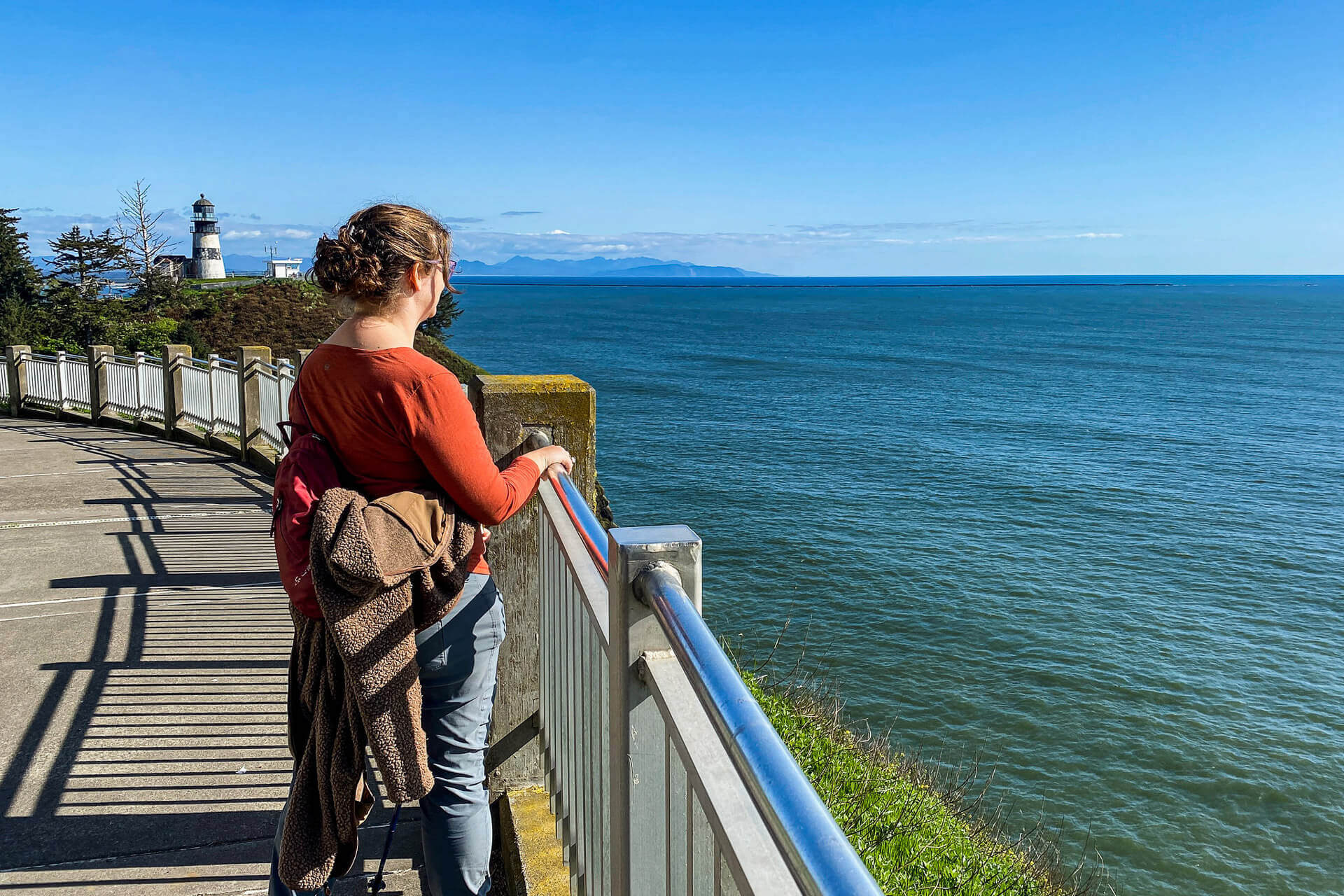 Visitors to Cape Disappointment State Park on the southern end of Long Beach Peninsula can choose a variety of areas to visit, including lighthouse hikes and wandering through the forests and down near the jetty. We considered the paved, ADA-accessible North Head Lighthouse trail, but unfortunately, the access road can't accommodate RVs. Besides, for us the main attraction was to step back in time.
From a lower parking lot, a steep, paved trail took us past interpretative signs about area trees and Indigenous observations about the region. At the top of a cliff 200 feet above the churning blue Pacific, the Lewis & Clark Interpretive Center makes itself at home on one of the most striking coastal views America has to offer.
Advertisement
Inside the center, a winding path took us along every moment of the Corps of Discovery's journey. A colored ribbon told us how many miles the expedition had come. Exhibits combined details that were jaw-dropping, poignant (enslaved people who worked in the expedition), and even silly (a rather dog-like illustration of a grizzly bear, clearly drawn by someone who had never seen a grizzly before).
Fly a Kite on the Beach
When you're looking for things to do in Long Beach WA with kids, it's hard to top kite flying on the beach. On a sunny afternoon, we parked at the Sid Snyder Beach Approach, wandered down the beach, and unfurled our white kite into the blue spring sky.
Each child took a turn holding the string. The stiff breeze kept the kite aloft with hardly any need for us to do little more than hang on. Now and again, Aster chased the kite's shadow.
Travel can be about big adventures and huge memorable experiences that resonate for the rest of your life. A family trip can also be about little moments of peace and quiet, with nothing more than sunshine, a kite flapping in the air, and good company.
Visit the World Kite Museum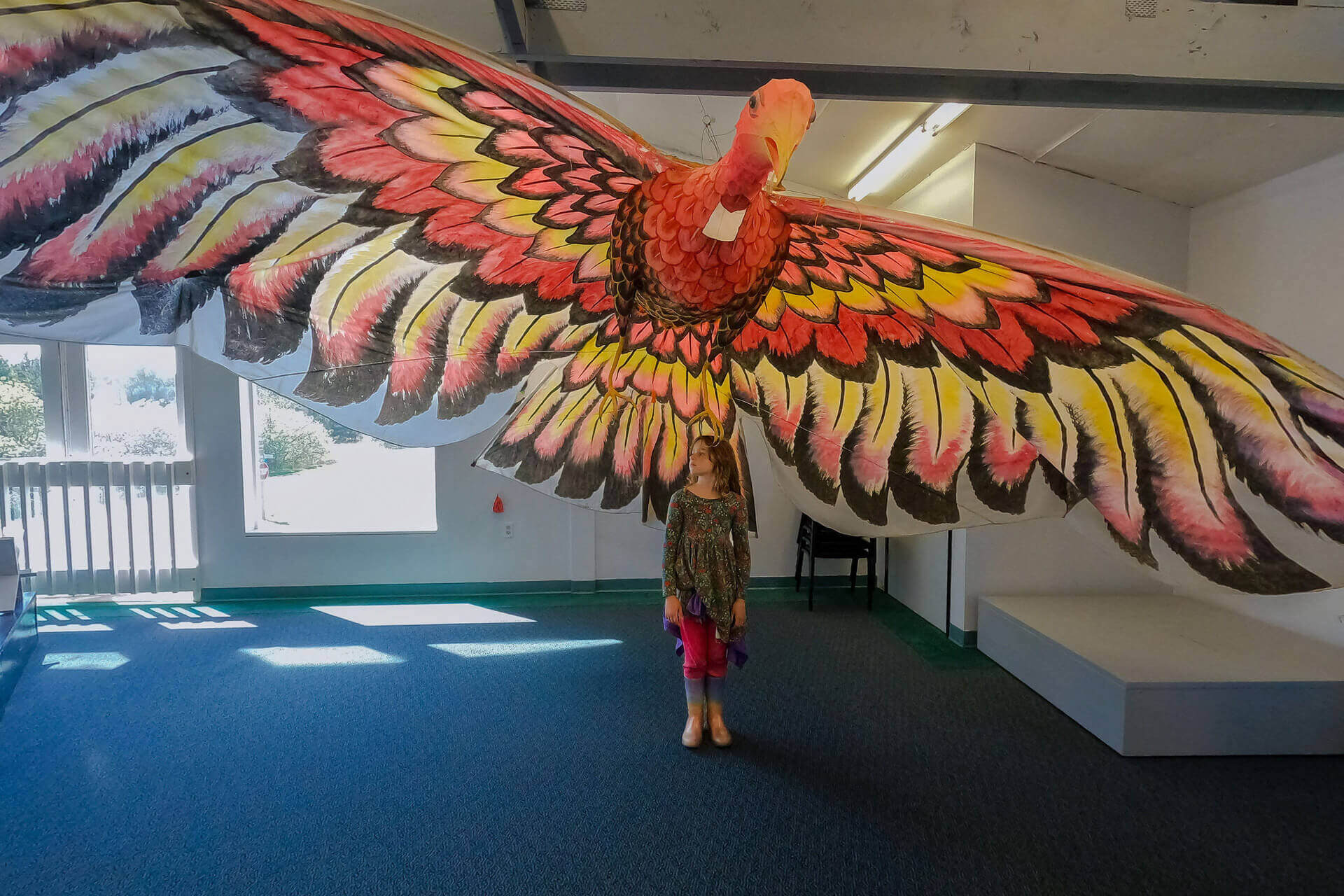 We never knew that a kite could take down an airplane. (More on that in a moment.)
If by chance you don't have a kite yet, you're in luck. Just up the street from the beach, the World Kite Museum offers glimpses into kites from around the world (apt, since the area is home to the annual Washington State International Kite Festival). The ground floor has a lovely gift shop, where Aster picked out a kite of her own, and we snagged a replacement string and handle for our family kite.
Upstairs, kites from more than 25 countries, including Japan and China, cover the walls and ceiling. A separate exhibition detailed how kites had wartime use. For example, in World War II, anchored kites were flown not with string, but with 2,000 feet of piano wire. Enemy planes were made with wood, so the airborne wire would slice wings off.
The main exhibition showcased the intricacy and creativity that goes into the world's inspiring and joyous kite designs. A display box held a kite made of leaves. Along the ceiling, a three-headed dragon kite stretched 200 feet. Leaving the museum, we talked about the designs that had surprised and delighted us. Above all, we could hardly wait for our next chance to get our own kite back in the air.
Explore the Northwest Carriage Museum in Raymond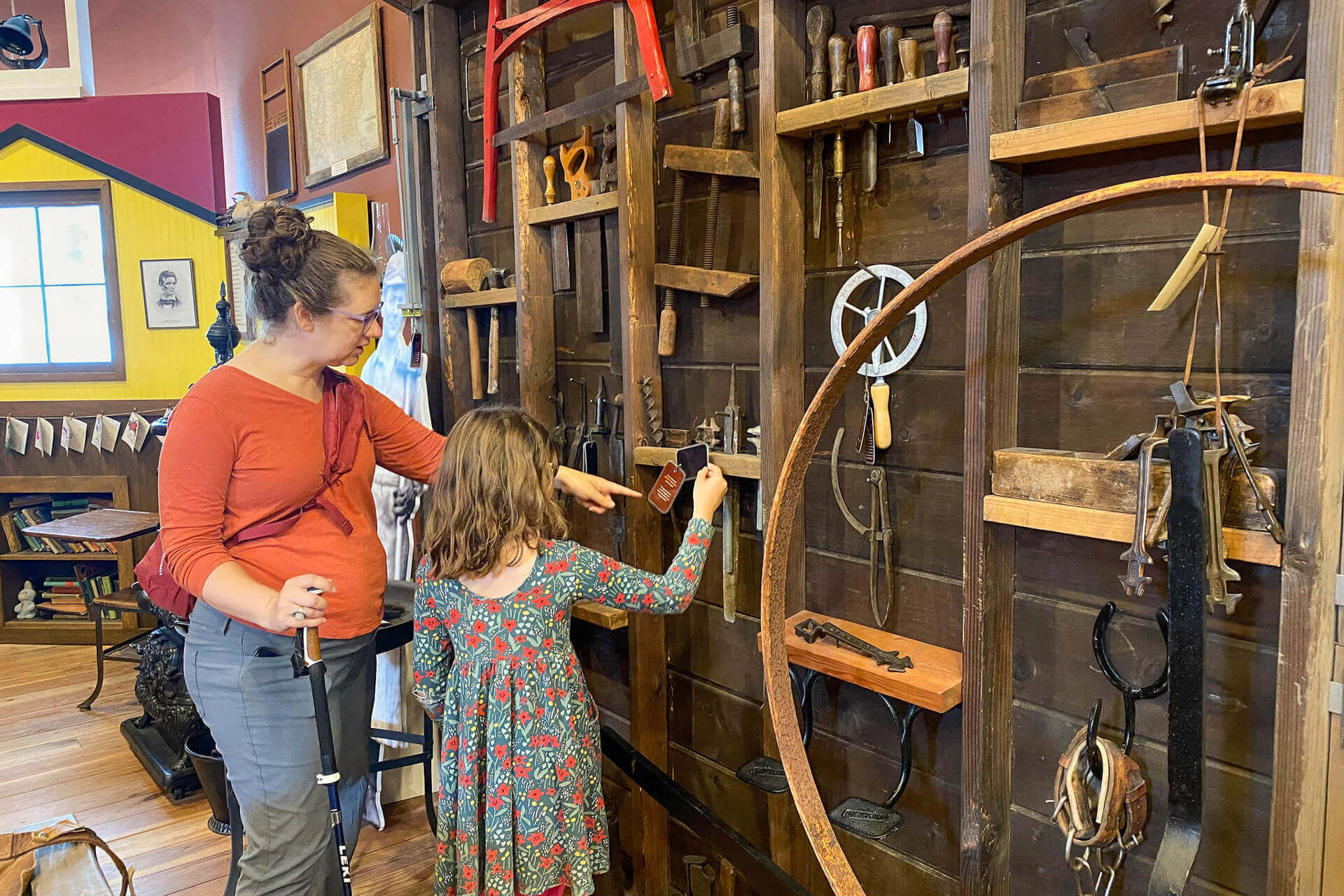 Although not on the Long Beach Peninsula, the nearby Northwest Carriage Museum in Raymond is worth a visit and boasts row after row of beautifully restored and preserved horse-drawn carriages.
If traveling to the Long Beach Peninsula via Tacoma or Chehalis, your route takes you through the small town of Raymond. Nestled amid the winding Willapa River, Raymond's Northwest Carriage Museum was a place where we not only got up close with history but completely lost ourselves in it.
More than 60 horse-drawn carriages from the 19th century gave us a sense of what it was like to get around back then, along with standouts such as:
Carriages from movies, such as Gone with the Wind and the Shirley Temple classic, Royal Princess
The sign on the Road Coach that broke down what it took to travel 30 miles by horse-drawn carriage
An exhibit about Mary Fields, or "Stagecoach Mary," an African-American woman who was a legendary settler and mail carrier
A modified coach where the kids could sit and learn to use the reins
Not only was the museum wonderful. This area has the parent triple play, all-in-one location:
Cool and educational museum with interactive areas (actually two museums, but the Willapa Seaport Museum happened to be closed when we visited)
Get-the-wiggles-out, kid-friendly Riverfront Park and Willapa Hills Trail, right along the water (check out the docks for historical interpretive signs and a family selfie-worthy metal sculpture of a fisherman with his catch).
A delicious café at Alder + Co., complete with a kid-friendly lunch menu and excellent soups, sandwiches, and coffee Wild Pines Coffee Co.
Advertisement
Where to Eat Throughout the Long Beach Peninsula
Sandbar Food Court
Right in downtown Long Beach, the Sandbar Food Court has a large gravel common seating area, or you can head into the local park and grassy field for picnic tables right behind the three food trucks.
Depot Gourmet Burgers happened to be closed when we visited, but its scrumptious-sounding burgers are on the menu next time we head this way. Jodie and the kids tucked into sweet and savory crepes from Co stal Class Crepes, whereas Anthony's fish and chips from Scallywags were made with some of the tenderest fish and crispiest battering we've come across.
Great Day Café
This laidback cafe in Surfside Golf Course offers packed sandwiches and large salads, just a short drive from the Oysterville Road Beach Approach.
Dylan's Cottage Bakery
If not breakfasting in, a fun start to the day begins at Dylan's Cottage Bakery in downtown Long Beach. In addition to donuts and pastries, you'll find espresso drinks, coffee, sandwiches, and breads.
Benson's By The Beach
The incredible wood carvings out front of this sunny local breakfast spot are just a taste of the statues and sculptures tucked away throughout Long Beach's downtown. Portions are not messing around either, especially the pancake the size of a dinner plate.
Pizza: Serious Pizza or North Beach Tavern
In Ilwaco, Serious Pizza serves up handmade pies. Ordering online for takeout can be a faster dinner, as sometimes waits are long, though you can make a reservation to dine in. In Long Beach, the North Beach Tavern serves up a variety of set or customized pies. It's also within a few minutes walk from The Breakers.
The Chowder Stop
We pride ourselves on checking out not only incredible fish and chips but also clam chowder. The savory, clams-in-every-spoonful bowls from Long Beach's The Chowder Stop are among the most delicious we've ever had.
Bolstad Beach Approach: Our Long Beach Peninsula finale
The name alone made us want to go. As we neared the beach, we marveled at the simple, two-sided picnic shelters, complete with picnic tables and grills.
Standing on the sand, we stared out at the sea. The sun dropped downward slowly, and golden tips flashed along the blue waves.
Our travels are all about deepening our family's connections, not only among one another but with the broader world. Life is busy. But when it comes to having time both to live at a slower pace and do amazing activities, Washington's Long Beach Peninsula gave us long days full of fun things to do as a family.
About the Author
We are Learners and Makers: an amputee mom (Jodie), an involved dad (Anthony), and the two curious children (Connor and Aster). Follow our everyday adventures at home and around the world at LearnersandMakers.com, and on Instagram and TikTok.