Washington's coastline and beaches aren't just for summer fun. Winter brings blustery weather, high waves, and fewer crowds, making it the perfect time to head to the coast for storm watching in Washington.
Communities along the Olympic and Long Beach peninsulas make great bases for exploration. From Moclips, Westport, and Long Beach in the south to Forks and La Push up north, you'll find no shortage of spectacular views.
Best Time for Storm Watching in Washington
Storms often pound Washington's coast from November through early March. Expect torrential rain, high winds, rolling surf, and whitecaps. For king tides — the highest predicted tides of the year — aim to visit in December or January. Be sure to check the National Weather Service website for storm predictions.
Storm Watching Destinations
Cape Disappointment State Park
For those looking to get out and about for storm watching, Cape Disappointment on the Long Beach Peninsula is a must. This 2,023-acre state park offers miles of windswept beaches, including Waikiki Beach, where you can watch the waves crash along the cliffs at the base of a historic lighthouse. Cape Disappointment also offers yurts, cabins, and historic vacation homes for cozy overnight lodging. Lodging is also available in nearby Long Beach, including the beachfront Inn at Discovery Coast.
Another great vantage point for watching the pounding surf is from the glassed-in observation deck of the Lewis and Clark Interpretive Center, which is perched on a cliff in the park.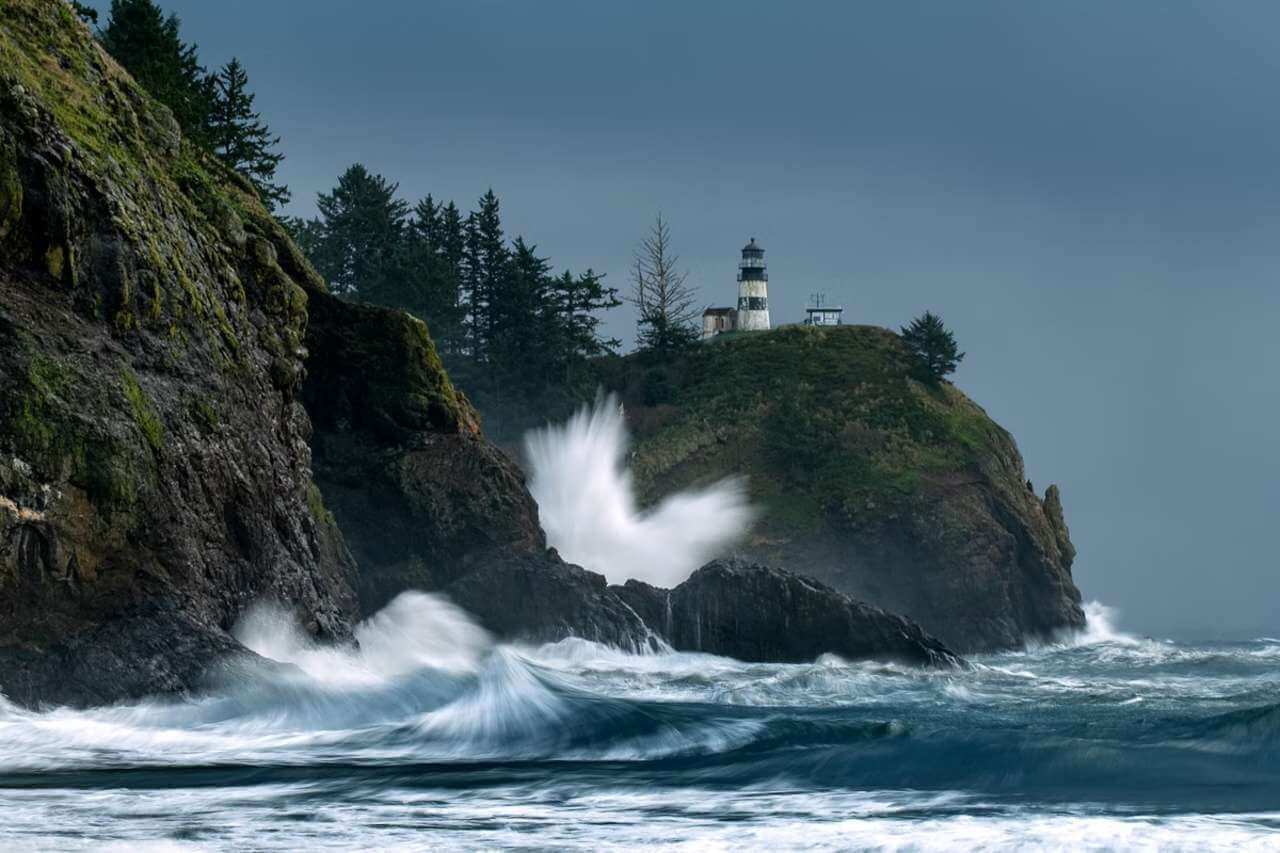 Westport
North of the Long Beach Peninsula you'll find Westport. During winter high tides, head to the observation tower at the Westport Marina. If you don't mind getting buffeted by winds, take to the sand dunes at Westport Light State Park or head south to Grayland Beach State Park.
Ocean Shores
Further north, Ocean Shores is home to the North Jetty, a popular storm-watching spot where visitors can watch waves crash on top of the nearby jetty from the comfort of their car.
Copalis
This stretch of coast offers the chance to visit Griffith-Priday State Park. Walk the trail toward the Copalis River and watch the waves back up into a neighboring stream and river.
Seabrook & Moclips
Moclips and Seabrook, located a short drive apart, offer plenty of opportunities to view waves and stormy weather from roadside pullouts and viewpoints. In Seabrook, check out Pacific Glen Promenade, Overlook Park, Northwest Glen Archway, and West Hill Park. Between the two towns, you'll find Pacific Beach State Park, another fantastic place to spend a rainy, windy day.
Kalaloch Lodge & Ruby Beach
North of Moclips in Olympic National Park, the quaint Kalaloch Lodge is the perfect base to explore popular Ruby Beach. The area offers winter hiking with views of crashing waves around the rock formations known as sea stacks. Before heading out, be sure to check tides and bring proper clothing and shoes, as rocks can be slick.
La Push & Rialto Beach
Further north sits the community of La Push, home to Quileute Oceanside Resort. Enjoy sweeping views of the shoreline from your cabin or hotel room before making the short drive to nearby Rialto Beach, where you can catch high tides slamming against sea stacks and the rocky shoreline.
Tips for Storm Watching in Washington
While beautiful, winter storms are powerful and can be dangerous. Always adhere to advisories, warnings, signs, and closure notices. To keep track of storm news, check with the National Weather Service. When storm watching, stay away from waves, avoid walking on driftwood and slick rocks, and park as far from the water as you can. Be sure to dress for the elements with waterproof jackets and shoes.