Located on the shores of Bellingham Bay, this charming city exudes a laid-back, outdoorsy vibe. Bellingham makes a great base for hikers and nature enthusiasts who seek to explore the alpine peaks and glacial lakes of nearby North Cascades National Park.
In additional to outstanding outdoor recreation in the mountains and on the Salish Sea, Bellingham also boasts a robust arts, culture, dining, and craft beer scene — there are nearly 20 breweries in the city and surrounding Whatcom County. Whether you're looking to wander the city's streets in search of local art, sip a creative cocktail at a local bar, or hit one of dozens of nearby trails, you'll find an experience that suits your taste.
Things to Do in Bellingham
With so much to see, here are some highlights to help you plan your trip, from scenic drives and outdoor recreation to shopping and cultural experiences.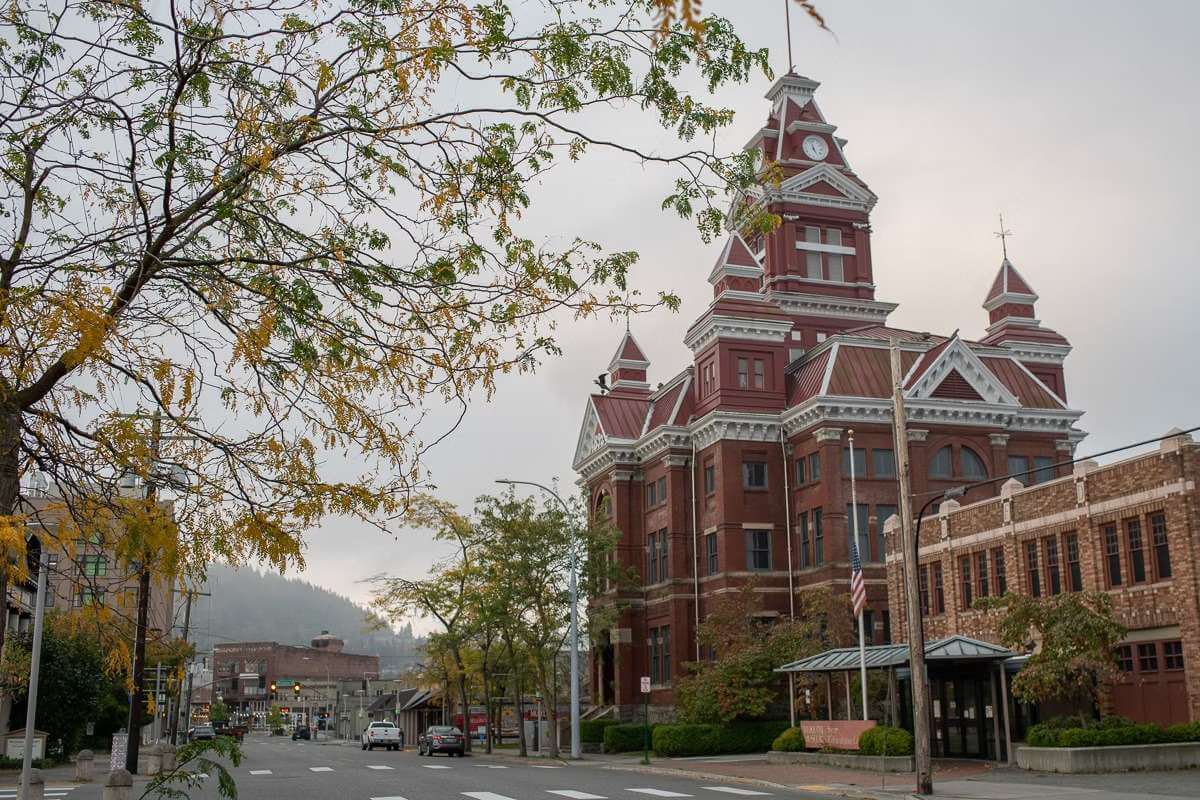 Arts & Culture
Mount Baker Theatre
Built in 1927 as a grand vaudeville movie palace, Mount Baker Theatre holds everything from live plays and concerts to educational talks. Listed on the National Register of Historic Places, the theater has undergone renovations to improve the visitor experience while still retaining the building's character.
Pickford Film Center
Looking for an independent film or documentary? Turn to this small indie theater and arts nonprofit in downtown Bellingham. Enjoy snacks, wine, and beer in the cozy lobby or take your beverage into the theater to enjoy during the show.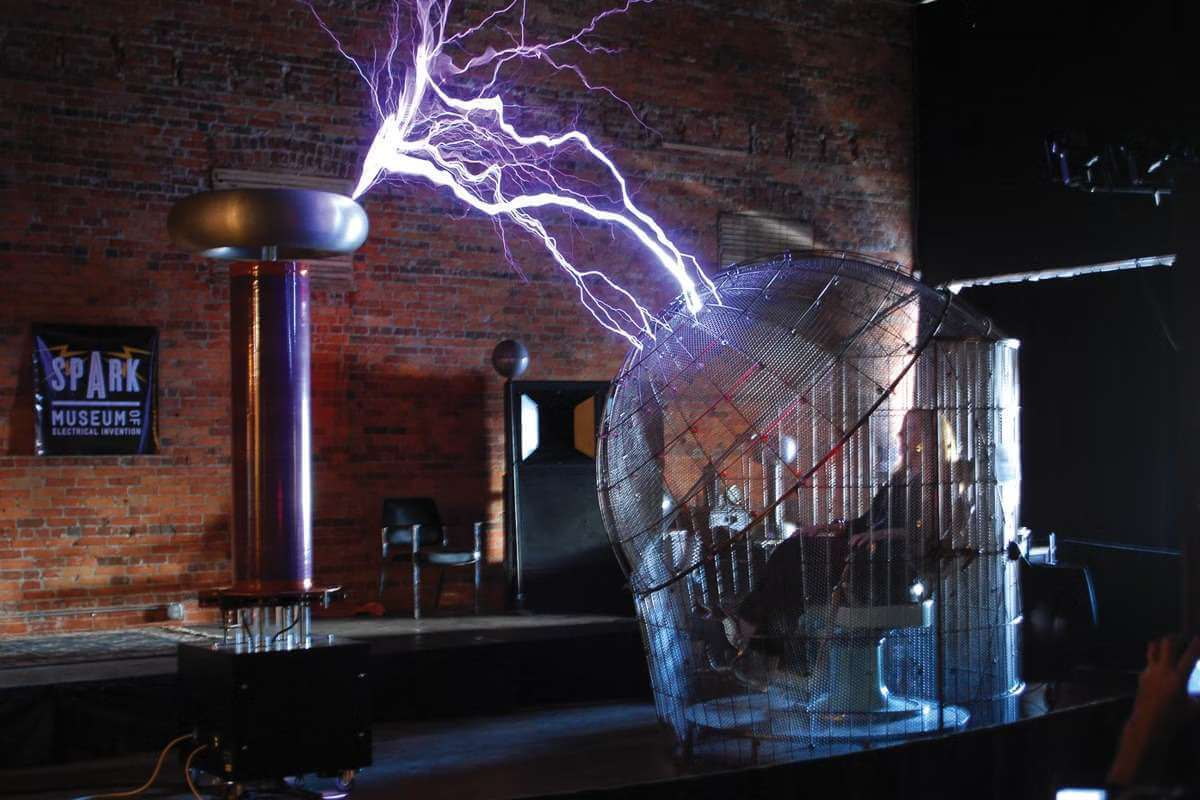 Spark Museum of Electrical Invention
Explore the history of electricity at the Spark Museum of Electrical Invention. This museum in downtown Bellingham is home to an extensive collection of radios, telephones, telegraphs, and more. Time your visit for a weekend to see the electrifying MegaZapper Electrical Show, which offers guests the chance to experience loose electricity blasting out of a large Tesla coil.
Western Washington University Outdoor Sculpture Collection
Enjoy a walk through the Western Washington University campus as you take in an impressive outdoor sculpture collection that features international, national, and regional artists. Western's outdoor art is one of the top university collections in the United States.
Whatcom Museum
Explore permanent and rotating exhibitions covering art, nature, and northwest history at this multi-building downtown campus. Take in art in the modern Lightcatcher building, home to the permanent exhibit People of the Sea and Cedar, the kid-friendly Family Interactive Gallery, or explore history exhibits and the John M. Edson Hall of Birds at historic Old City Hall. In the summer, the museum partners with San Juan Cruises and offers sunset History Cruises on Bellingham Bay.
Largest Mural in Washington
Bellingham is home to a wide range of murals and outdoor art that can be viewed for free, including the largest mural in the State of Washington. The mural by Gretchen Leggitt spans the length of two football fields and can be found on Puget Sound Energy's building. Spot works by Leggitt and others as you stroll around downtown Bellingham.
Whatcom Cultural Crawl Quest Pass
Don't know where to start exploring? Let this curated collection of outings be your guide as you wander galleries, museums, interactive experiences, and culturally significant places like those mentioned above. Check in to map your progress and get insider discounts.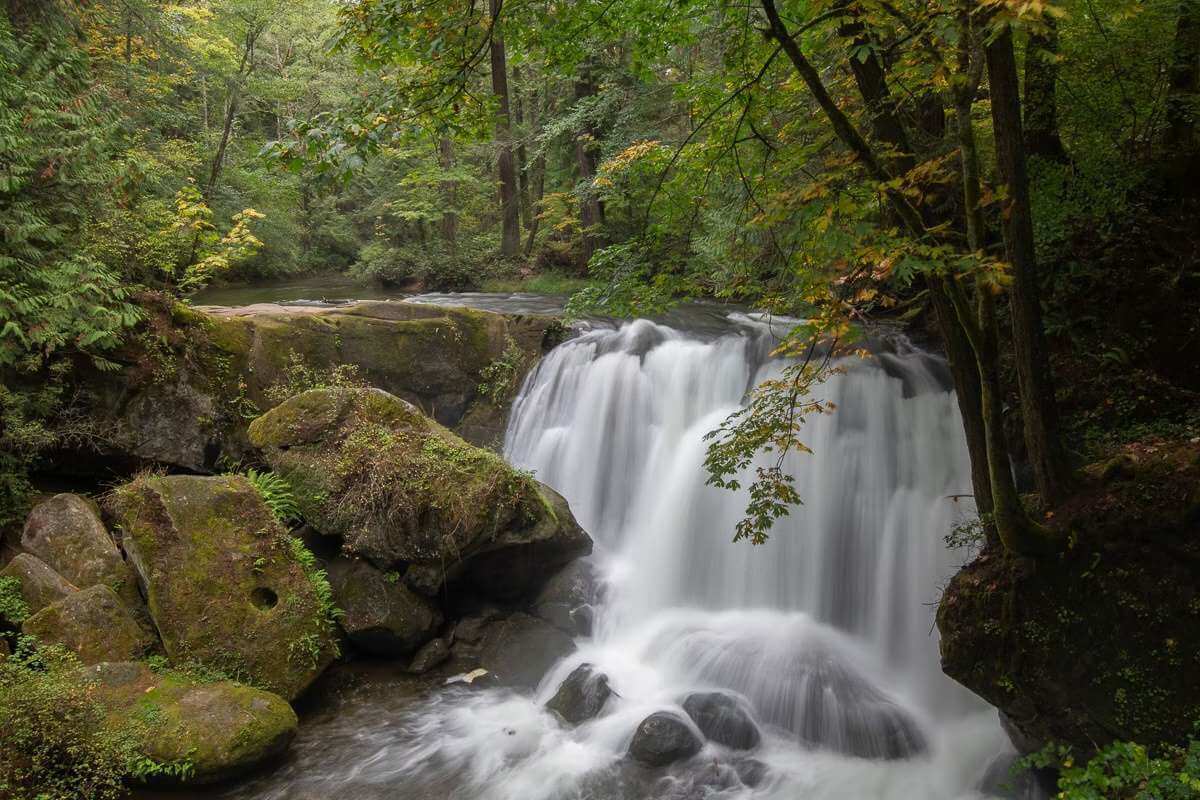 Outdoor Recreation
Fresh air and wide-open spaces are plentiful in Bellingham and Whatcom County, with options for every activity level. Read on for great ways to enjoy the many miles of coastline, extensive forest trails, and heaps of alpine snow.
Larrabee State Park
Washington's first state park is located south of Bellingham off Chuckanut Drive. The 2,748-acre park boasts 8,100 feet of saltwater shoreline on Samish Bay and offers spectacular views of the neighboring San Juan Islands. Visitors can enjoy tide pools, campgrounds, and hiking to nearby Fragrance and Lost lakes.
Whatcom Falls Park
This city park has multiple trails that wind through a scenic gorge complete with waterfalls and a scenic bridge. Along the way, you'll find several benches where you can rest and enjoy the view. The park also has picnic areas and tennis courts.
Hiking
Bellingham and the surrounding area are rich in hiking trails, from easy urban walks perfect for families to strenuous climbs culminating in epic island views. Here are some popular options. Please remember to recreate responsibly by staying on marked trails, packing out all trash, and keeping a safe distance from local wildlife.
Chanterelle Trail
This moderate, 4.8-mile roundtrip hike is dog friendly and can be done year-round. Easily accessed from Lake Whatcom Park, you'll traverse a series of switchbacks and gain 1,000 feet in elevation. When you reach the top, enjoy expansive views across Lake Whatcom.
Horseshoe Bend
This fairly easy hike, accessed off Mount Baker Highway, takes you along the rushing blue waters of the Nooksack River.
Oyster Dome
Located on Blanchard Mountain south of Bellingham, the overlook at the top of this hike offers panoramic views of the sparkling Salish Sea and San Juan Islands. This famous hike can be crowded, so aim to arrive early or hike on a weekday. Tip: Park at the Samish Overlook rather than along Chuckanut Drive to save miles.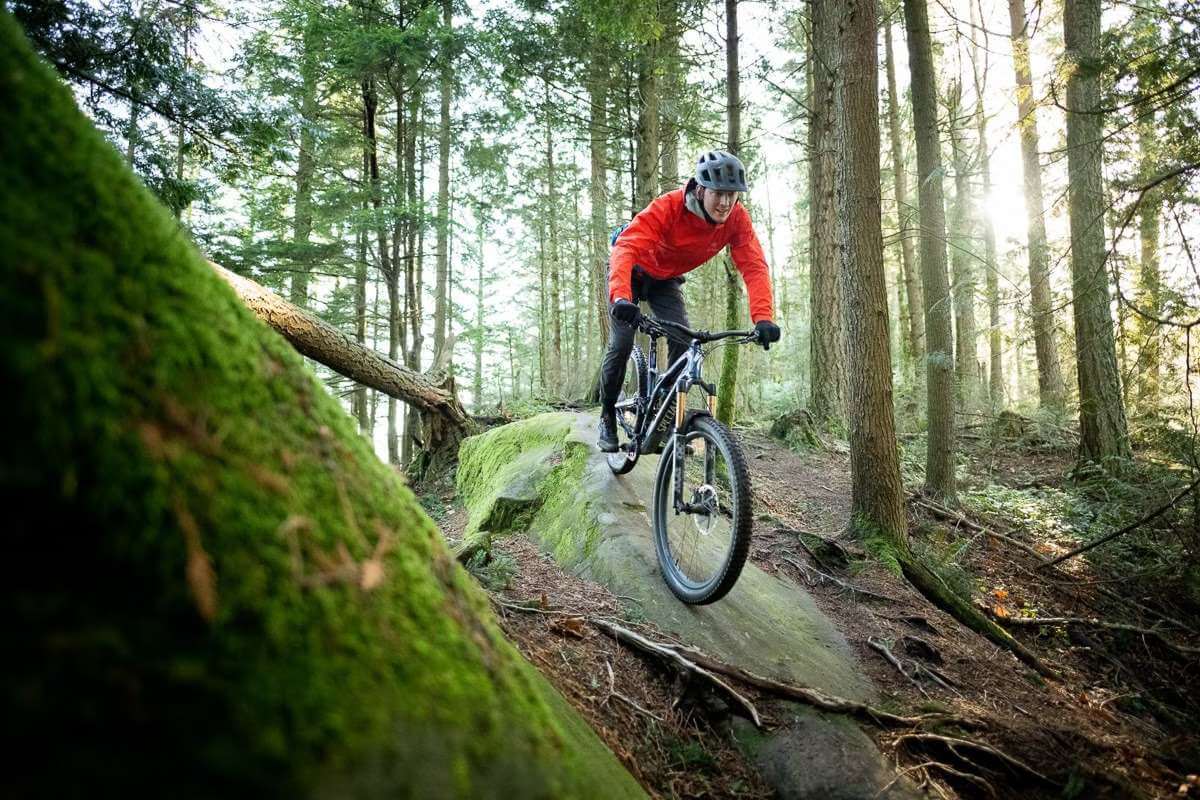 Mountain Biking
Routinely recognized as a top mountain biking destination in the State of Washington and located within riding distance of downtown Bellingham, Galbraith Mountain draws mountain bikers from across the state and beyond. With 65 miles of trails over 2,800 acres, there's a trail for every skill level.
Water Adventures
With more than 100 miles of beautiful Salish Sea shoreline, Bellingham is home to Chuckanut Bay, Bellingham Bay, and more. Combined with nearby lakes and the Nooksack River, visitors have endless options for boating, fishing, and more. Whether you're a serious kayaker or enjoy a calm paddle, you'll want to pick up the Whatcom Water Trails Map. Launched by the Port of Bellingham, it highlights 22 water trails in the county.
Snowsports
Mount Baker offers endless options for snow activities, events, and sports during the winter, from snowshoeing to skiing. The Mount Baker Ski Area holds the record for most snowfall in a single year and is known for having one of the best early seasons in North America.
Other popular outdoor activities in Bellingham include golfing, cycling, and bird watching.
Guided Tours
Looking to meet like-minded travelers or gain insights from a local? Join a guided tour and leave the planning to the experts. From kayaking excursions with Dragonfly Kayak Tours, hiking and forest bathing with Earth Elements, cycling with Bike Northwest, or a walking history tour through downtown with the Good Times Girls, you're sure to make authentic connections.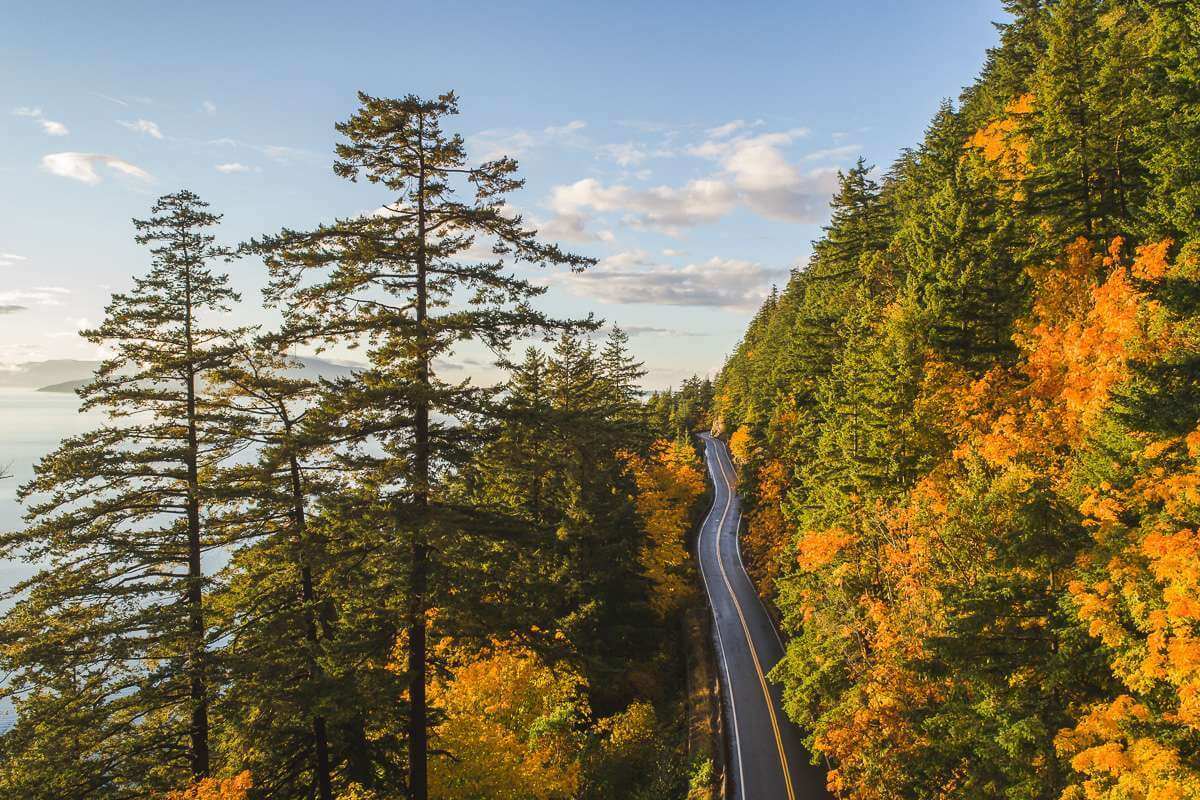 Scenic Drives
Enjoy the area's natural beauty from the comfort of your vehicle, with these scenic drives out of Bellingham.
Chuckanut Drive
This scenic 21-mile route follows Highway 11 from Burlington to Bellingham, passing through picturesque farmland before winding along a cliff with gorgeous views of the San Juan Islands. Attractions along Chuckanut Drive include Larrabee State Park and the famous Oyster Bar.
Scenic Mount Baker Highway
This scenic drive follows Highway 542 from Bellingham to Artist Point in the Mt. Baker-Snoqualmie National Forest. Attractions along the way include Chair 9, North Fork Brewery, and hiking at Horseshoe Bend, Nooksack Falls, Heather Meadows, and Artist Point.
North Cascades Scenic Highway — Loop off the Loop
As the North Cascades Scenic Byway loops between massive peaks and along lakes colored turquoise by glacial silt, you'll see why these mountains are called "the American Alps." Many argue that the North Cascades Highway is the most scenic in Washington State. The route passes through Whatcom County at its northern point, with stunning views of Diablo Lake, Ross Lake and hundreds of rugged peaks.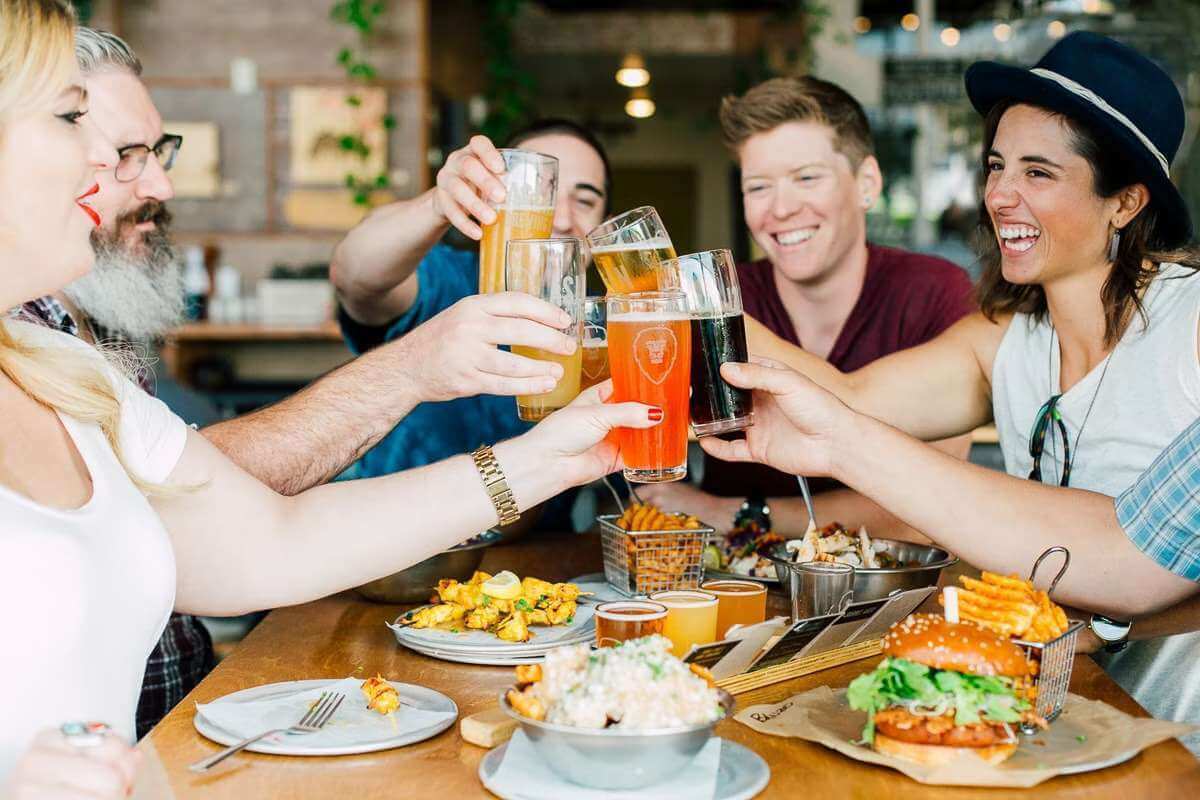 Food + Drink
Bellingham's downtown core and Fairhaven District offer a variety of food and drink options in a walkable setting. Many restaurants source ingredients from local farmers and producers. Visitors will find cute coffee shops, craft breweries, casual burger joints, upscale dining, and more for every budget and taste. A commitment to farm-to-table dining isn't a trend here; it's ingrained in the community.
Black Sheep
This downtown bar is known for its tacos made with fresh, hand-pressed tortillas and its solid selection of margaritas, palomas, and agave spirits. Whether you're looking for juicy carnitas or vegetarian-friendly options, this spot has you covered.
Boomers Drive-In
This casual drive-up and dine-in burger joint — complete with car hop service — has been serving Bellingham families since 1989. Known for its extensive burger menu, waffle fries, and hard ice cream milkshakes, Boomers invites visitors to step back in time.
Boundary Bay Brewery & Bistro
The first brewery in Bellingham, Boundary Bay offers creative brews and robust menu featuring pub food made with Northwest ingredients. Bellingham is known for its thriving craft brewery scene, with many kid and/or dog-friendly.
Brandywine Kitchen
This spot dishes up plates for omnivores and vegetarians alike. Enjoy flaky fish and chips or dig into creamy gluten-free mac and cheese. Brandywine Kitchen got its start as an heirloom tomato farm, and its passion for sustainable agriculture and local produce is evident.
Carnal
One of the newer restaurants in town, Carnal serves up innovative dishes with a focus on cooking with live fire. Guests will find creative protein mains and shareable sides that reflect the seasons, along with craft cocktails.
Colophon Café
Founded in 1985 in the historic Fairhaven District, Colophon Cafe began as an ice cream and espresso parlor. Today, it continues to serve up popular soups, salads, sandwiches, savory quiches, and decadent desserts.
Mallard Ice Cream
A local favorite, Mallard serves up scoops, sundaes, shakes, and pints in creative and traditional flavors. Choose from tried-and-true chocolate or cookies and cream, or mix it up with rotating options such as lavender, cardamom, or Thai tea.
Storia Cucina
Bellingham is home to some fantastic Italian restaurants, including Storia Cucina. Everything is made from scratch, including the pastas and breads, while the bar specializes in classic Italian cocktails.
Find more restaurants or watch traveler and television host Rick Steves sample farm to bottle fare around Bellingham and greater Whatcom County.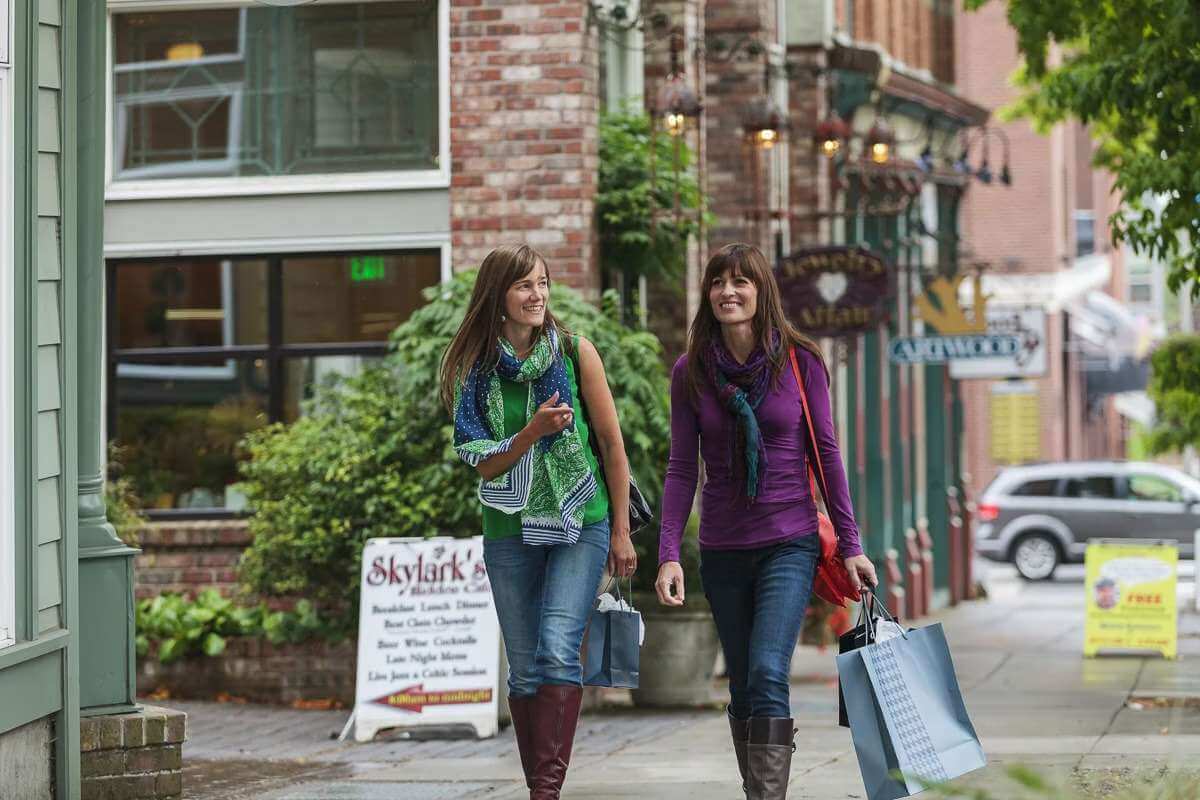 Shopping
Backcountry Essentials
All the clothes, gear, and gadgets you need for your outdoor adventures, including camping, hiking, climbing, and snow sports. The shop also provides equipment rentals for popular winter and summer activities.
Bellingham Farmers Market
Every Saturday from April through mid-December this market in downtown Bellingham features local produce, food stalls, craft vendors, fresh flowers, and much more. Sample local hot sauce, chocolates, and baked goods or take-home handmade textile art and jewelry.
Chuckanut Bay Gallery & Sculpture Garden
South of Fairhaven at the start of the scenic Chuckanut Drive you'll find Chuckanut Bay Gallery & Sculpture Garden. Stop in to wander the calming gardens or pick up a piece from a local artist. The gallery features etched glassworks, glazed pottery, handmade jewelry, art prints, and more.
Fringe Boutique
This woman-owned clothing boutique in downtown offers a mix of shoes, jewelry, women's fashion, and home décor, including pieces by local artists and makers.
Greenhouse
This locally owned store features a curated selection of home décor, furniture, cookware, and kitchen accessories. Find the perfect table setting or stock up on fragrant candles and soaps.
Shops in Fairhaven Village
Located just south of downtown Bellingham, this historic neighborhood boasts local galleries and shops selling everything from books and home goods to pottery, gourmet olive oils, and jewelry.
Annual Events & Festivals
Join in the festivities by timing your visit to align with one of Bellingham's annual events or festivals. Here's a sampling of major recurring events in the city and surrounding area.
Wings Over Water (March)
The Wings Over Water Birding Festival in nearby Blaine celebrates the incredible variety of migratory birds, which flock to Drayton Harbor and Semiahmoo Bay each winter and spring. Visit the festival for a day-long birding expo with free activities for the whole family, including wildlife demonstrations, bird viewing stations, exhibits, displays, craft vendors, and more.
Ski to Sea Race & Fairhaven Festival (May)
This well-known event centers around a multi-sport relay race from the slopes of Mount Baker to the waters of Bellingham Bay. Legs include everything from cross-country skiing and mountain biking to running and sea kayaking. The finish line in Fairhaven is celebrated with a parade, block party, and beer garden.
Downtown Sounds (July)
Downtown Sounds is a series of free outdoor concerts for all ages. The event is celebrated in the Arts District of Bellingham on Wednesday nights and features performances from popular bands and music from various genres, local food vendors, and a 21+ beverage garden.
Bellingham SeaFeast (September)
This two-day event celebrates Bellingham's maritime heritage legacy, bustling working waterfront, internationally renowned fishing and seafood industries, and culinary bounty. Enjoy live entertainment, seafood, and more.
Whatcom Artists Studio Tour (October)
Artists and craftsman of all kinds open their studios to the public during two weekends each October. In addition to the tour, the Whatcom Museum hosts a showcase of work from select Studio Tour artists.
Fairhaven Winterfest (December)
Each December, Fairhaven is decked out in lights and holiday decor for the holiday season. Special events and attractions include a holiday market, tree-lighting celebration, horse-drawn carriage rides, visits with Father Christmas, and a lighted bike parade.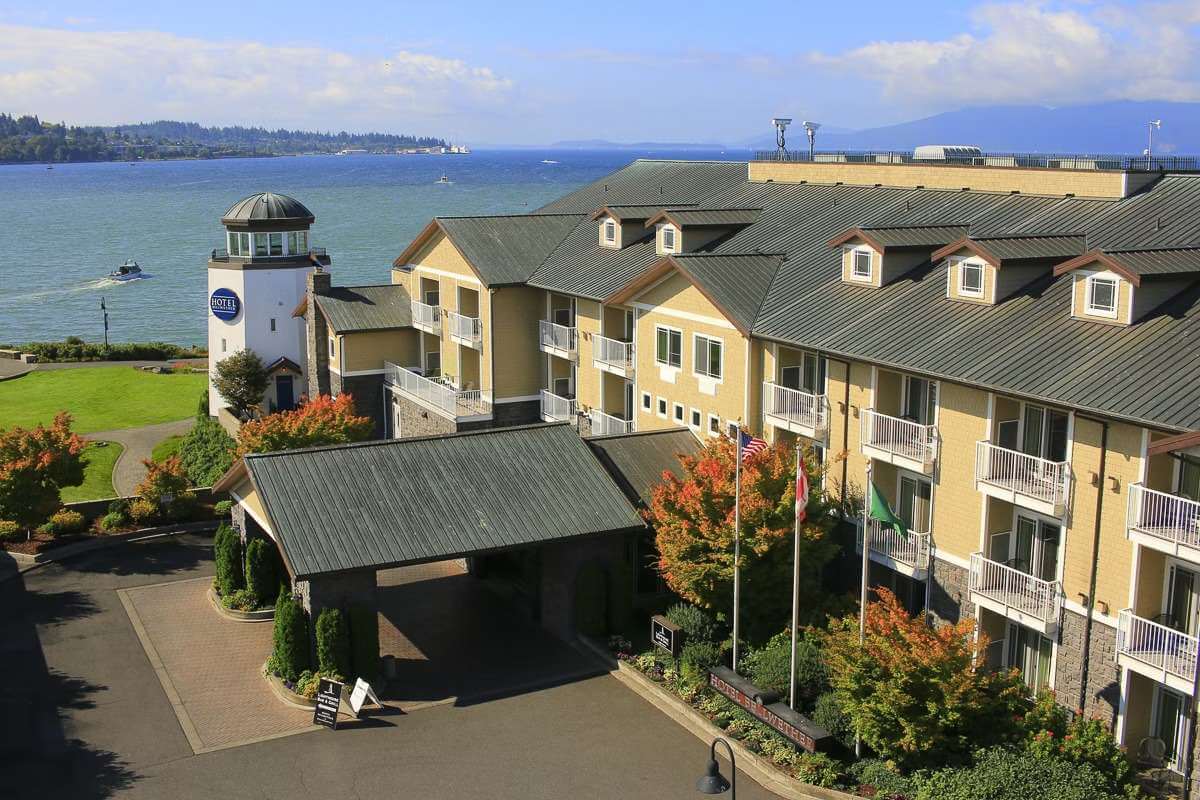 Local Lodging
Ranging from luxury hotels to rustic cabins, Bellingham offers a variety of accommodations all with amazing views. Choose between city hotels, historic B&Bs, ocean side resorts or a beach side cabin.
Hotel Bellwether
Neighborhood: City Center (waterfront)
Situated on Bellingham Bay only steps from the Squalicum Harbor Hotel Bellwether is an upscale option for those looking to unwind in a quiet setting. The hotel offers a full-service restaurant and on-site moorage for those who want the option to get out on the water.
Fairhaven Village Inn
Neighborhood: Fairhaven
This boutique hotel in the heart of Fairhaven provides convenient access to shops, restaurants, and waterfront trails. The adjacent Galloways Cocktail Bar is a great place to grab a drink before heading to your room.
The Chrysalis Inn and Spa
Neighborhood: South Hill (near Fairhaven)
Located within walking distance of Fairhaven, this upscale property boasts sweeping views of the bay and easy access to the boardwalk that leads to Boulevard Park. Relax with a treatment at the on-site spa or enjoy sunset views and fine dining at the hotel restaurant.
Hotel Leo
Neighborhood: City Center
The only hotel located in the heart of downtown Bellingham, this restored historic building features a combination of hotel lodging and apartment residences. Originally built in 1883 as the Leopold Hotel, the space now boasts inviting shared spaces and the Amendment 21 Bar + Fare, a prohibition-era bar with an emphasis on gin cocktails.
Heliotrope Hotel
Neighborhood: Columbia
For a modern Pacific Northwest feel less than a mile from downtown, check out this renovated 1950s motel. Designed by local owners with comfort and function in mind, the Heliotrope features shared indoor and outdoor spaces for gathering with friends.
Climate & Seasons
Bellingham makes a great year-round destination. Highs typically range from the mid to low 40s in the winter to the high 70s and low 80s in the summer months. Rain can happen any time of year, so it's best to come prepared with layers and a rain jacket.
Spring brings farmers markets, agricultural tours, and beautiful wildflowers. In summer, embrace outdoor recreation on the lakes and bays or hit the scenic mountain trails (just aim for a weekday to avoid the crowds). Come autumn, you can experience festivals and vibrant fall colors on a scenic drive or hike. It's also a great time to take in local art and theater performances. During winter, snow sport enthusiasts will love exploring nearby Mount Baker for snowshoeing, skiing, and snowboarding.
Getting to Bellingham
Bellingham is located about 90 miles north of Seattle on Interstate 5 and about 20 miles south of the border with Canada. Bellingham International Airport is served by several major airlines, including Alaska Airlines, Southwest Airlines, and Allegiant. The Amtrak Cascades, which runs between Vancouver, BC, and Eugene, Oregon, makes a stop at Fairhaven Station, just south of downtown Bellingham.
Looking for more Bellingham trip inspiration? Check out Visit Bellingham | Whatcom County.