By Quincy Koetz
Winter birding in the Skagit Valley and greater Northwest Washington is an unparalleled experience. The extraordinary species diversity and sheer numbers appeal to budding and seasoned bird watchers alike. So, whether you're a globetrotting birder or just discovering the pastime, migrate to Northwest Washington's Skagit Valley and Whatcom County this winter for some of the best birdwatching in the state.
The Skagit Valley and neighboring Whatcom County encompass some of the most dramatic landscapes on the West Coast. Located in Northwest Washington, getting to the region is effortless. You'll discover a slower and nature-filled way of life between the shadow of Mount Baker and Puget Sound. As an important part of the Pacific Flyway, you'll find extensive preserves catering to birds of all feathers.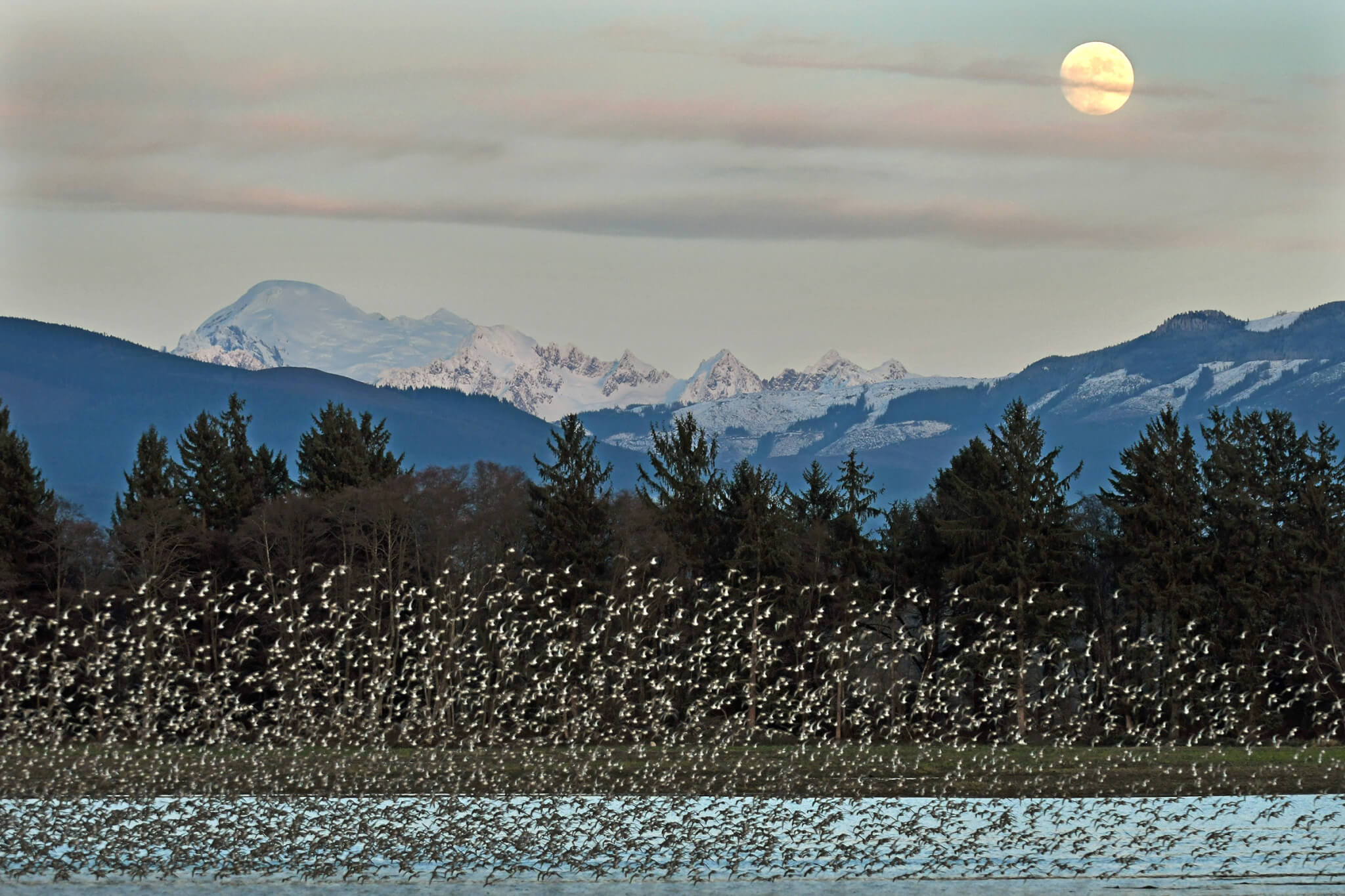 Nourished by the glacially fed Skagit River, the Skagit Valley beckons for those seeking rejuvenation through nature. It's the perfect jump-off point for the Cascade Loop of the Great Washington State Birding Trail.
Skagit Valley Winter Birding
The Skagit Valley's winter birding season begins around November or December with the return of migratory waterfowl and higher concentrations of raptors. The season's showstoppers — tens of thousands of snow geese alongside thousands of trumpeter swans and tundra swans — typically stay through March. Several hundred bald eagles are commonly seen on the upper Skagit River around December with the winter salmon runs. While any time of day can lead to a unique experience, bird numbers and activity tends to spike in the early morning and late evenings. Many of these reserves are ADA-accessible.
Related: Get to Know Washington's Wildlife
Skagit Wildlife Area – Fir Island Farm Reserve
This reserve boasts a high species count given its diverse environment. Tens of thousands of gregarious snow geese gather along the diked farmlands. When they spontaneously take flight, they ripple across the land in a sea of white and black. Even the most seasoned bird watcher can't help from gaping in awe. Tundra and trumpeter swans are regularly sighted alongside bald eagles and northern harriers. Paved and gravel trails lead to effortless birding.
Skagit Wildlife Area Headquarters Unit – Wiley Slough
This site also has extremely high counts and can't be missed on a Skagit Valley trip. According to the Audubon Washington, over 180 species such as shorebirds, raptors, swans, and ducks depend on this site. A 1.3-mile trail ensures ample opportunities for nature immersion.
Samish Flats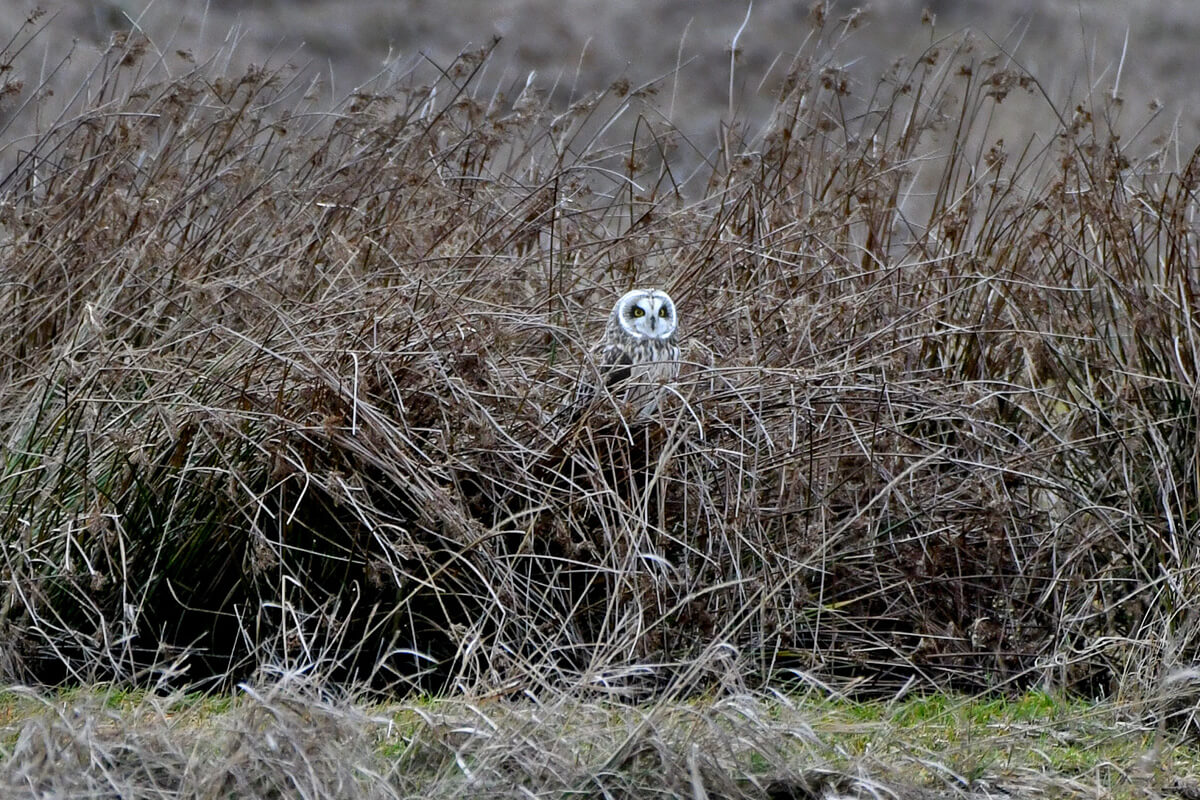 Perched near the shoreline, this is a superb raptor viewing area. Keep your binoculars close as you search for red-tailed hawks, rough-legged haws, American kestrels, northern harriers, and peregrine falcons. Acrobatic short-eared owls hunt in the late afternoons, offering a rare opportunity to see owls in the daylight.
Butler Flats
Some of the most memorable birding happens spontaneously while meandering along the region's rural backgrounds. North of Burlington and near the Samish River, agriculture and wildlife marvelously coexist and thrive. Scores of formerly endangered trumpeter swans and closely related tundra swans flock among the farmlands carefully managed for their benefit. From the brink of extinction in the early 20th century, trumpeter swans have made a marvelous comeback thanks in part to hunting bans, habitat restoration and agricultural partnerships across the Pacific Northwest.
Related: Explore Washington's Salish Sea Region
Upper Skagit River Eagle Watching
While eagles can be spotted throughout Skagit County, head east toward the North Cascades for prime viewing opportunities. Between the tiny towns of Marblemount, Rockport, and Concrete you'll discover one of the highest concentrations of wintering bald eagles in the United States. They gather to feed on the annual salmon spawns along the Upper Skagit River and number in the hundreds between December and January. Though there are numerous spots on the North Cascades Highway for eagle watching, a few can't be missed.
Related: Visiting North Cascades National Park
Advertisement
Skagit River Bald Eagle Interpretive Center
Be sure to stop at this eagle epicenter in Rockport for an insider guide to the North Cascades birdwatching. Friendly staff mark out the most up-to-date spots and offer guided walks with local naturalists.
Marblemount Boat Launch and Fish Hatchery
Bald eagles must easily outnumber people during certain times of the winter at Marblemount. Stop at the boat launch for an easy loop paralleling the confluence of the Cascade and Skagit rivers for prime eagle viewing. Staff at the nearby fish hatchery offer free tours discussing the intimate relationship between the beloved birds of prey and the salmon they feed upon.
Raser State Park
Tucked away from the highway, this park offers a more secluded winter birdwatching experience. Migrating bald eagles along with goldeneyes, resident belted kingfishers, downy, hairy and pileated woodpeckers are often spotted. This park has an ADA-accessible trail leading right to the riverbed.
For more resources about winter birding in the Skagit Valley, visit the Skagit Valley tourism website or birdsofwinter.org.
Winter Birding in Blaine and Birch Bay
Not to be outdone by their southern neighbors, the town of Blaine near the Canadian border in Whatcom County is the epicenter of Northwest Washington's coastal bird watching. Nearby Birch Bay and Drayton Harbor are prominent destinations on the Great Washington State Birding Trail and played a pivotal role in its creation.
Head out in the early morning or evening to Marine Park and Jorgensen Pier where many shades of waterfowl gather. You'll be treated with close-ups of common and Barrow's goldeneyes, harlequin ducks, dunlins, and grebes. Catch the unmistakable yodel of common loons as you immerse yourself in the sounds and sights of the sea. Those with luck and patience may get a glimpse of a rare wintering long-tailed duck. Birdwatching also abounds on the other side of the bay at Seimahoo Park and further south at Birch Bay State Park.
From the shoreline, expand your trip up the Mount Baker Scenic Highway along the famously scenic Nooksack River. Bald eagles are drawn here between December and January feeding on salmon spawns with numbers rivaling that of the Skagit River. Drive to the end of the road for a glorious view of Mount Shuksan and Mount Baker, the imposing sentinels of the North Cascades.
Though any time in winter is great for a visit, the annual Wings Over Water Northwest Birding Festival in March is the perfect occasion for a more tailored trip. Take advantage of the event's cruises of Boundary Bay and Semiahmoo Bay, where professional naturalists points out offshore species and takes the guesswork out of bird watching.
Winter birding in the Skagit Valley and Northwestern Washington will undoubtedly leave you wanting to return to experience birding throughout the seasons. Start planning your next birding excursion today.
About the Author
Quincy Koetz is a writer who loves mountaineering, kayaking, and long road trips through Washington State.