Olympia balances its seriousness as the state capital with a funky, indie vibe. Straddling Capitol Lake and Budd Inlet, miles of waterfront make for long walks and great views.
The city's historic district is home to a quaint downtown full of vintage clothing stores, antiquing opportunities, and coffee shops. A haven for artists, visitors will find murals on walls throughout the city, art walks, galleries, theaters, and music venues. Acclaimed restaurants take up prime real estate along the waterfront, while an incredible assortment of dining opportunities abound downtown.
Things to Do in Olympia
With so much to see, here are some highlights to help you plan your trip, from museums and tours to outdoor recreation.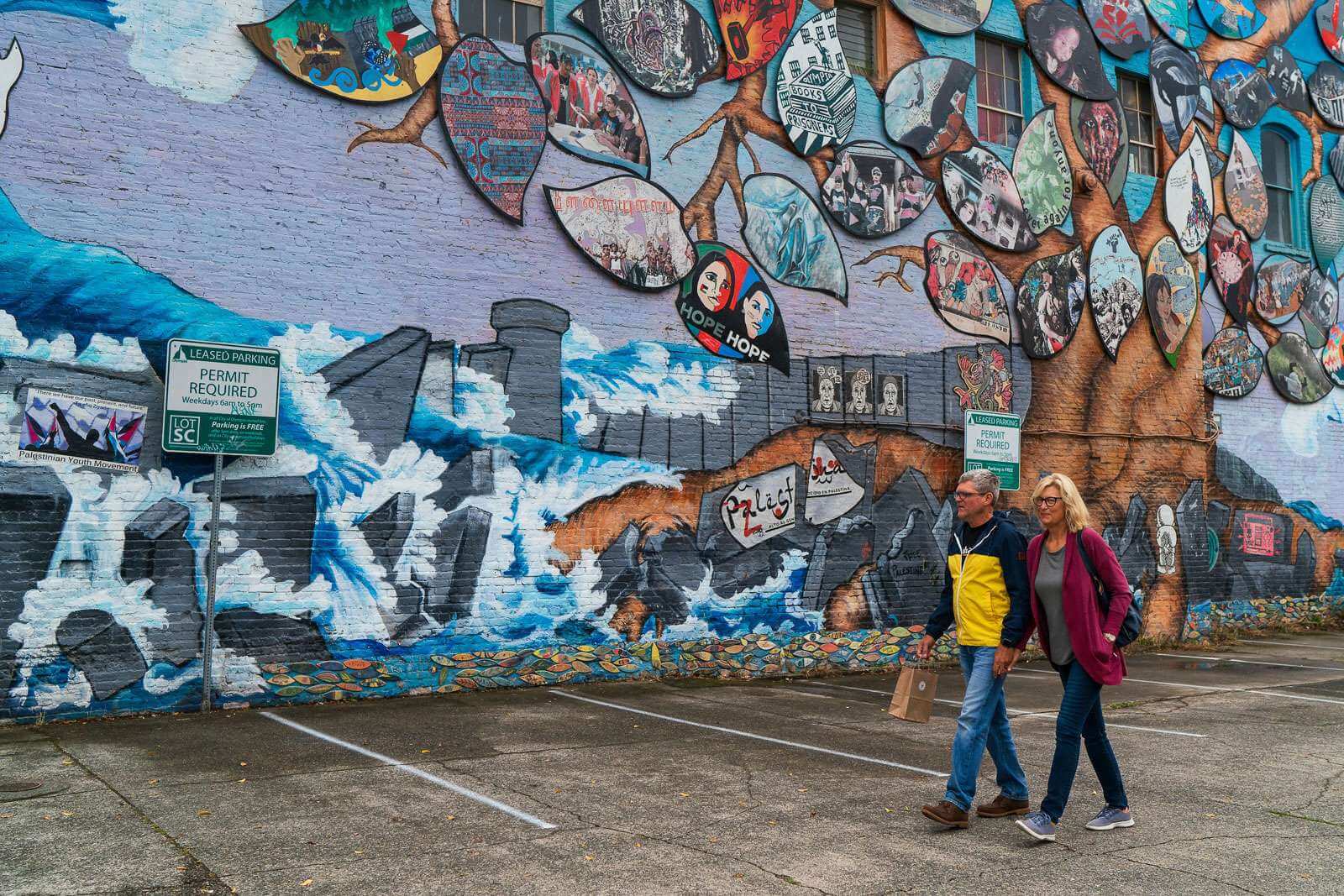 Arts & Culture
Historic Downtown
Packed with shops, cafes, galleries, parks, and museums, with the Capitol Building and waterfront a stone's throw away, Olympia is one of America's great small downtowns. Get misted in the public splash pad (even in winter), take a sip from the artesian well, and support an array of small local businesses.
Artesian Well
Located on the edge of a parking lot next to a pet store, it's easy to miss, but look for the cobalt and white mosaic, and usually someone standing around with a jug. Flowing out of a pipe is pure water from an aquifer that historically gave Olympia-made beer its reputation ("It's The Water"). Fill up your water bottle before a long walk around town.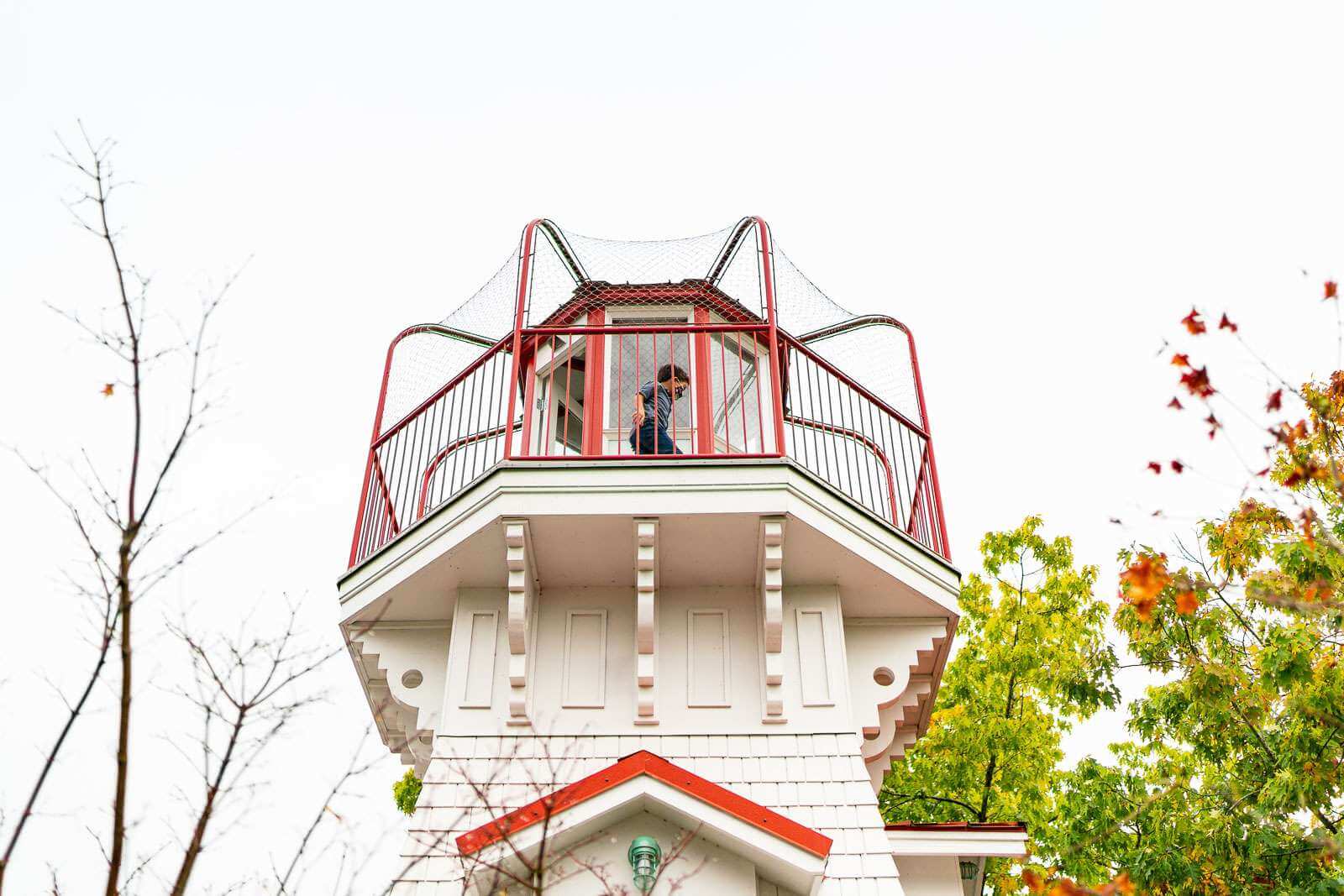 Shoot balls into wind tunnel tubes, make a recycled art project, role play a first responder, shop for pretend food, learn about Puget Sound, and so much more at this excellent children's museum. Head outside for rock climbing and a visit to the top of the lighthouse. Activities for young children, a nursing area, and a cafe make provide fun for every member of the family.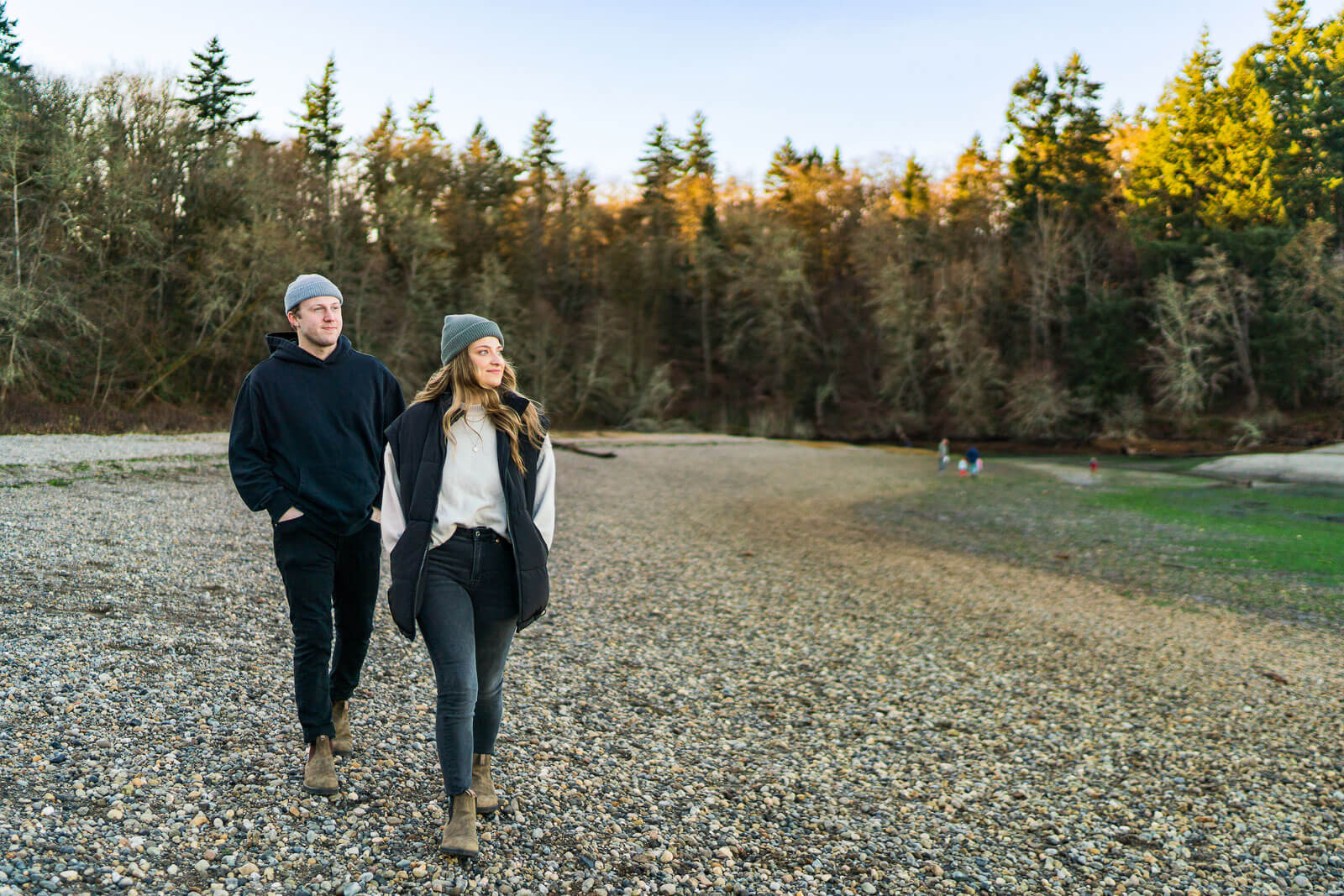 Outdoor Recreation & Nature
Billy Frank Jr. Nisqually National Wildlife Refuge
Located where the freshwater of the Nisqually River meets the saltwater of south Puget Sound, this delta is a biologically rich and diverse area that supports a variety of habitats including the estuary, freshwater wetlands, and riparian woodlands. It is considered the last unspoiled major estuary in Puget Sound and is famous for the more than 275 migratory bird species that use the refuge for migration, wintering, and breeding.
Located along the saltwater shores of Ellis Cove, Squaxin Park — formerly Priest Point Park and re-named to honor the Squaxin Island Tribe — contains hiking trails, beachfront, cliffs, streams, wildlife viewing, picnic areas, and a play ship, as well as a sweet rose garden and a lovely picnic shelter popular with gatherings and weddings.
Sailing Adventures
At the southern end of Puget Sound, the Port of Olympia welcomes vessels of all sizes to its picturesque waterfront, including sailboats. If you'd love to learn how to sail or just want to take a ride on the South Sound, sign up for sailing school and adventure classes through Sail Olympia, or simply learn more about the area's sailing community with Olympia Community Sailing.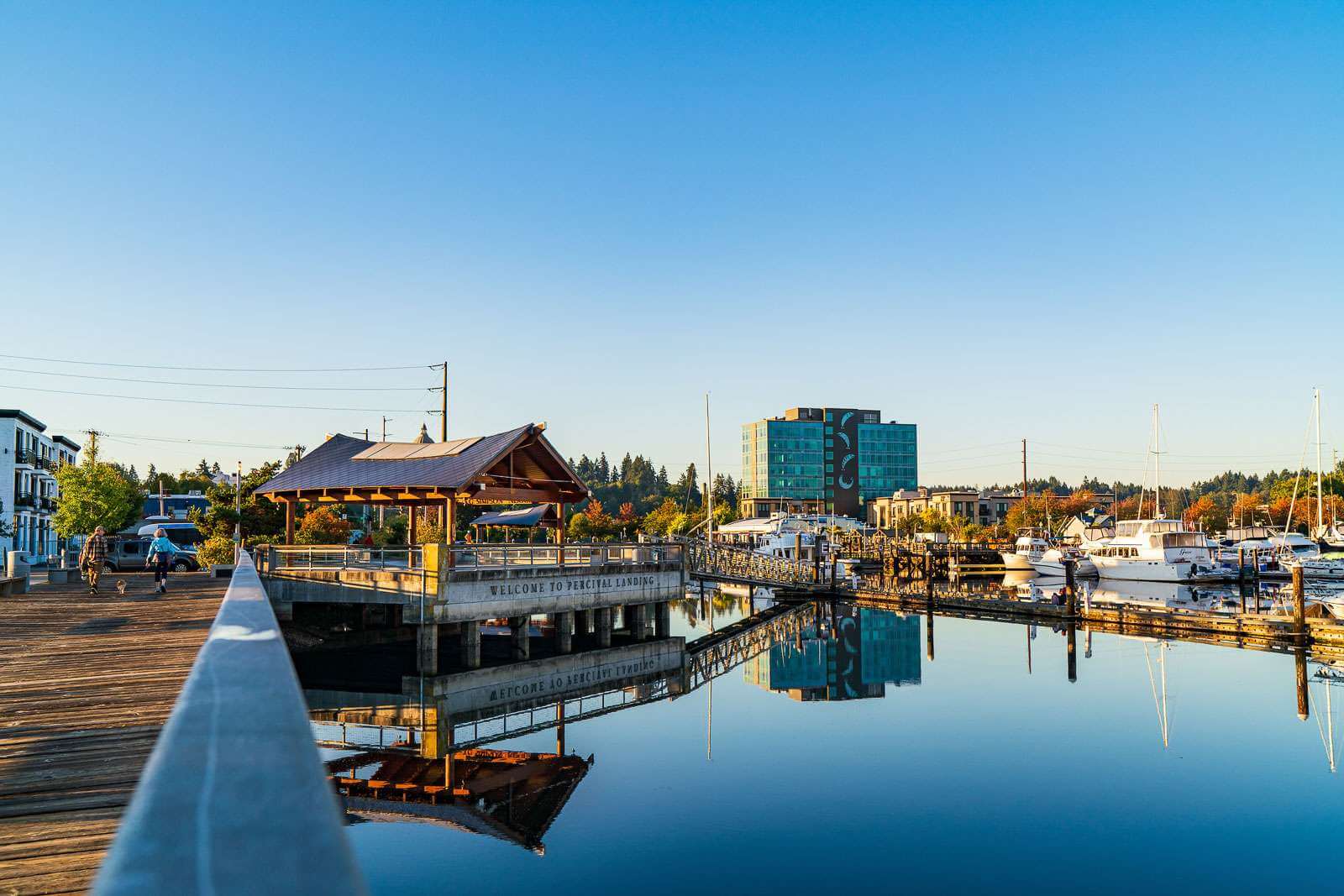 With a mile-long boardwalk along the waterfront, plus pavilions, a playground, grassy areas, and Swantown Marina in proximity to downtown, Percival Landing is a popular destination for strolls, picnics, and gatherings any time of year. The landing hosts one of the biggest farmers markets in the state and boasts views of the Capitol Building and Olympic Mountains. After appreciating the scenery, enjoy it from a table at one of the popular seafood restaurants overlooking Budd Inlet.
Explore the creatures that live at the intersection of freshwater and saltwater at this small aquarium. View sea anemones and sea stars in their tanks and interact with Puget Sound specimens and shells in a hands-on exhibit. With some advanced planning, join the Pier Peer or Meet the Beach programs for expert-led excursions into the habitats of these water bound creatures.
Related: Experience Fall in the Volcanoes Region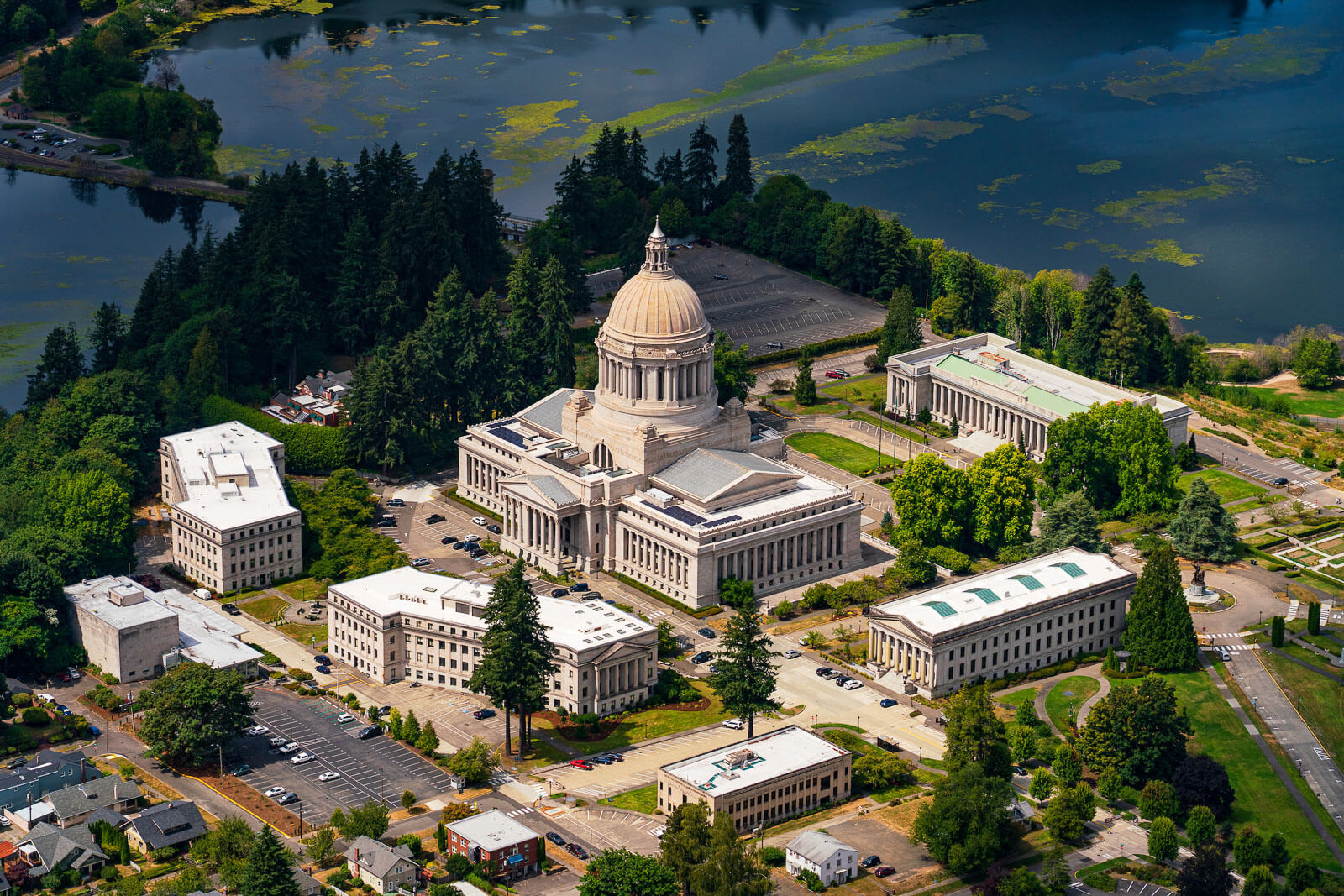 Tours
Take a self-guided tour of downtown's murals, starting at the New Traditions Fair Trade Gallery Building, with stops at the rainbow wings mural at the Estate Store and "You Are Here" at the Cascadia Grill, and many others along the way. Appreciate Olympia's poetry scene with a self-guided tour of installations or experiences, including words near the Farmers Market that only appear when water is poured on the bricks. In spring and fall, catch Arts Walk Olympia for gallery openings, craft demonstrations, kids' activities, and more.
Gain an appreciation of the legislative process by perusing the grounds and botanical gardens of the state Capitol. Take in the magnificent architecture of the 42nd state's legislative building on a free tour. The building's 287-foot-high dome—the tallest self-supporting work of masonry in the United States (it was built with sandstone from the small town of Wilkeson)—is an example of the early 20th-century City Beautiful movement.
Tour the Governor's Mansion, the Georgian building that's been home to Washington's leaders since 1910. Be sure to check in advance for tour availability. Not able to book a scheduled tour? Virtual or self-guided tours are also available.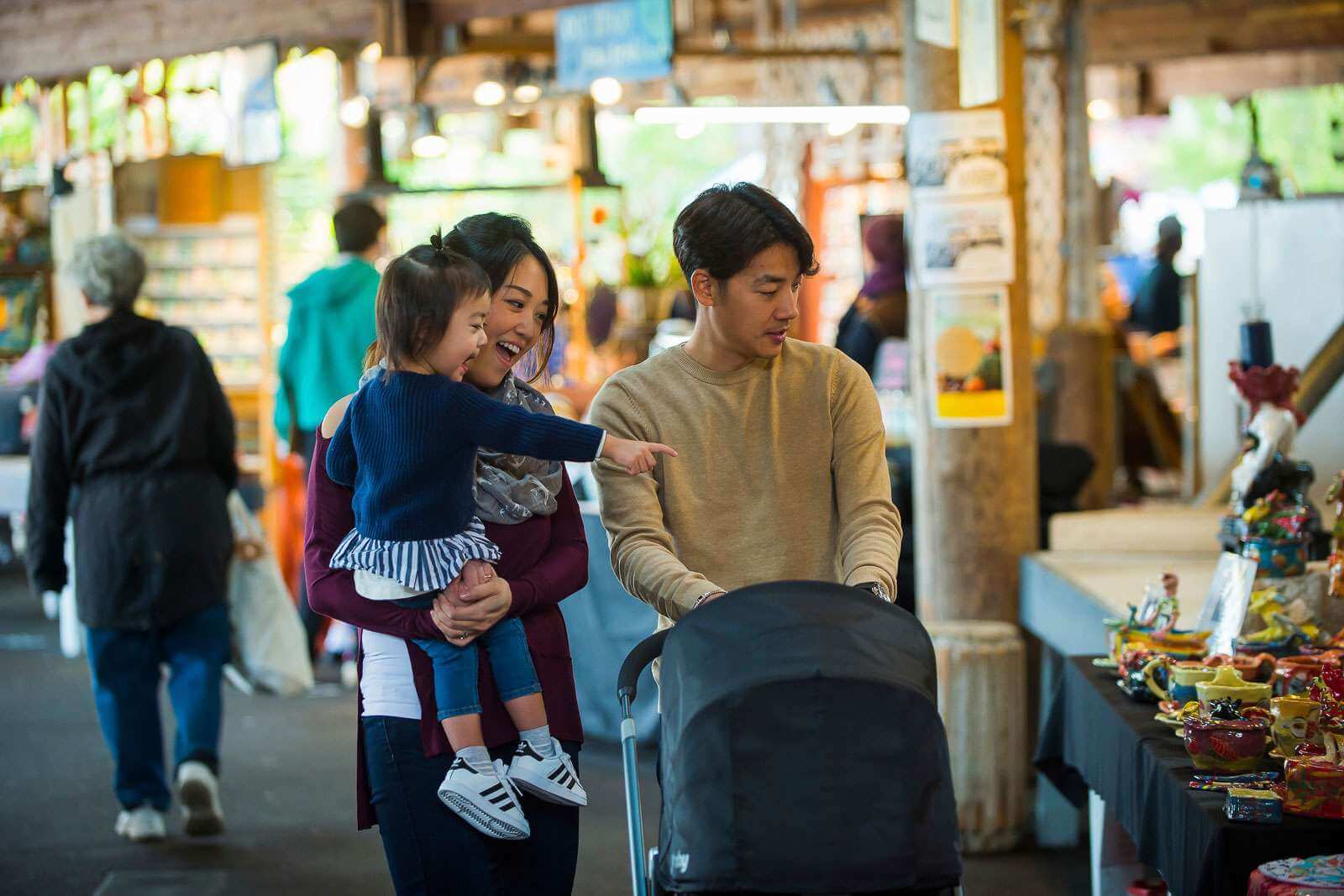 Shopping
Unique, independent shops are a hallmark of Olympia. Here is just a small selection of what you can find.
This epic market hosts over 100 vendors selling produce, crafts, and artisanal foods from around the region, as well as restaurants and live musicians. Hours vary by season, so be sure to check the website before you head out.
Capital Mall is a place to get mainstream essentials as well as to shop "loc-Oly." Visit the Artists' Gallery for local works and Hawley's for handmade gelato. Stay for dinner before catching a movie at Century Theater.
This downtown shop is known for their vintage-style women's clothing. A fun boutique for the sophisticated shopper, they offer apparel and jewelry that is lovely and unique.
For more than 25 years, Archibald Sisters has been the go-to place for personal care essentials that appeal to all ages. From fun gifts to handmade lotions, you can even make your own scented lotion.
A glorious collection of interesting finds, the Fifth Avenue Flea Market is a collection of "experienced" merchandise. Find vintage clothing, furniture, antiques, glassware, artwork, and other treasures.
Olympia's downtown independent bookstore since 1935, Browsers has been owned by four different women throughout its existence and supports local authors. The shop provides a retail outlet for books published through non-traditional publishing sources.
Beloved children's toy store, Captain Little, is a favorite among visiting kids of all ages and those who are kids at heart. From classic books and toys to arts and crafts supplies and locally made goods, little ones are sure to find something to love.
Visitors come in for the lush shopping paradise and stay for the good vibes. With a library of tarot and esoterica, candles, artwork, goods from independent vendors, and more, Psychic Sister believes magic is intersectional and prioritize inclusivity and diverse representation.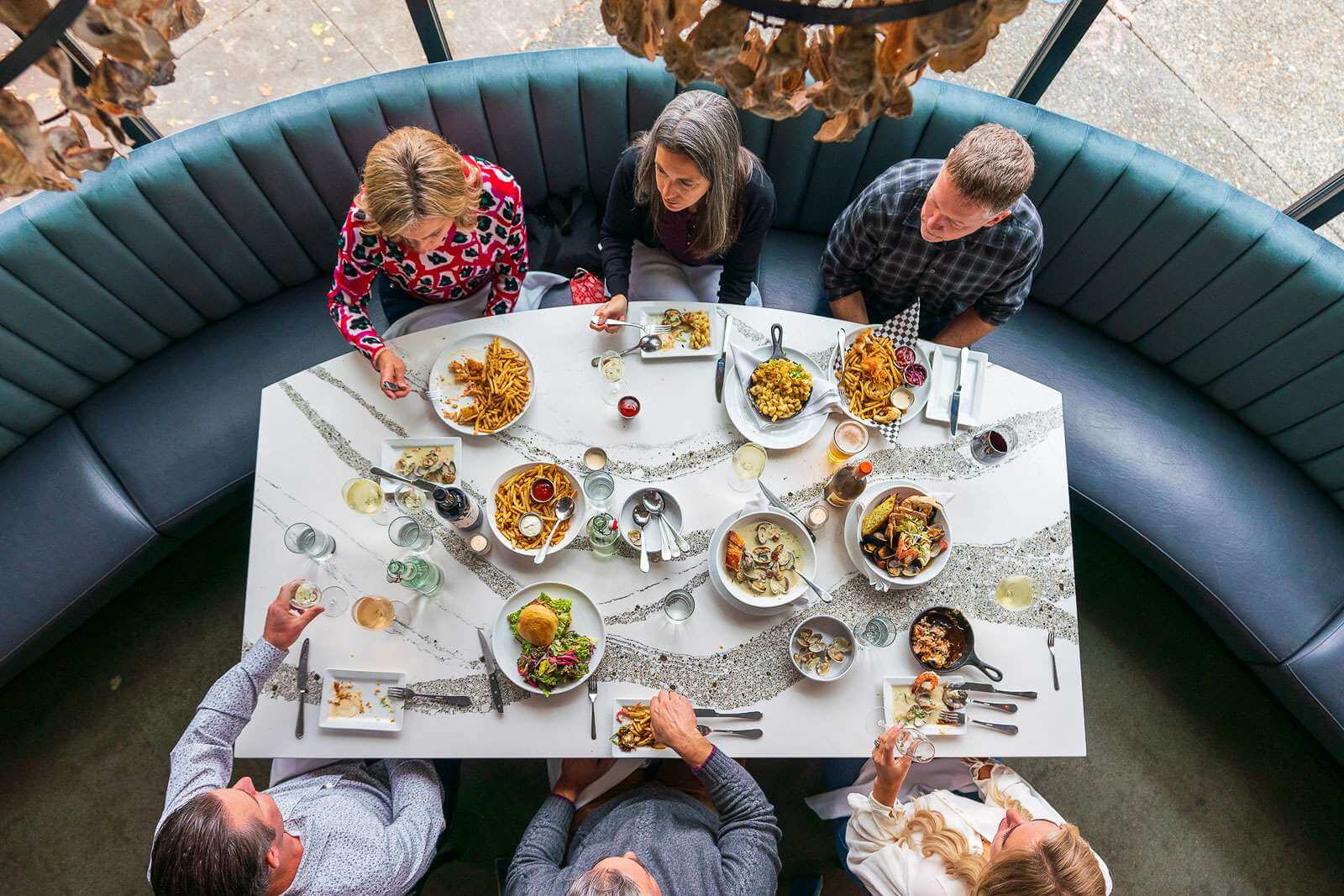 Food & Drink
Imagine the aroma of warm bread directly from the bakery oven or sipping an award-winning coffee roasted locally in the Pacific Northwest. Feast on the fresh seafood straight from the tidal estuaries of the South Puget or grab seasonal produce at the Farmer's Market. Olympia has something to satisfy everyone appetite.
​Famous for their sunset dinners, this comfortable, beautiful waterfront restaurant boasts a 180-degree bay view and features an extensive menu of steaks and seafood offerings, such as Dungeness crab cakes and pan-fried oysters.
Olympia Oyster House
Olympia's oldest restaurant, the Oyster House is situated in the same building where The Olympia Oyster Company culled the native Olympia Oysters in 1859. Visit this historic location, known for their fresh seafood and al fresco dining.
Chicory is a casual fine dining restaurant, celebrating all things delicious and sustainable. Their menu highlights the abundance of the Pacific Northwest with influences by the food traditions and techniques of the American South. Expect menu items such as shrimp and grits and Dungeness crab fried dirty rice.
This breakfast-only restaurant generally has long lines for brunch, but the service is quick and the menu offers plenty of choices, from a grilled avocado benedict to wild Alaskan smoked salmon and basil hash.
Koko's offers up homemade, modern Latin cuisine. Their curated and thoughtful menu includes small bites, amazing cocktails, and main dishes that represent the best of Latin culture.
This French patisserie draws long lines, but you won't mind after your first bite of any one of the over 50 varieties of French pastry. Tip: Get a second Kouign Amann so you don't have to share.
International Cuisine
Take a culinary tour of the world grabbing a meal Rush In Alaskan Dumplings, Inaka Ramen, Hotstone Authentic Korean, or DaNang Restaurant.
Coffee Culture
Java reigns supreme in this coffeehouse town. Start at Dancing Goats, a shop that opened back in 1988 serving locally roasted coffee. They build direct relationships with coffee farmers around the world and promote sustainable, environmentally friendly processes that result in exceptional coffee. Also check out Olympia Coffee Roasters, Ember Goods, and Burial Grounds Coffee Collective.
Breweries
Visit local breweries, among them Well 80, which makes beer with water sourced from one of Olympia's remaining artesian wells. Additional spots to put on the list: Headless Mumby Brewing Company, Three Magnets Brewing Co., and Wild Man Brewing Gastropub.
Find more food and drink options.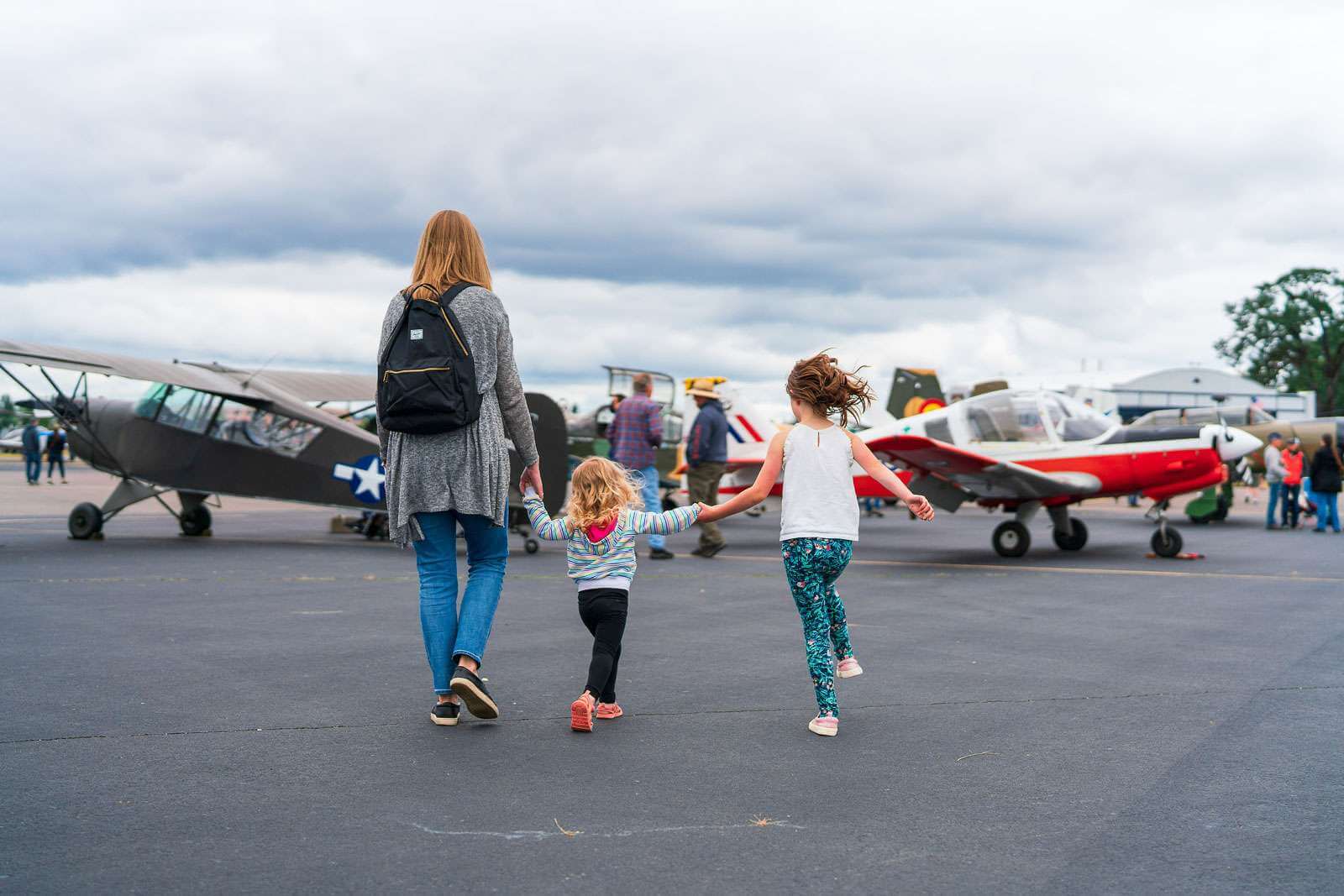 Annual Events & Festivals
Outdoor and sports enthusiasts, art and music lovers, and food and wine enthusiasts will all find amazing experiences and events to enjoy in Olympia and the surrounding area.
The annual Pride festival and parade in downtown Olympia has been celebrating the LGBTQ community and its allies since 1991. Enjoy entertainment, food, music, craft and community booths, plus a family fun area.
Olympic Airshow (June)
Hosted by the Olympic Flight Museum at the Olympia Regional Airport, this annual event features demonstrations as well as aircraft exhibits from the museum's collection. A multitude of local vendors and youth activities make this weekend-long event great for all ages.
Capital Lakefair Week (July)
Lakefair Week, widely known as Olympia's annual summer festival, includes carnival rides and games, food concessions, live entertainment, and arts and crafts vendor booths. Other special events include the car show, parade, seniors' day, fireworks and more.
Washington State Senior Games (July & August)
The Washington State Senior Games, the largest Olympic-style multi-sport event in Washington, draws contestants from throughout the state and is held at various sites throughout the South Sound, aiming to keep seniors healthy and productive.
Olympia Brew Fest (August)
Celebrate Olympia's brewing heritage at this annual summer beer festival that takes place at the Port Plaza. The event features 20+ northwest breweries and more than 40 beers. Enjoy live music and food by a variety of vendors.
South Sound Block Party (August)
This two-day music festival on the shore of Puget Sound features multiple bands, local vendors, a beer garden, and food truck offerings.
Sunflower Festival (August to early September)
The Sunflower Festival is an unforgettable experience held at the Rutledge Corn Maze. Take in 46 different varieties of sunflowers covering 4 acres. Highlights include live music, food vendors, tons of activities, plus a viewing platform for the best pictures of the field.
Olympia Harbor Days (September)
This free family friendly festival at Percival Landing is a celebration of maritime heritage hosted by the South Sound Maritime Heritage Association. On water, maritime fans can enjoy tours of historic tugboats and vessels, cruises on Budd Bay and vintage tugboat races. On land, festival attendees can take part in nautical-themed attractions while enjoying art, food, and music.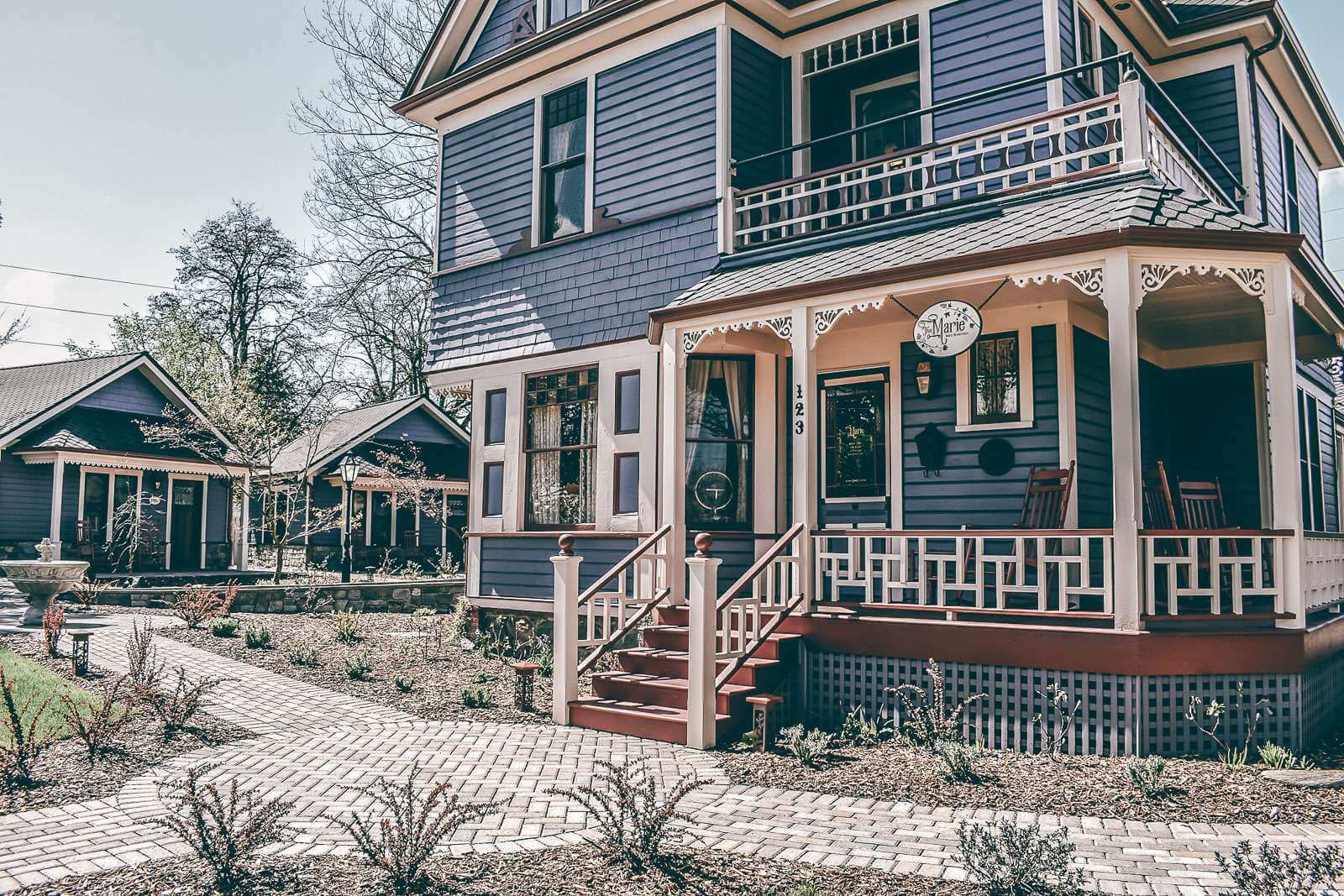 Where to Stay in Olympia
This charming B&B invites guests to step back in time. Built in 1892, this Victorian-themed hideaway in West Olympia features two guest suites and two cottages. Guests can enjoy cozy common areas and meals focused on locally sourced, seasonal ingredients with a home-cooked feeling.
The Olympia Hotel at Capitol Lake
A member of the IHG hotel group, Olympia Hotel at Capitol Lake is pet friendly and offers lake views and acres of woodland while still being close to the city's downtown core and many attractions, such as Tumwater Park.
Enjoy history and architecture? The Swantown Inn & Spa is an 1887 Queen Anne/Eastlake Victorian mansion listed on state historical registers. Although historic, this property located in a quiet neighborhood near downtown features modern amenities, electric car charging, and great WiFi.
DoubleTree by Hilton Olympia
This eco-friendly hotel in downtown Olympia is located across from the Percival Landing waterfront and within five blocks of the Olympia Farmers Market and other attractions. Enjoy an indoor pool and on-site dining at this property in the Hilton portfolio.
Red Lion Inn & Suites Olympia, Governor Hotel
Located off Capitol Way South, this hotel is steps away from the Capitol Building. Enjoy daily complimentary breakfast, a fitness center, and free parking.
Getting to Olympia
Located along the Interstate 5 corridor, Olympia is easily accessible in under two hours by car from the international airports in Seattle and Portland, Oregon. If arriving by train, Amtrak stops daily at the Olympia/Lacey station.
Olympia's makers, craftsmen, and free-spirited residents welcome visitors to explore the natural beauty of the South Puget Sound. To learn more about what Olympia has to offer, visit the Experience Olympia & Beyond website.