For family fun, scenic drives, comfortable hikes, and fantastic wildlife viewing, you need to experience fall in Washington's Volcanoes Region.
Fall in Washington's Volcanoes Region
Head south of Seattle to explore a region that's home to both Mount Rainier and Mount St. Helens.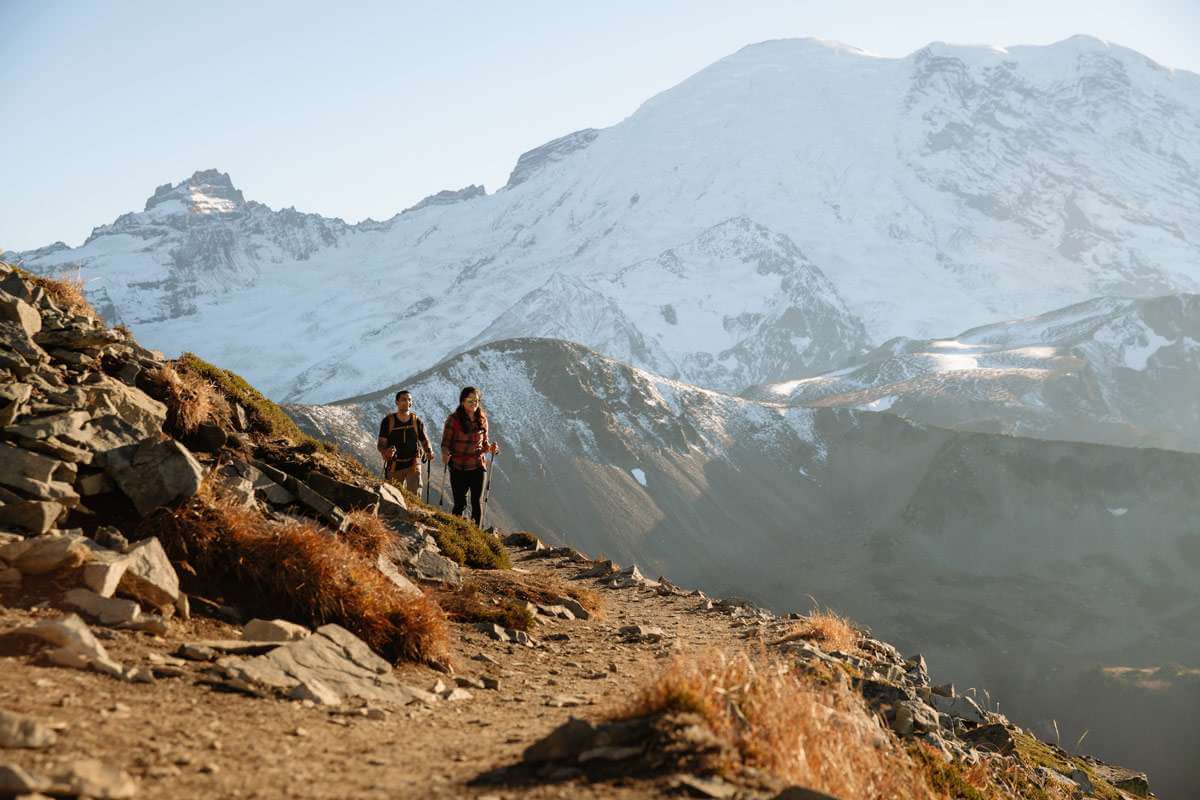 Take a Hike
Fall is a great time to hit the trail at one of the region's mountains. Reflection Lakes at Mount Rainier is popular for its stunning fall color, while the lesser-traveled Loowit Trail at Mount St. Helens rewards visitors with swaying autumn grasses in a range of golden hues.
Another option for stunning views is the Mount Fremont Lookout Trail, a challenging out-and-back trail leaving from Sunrise at Mount Rainier. The best time to visit this historic fire lookout is through October. Although this season brings fewer crowds than the bustling summer months, it still pays to arrive early or visit on a weekday.
Drive the scenic West Side Loop
For gorgeous fall color in the Volcanoes Region, head to the West Side Loop of White Pass Scenic Byway. Meandering through quaint mountain communities, the entire route is usually open from May through October. Be sure to leave plenty of time for stops. In Morton, the Loggers' Memorial and Historic Train Depot showcase the region's history.
Travel north along State Route 7 for spectacular views of Mount Rainier towering over the 277-acre Mineral Lake. Many come great distances to fish, swim and boat these beautiful waters. The Nisqually area, Mount Rainier National Park and Big Bottom Valley offer plenty of chances to soak in the fall colors. Don't forget your camera.
Watch for wildlife
Hit the trails in the Volcanoes Region to see the area's wildlife. The Cispus River in Gifford Pinchot National Forest is home to an incredible number of species. You can easily view them from many trails. To the northwest, you'll find what's considered the "last unspoiled major estuary in Puget Sound" — the Nisqually River Delta. Birders will love the Billy Frank Jr. Nisqually National Wildlife Refuge, which is famous for hosting 275 migratory birds that use the refuge for feeding, wintering and breeding.
To discover neighborhood ponds and waterways full of wildlife adapting to the cooler weather, take to two wheels on a Biking Beyond excursion. Be sure to pack a sweater and a pair of binoculars while you are out exploring.
Hunt for Mushrooms
Fall in the Volcanoes Region is the perfect time to hunt for a variety of mushrooms. From late summer until the first fall frost, visitors can find chanterelles, matsutake, pig's ear, hen-of-the-woods, and more, especially along the southern side of Mount Rainier National Park. In the park, visitors are limited to two quarts per person per day.
Before you head out, make sure you brush up on edible mushroom identification and follow best practices for harvesting. Do not rake or dig for mushrooms in national forests.
Head to the Visit Rainier website for more tips on mushroom foraging in the area.
Embrace Family Fun
Farms and pumpkin patches offer plenty of family fun during fall in the Volcanoes Region. At the Huntting's Pumpkin Patch and Haunted Forest in Cinebar, test your navigation skills in the corn maze, explore the Haunted Forest, or pick the perfect pumpkin.
In the Enumclaw plateau, Thomasson Family Farm boasts acres of beautiful pumpkins and a 5-acre corn maze. Kids can enjoy an apple sling shot and tractor rides. In October, the Frey Family Farm store and pumpkin patch in Ashford offers apple-cider doughnut holes and warm apple cider for sale.
Be sure to check hours directly with farms, as some offerings are only available on weekends.
Explore more autumn activities near Mount Rainier.