Come winter, snow envelopes the state's peaks, alpine meadows, and high-elevation lakes, beckoning snowshoers to grab a thermos of hot cocoa and hit the trails. From mountain trials that showcase mind-blowing vistas to snow-hushed river valleys, scenic snowshoe trails abound in Washington.
The State of Washington has a route for everyone's taste, from beginner to intrepid adventurer. If you don't have your own gear, no problem. Rentals are readily available.
Scenic Snowshoe Trails in Washington
The following routes are generally at a low risk for avalanches, but it's always a good idea to check the Northwest Avalanche Center forecast before heading out. Note that most listings use distances and elevations from the Washington Trails Association. For crowd levels and up-to-date trail information, download the TREAD Map app. The app features a curated list of snowshoe trails for easy exploration.
Gold Creek Pond, Snoqualmie Pass
2.8 miles | 10 feet elevation gain
Gold Creek Sno-Park, Sno-Parks permit required
Difficulty level: Easy
Flat terrain makes this one of the perfect scenic snowshoe trails for families and beginners, with an easy 1-mile cruise around a snow-covered pond. Its location on top of Snoqualmie Pass provides stunning Cascadian peak panoramas. If you want to extend the adventure, check out other connecting trails. This area is popular, so get there early or go mid-week to avoid crowds. The road to the trailhead, Forest Road 142, isn't plowed, but you can park along Forest Road 4832. Depending on your parking spot, it can be a half mile or more to the trailhead, so calculate that into your mileage.
Wenatchee Crest Trail, Cle Elum
6 miles | 400 feet elevation gain
Blewett Pass Sno-Park, Sno-Parks permit required
Difficulty level: Easy-Moderate
Starting high up on Blewett Pass in the Okanogan-Wenatchee National Forest, this ridgetop out-and-back scenic snowshoe trail doesn't have much elevation gain but affords expansive views of Glacier Peak, Mount Rainier, the Teanaway Mountains, and the Stuart Range — all the way from Miller Peak to the Peshastin Valley. Later in the season, this route sees more crowds on weekends as the snow at lower elevations melts.
Related: Cozy Winter Getaway Destinations in Washington
Artist Point, Mount Baker
4 miles | 1,000 feet elevation gain
Heather Meadows/Mount Baker Ski Area overflow, free
Difficulty level: Moderate
Some consider Artist Point the most scenic viewpoint in the state, and it's easy to see why. The North Cascades' jagged, glacier-laden peaks crowd the horizon, including Mount Baker, Mount Shuksan, Whitehorse Mountain, and Sloan Peak. While not an overly lengthy route, some sections are steep. Always consult the Northwest Avalanche Center forecast before you visit. If it's snowing or fogged in, make sure someone in your group has route-finding skills.
Note: The final section of Mount Baker Highway to Artist Point closes each winter. Start the trail near the restrooms at the Heather Meadows parking lot at the Mount Baker Ski Area. Get directions.
Reflection and Louise Lakes, Mount Rainier
7 miles | 560 feet elevation gain
Narada Falls parking lot, National Park Pass required
Difficulty level: Moderate
The splendor of frozen alpine lakes on this out-and-back scenic snowshoe trail is embellished by the dramatic Tartoosh Range and Mount Rainier towering in the distance. A couple of trail bypasses along the way avoid spots with more avalanche risk. For a shorter snowshoe, turn around at glorious Reflection Lake instead continuing on to Louise Lake. If you want more of a challenge and have good wayfinding skills, you can make this a loop using the popular Mazama Ridge trail. Note that Mount Rainier National Park requires cars to carry chains from Nov. 1 through March 1.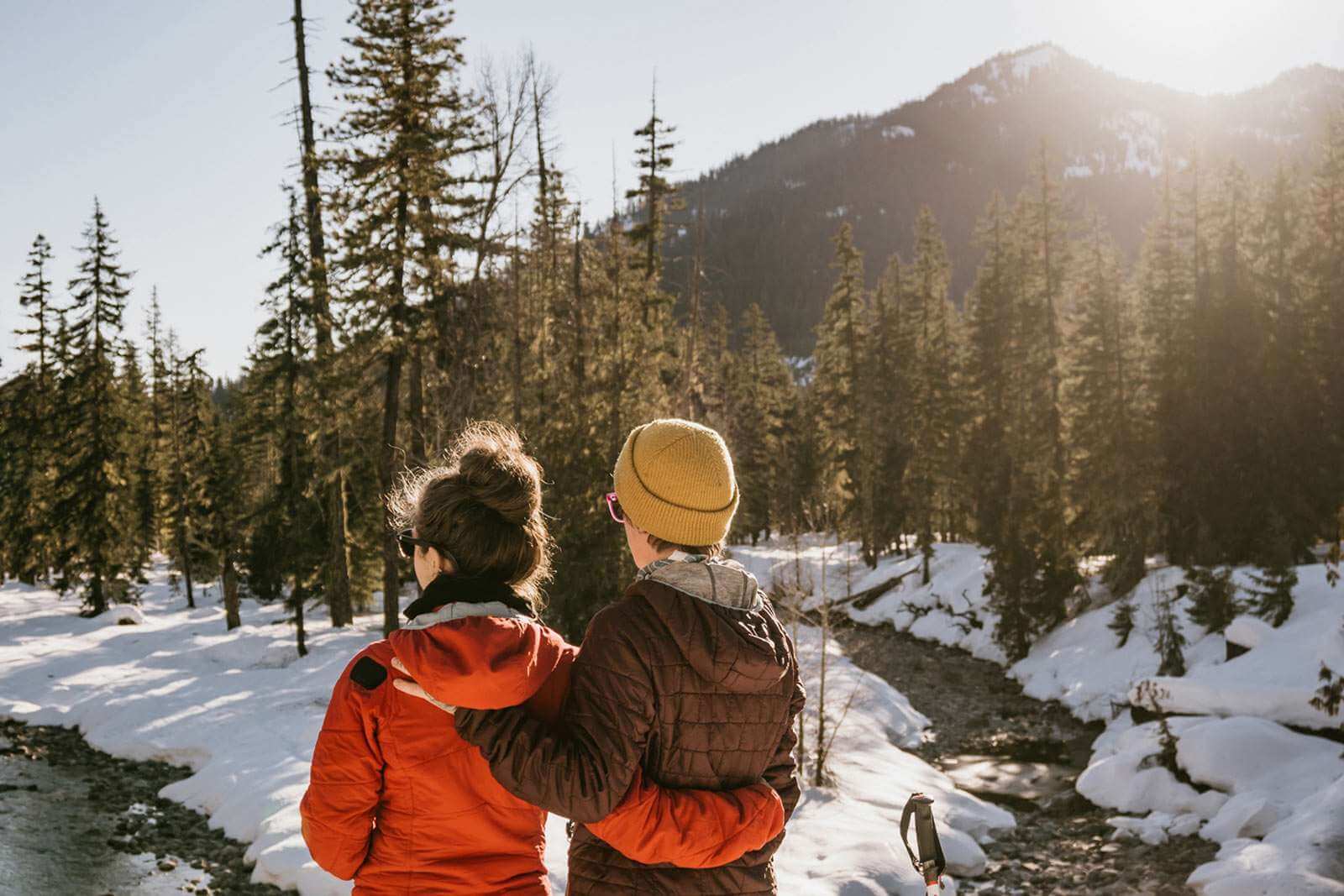 Cooper River, Salmon le Sac
8 miles | 400 feet elevation gain
Salmon de Sac Sno-Park, Sno-Parks permit required
Difficulty level: Moderate
This out-and-back trek tours a river valley and old growth forests of cedar, white pine, Douglas fir, and vine maple. The gently rolling trail is quiet outside of peak weekend times and affords snowshoers the opportunity to observe many bird species and other wildlife, as well as enjoy the sound of the river. Turn around at pristine Cooper Lake, which is also a great spot for lunch. Note that the trailhead is about a mile from the Sno-Park parking lot.
Related: Winter Getaway in the Cascade Mountains
Hurricane Ridge, Olympic Peninsula
6 miles | 800 feet elevation gain
Hurricane Ridge Visitor Center, National Park Pass required
Difficulty level: Moderate
Hurricane Ridge is considered by many to be one of the top scenic snowshoe trails in Washington. This exposed ridgeline trail offers 360-degree views of Mount Baker, Mount Olympus, Glacier Peak, the Olympic Range, Puget Sound, and the Strait of Juan de Fuca. During the winter, Hurricane Ridge Road is only open on weekends and holidays from 9 a.m. to 4 p.m.. However, these hours may change depending on the weather. For updates, check @HRWinterAccess on Twitter. Also, Olympic National Park requires motorists to carry chains during the winter season.
Skyline Lake, Leavenworth
3 miles | 1,100 feet elevation gain
Stevens Pass northern parking lot, free
Difficulty level: Moderate
This short, rigorous climb from Stevens Pass lands snowshoers at an incredible frozen lake basin with spectacular views of Big Chief and Cowboy Mountains as well as the Alpine Lakes Wilderness. Continue around the lake to the gap on the ridge's northwest side (do not cross the lake, as it may not be frozen) for even more dazzling views. The vista opens and showcases the Enchantments, Glacier Peak, Nason Ridge, Mount McCausland, and many more. This extra jaunt adds a little more climbing, but it's worth it. Snowshoers fancy hitting this trail early season route because of the high elevation snow levels.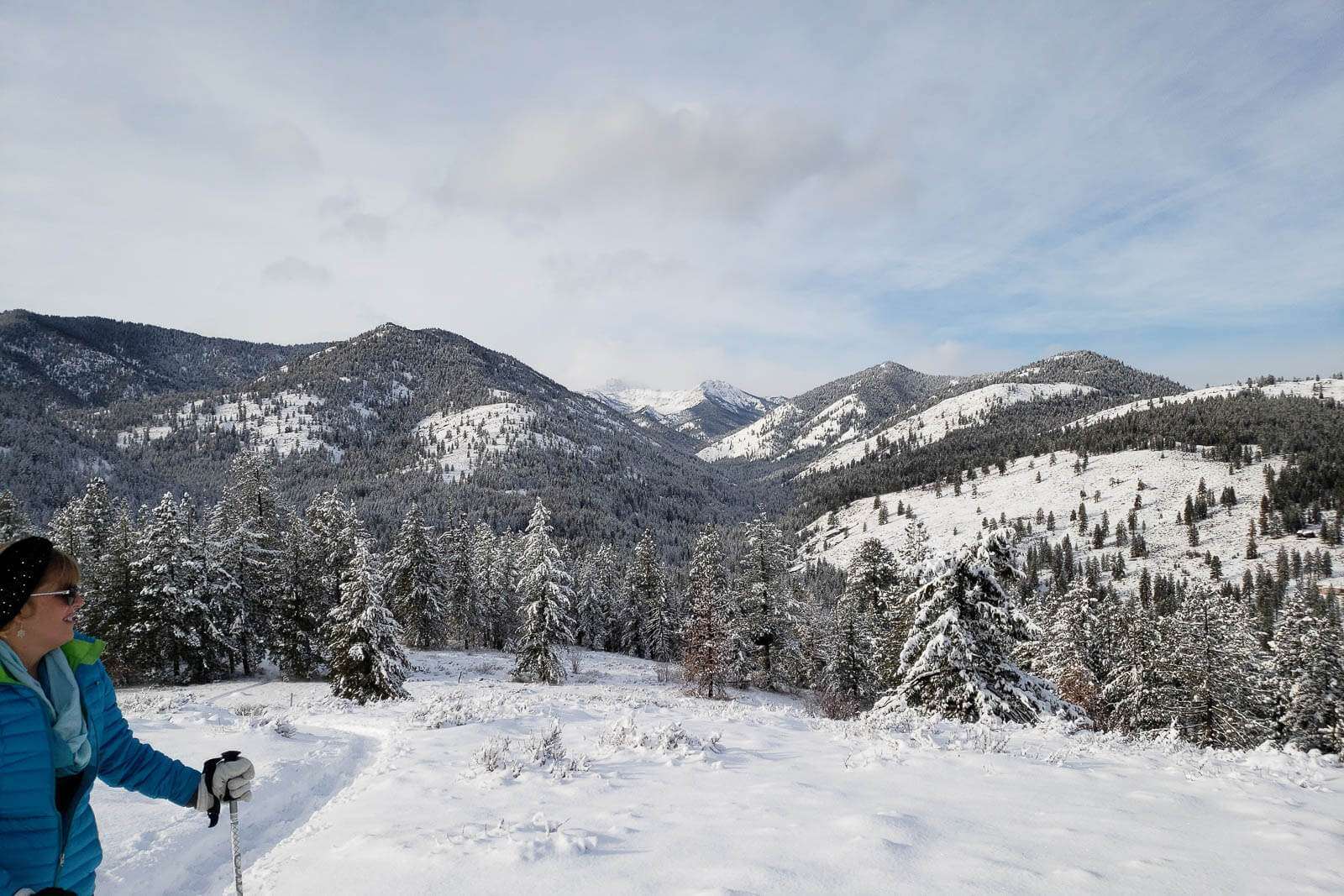 Sun Mountain Snowshoe Loop, Methow Valley
2.8 miles | 690 feet elevation gain
Sun Mountain parking lot, Methow Valley snowshoe pass
Difficulty level: Moderate
Winter outdoor enthusiasts pilgrimage to the Methow Valley for its trail infrastructure and the outstanding beauty of its rugged landscapes. Sun Mountain Lodge, voted one of the top snowshoe destinations for couples by Snowshoe Magazine, has an array of trails for guests and day trippers alike. This loop connects the Moose, Black Bear, and Clic-A-Pic trails. Although the trails are marked by flags, sometimes they take work to find on snowy days. You can purchase Methow Valley snowshoe passes at the lodge.
June Lake, Mount St. Helens
4.8 miles | 500 feet elevation gain
Marble Mountain Sno-Park, Sno-Parks permit required
Difficulty level: Moderate
Options abound for snowshoers at the Marble Mountain Sno-Park in Gifford Pinchot National Forest, which boasts 50 miles of trails. Of the choices, June Lake is an especially scenic snowshoe trail for a winter ramble. You'll follow a trail on a forested creek with excellent Mount St. Helens views. At June Lake, a 40-foot icicled waterfall cascades near the shore. Opt for the trail instead of the faster road alternative to avoid sharing the path with snowmobilers. The trail is well-marked with blue diamonds. Note this area can be crowded on beautiful winter weekends.
Natural Bridges Loop and Ice Caves, Mount Adams
7.4 miles | 800 feet elevation gain
Atkisson Sno-Park, Sno-Parks permit required
Difficulty level: Moderate-difficult
This route in the Gifford Pinchot National Forest loops around "Big Trench," a collapsed lava tube that has a number of fascinating natural volcanic arches over its ravine. Follow road 017 and 041 to access the signed loop. Avoid the icy edges around the trench.
Mount Spokane Summit Route, Spokane
4 miles | 1,330 feet elevation gain
Mount Spokane State Park, Sno-Parks permit required
Difficulty level: Difficult
This short out-and-back climb heads straight to the summit, giving snowshoers the satisfaction of bagging a peak in the Selkirk Mountain Range. Those visiting on a weekend can reward themselves with a cup of hot cocoa from the concession stand at the top. If peak bagging is not your thing, there are a myriad of other trail options, including Mount Kit Carson Loop Road. Park in the lot at the intersection of Summit Road and Mount Spokane Park Drive.
Know Before You Go
While winter is an excellent time to revel in the outdoors, the season also requires extra safety precautions. Before heading out to one of these scenic snowshoe trails, be sure to:
Check the Northwest Avalanche Center website for avalanche forecasts.
Call the ranger district to ask about trail conditions and bypasses, and make sure you have matching route finding skills for your chosen trek.
Check road conditions on the Washington Department of Transportation's website, which has an interactive map.
Along with a hard copy map of the use area and plenty of water and food, be sure to bring a waterproof layer and an extra warm layer in your pack, as weather can change quickly in the mountains.