Washington—known as the Evergreen State—is famous for its rain forests and deep green wilderness areas. But come autumn, trees such as larches, maples, and aspens explode into fiery canopies of crimson, golden yellows, and bright oranges across the state. From late September to mid-October, see the drama for yourself by foot, bike, or car.
Where to find fall color in Washington
Thanks to abundant trails and roadways, there are plenty of options to get out and enjoy fall foliage. Before you head out on your outdoor adventure, download the TREAD Map app for trip reports and up-to-date information about crowded trails, closures, and more. Here are a few great places to spot fall foliage throughout the state.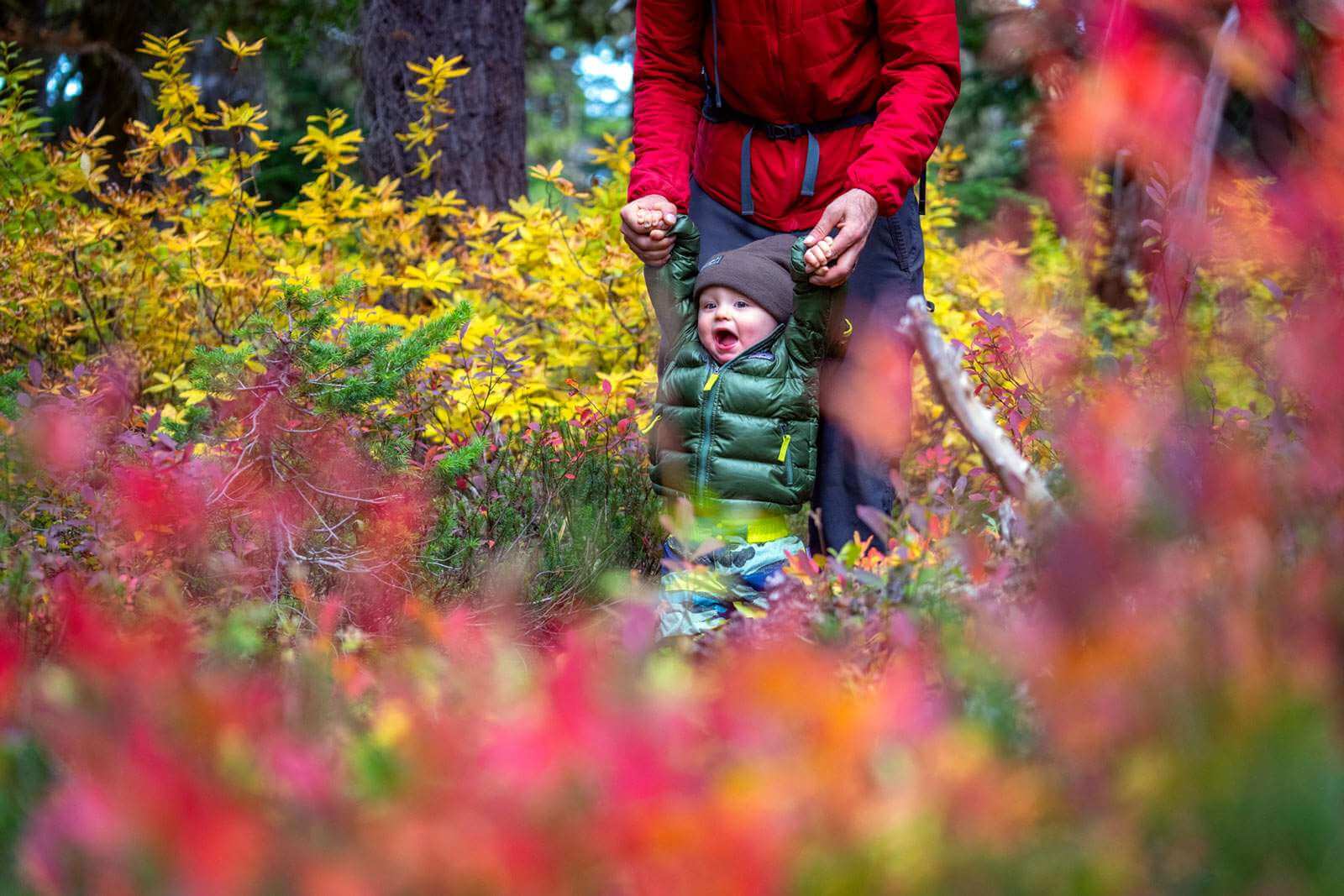 Fall Foliage Hikes
Maple Pass Loop, North Cascades
7.2 miles | 2,000 feet elevation gain
On this perfect October hike, the colorful larches light up the mountain and lake vistas. Starting from Rainy Lake Trailhead, hikers can do this loop in either direction (opt for counterclockwise for a more gradual ascent and better views of Black Peak). You'll need a Northwest Forest Pass to park. Time you visit for mid week to avoid crowds.
Related: Your Guide to Visiting North Cascades National Park
Sullivan Lakeshore, Colville National Forest
8.2 miles | 250 feet elevation gain
Hikers flock to Sullivan Lake in Colville National Forest for its Western larches and their riot of yellows and gold, but aspens, hemlocks, and birch are also on display. The out-and-back trail from Sullivan Creek Campground to Noisy Creek Campground cruises by picturesque beaches with mountain views. Day use fees are $5 at either campground.
Yellow Aster Butte, Mount Baker Wilderness
7.5 miles | 2,550 feet elevation gain
One of the best hikes for fall color in Washington is this popular out-and-back in the Mount Baker Wilderness. The trail traverses the south-facing alpine slopes of the High Divide and rewards hikers with views of many jagged peaks–including Mount Baker, Mount Larrabee, Mount Shuksan, and even the Border Peak in Canada. During autumn, vivid oranges, reds, and yellows blanket the hillsides. To avoid crowds, arrive early or visit on a weekday. A Northwest Forest Pass is required for parking.
Iller Creek Trail, Spokane
5 miles | 1,200 feet elevation gain
This loop trail in Dishman Hills Conservation Area has expansive views of the changing season across Spokane Valley, Steptoe Butte, Mica Peak, and the Palouse. Rocks of Sharon, a group of impressive granite boulders, mark the halfway point. Along the way, cottonwoods, aspens, and deciduous shrubs such as snowberry, ocean spray, and serviceberry ignite with color. Take the trail counterclockwise for the best views.
Naches Peak Loop, Mount Rainier
3.2 miles | 600 feet elevation gain
This short loop is a lot of alpine bang for your buck, with lakes, grassy meadows, and spectacular Mount Rainier panoramas. Low-lying shrubs like huckleberry bushes and vine maples steal the show, carpeting the mountainside with vibrant reds, deep purples, and golden yellows. Ashes, larches, and cottonwoods are also on display. Hike clockwise for the best views. For more fall glory, drive to the Naches Peak Loop trailhead via Sunrise Park Road. The drive is a destination in itself. Parking requires a Northwest Forest Pass.
Washington Park Arboretum Loop Trail, Seattle
2.5 miles | 150 feet elevation gain
For an urban option for fall color in Washington, head to The Washington Park Arboretum in Seattle. The arboretum offers a map that highlights the most vibrant fall trees in their collection, and there's an interactive version for mobile devices. The Loop Trail hits most of the highlights: sour gum, buckeye, sorrel, strawberry trees, mountain ash, witch hazel, and more. Plus, the Woodland Gardens is home to the largest collection of Japanese maples in North America, which blaze scarlet red in fall. The Arboretum is easily accessed by light rail, bus, foot or bike. Limited free parking is available at the Graham Visitors Center and the Japanese Garden.
Related: 8 Gorgeous Waterfalls to Explore
Fall Bike Rides
Yakima Greenway Trail
42 miles | 540 feet elevation gain
This paved 21-mile pathway begins in Union Gap and skirts the city of Yakima along the Yakima and Naches Rivers west to Naches. This ride is a great option for the whole family, as you can do as much or as little of the path as you like. Maple, cottonwood, sumac, and vine maples line the path, and playgrounds, parks, nature trails, and protected natural areas make for stellar stops if you want to linger. Right off the trail at Sherman Park is the Yakima Area Arboretum–replete with vibrant oak, maple, fruit trees, Hawthorne and beech in its display gardens and natural areas.
Tieton River Nature Trail, Yakima
8.2 miles | 1,040 elevation gain
If you want a mountain biking adventure in the Yakima area, head to this out-and-back ride. In the fall, brilliant cottonwoods, sumacs, aspens, garry oaks, and vine maples deck the trail. Park at the Oak Creek Wildlife Area off Highway 12, and cross the pedestrian bridge over the river to the trail. Cruise under towering canyon walls, across sagebrush flats, and by the Royal Columns, which are popular with rock climbers. A Discover Pass is required to park. There is no automated pay station, though passes can be purchased online.
Methow Valley, Carlton to Winthrop
42 miles | 750 feet elevation gain
Fall carpets the Methow Valley with an array of reds, oranges, and yellows. Take in the colors while riding the lightly trafficked Winthrop-Twisp Eastside Road, which meanders past a patchwork of ranches. Then follow the Twisp-Carlton Road, a byway snaking between the Methow River and the Okanogan National Forest. This relatively flat route gives cyclists plenty of delicious refueling options in Winthrop, Twisp, and Carlton.
Related: Year-Round Fun in the Methow Valley
Palouse to Cascades State Park Trail, Snoqualmie Pass area
24 miles | 510 feet elevation gain
The Palouse to Cascades State Park Trail runs 250 miles from North Bend to the Idaho border. For great fall views, opt for a 24-mile, out-and-back section from the Hyak Sno-Park near Snoqualmie Pass. The route heads east along scenic Keechelus Lake, ending at Lake Easton State Park. The packed gravel rail trail allows cyclists to take in the changing season with no traffic. In addition to vivid fall colors, riders will get stellar views of lakes and mountains. A Discover Pass is needed to park at Hyak Sno-Park. An automated pay station is also on site.
Scenic Fall Drives
Stevens Pass Greenway to Leavenworth
104 miles
From Everett, follow the Skykomish River on the Stevens Pass Greenway as it winds through the western slopes of the Cascade Mountains. The route crests Stevens Pass and heads down through scenic Tumwater Canyon, a showcase of blazing vine maples, scarlet dogwoods, and yellowy orange cottonwoods. For enthusiastic leaf peepers, be sure to stop in Leavenworth during its annual Autumn Leaf Festival in September.
Sequim to the Hoh Rain Forest Visitor Center, Olympic Peninsula
105 miles
In autumn, trees on the Olympic Peninsula ignite in brilliant yellows, oranges, and reds and contrast dramatically against the evergreens. Starting in Sequim, follow Highway 101 through Port Angeles to the lush Hoh Rain Forest and its visitor center, which is the hub for a number of short iconic hikes–like the Hall of Mosses Trail which tours through moss-covered old growth forest and the Spruce Nature Trail which skirts Taft Creek and the Hoh River. To avoid crowds, midweek travel is recommended.
Chuckanut Drive Scenic Byway
21 miles
Curvy Chuckanut Drive runs from Burlington to Bellingham, passing through farmland before winding along the Chuckanut Mountains' sandstone cliffs. This short drive is a great easy way to spot fall color in Washington. Fiery maples, vine maples, and alders crowd this ribbon of highway, which offers sweeping views of the water and San Juan Islands. Make a day of this drive, slurping oysters and enjoying the tidepools and views of Samish Bay at Larrabee State Park.
Related: Bellingham Travel Guide
Columbia River Gorge Highway 14: Washougal to White Salmon
50 miles
The Columbia River Gorge is a spectacular sight any time of year, with its waterfalls and craggy basalt ranges towering over its shores. But come fall, the turning leaves make it even showier. Stop at picnic-worthy Beacon Rock State Park for lunch or take the 52-switchback trail up Beacon Rock itself for stunning autumn views across the Gorge.
Featured image: Courtesy of Bellingham Whatcom County Tourism