Winter in Washington offers a wonderful opportunity for outdoor recreation, especially for ski and snowboard enthusiasts. Divided by the Cascade Mountain range, both east and west sides of the state offer fresh powder and thrilling runs for all skills levels, from family friendly to expert approved.
Where to Ski and Snowboard in Washington
Although not a complete list, here are some hot spots to ski and snowboard in Washington. Be sure to brush up on etiquette and snow immersion safety before you head out. The Pacific Northwest Ski Areas Association offers safety information and more. For crowd levels and up-to-date trail information, download the TREAD Map app. The app features a curated list of ski areas for easy exploration.
Read on for inspiration for where to ski and snowboard in Washington.
Mt. Baker Ski Area
Mt. Baker-Snoqualmie National Forest east of Bellingham
Located just more than an hour east of Bellingham, Mt. Baker Ski Area sees plenty of snow. In fact, the ski area holds the record for snowfall in a single season (1998-1999). With 31 runs, eight lifts, two rope pulls, and 1,000 skiable acres, Baker is a relatively compact resort ideal for advanced snowboarders and skiers.
The backcountry can be directly accessed from lifts and the area is renowned for its expert in-bounds. The ski area is located on the flanks of the mountain and while there is not an overnight resort, lodging is plentiful in the surrounding foothills and nearby Bellingham. Visitors may need chains to reach the mountain during the winter months, and the area can see peak visitation during winter weekends.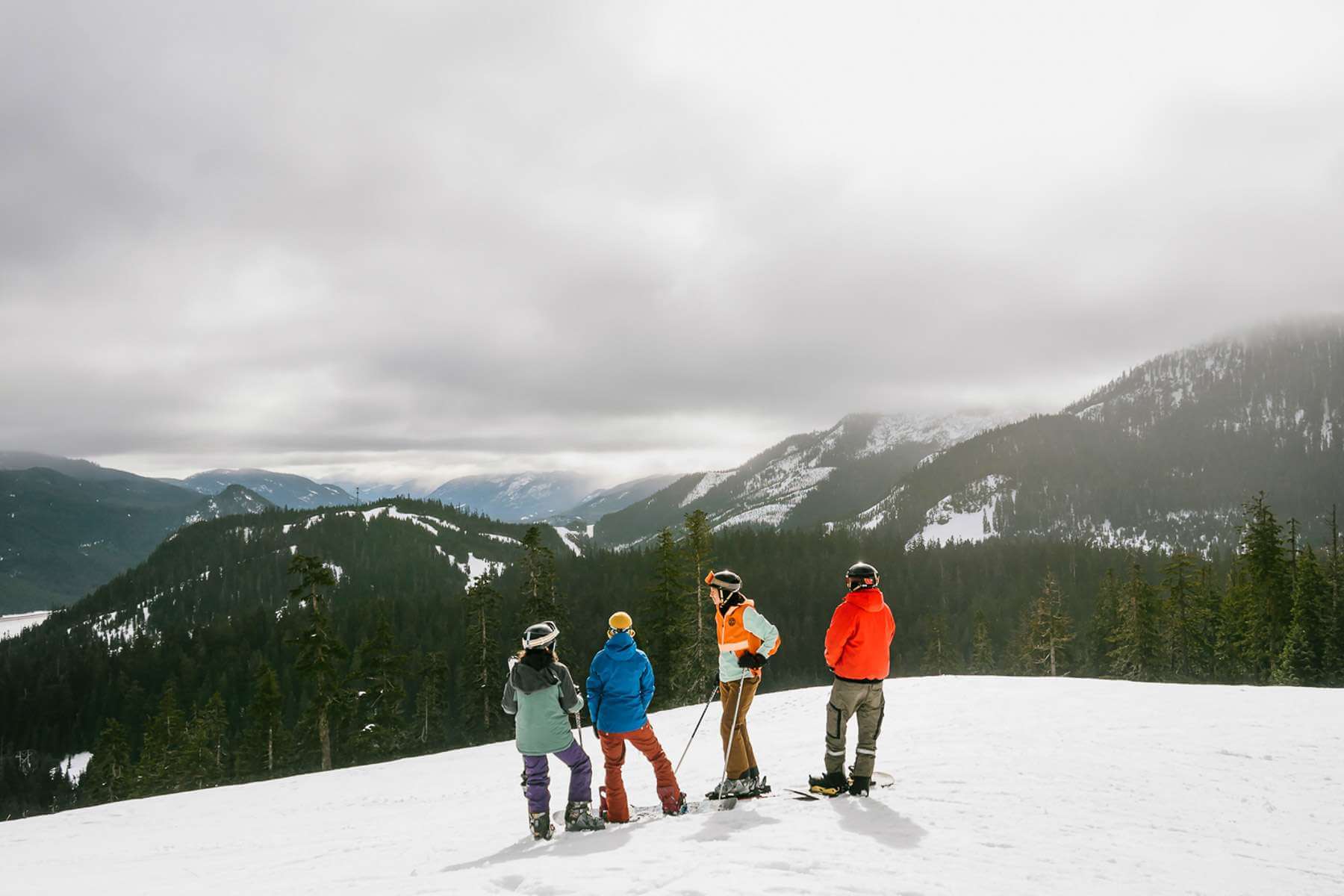 The Summit at Snoqualmie
Cascade Mountains east of Seattle
One of the most easily accessible ski areas in Washington for visitors flying into Seattle, The Summit at Snoqualmie along Interstate 90 offers opportunities for all levels of winter sports enthusiast and makes a great day-trip options from the state's urban core. The Summit is composed of four base areas that were once distinct resorts: Alpental, Summit West, Summit Central, and Summit East.
Coined the 'steepest and deepest,' Alpental is known for providing some of the steepest expert runs in the state. Summit West offers beginner-friendly learning terrain ideal for families or novices. Generally considered the most popular of the areas, Summit Central boasts a variety of lifts and terrain and a fun après ski environment to relax with a hot cocoa or whiskey after a day on the slopes. Those looking for advanced tracks, fewer crowds, and easy access to adjacent Nordic track and snowshoe areas should head to Summit East.
While The Summit doesn't offer on-site lodging, visitors can find plenty of vacation rentals and stay options in nearby Roslyn, Cle Elum, and Snoqualmie.
Related: A Winter Getaway in the Cascade Mountains
49° North
Chewelah
Featuring 82 trails, terrain parks, seven lifts, and a total vertical drop of 1,851 feet, 49 ° North is one of the most reliable resorts for intermediate skiers and snowboarders while still offering quality options for both beginners and experts. Located about an hour north of Spokane, the resort is known for beautiful glades, fantastic terrain, and high-quality grooming. The resort also offers ski and stay packages with nearly a dozen surrounding properties ranging from motels and inns to cabins to full-service mountain lodges.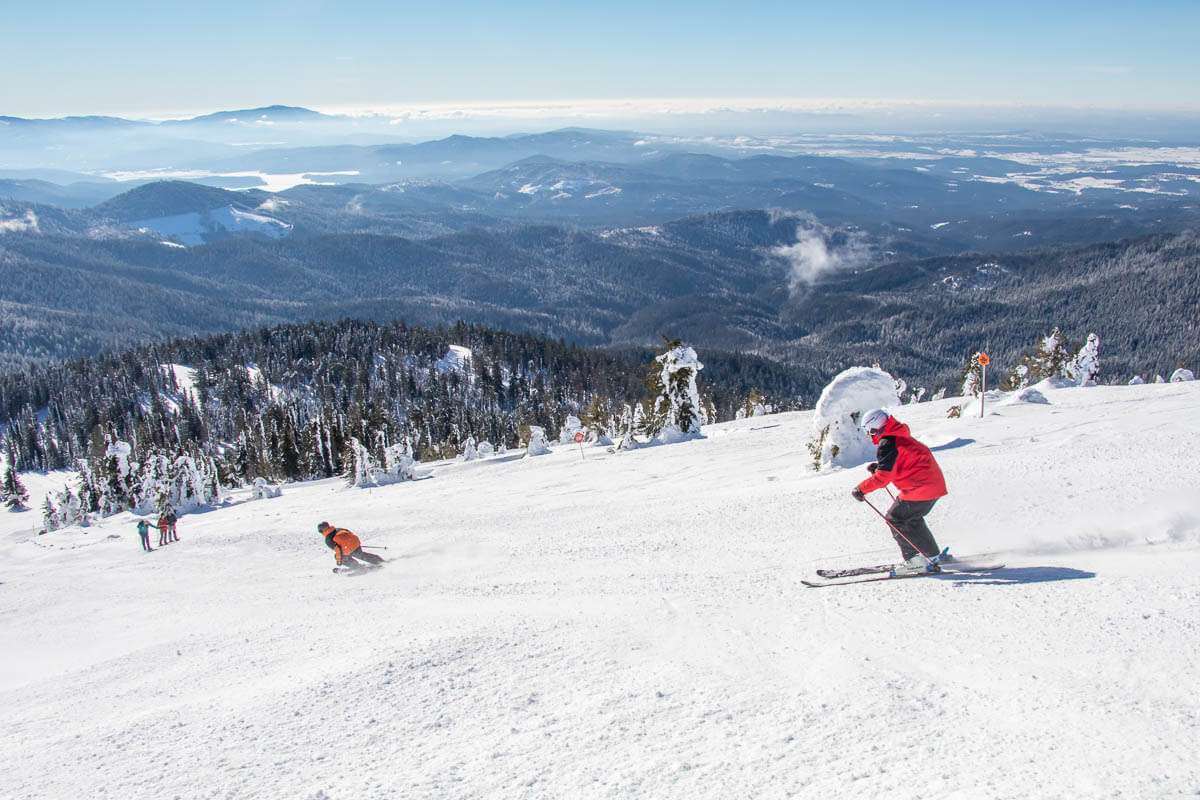 Mt. Spokane Ski & Snowboard Park
North of Spokane
Easily accessible from Spokane, the state's second largest city, Mt. Spokane Ski & Snowboard Park is located atop its namesake mountain and provides impressive skiing and snowboarding for all ages and abilities. The only nonprofit ski resort in the region, it features 1,700+ acres, 52 runs, seven lifts, an epic terrain park, and a comprehensive ski school.
Mt. Spokane features two day-use lodges along with the historic Vista House at the summit offering fantastic views. The main lodge (Lodge 2) is open on all operating ski days and offers visitors ticketing, rentals, and a variety of food options, while Lodge 1 and the Vista House offer services on weekends and holidays.
Stevens Pass
Cascade Mountains west of Leavenworth
Located along Highway 2 in the Cascade Mountains about 45 minutes west of the Bavarian village of Leavenworth, Stevens Pass offers 1,125 acres of skiable terrain across three parks. You'll find approachable groomed terrain perfect for beginners as well as heart-pounding runs for those with more experience. And the fun doesn't stop when the sun goes down. Visitors can extend their visit into the evening and enjoy night skiing under the lights (subject to availability). Visitors can enjoy après-ski bites or to-go snacks from a variety of on-site dining options.
As with most ski areas during the winter months of December through February, aim to visit during the weekday if possible to take advantage of calmer slopes. For those looking for a quieter side of winter recreation, head to the Nordic Center in Mill Valley for snowshoeing or Nordic skiing surrounded by nature's beauty.
Mission Ridge
Wenatchee
Located in central Washington just 12 miles from Wenatchee, Mission Ridge is built into a 2,000-acre basin on the eastern side of the Cascade Mountains. Known for its drier snow — the area boasts 300 days of sunshine annually — Mission Ridge features 36 designated runs and a 2,250-foot vertical drop.
Mission Ridge also has awe-inspiring and easily accessible backcountry for experienced recreators. Anyone planning to head into backcountry areas should check in with ski patrol before departing. Mission Ridge also owns a snow machine, making it a destination with more consistent snow than many parts of the state. Vacation rentals and lodging options are available in nearby Wenatchee.
Hurricane Ridge
Olympic National Park near Port Angeles
Located within Olympic National Park, Hurricane Ridge is a small ski area located just 17 miles south of Port Angeles on the northern tip of the Olympic Peninsula. The ski area sees average annual snowfall of 400-plus inches and boasts steeps, bowls, and glades perfect for accomplished skiers or riders. Although there are no chairlifts, there are two rope tows and one poma lift. Opportunities for cross-country skiing and snowshoeing range from level meadows to extreme terrain in the backcountry. The ski area also offers a family friendly tubing area.
Hurricane Ridge is open seasonally mid-December through March on Saturdays, Sundays, and holidays that fall on Mondays. The ridge can close without notice due to inclement weather and parking can fill up quickly, so be sure to check conditions before heading out.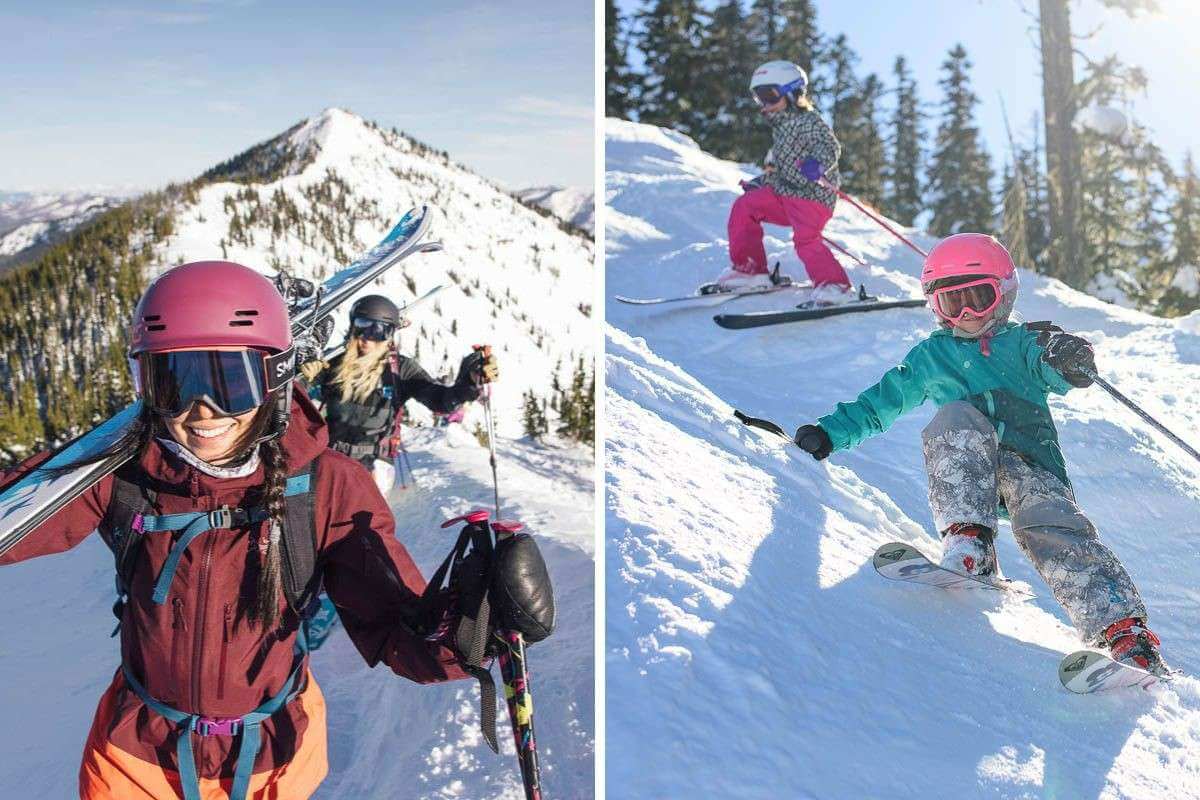 Crystal Mountain
Mount Rainier area
One of the flagship places to ski and snowboard in Washington, Crystal Mountain is located around two hours east of Tacoma. The resort is home to the Mt. Rainier Gondola, which takes visitors up 2,400 vertical feet to the summit, with expansive views of the Cascade Range and the gondola's namesake mountain. Nearly half the terrain is ranked intermediate, making Crystal Mountain a solid choice for ski and snowboard enthusiasts.
The terrain park offers options for all levels of skiers and riders, with seasoned skiers catching lots of air on the park's larger, creative features. The resort also boasts a network of snowshoe trails in the Bullion Basin area. One of the most popular resorts in the state, Crystal Mountain fills up quickly during peak season, so purchase lift tickets in advance and aim to visit mid-week and arrive early in the day. Crystal is surrounded by several beautiful chalets and is home to many delicious restaurants for those looking to create a well-rounded winter escape.
Loup Loup Ski Bowl & Methow Trails
Methow Valley
The Loup Loup Ski Bowl is known by locals as one of Washington's best kept secrets. Loup Loup features a vertical drop of 1,240 feet, and visitors can typically expect to avoid lines and crowds. The Ski Bowl features 10 runs and three lifts and is located near the towns of Winthrop and Twisp in the Methow Valley. As of 2021, Loup Loup has also introduced luge sledding to the ski area. The on-site café serves us breakfast and lunch, while visitors can find lodging options nearby.
The Methow Valley itself boasts more than 120 miles of groomed, interconnected cross-country ski trails surrounded by forest lands. Operated by Methow Trails, the system includes 35 miles of trails that allow dog access.
Related: Year-Round Fun in the Methow Valley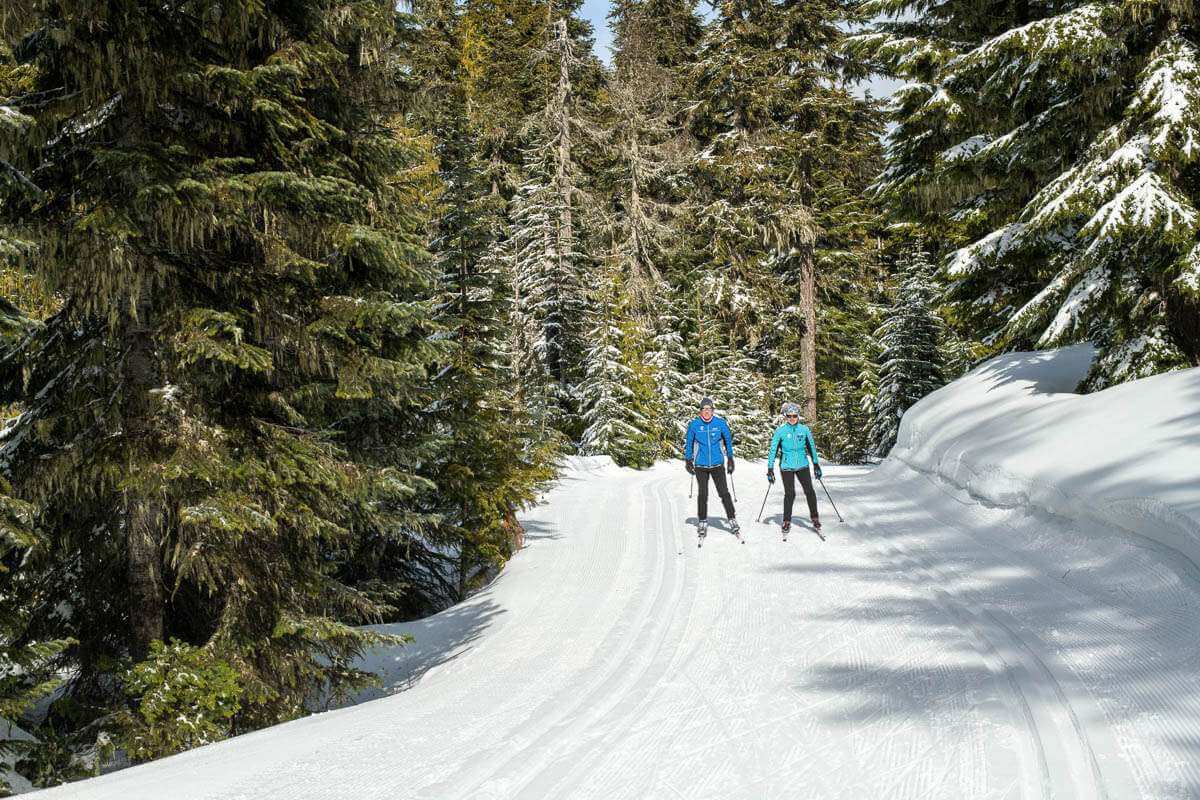 White Pass
West of Yakima
Located on the western side of Wine Country, the White Pass Ski Area features stunning views of Mount Rainier and offers terrain for skiers and riders of all abilities. The Great White Express offers steeper slopes, while Paradise Basin provides high-quality intermediate groomed terrain.
Visitors can enjoy 45 designated runs and a vertical drop of 2,000 feet, with six chairlifts, and two surface lifts. Stay overnight at the slope-side Village Inn or other lodging options along the White Pass Scenic Byway.
Echo Valley
Chelan area
A popular summer destination, the Chelan area also boasts family friendly winter recreation at Echo Valley. The 70-acre ski area includes three rope tows, a 1,400-foot poma lift, and a six-lane tubing hill. The day lodge offers food concessions and a roaring fireplace. Echo Valley is open 10 a.m. to 4 p.m. on weekends, plus weekdays during the school system's winter break. Those who visit in January can also enjoy Lake Chelan's renowned Winter Fest.
Bluewood
East of Walla Walla
The premier skiing and snowboard resort in southeast Washington's Palouse Region, Bluewood is also the closest ski area to Tri-Cities and Walla Walla in the heart of Wine Country, where visitors can find plenty of lodging options. Bluewood features 24 runs that range from beginner-friendly options to more advanced black diamonds.
The resort is open Wednesday – Sunday and holidays during the winter season. Discounts are available for mid-week visits and for students, military families, and seniors. Bluewood is known for drier snow compared to ski areas on the western side of the state.
Know Before You Go
Skiers and snowboarders who plan to leave the groomed trail should be aware of the risks of hazards and deep snow immersion. Tree wells can cause skiers or snowboarders to become immobilized and suffocate. In addition to always skiing with a partner within your line of sight, be sure to brush up on snow immersion safety.
Next, grab sandwiches to go from The Red Bird Café before making the drive to the Salmon La Sac Sno-Park, where you'll hit the Cooper River Snowshoe Trail.
This out-and-back route takes you along the river and through moss-draped forest, ending at Cooper Lake after 4 miles. Shortly after you begin, you'll come to a bridge where you can stop to soak in the view. Enjoy your lunch at the lake or along the trail. Snowmobilers and cross-country skiers also use the sno-park, so be sure to practice trail etiquette by keeping off the groomed tracks. Please note a permit or day pass is required.