By Ellee Thalheimer
Winter in Washington offers plenty to keep you busy, from cozying up in a lodge to hitting the slopes. Storms blanket Washington's mountains with snow, hushing forests, and freezing lakes. Outdoor enthusiasts will find activities for all skill levels, from premier cross-country skiing in the Methow Valley to ice fishing for perch in Eastern Washington's lakes.
Things to do During Winter in Washington
Go Cross-Country Skiing
With 40 sno-parks statewide specifically for non-motorized recreation, Nordic skiers can immerse themselves in a winter wonderland. The most famous area for cross-country skiing is the Methow Trails system in the Methow Valley. With 130 miles of groomed trail, it's a winter paradise. Skiers delight in kid-friendly valley-bottom loops, mountainside traverses, or all-day excursions with thousands of feet of elevation gain.
In the Chelan/Leavenworth area, the Echo Ridge Nordic Ski Area has 25 miles of groomed trail maintained by the Lake Chelan Nordic Club. The trails circle ridge tops and wind through drainages, allowing skiers spectacular views of the Enchantments, Pyramid Peak, and the Okanogan Highlands. Ski out to "Soup Sundays at the Yurt" for a free piping-hot bowl of soup to complement your adventure.
Just southwest of Mount Adams, three Sno-Parks – McClellan Meadows, Old Man, and Koshko – share an interconnected trail system that has over 40 miles of trail. For the most adventurous, Koshko has 15 miles of ungroomed trails that visit remote mountain lakes and old-growth forests.
Hit the Slopes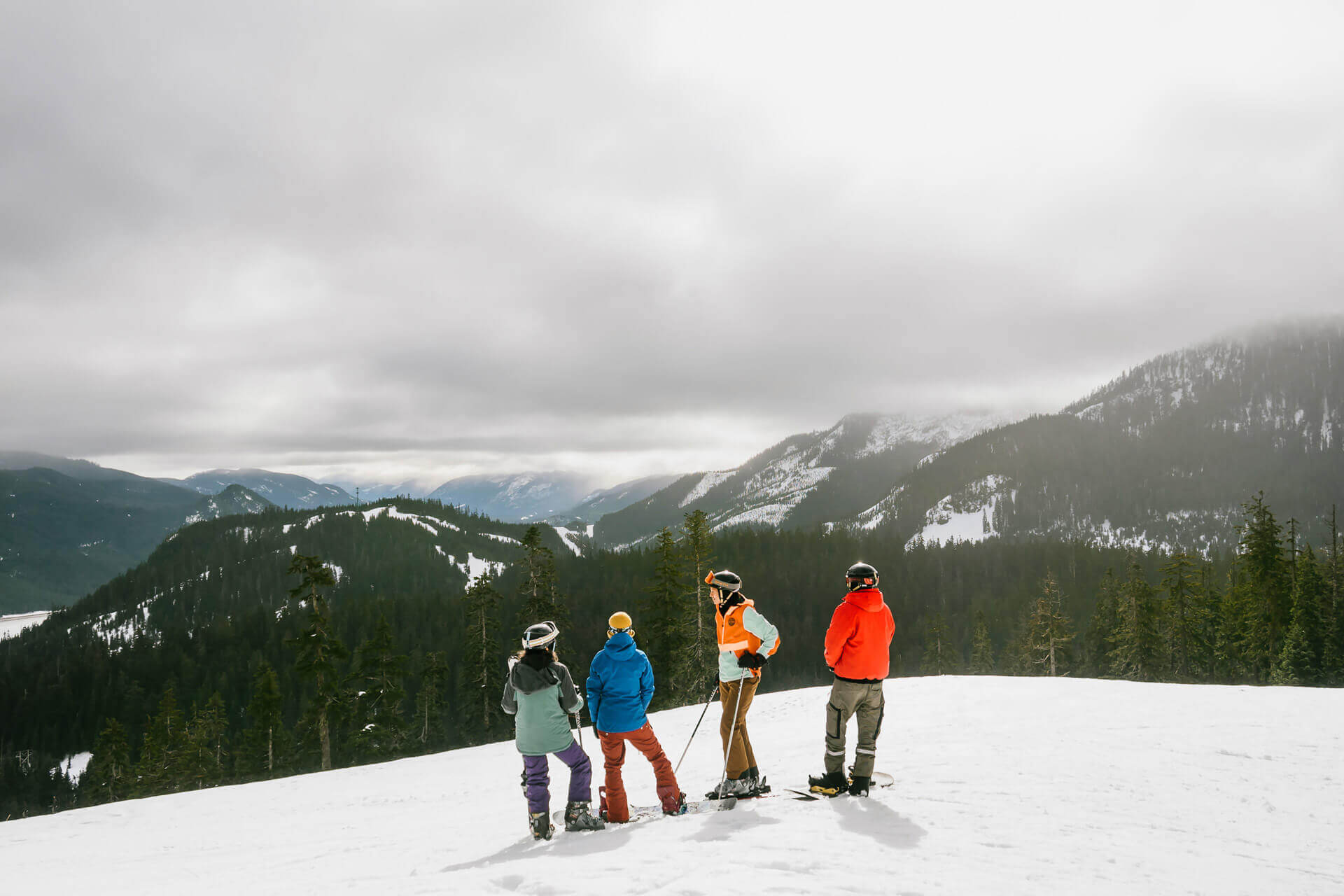 Snowboarders and downhill skiers have a wealth of opportunities, ranging from night skiing at Stevens Pass near Leavenworth to plowing through the famously dry snow at family-friendly Bluewood in the southeast corner of the state.
The Cascade Mountains bisect Washington into east and west, creating ideal spots for ski resorts, from snowfall-heavy Mount Baker Ski Area near the Canadian border to Crystal Mountain, which caters to all skill levels and boasts an epic terrain park and gondola known for its spectacular views of Mount Rainier.
East of the Cascades, 49° North offers a robust ski school program and 301 average inches of snowfall per year, making it well worth the pilgrimage, while Mount Spokane is easily accessible from Washington's second-largest city.
See Also: Where to Ski and Snowboard in Washington
Watch a Storm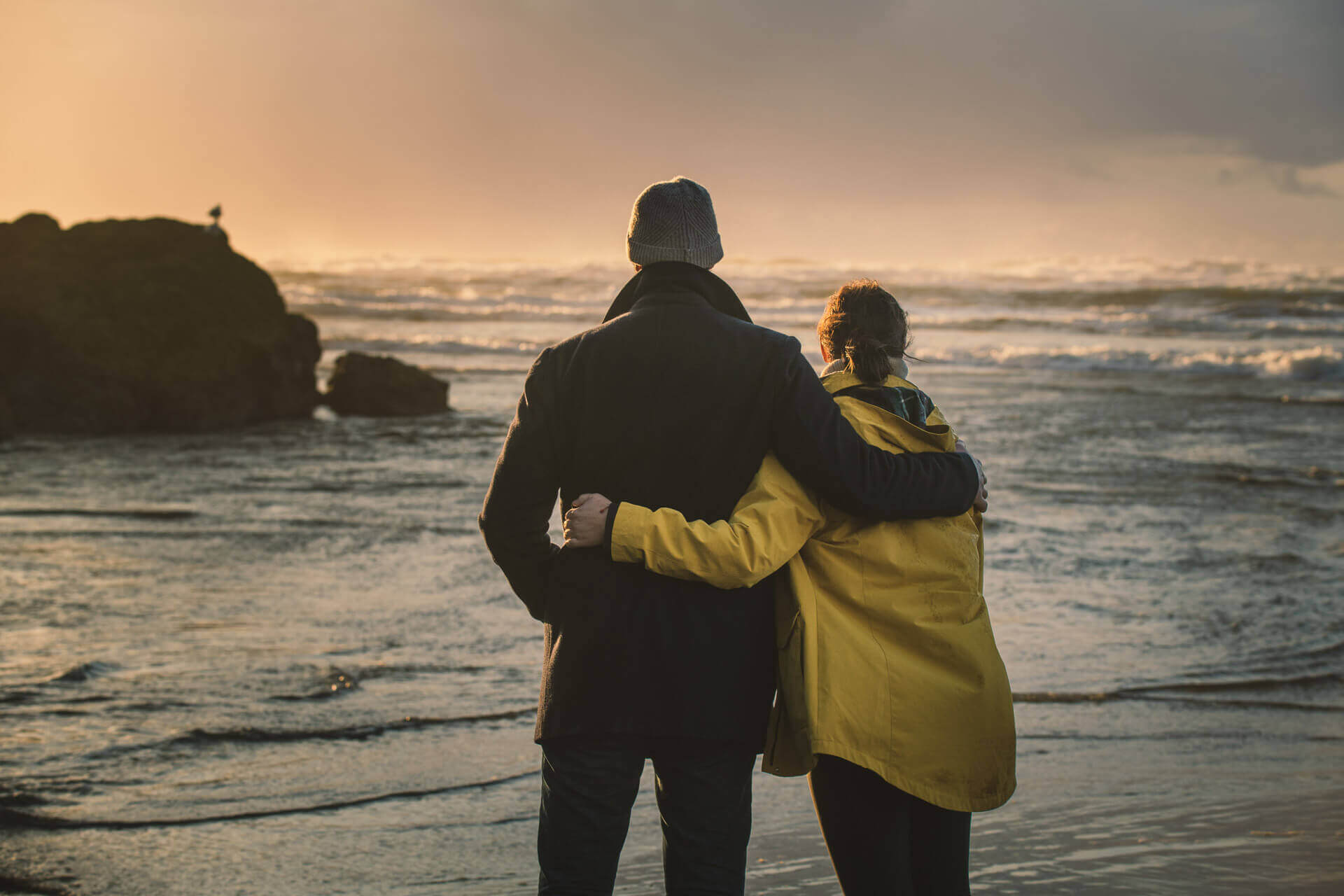 Winter brings torrential rain, swollen waves, and bluster to coastal communities along the Olympic and Long Beach peninsulas. And there's nothing like sitting back and watching the drama. November through early March marks the storm season, though king tides — the highest predicted tides of the year — arrive in December or January. Check the National Weather Service for storm predictions.
West of Olympia, the multi-platform, open-air observation tower in Westport's Marina is the place to be during winter high tides. Gigantic waves crash into the break wall sending a spectacle of seawater into the air. Less than a mile walk south from the tower on the paved, ADA-accessible Westport Light Trail is Westport Light State Park. Clamber to the summit of one of the park's sand dunes for a perfect spot to watch a storm unfold. Farther south in Cape Disappointment State Park, the Lewis and Clark Interpretive Center clings to a precipice 200 feet above waves pounding into the cliff base. The center's glassed-in observation deck lets visitors take it all in, sans rain and wind.
See also: Experience Storm Watching in Washington
Ice Fish in Eastern Washington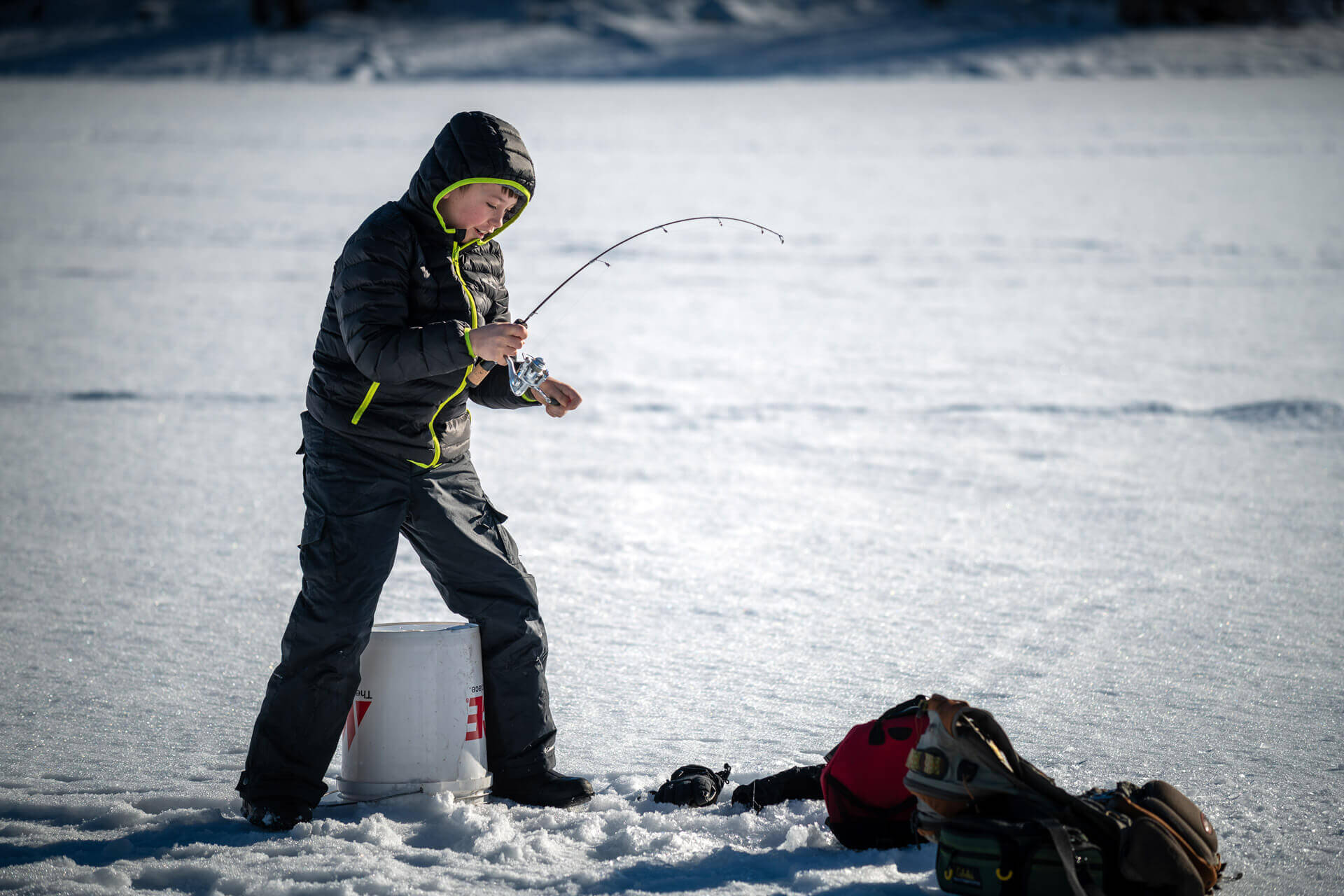 It's been said that ice fishing is like a tailgate party on a frozen lake; it's a great excuse to get outside and enjoy camaraderie in the winter. In that spirit, ice fishing enthusiasts take their ice augers and thermoses each winter to the lakes of Okanogan County for the NW Ice Fishing Festival on bountiful Sidley Lake. Near Leavenworth, yellow perch and rainbow trout flourish under the crust of ice on Fish Lak, while Cove Resort offers good access to the lake and sells tackle.
On Curlew Lake, you can join a guided adventure with Curlew Lake Ice Fishing, which will provide transportation and heated ice shelters. An hour southwest of Spokane, Fourth of July Lake is a winter-only fishery open after Thanksgiving. This 100-acre lake is known for its amazing rainbow trout that can exceed 20 inches. One of the nearest options to Seattle, Moses Lake has some of the best walleye fishing in the state, though perch are a more common catch in the winter.
Take a Hike or Go Snowshoeing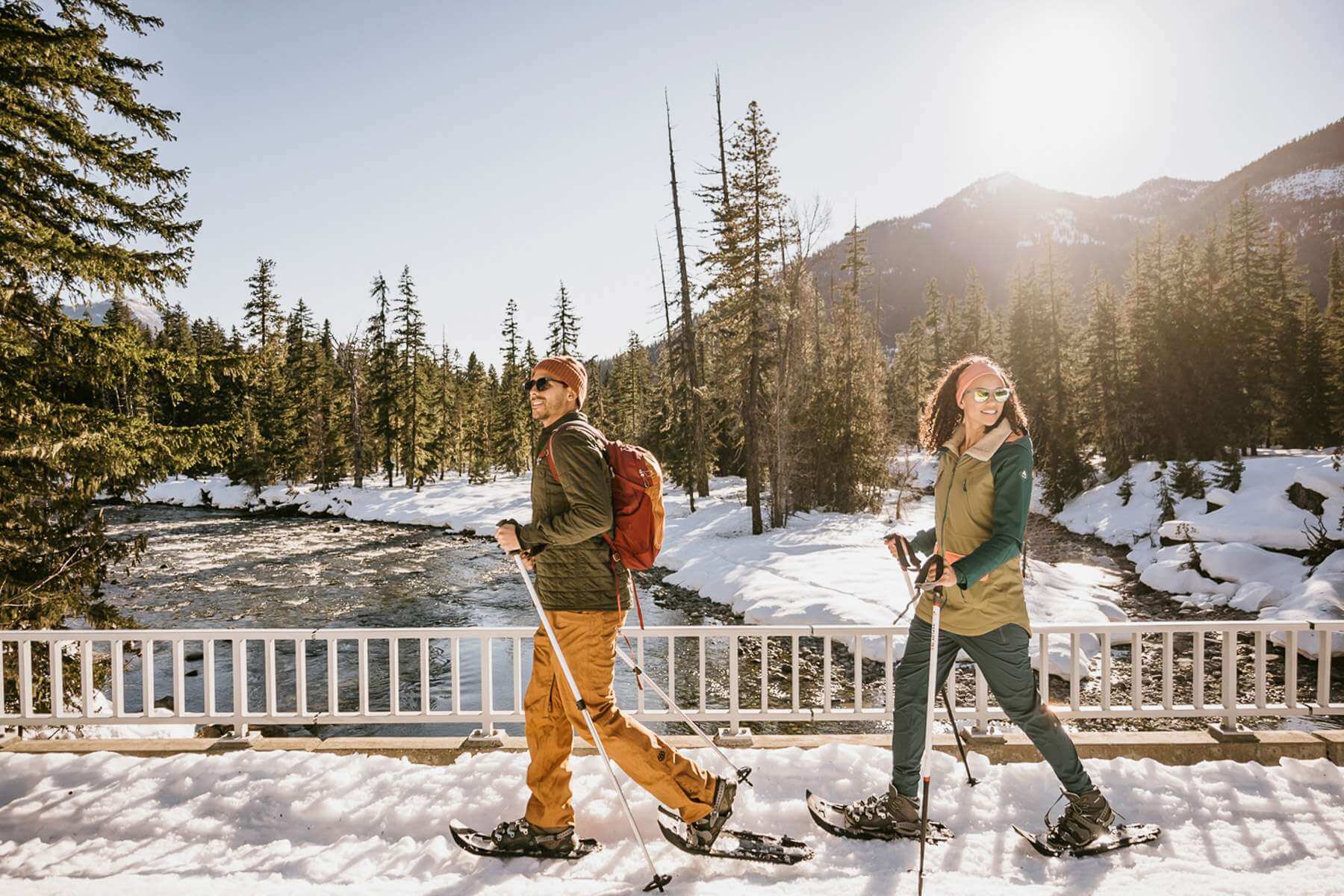 Those looking to snowshoe through the snow-dappled woods have their choice of a myriad of stellar routes. One of the most iconic routes is Artist Point on Mount Baker. While moderate (4 miles with 1,000 feet of elevation gain) snowshoers are rewarded with outstanding views of the North Cascades' glacier-laden peaks. For something much easier but still heavy on Cascadian peak panoramas, try Gold Creek Pond on Snoqualmie Pass. The flat 1-mile cruise around a forest pond makes it beginner-friendly, but its location on top of Snoqualmie Pass is still postcard-perfect.
For those who want to steer clear of the snow but still want to wander in the woods, Washington's varied terrain provides year-round hike options, some of which are great easy options for families. In the Cowiche Canyon Conservancy near Yakima, the 5.2-mile Cowiche Canyon Trail tours a creekside riparian zone surrounded by sagebrush and basalt cliffs.
See Also: Explore these Scenic Snowshoe Routes
Keeping It Rolling on Fat Bikes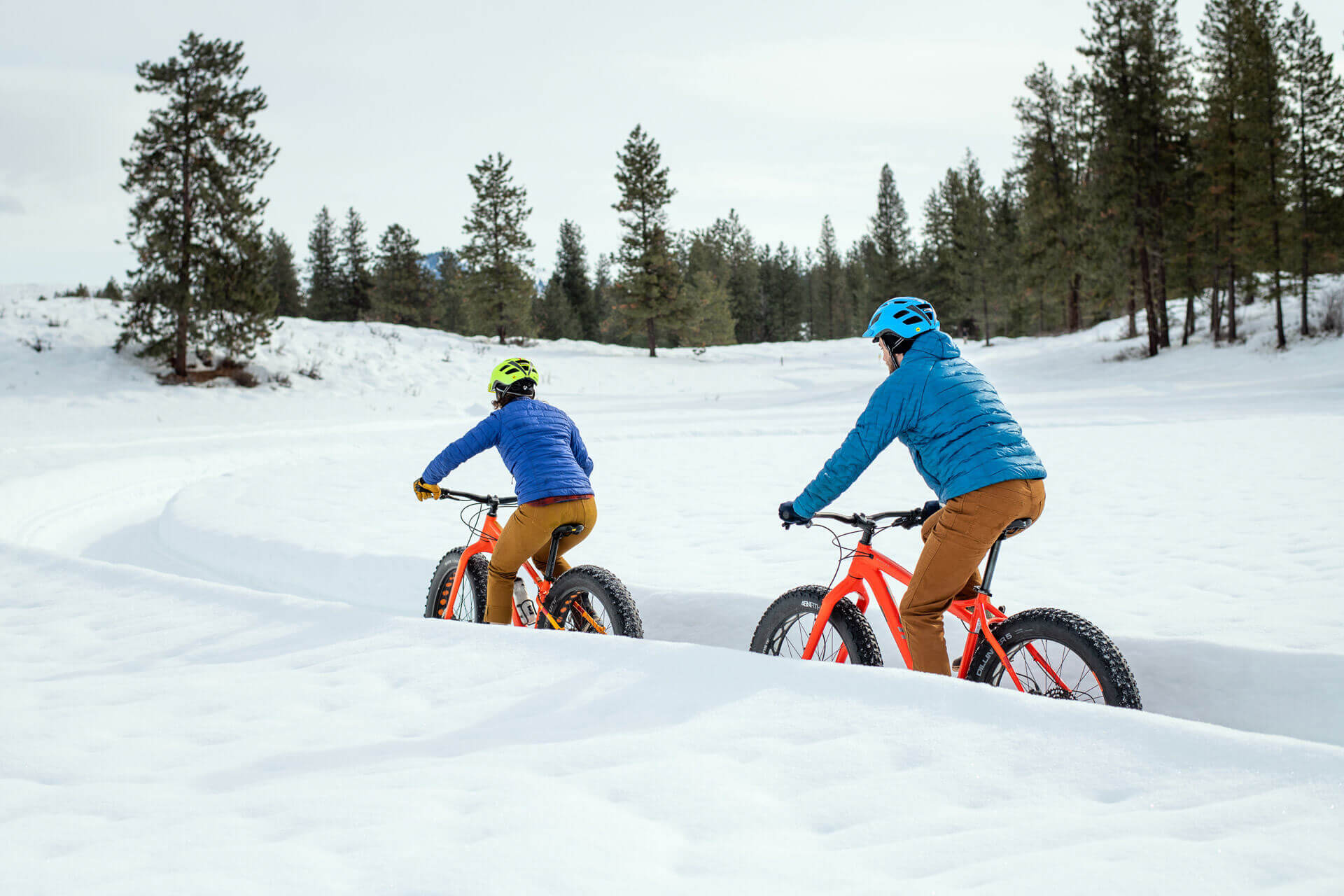 It's all the rage to pedal fat bikes down snowy trails, and the Methow Valley is a favorite destination. As a pioneer of purpose-built fat bike trails, the Methow Trails system has 22 dedicated miles. Just 3 miles down the road from Winthrop, Pearrygin Lake State Park has a separate trail system with 20 miles for fat biking.
The Leavenworth Ski Hill operated by the Leavenworth Sports Club keeps the snowshoe trails in the evergreen foothills of Tumwater Mountain open to fat bikers. Plus, a portion of their groomed Nordic trails is open to fat bikes each evening. Some of these routes are lighted while others require a headlamp or headlights.
Farther south, the Spokane Area has a number of fat biking opportunities. Riverside State Park–Washington's second-largest state park featuring ponderosa pines, basalt outcroppings, and the roaring Spokane River– has mixed-use winter trails that welcome fat bikers.
See Also: Year-Round Fun in the Methow Valley
Advertisement
Watch for Winter Birds
Come winter in Washington, hundreds of migrating bird species head to the fertile farmlands, wetlands, estuaries, and marine waters of the Skagit Valley, making it a paradise for birding enthusiasts. At Butler Flats, trumpeter swans, meadowlarks, eagles, and herons can be spotted hunting and clustering in the Green Road Marsh. Near Mount Vernon, the fallow fields and freshwater ponds of Samish Flats attract raptors and snowy owls. At the Olympic Peninsula's Salt Creek Recreation Area west of Port Angeles, black oystercatchers frequent the rocky tidal flats, and rock sandpipers and loons hang out around the beach and inshore waters.
Birders can also take part in festivals. Each year on the cusp of spring, Othello hosts the Sandhill Crane Festival, which celebrates the return of the majestic bird to the lakes, grasslands, and canyons of the Columbia National Wildlife Refuge north of Tri-Cities. Also in March, the Wings Over Water Northwest Birding Festival takes place in Blaine, a major stopover on the Pacific Flyway. With speakers, boating tours, and field trips, attendees can revel in the return of thrushes, waterfowl, herons, and more.
See Also: Your Guide to Winter Birding in Northwest Washington
Go Snowmobiling
During winter, Washington's mountains and high-elevation valleys transform into playgrounds for snowmobilers. A popular snowmobiling area just west of Lake Wenatchee State Park sees hundreds of inches of snowfall every year. The 200 miles of trail weave through towering forests, over powdery meadows, and along windswept ridges with astounding range views.
In Colville National Forest north of Spokane, snowmobilers have their choice of over 400 miles of trail. Visitors can cruise the rim of a glacier-carved canyon or blaze their way along tracks through dense forests muffled by snow. The area is home to Grizzly bears, moose, wolves, and mountain sheep.
Though the Methow Valley in Central Washington is known for its non-motorized winter recreation, it's no slouch when it comes to snowmobiling. With six Sno-Parks nearby, these trails navigate ravines plush with powder, wide-open meadows, and buttes with views that unfold for miles.
In the northwest, Mount Baker's forested flanks and slopes are home to 168 miles of snowmobile trail within the Mount Baker-Snoqualmie National Forest, an area characterized by river draws, alpine lakes, and views of glaciated volcano peaks.
Cozy up in a Lodge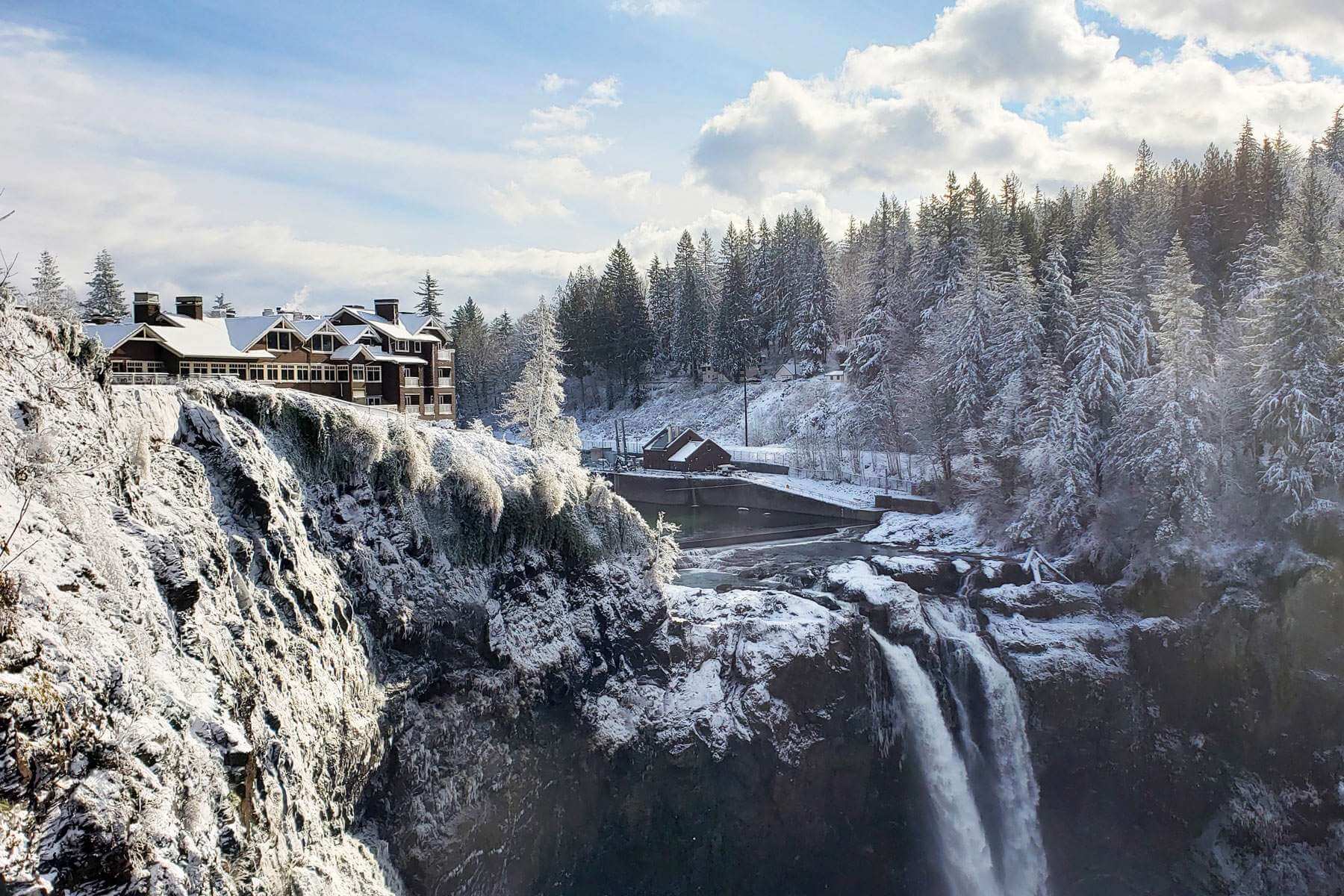 For those looking to combine winter wilderness and luxury, there are a number of cozy getaways across the state. In the eastern foothills of the Cascade Mountains, you'll find Suncadia Resort near Cle Elum. Spend the day ice skating, tubing, or cross-country skiing before heading to the lodge to enjoy the all-year heated outdoor pool, or kick back in the cedarwood wet sauna and aromatherapy steam room.
An easy escape from Seattle, the Salish Lodge & Spa perches on a forested cliff edge next to Snoqualmie Falls, a 269-foot cascade that looks even more magical surrounded by snow.
For cross-country ski lovers, there is no better place than Sun Mountain Lodge in Winthrop. As the largest destination cross-country ski resort in the nation, its guests have access to over 130 miles of groomed trails and powdery snow. Other winter fun at the lodge includes sleigh rides, top-class snowshoeing trails, and guided backcountry adventures.
See Also: Perfect Destinations for a Winter Escape
Advertisement
Lace Up Ice Skates
The Numerica Skate Ribbon in Spokane's Riverfront Park is a 650-foot-long, 16-foot-wide iced pathway shaped in a squiggly loop. Lit up by festive twinkle lights, the Ribbon has become a haven for winter merrymaking. After a number of go-rounds, skaters congregate and sip steaming cocoa around one of the blazing fire pits.
Just 20 minutes from Seattle, the Bellevue Downtown Ice Rink has over 9,000 square feet of real ice. With free kids' lessons and Ugly Sweater Skates in December, this rink is an epicenter of fun for the ice skating community.
East of Ellensburg, the town of Moses Lake has a huge open-air pavilion ice rink for its 26,000 residents and is a favorite among families seeking winter entertainment. The new attached Larson Recreation Center expands the rink's capabilities, providing rentals as well as ice skating lessons and a youth hockey program.
Enjoy a Soak
There's nothing like slipping into warm, relaxing waters during the dead of winter, whether it's at a resort or in the middle of the wilderness. West of White Salmon in the Columbia River Gorge, Carson Golf and Hot Spring Resort snugs into a scenic crook of the Wind River. The hotel dates back to 1901, and the 1930s bathhouse maintains its authentic charm with individual clawfoot tubs. There's also a communal adult-only mineral pool.
On Orcas Island in Northwest Washington, Doe Bay Resort and Retreat offers jetted soaking pools that overlook the clear, cold waters of Rosario Strait. Lounge, soak, shower, sauna, repeat–all to a chorus of sea birds and wind through the trees.
For those seeking adventure, consider Scenic Hot Springs, a backcountry option near Stevens Pass. To get there, the steep hike/snowshoe is a little over 2 miles with about 1,100 feet of elevation gain. In winter, visitors hike from a more accessible parking lot a little farther away. Located on private land, reservations are required to visit this aptly-named hot spring where water is channeled into three tubs overlooking the mountains.
About the Author
Ellee Thalheimer is a freelance writer and guidebook author based in the Pacific Northwest who has contributed to publications like Lonely Planet Guidebooks, Alaska Airlines Magazine, and Adventure Cyclist Magazine. When she can't get outside, she writes fiction, drinks local IPAs, and perfects her handstands.