By Ellee Thalheimer
Tucked away in the Puget Sound between Bremerton and Tacoma, you'll find tranquil waters, scenic vistas, and plenty of things to do in Gig Harbor. Take in the tranquil waters and big mountain vistas. Kayakers and paddle boarders share the harbor with porpoises and seals, and Mount Rainier looms over the idyllic marina lined with eateries and parks. Even getting to Gig Harbor from the Metro Puget Sound area is scenic thanks to the drive across the Narrows Bridge.
Things to Do in Gig Harbor
Though Gig Harbor has a small-town vibe with about 12,000 residents, fine art galleries dot the downtown, and the food scene is robust. Dine on farm-to-table Northwest cuisine, barbecue, or fresh fish and chips. And after a day on the water or at one of the city's parks, there's no better capstone than clinking glasses at one of Gig Harbor's award-winning craft breweries.
Get Outside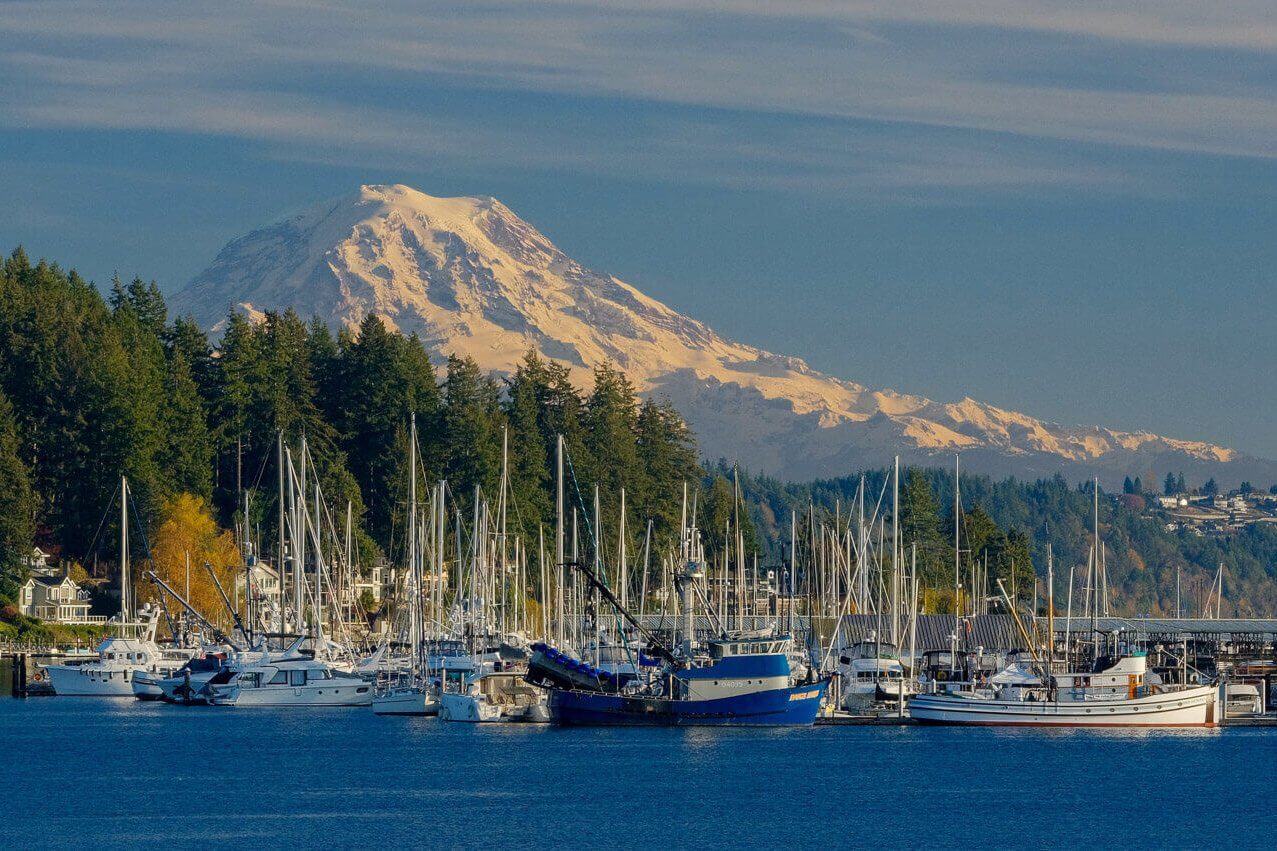 Gig Harbor has a whopping 21 city parks, many with vistas and trails. Cushman Trail, a 6.2-mile multi-use path, cruises by a number of these parks, including Wilkinson Farm Park where a bridge elevates the trail above wetlands brimming with wildlife.
For sunset viewing and access to the water, head to nearby Sunrise Beach Park or Kopachuck State Park. Sunrise Beach Park boasts six waterfront acres on Colvos Passage, with walking trails passing through dense woodlands and wetlands with views of Mount Rainier.
Those interested in watersports such as kayaking and paddle boarding should head to Kopachuck State Park. From the park, you can paddle the half-mile to Cutt Island Marine State Park, which is only accessible by watercraft. The rocky beach is often home to seals and seabirds. Visitors can harvest shellfish, clams, and mussels along Kopachuck's shores in the spring.
Also See: Your Guide to Visiting Mount Rainier
Take a Tour
Visitors can experience the area with guided tours both on and off the water. Gig Harbor Fly Shop runs half-day tours using pedal-driven Hobie kayaks to visit Fox Island. Along the way, guides point out porpoises, eagles, moon snails, starfish, seals, and more. They also guide paddle board tours to Deadman's Island near Carr Inlet.
For the romantics, pack a picnic and glide around the harbor with Gig Harbor Gondola. Their gondoliers are trained in the art of Venetian-style rowing. Those hoping to spot wildlife can join a private or group boat tour with Destiny Harbor Tours, starting from the Gig Harbor Marina. Guides share the area's history and point out local wildlife. Or opt for a tour with Cruise Hobbes on a crewed sailboat with cocktails and appetizers.
On land, wildlife enthusiasts can take a walking tour with Harbor WildWatch, the community's hub for environmental education. Led by staff biologists and volunteers, the tours meander through public parks and beaches and examine the natural and cultural history, ecology, and human impacts.
Explore Arts and Culture
Deepen your understanding of the region's heritage and people with a visit to the Harbor History Museum, which is home to a preserved 1910 schoolhouse and hands-on exhibits. Less than a mile away in downtown, a thriving cluster of art galleries line Harborview Drive. Ebbtide Gallery Artist Cooperative, Gallery Row, and Woodstock Gift Gallery exhibit the work of South Sound artists – including woodworking, pottery, photography, basketry, jewelry, and oil and watercolor paintings. Get your hands dirty at Java and Clay Cafe, where you can paint pottery while drinking a cold beer on the patio.
At the nine-acre Grandview Forest Park, local artists have transformed tree snags into arbor art. Walk the trails and find animals carved into trees, fairy houses built out of stumps, a beneficent timber monster in repose, and old men's faces peering out of wood.
Music lovers should plan a visit during the summer months. Grab a picnic and catch a free outdoor concert at Skansie Brothers Park. The Summer Sounds Concert Series happens Tuesdays evenings from July through August.
Dine Out
Of course, visitors come to Gig Harbor for the seafood, but they stay for thoughtful Northwest cuisine and international options. Not a food cart as much as a trolley car, The Trolley @ The Boatyard is a casual eatery in the marina. Expect shrimp and avocado salad, steamer clams, and Caribbean crab cakes. For seafood in a refined dining atmosphere, head to Green.House – where the produce is seasonal, meat is sourced locally, and seafood is from sustainably-minded fisheries. Don't miss their Disco Fries (bourbon gravy, cheddar cheese, green onion, and Mornay sauce) and wild Dungeness crab cakes during Happy Hour.
Beyond seafood, Brimstone PNW Smokehouse proves that there is good barbecue on the West Coast. They play with Southern favorites, like the ever-popular Brimstone Nachos with "yard bird," pulled pork, brisket, cheese, guacamole, radishes, and jalapeños. Local-favorite
El Pueblito could cheer anyone up with its bright decor and classic Mexican dishes. Another time-honored Gig Harbor classic is NetShed No. 9. Dig into a skillet of warm cinnamon rolls for brunch on the all-year waterside deck. Founded by South Vietnamese immigrants, Le Le shares family recipes like Chap Che, a glass noodle dish with veggies, meat, and a sesame oil/sake base.
At Brix 25°, Chef Chad Lyman serves seasonal Northwest cuisine alongside thoughtful Northwest wine on the waterfront. For a sweet treat, go south of downtown to Milkvue Handcrafted Donuts + Coffee for mochi donuts, a fusion of Japanese mochi and American-style donuts. The rice flour and fresh yeast combo leaves the outside crisp and inside fluffy. For an intimate, speakeasy vibe, head to Animarium for on-point cocktails and small bites carefully crafted to pair with the libations.
Also See: Explore Washington's Farm-to-Table Restaurants
Raise a Glass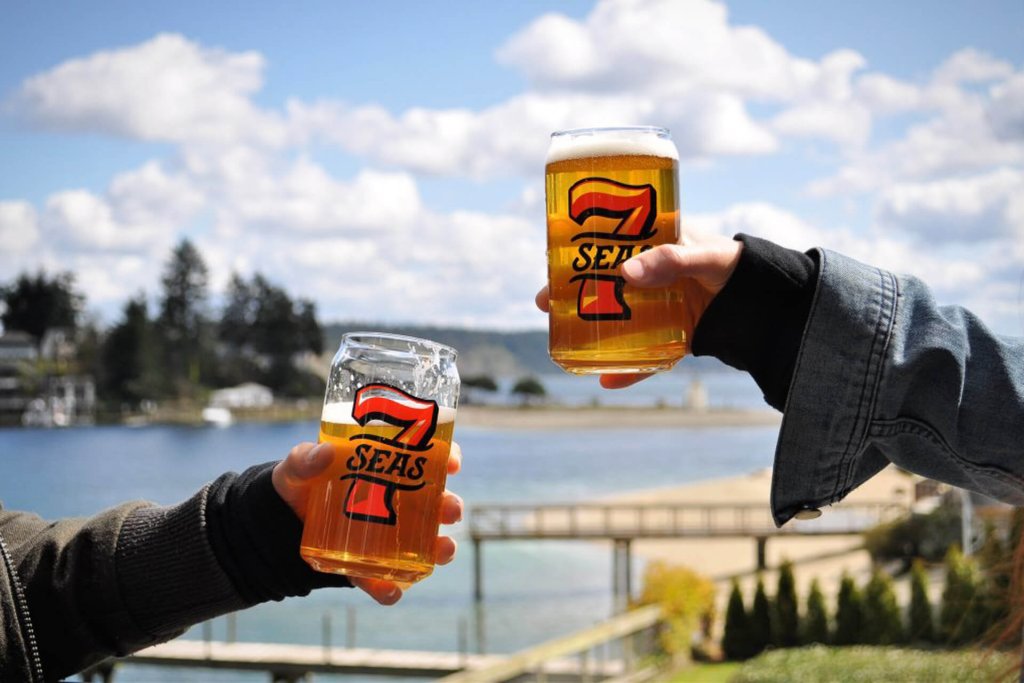 From hoppy IPAs to tangy ciders, Gig Harbor takes its libations seriously. As the first craft brewery in Washington to can its beer, 7 Seas Brewing is known for innovation but also for the ability to look to the past for inspiration. Their Heidelberg beer is a pre-prohibition-style, slow-brewed lager based on a recipe from Heidelberg Beer, a bygone Tacoma brewery circa 1912.
Other beer options include Gig Harbor Brewing Taproom on the downtown waterfront, which has been drawing pours since 2015 and crafts everything from experimental fruit beers to classic lagers. Owned by firefighters, Wet Coast Brewing brings the heat with their classic IPA "Mixtape for 1" and "Bourbon Barrel Peach," a peach cider. From the sidelines, watch Wet Coast brewers create their beers with their open-concept, 15-barrel system. For a huge selection of ciders, head south of downtown to Locust Cider for traditional dry cider and experimental options like bourbon barrel-aged orange blossom varieties.
Beer isn't the only drink worth seeking out. Founded in Gig Harbor, Heritage Distilling Company (HDC) is the largest independently owned craft distillery in the Pacific Northwest with five regional tasting rooms. The HDC flagship tasting room boasts harbor views, spirit flights, and specialty cocktails. From their canned cocktails like "Easy Peasy Lemon Squeezy" to flavored vodka, HDC is an icon of regional spirits.
For wine, make the 20-minute drive from town to Olalla Vineyard and Winery, which specializes in Croatian wine in a bucolic setting. Golubok, their winter-hearty flagship varietal, thrives in the Puget Sound climate and makes deep purple wine a bit like Cabernet Sauvignon. They sell charcuterie picnic baskets and offer guided tastings.
Also See: Where to Sample Orchard-to-Glass Cider
Attend an Event
Gig Harbor's picture-perfect setting is perfect for events. In May, the Gig Harbor Beer Festival draws beer aficionados (some donning lederhosen) to sample some of the best beer in Puget Sound. In June, thousands turn out for the Maritime Gig Festival weekend, which combines family fun, live music, food vendors, a car show, and a parade.
Come July, the Gig Harbor Summer Art Festival lines the downtown streets with 120 booths filled with glass blowers, basket makers, painters, woodworkers, metal artists, and more. Visitors can munch on fresh cannoli while roaming the art-filled corridors.
In September, the Gig Harbor Film Festival hosts film screenings and more than 80 visiting filmmakers. For three full days, the Galaxy Theatre offers a jam-packed schedule showing films from diverse genres.
About the Author
Ellee Thalheimer is a freelance writer and guidebook author based in the Pacific Northwest who has contributed to publications like Lonely Planet Guidebooks, Alaska Airlines Magazine, and Adventure Cyclist Magazine. When she can't get outside, she writes fiction, drinks local IPAs, and perfects her handstands.
Featured image courtesy of 7 Seas Brewing.