By Scott Shetler
As a state known for its apples, it should come as no surprise there are plenty of places to taste cider in Washington. Visit during the fall for the chance to enjoy the tangy zing of a warm glass of fresh-pressed apple cider, or unwind with a cold bottle of hard apple cider. No matter which type of cider you prefer, Washington State is the best place to find it. According to the USDA, Washington produces more than 6 billion pounds of apples every year. That's more than all the other 49 states combined.
Where to Taste Cider in Washington
Family-run farms across the state have produced fresh cider for years, perfecting their growing and pressing techniques along the way. At the same time, cider mills in Washington are creating delicious apple-based alcoholic beverages using innovative ingredient combinations. Here are some great options for where to taste Washington cider across the state.
Please check individual business hours before visiting.
Fresh-Pressed Cider
Fresh-pressed Washington cider (the non-alcoholic kind) comes from squeezing the juice out of the entire fruit using an apple press. To find a great natural cider that goes straight from the orchard to your glass, stop by one of these Washington farms. Families can often enjoy apple-picking, games, and more.
Head to Yakima's beautiful West Valley for an incredible variety of u-pick produce and freshly pressed cider. Enjoy a day in the field this season harvesting everything from apples, peaches, pears, pluots, grapes, and plums to an array vegetables. Find their produce schedule on their website. The Yakima Valley is the leading producer of apples in the U.S., and you'll find Gala, Fuji, Honeycrisp and Blondee apples at West Valley U-Pick mid-August to October. After you pick, press your own apple cider on their old-fashioned hand-cranked cider presses. They'll even press for you if you like. Add pears and grapes for an extra burst of flavor. Bring your own jug, or cider jugs are available for purchase.
Bellewood Farms
Lynden
This family-run orchard in the lush northwest corner of the state features a whopping 25,000 apple trees of 21 different varieties.
Come for Harvest Festival (September-October) and pick your own juicy Honeycrisp and Cosmic Crisp apples. Bring the kids and navigate the corn maze, ride the apple bin train, or book a farm tour, all while taking in gorgeous views of snow-covered Mount Baker.
In addition to serving up fresh-pressed cider daily, Bellewood Farms makes a unique bubbly sparkling apple cider. This refreshing non-alcoholic drink highlights a blend of apple types, which are pressed and carbonated on the farm.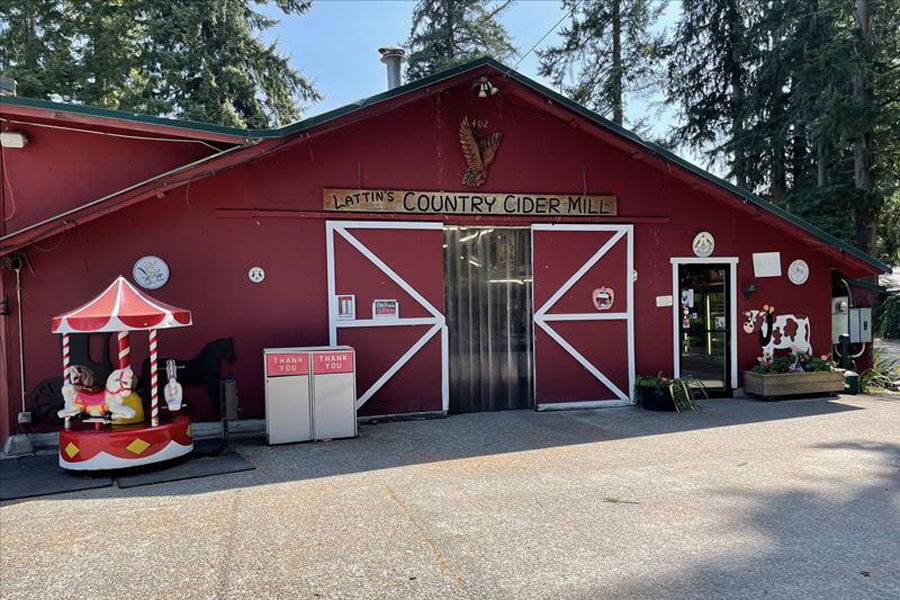 Since 1976, Lattin's Country Cider has been producing top-notch cider at its charming farm. Lattin's presses fruity ciders like blackberry and strawberry, plus a delightful original apple cider, and a spiced apple cider for folks who want a bolder flavor.
Lattin's market sells numerous apple products, including farm-picked whole apples, apple butter, apple sauce, and dried apple chips, and the bakery offers fritters and cider donuts.
And if you've never had an apple cider slushie, Lattin's is the place to try it. You'll be amazed at how satisfying the tart and tang of apple cider tastes when it's reimagined into an icy slush form.
For nearly four decades, Ben and Carol Krause — and now their kids — have operated Swans Trail Farms. They produce fresh Washington cider pressed daily using apples picked straight from their orchards along the banks of the Snohomish River.
Swans Trail sticks to four apple types: the sweet and crisp Ambrosia, Cosmic Crisp, and Honeycrisp varieties, plus the more tart Jonagold. On autumn weekends, visitors can pick their own apples from the tree, or observe the cidermaking process at the cider mill.
During the Fall Festival (late September-October), the Swans country store, donut shop, and apple shack sell mouthwatering treats like caramel apples, cider donuts, and apple-filled pastries.
Hard Cider Producers
Take things up a notch with some distinctive, apple-based alcoholic beverages. Head to one of these cideries for a taste of Washington's apple bounty.
Finnriver, located on Washington's Olympic Peninsula, offers more than just a great beverage. With a food menu, live music, art events, and festivals year-round on an 80-acre farm, a visit to Finnriver is an entertainment experience that tickles all the senses. Guests can participate in tastings and tours through the organic fields and the "hall of tanks" to learn how this Washington cider is produced. In addition to hard ciders, Finnriver also serves up seasonal hot drinks and non-alcoholic offerings.
Finnriver uses blends of Washington dessert apples and other produce (habanero peppers, berries, lavender) to create a range of thoughtful products. Try Sidra, a Spanish-style dry cider with an acidic tart, or Apple Abbey, a Belgian-style semi-sweet cider with nutty and fruity notes.
"Not your standard cider" is the tagline of Seattle Cider, which in 2013 became the city's first cidery since the Prohibition era. While the company makes several different ciders, including basil mint and seasonal pumpkin and marionberry flavors, its original apple-based cider remains a customer favorite. It's a dry, semi-sweet cider that smartly highlights the rich flavor of its locally-grown apples, rather than overpowering them with extra sugars.
Find Seattle Cider at the vibrant Woods Tasting Room in the city's SoDo neighborhood, or on tap in bars across the region and in 14 states.
The hot, dry summers of East Wenatchee help to cultivate an unusually large number of apple varieties in Snowdrift's orchard, including lesser-known types like Dabinett, Frequin Rouge, and Foxwhelp. That gives Snowdrift the flexibility to experiment with creative flavor combinations for its small-batch artisan beverages.
The cidery's most popular product is Cliffbreaks blend, a golden English cider with a rich, bittersweet flavor. Meanwhile, the striking red cider reveals strong fruit flavors and a bright crimson color that matches the flesh of its apples.
Visit the tasting room on Fridays and Saturdays, or join Snowdrift's Cider Club to receive new cider varieties shipped to your door each month.
Nestled among the farms and forests north of Spokane sits Twilight Cider Works, a cidery that creates hand-crafted beverages using apples from the orchards in Green Bluff.
Twilight produces crisp ciders with balanced flavors that aren't excessively sweet. The cider offerings range from traditional apple and spiced apple varieties to more botanical blends that feature lavender, hibiscus, and rhubarb. The tasting room is open Saturdays and Sundays. Purchase a cider flight to sample several different flavors. You might just discover a surprising new favorite.
Located in the heart of Washington cider (and wine) country in Yakima, Tieton's Cider Bar has a half-dozen flavors on tap, and their cans and bottles can be found at retail outlets around the state. The top seller is Wild Washington Apple Cider, which incorporates multiple bittersweet and bittersharp apples into a perfect semi-dry blend.
Bone dry cider is a crisp beverage that mixes bittersweet and dessert apples, while dry hopped cider takes an acidic apple cider and adds three kinds of hops. Tieton also produces tangy fruit ciders, such as peach, cherry, and huckleberry, all of which incorporate Washington apples into the mix.
Related: Discover Washington Wine Country
Methow Valley Ciderhouse
Winthrop
The Methow Valley Ciderhouse is a hidden gem on the eastern edge of the North Cascades in a valley laden with rich soil. It's now a full-service restaurant with an extensive menu, but the cider remains one of the primary draws for visitors.
Methow Valley Ciderhouse produces six ciders named after the region's animals. Try Pinnacle Goat, a semi-sweet cider with a robust ginger infusion, or Black Raven, a tart dry cider with a bit of natural blackberry sweetness.
You can sample many of Washington's hard ciders at annual events like Cider Smash each June in Kirkland or Marcus CiderFest in the fall in Eastern Washington.
An old apple packing shed from the 1930s now serves as the cider house tap room for Washington Gold Cider. Operated by the same folks behind Lake Chelan Winery and located just steps from the beautiful lake itself, Washington Gold creates bright-tasting ciders that never use any artificial flavors or colors.
The cider mill's offerings include a sweet and crisp Golden Delicious cider and an original cider featuring subtle vanilla and floral notes. Also check out the inventive apple pie hard cider, which adds nutmeg, cinnamon, and brown sugar to recreate the comforting flavor of this favorite dessert.
Note: The taproom closes seasonally, so check hours before visiting.
Whether you're cozying up inside a taproom or joining the family for a farm-fresh cider festival, these Washington State cideries have got you covered.
About Scott Shetler
Scott Shetler is a freelance writer and avid road tripper who has explored nearly every corner of Washington. Find him on Instagram @quirkytravelguy.