Whether you're looking for tried-and-true favorites or something more unique, here are some popular foods to try during your next visit to Washington.
Seafood in Washington
Salmon
You're sure to find this fish on plenty of menus and in plenty of preparations, from smoked to cedar-planked. Pacific salmon comes in six varieties: Chinook (also known as king), coho, sockeye, chum, pink, and steelhead. The first three are most often found in markets and at restaurants throughout the state.
Dungeness Crab
This crab gets its name from the city of Dungeness on the Olympic Peninsula. Each year, recreational crabbers pull in more than 1.5 million pounds of crab, with commercial fishers hauling in many times more. Many crabbing areas are open year-round. Check the Washington State Department of Fish & Wildlife for locations and license requirements.
Geoduck
Geoducks (pronounced "GOO-ee-duck") are the world's largest burrowing clam. Each clam weighs between 1 to 3 pounds and live to around 140 years old on average. These massive clams are abundant in the inland waters of Puget Sound. Restaurants in Seattle and Olympia are known for featuring the geoduck on their menus in creative culinary executions.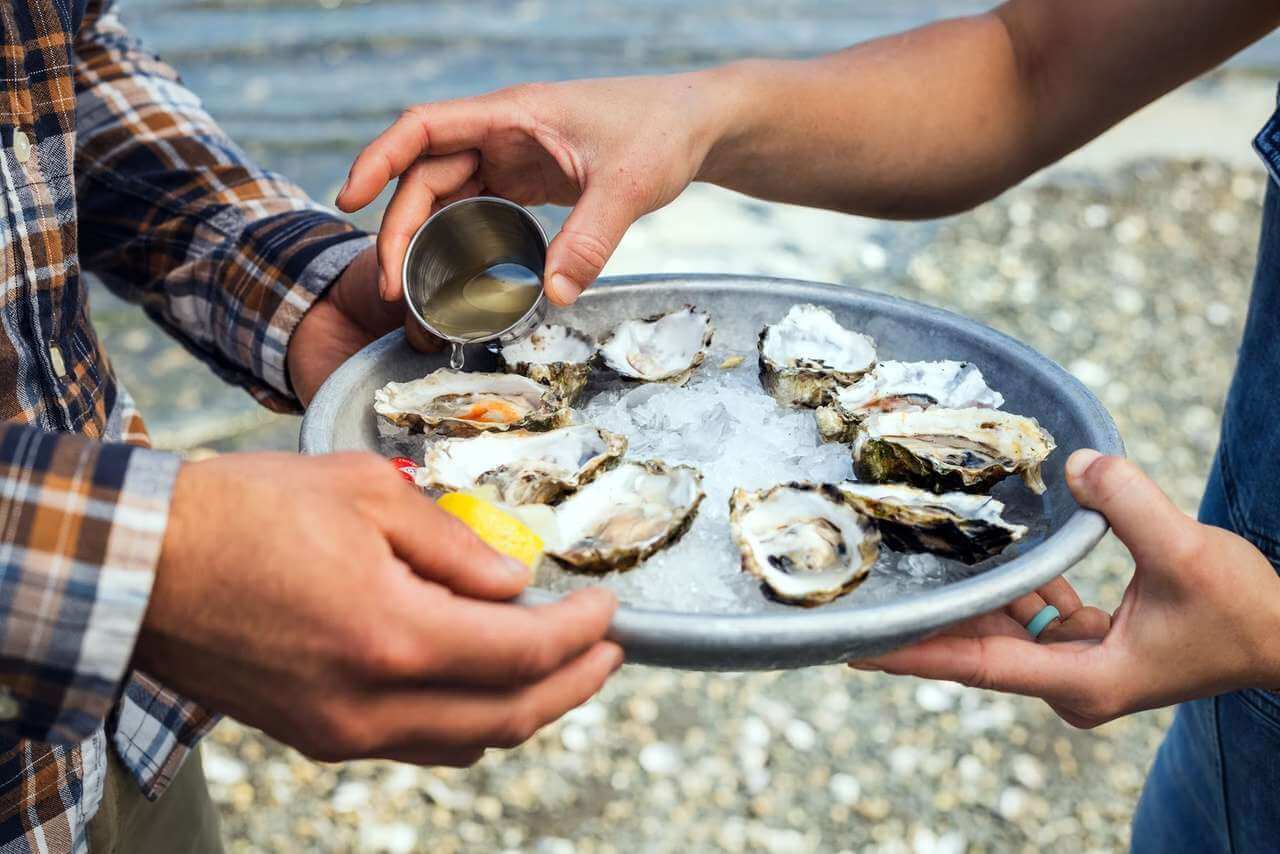 Oysters
California prospectors fueled Washington's oyster rush in the mid-1800s. Today, about 70 percent of all oysters are grown in Willapa Bay on the state's southwest coast. Oyster lovers will appreciate the many varieties, from common Pacific and Olympia oysters to Summerstones from Hood Canal and snappy Virginicas grown by Taylor Shellfish farms, the biggest oyster operation in the state.
Produce in Washington
Rhubarb
Rhubarb is easy to grow in Washington. The state is the largest producer of rhubarb in the country, with Pierce County responsible for most of that yield. The town of Sumner bills itself as the "Rhubarb Pie Capital of the World" and is home to the annual Rhubarb Days festival.
Red Raspberries
Washington State is a leader in red raspberry production, with Whatcom County responsible for about 85% of berries grown in the U.S. These bright, tasty berries ripen during the summer and can be gathered at many u-pick farms.
Rainier Cherries
Named for Washington's Mount Rainier, these yellow-red cherries, which ripen in June and July, were developed in 1952 as a cross between the Bing and the Van. The Yakima Valley and north-central area are the top producers for Rainier cherries and other sweet varieties. During the summer season, you'll find these cherries at many roadside fruit stands.
Apples
Washington is the leading producer of apples in the country, with between 10 to 12 billion apples picked annually. From sweet to tart, there's an apple for every taste. Common varieties include Red Delicious, Golden Delicious, Gala, Fuji, Granny Smith, Braeburn, Honeycrisp, Cripps Pink, and Cameo, and new varieties continue to be created. And apples aren't just for eating. A growing number of cideries offer visitors the chance to sample orchard-to-glass libations.
Lavender
The town of Sequim on the Olympic Peninsula bills itself as the "Lavender Capital of North America." Every summer, dozens of lavender fields burst into fragrant bloom, and the town marks the occasion with a Lavender Festival in July. While the plant is often used to make oils and beauty products, the edible flowers can appear in teas, baked goods, and more.
Lentils
More than 62,000 acres are devoted to lentils, with most production occurring in the Palouse Region. Each year, the Pullman hosts the National Lentil Festival in August. The legume is celebrated for being a sustainable source of plant-based protein.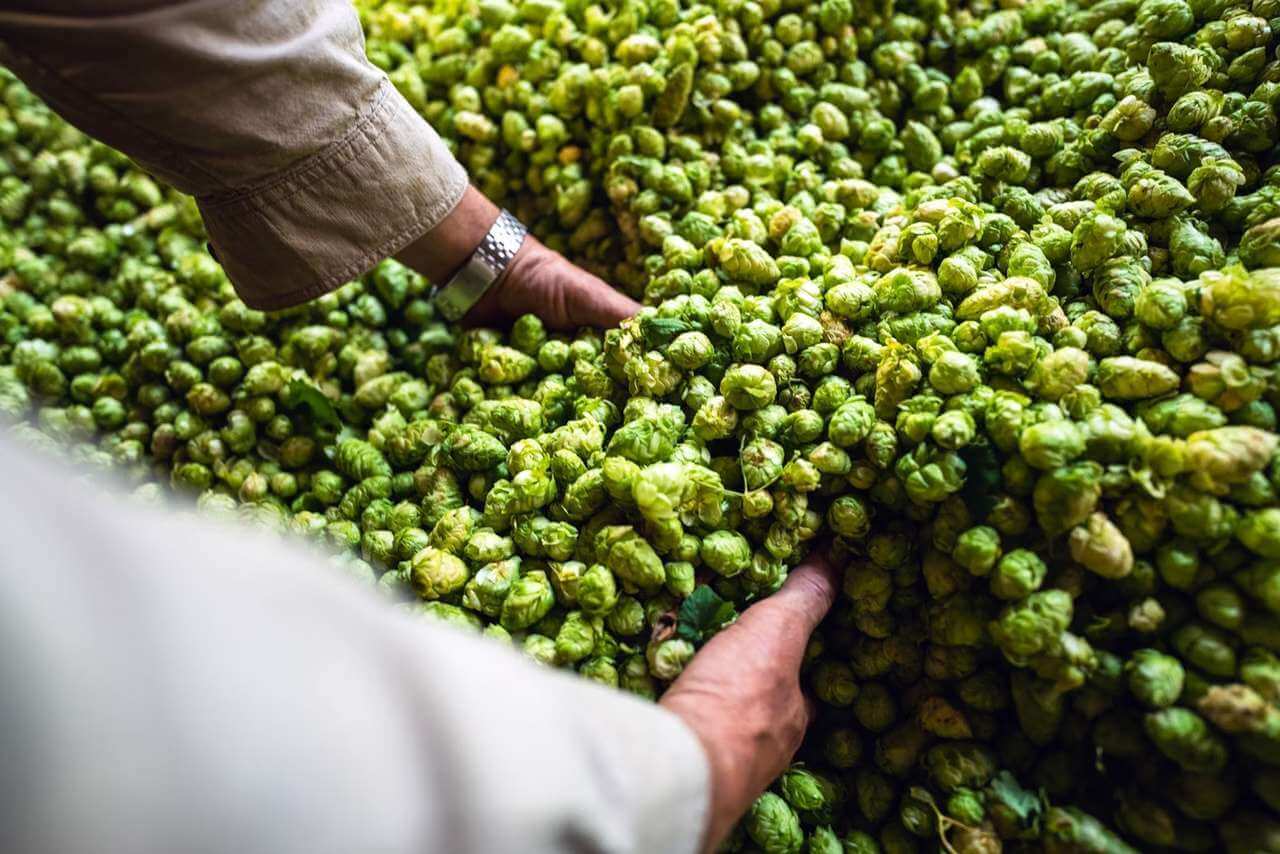 Hops
Fertile Yakima Valley accounts for more than 70 percent of the country's total hop acreage. Hops fuel Washington's thriving craft beer scene, and the region has embraced the hype with tours and the annual Fresh Hop Ale Festival. Thirsty visitors can taste their way through hop country on Yakima's beer bus, the Little Hopper.
Chanterelles
Every fall, mushroom foragers take to the forests in search of the much-beloved chanterelles. These golden-brown mushrooms can be found on menus throughout the state. Chefs prize these mushrooms for their wonderful aroma and versatility in the kitchen.
Eat Local
Find local farms, markets, seafood, and more wherever you are in Washington with the Eat Local First Food Finder.