By Marie Abendroth
A trip to Washington State opens the doors to gourmet chocolate goodness — and you don't need to find a golden ticket for admission. Talented chocolatiers can be found from Seattle to Spokane, with some shops offering factory tours to see the magic happen before your eyes. Here are some spots to enjoy locally made chocolate in Washington.
Explore Washington Chocolate Shops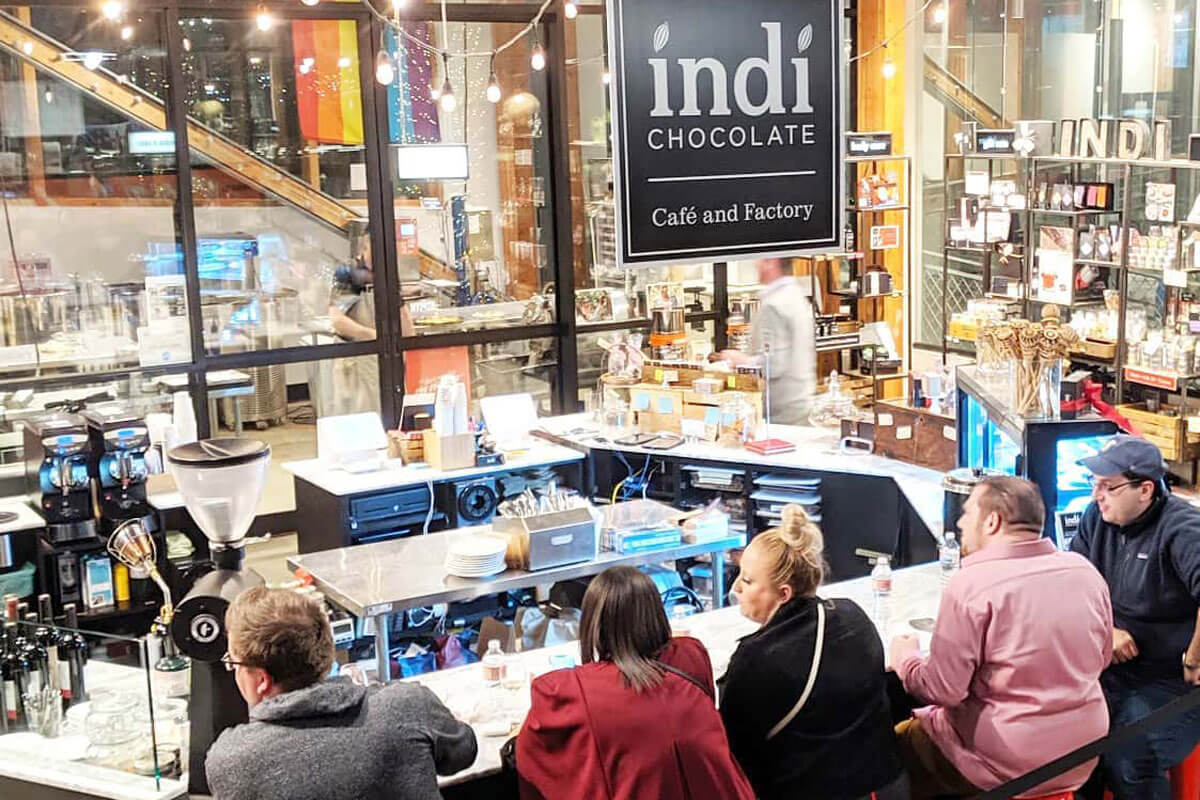 If you're near Seattle's Pike Place Market, take the 3-minute walk over to indi chocolate. A true bean-to-bar marvel, this upscale shop focuses on creating single-origin dark chocolate in small batches.
Their top creations include chocolate bars, cacao nibs, and truffles. They also expertly whip up bold cacao-infused coffee drinks upon request, like their mole caramel latte.
Want to learn how it's all done? Watch the talented chocolatiers move through each step while chilling in the café. Or, get hands-on with a chocolate-making class with the experts themselves.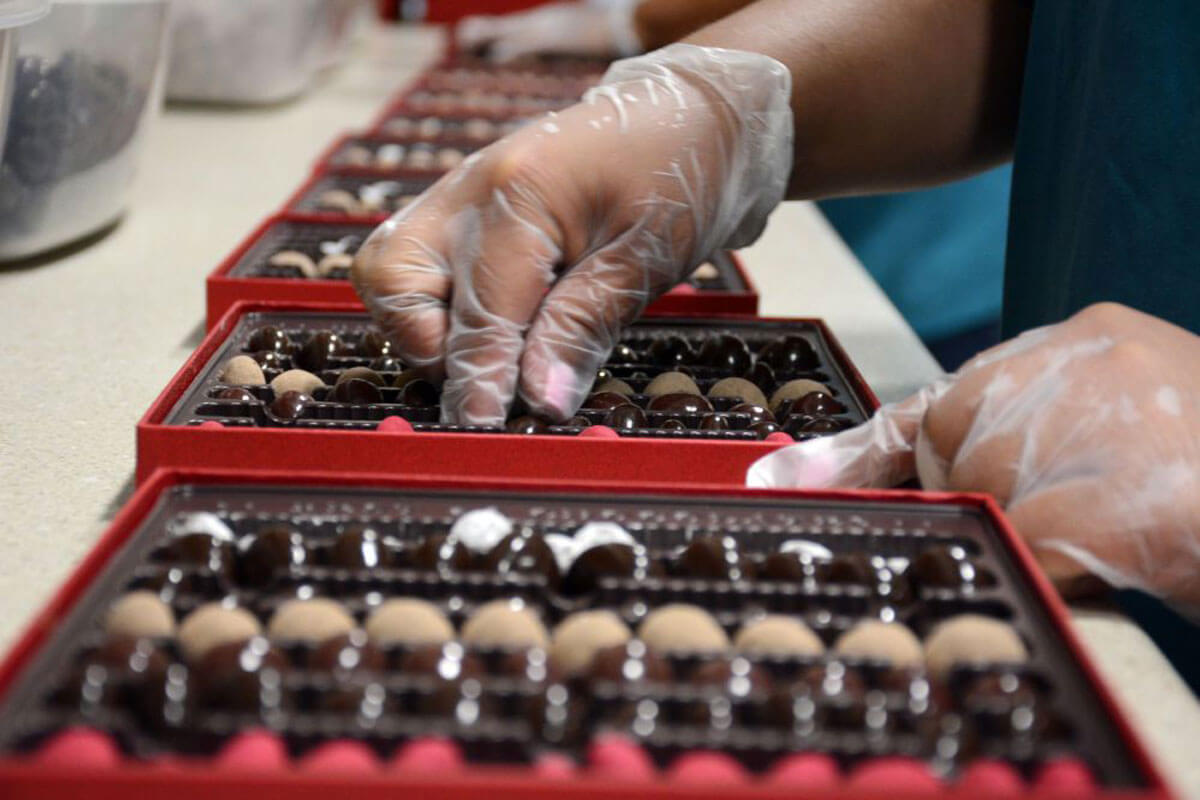 Chukar Cherries, headquartered in Prosser in Washington's Wine Country region, beautifully pairs bright cherry and chocolate flavors. Established in 1988, family-owned Chukar's uses local and regional fruit and chocolate crafted with minimal or no added sugar.
To create their signature chocolate cherries, they start by dehydrating only the finest cherries grown in the Pacific Northwest, including a definite local gem: Rainier cherries. Then, they enrobe the cherries in a thick layer of stunningly rich milk and dark chocolate.
Although their chocolates are the star of the show, for sure, their plain dried fruit makes for the perfect on-the-go snack. You can also find a store in Pike Place Market in Seattle.
Related: Locally Grown Food to Try in Washington
Theo Chocolate joined Seattle's funky Fremont neighborhood in 2005 and has been delighting visitors with scratch-made chocolate ever since. As the first chocolate shop in North America to get organic and fair trade certified, they're true innovators, always working hard to push the industry forward. Their innovative spirit shines through in all their products, too, like their Caramel Pecan Turtle, Lunar Pie, and Peanut Butter Buddy Bar.
You'll find their factory right next to the year-round Fremont Sunday Market, making it easy to experience the full local flavor in just one trip. For the ultimate Washington chocolate factory visit, sign up for their one-hour tour. On that journey, your guide will take you on a deep dive into everything chocolate, from sourcing cacao to how they make their treats from start to finish.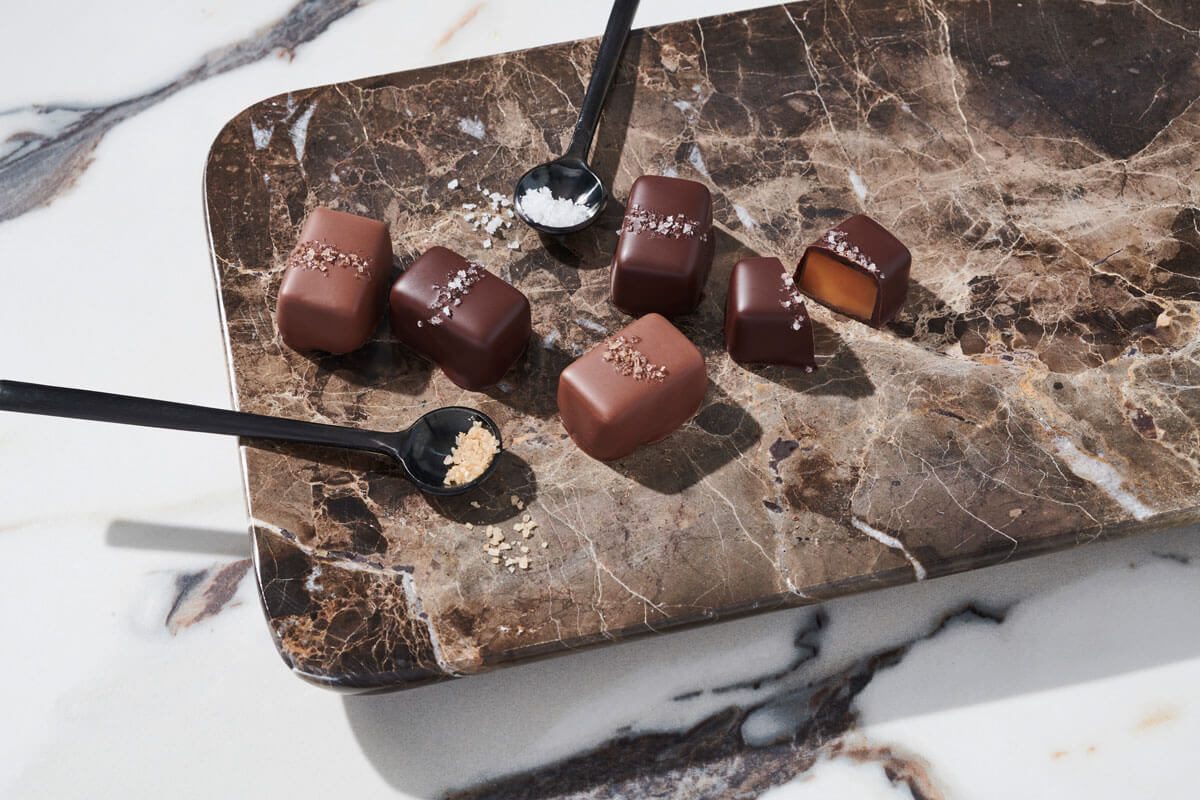 For over 40 years, Fran's Chocolates has proudly made gift-giving easy with their Gold Bars, chocolate truffles, and chocolate-covered salted caramels. Inspired by the decadence of French chocolate, Fran Bigelow started this journey with a small chocolate truffle shop in the Madison Park neighborhood. Soon after that, her signature Gold Bars were born, followed by truly imaginative caramels.
To see all the creations made in-house each day, just visit the flagship store in Seattle's Georgetown neighborhood. Set in the brick Seattle Brewing & Malting Co. building, this Washignton chocolate shop lets you peer through the glass at all their handmade confections and build your own assortments.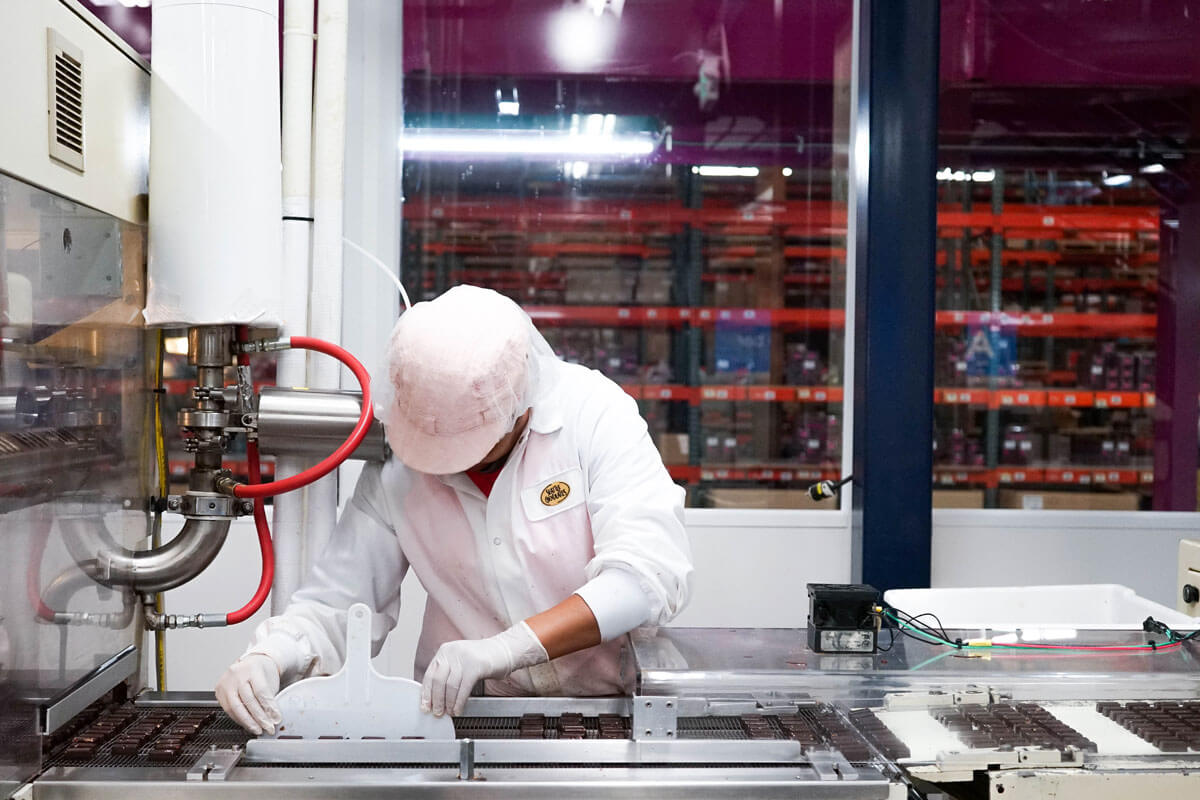 Seattle Chocolate goes all out in creating Washington chocolate you can feel good about enjoying. Since 1991, they've created their meltaway truffle bars and truffles only using ethically sourced ingredients and a sustainable approach. From the chocolate-making process to packaging, the operation stays 100% carbon neutral, supporting their mission to make the world a better place.
To see how that works, join a factory tour at the flagship store in Tukwila. You'll get to see their process in action plus learn about how they invent new flavors before trying them for yourself. After the tour, you're welcome to swing around to the shop for a look at their sweet treat collections.
Related: Where to Sample Orchard-to-Glass Cider in Washington
Boehm's Candies & Chocolates has served as the go-to place for handcrafted European-style chocolate truffles for over 80 years. Founder Julius Boehm began his journey as a chocolatier in 1942 by opening his first candy shop in Seattle. Nearly 15 years later, he moved the shop to their edelweiss chalet factory in Issaquah, eventually passing it on to his protégé, Bernard Garbusjuk.
To ensure the legacy of Julius Boehm carries on, the shop still uses all the original recipes and time-honored approach to handcrafting sweet treats. Nut clusters, caramels, and other confections continue to come off the line daily, which you can see happen in real-time on their self-guided window tour. For in-depth info on their process and plenty of samples along the way, sign up for their guided tour instead.
Since 1912, Brown & Haley has kept their iconic chocolate delights rolling out of their factory in Tacoma. They began by dreaming up their peanut butter, cherry, or vanilla-filled Mount Tacoma Bar, which later became the Mountain Bar. Almond Roca followed in 1923 and quickly became a fan favorite worldwide. Today, they produce over 3 million Roca candies each day and send out nearly half of them abroad.
Although their factory tours have gone digital, but you can still take a step into the past by visiting their store on 26th Street. Once located at the World's Fair in Seattle, this small building puts you at the center of all their sweet treats. You can then shop your heart out while standing in the same spot Elvis once stood during his visit in 1962.
Over 40 years ago, Halletts Chocolates began as a way to fill the gap between Otis Orchard's strawberry and raspberry season. Their peanut brittle, Peanut Butter Crunch, started it all, firmly cementing them as a must-try candy shop in Spokane. Over the years, they spent their time adding over 120 candies to the lineup, including fudge, almond toffee, and assorted chocolates.
The Kane Family took over the company in 2004 and started adding even more deliciousness to the lineup. Out of all their creations, their caramels infused with grey sea salt, habanero, and other innovative flavors get the most attention. To get a taste, visit their factory store and coffee shop on Spokane's Holyoke Avenue.
At NW Fudge and Confections, they offer the iconic old-fashioned candy store experience to all who visit downtown Port Angeles. Owners Bob and Lindi Lumens started their shop as a small fudge and candy kiosk in Bellevue. As their company grew, they set their sights on opening up a shop in the Olympic Peninsula and expanded their offerings to over 700 candies.
Fudge remains their trademark product, and they go big on its creation. Over 75 pounds gets produced every week, ensuring all their customers enjoy the freshest fudgy flavors. If that's not quite your jam, they have chocolates, truffles, and saltwater taffy as well.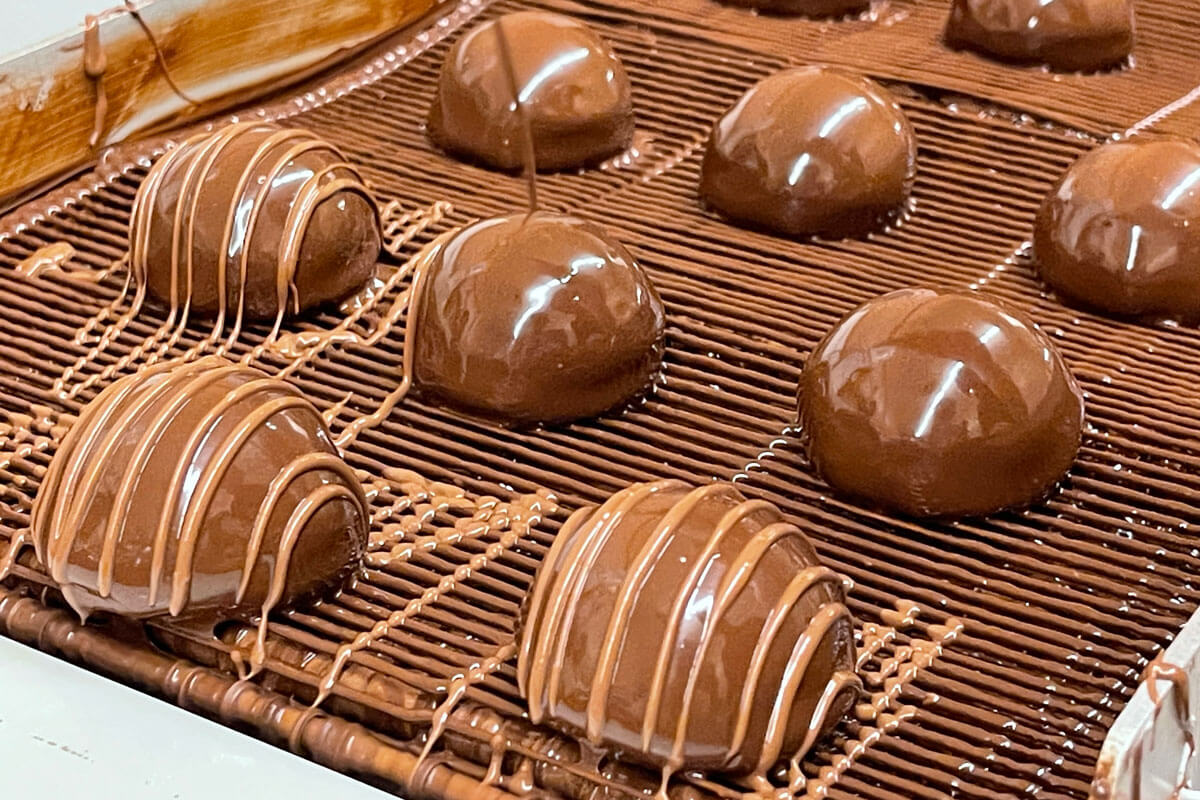 If you're going to downtown Spokane, take your trip to the next level with a visit to Spokandy. At over 100 years old, this candy shop has kept generation after generation enjoying handcrafted Washington chocolate and other tasty confections.
Terrence J. Riley originally opened the shop in 1913, setting the tone for their operations to this day. As is tradition, they still make their candies by hand using the highest quality ingredients and candy-making practices established centuries ago. Visit their shop on West Third Avenue to explore their chocolate assortments plus pecan caramel patties, peanut clusters, and so much more.
Schocolat arrived in Leavenworth in 2007 and specializes in Belgian-style chocolates. Their original team passed the reins onto the new owners in 2018 although they kept things largely the same, and for good reason. Their European-inspired approach to candy-making perfectly pairs with the Bavarian village aesthetic.
The pure artistry on display is a true delight as are their delicious flavors, like Rum Raisin, Amaretto, and Pecan Pie Crunch. They're always happy to provide samples and share their approach, but they don't offer factory tours at this time.
Get a taste of the state's delicious chocolates and chocolate culture with a visit to these local Washington chocolate shops.
About the Author
Marie Abendroth is a freelance writer and content strategist from Seattle. She enjoys helping brands boost their digital marketing success with informative and engaging content. In between her projects, she's out exploring the beautiful PNW with her family and three dogs: Ruby, Bandit, and Nyxie.