Thanks to its miles of shoreline, Washington State is known for its fresh, local seafood. From salmon and Dungeness crab to oysters to mussels, visitors can sample their way through these and more thanks to a variety of maritime and seafood festivals in Washington.
While harvesting seasons for fish and shellfish vary by month and season, it's easy to find fresh seafood year-round. Here are a few of the major annual seafood festivals in Washington State. Please check the event websites before visiting for the most up-to-date information.
Seafood Festivals in Washington by Month
March
Penn Cove MusselFest, Coupeville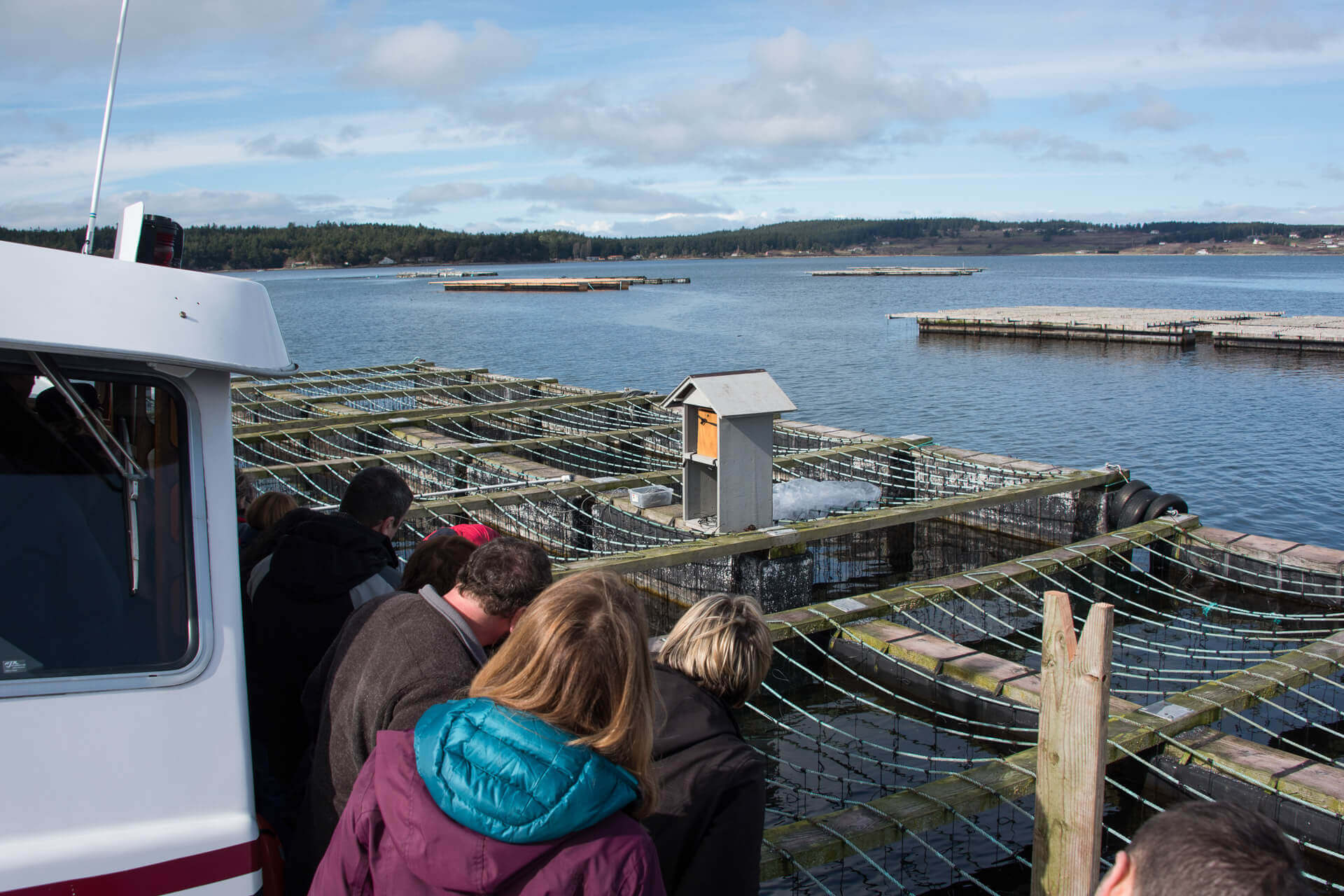 Penn Cove MusselFest on Whidbey Island celebrates all things bold and briny. This multi-day Washington seafood festival features chowder tastings, mussel-cooking demonstrations, guided boat tours of a local mussel farm, kids' activities, a beer garden, and more. Little ones will love meeting the mermaids! The festival centers around historic downtown Coupeville, which sits on Penn Cove, and getting there is half the fun. Depending on where you're coming from, you can either take the Port Townsend – Coupeville ferry, the Clinton – Mukilteo ferry, or drive across the scenic Deception Pass Bridge.
Related: Browse More Washington State Events
Razor Clam and Seafood Festival, Ocean Shores
This exciting weekend seafood event on Washington's Pacific Coast celebrates the state's seafood bounty. Taste fresh seafood, from razor clams to scallops and oysters. Visitors can enjoy a chowder tasting, live music, wine and beer, a clam gun decorating contests, and more fun activities. While the festival is free to attend, some events require advance registration.
April
Razor Clam Festival, Long Beach
Head to the Long Beach Peninsula in southwest Washington for a festival celebrating all things razor clams! Take clam-digging lessons, attend the chowder taste-off to sample offerings from local restaurants, enter the clam contest where you can show off your own finds, and more. There will of course be live music, a beer garden, craft booths, and plenty of other tasty bites to enjoy. Make a weekend out of your visit and explore charming beach communities and try your hand at flying a kite along the sandy shore.
Related: Things to do in Long Beach with Kids
July
Allyn Days Salmon Bake & Geoduck Festival, Allyn
The small, quaint town of Allyn throws the family-friendly Salmon Bake and Geoduck Festival every year. Located in the middle of Kitsap Peninsula on Case Inlet, Allyn is a beautiful backdrop for this annual seafood-themed festival. Three days of activities feature live musical performances, kids' activities, a salmon bake dinner, and the Geoduck Festival with its oyster shucking competition. You'll have plenty of opportunities to taste some of Washington's best seafood at this annual festival. Get dirty during a low-tide mud run or just enjoy the beautiful summer weather.
Ballard SeafoodFest, Seattle
A longtime and still active port for many fishing vessels, Seattle's Ballard neighborhood is where fishermen have lived and worked for years. This Washington seafood festival honors the community's maritime heritage while raising money to support local initiatives. Visitors can enjoy free live music, family-friendly activities, arts and crafts booths, succulent seafood, and a craft beer showcase. Those feeling adventurous can participate in Festi-Bowl, an all-ages skateboard event. Don't miss the Trident Seafoods Salmon BBQ plate!
August
Drayton Harbor Maritime Festival, Blaine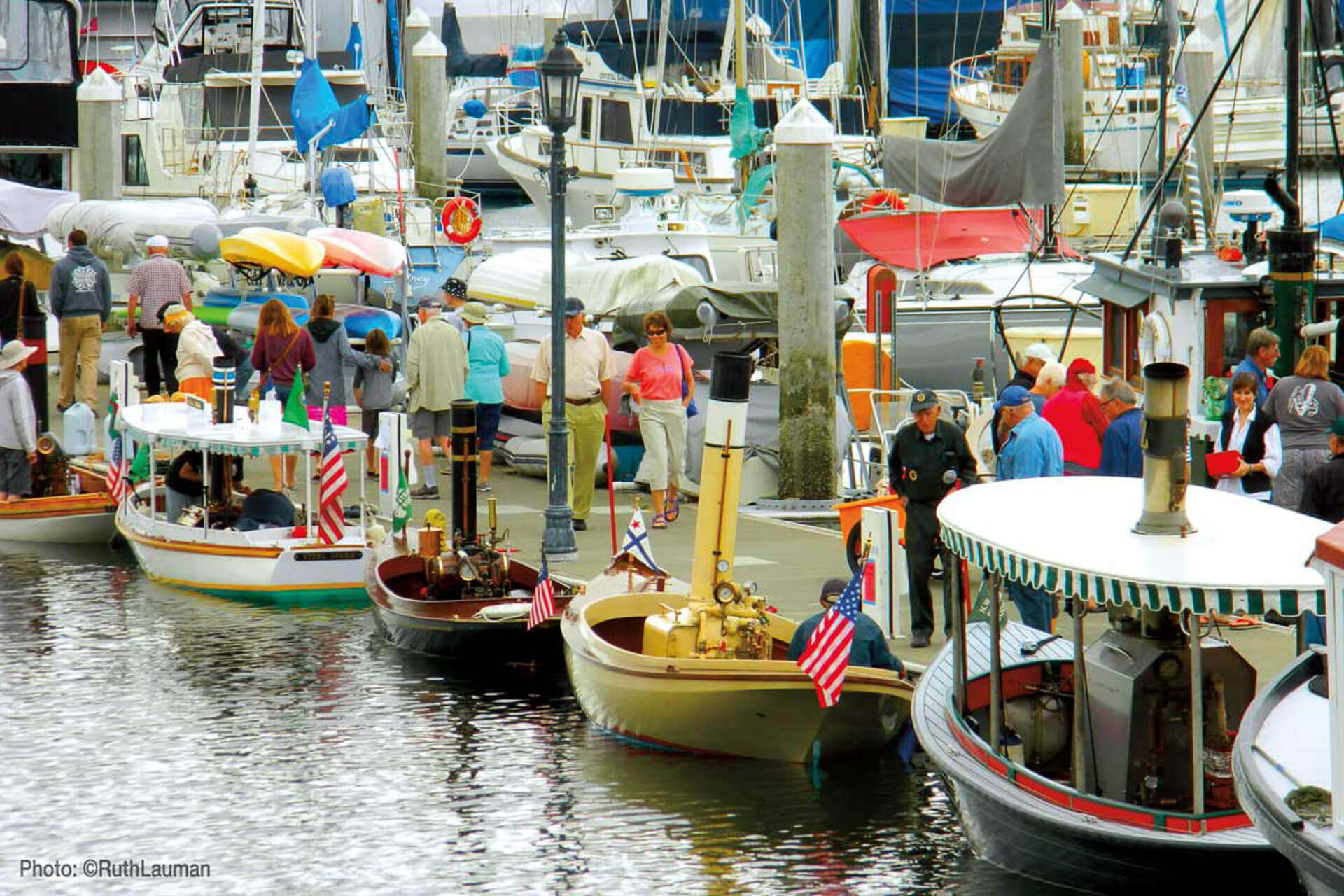 Head north toward the Canadian border for a weekend packed with boating and maritime fun. The Drayton Harbor Maritime Festival kicks off in Blaine, a quaint town along the coast. This two-day event is packed with kid-friendly games, crafts, a scavenger hunt, a pirate costume contest, and of course excellent seafood. Blaine and Drayton Harbor are known for oysters, so be sure to save room for these delicious shellfish. Love boats? Enjoy vintage steamboats, model boat displays, tours of the tall ship Lady Washington, and of course the Prestigious George Raft Race.
September
Seafood Festival & Craft Show, Westport
The coastal community of Westport is known for its fishing, oysters, and surfing. At this Seafood Festival & Craft Show, visitors can listen to live music, browse craft booths, and dine on everything from chowder to fish and oysters. If you want a break from chowing down on seafood, make your way to the marina for Corvettes at the Marina!
October
Dungeness Crab & Seafood Festival, Port Angeles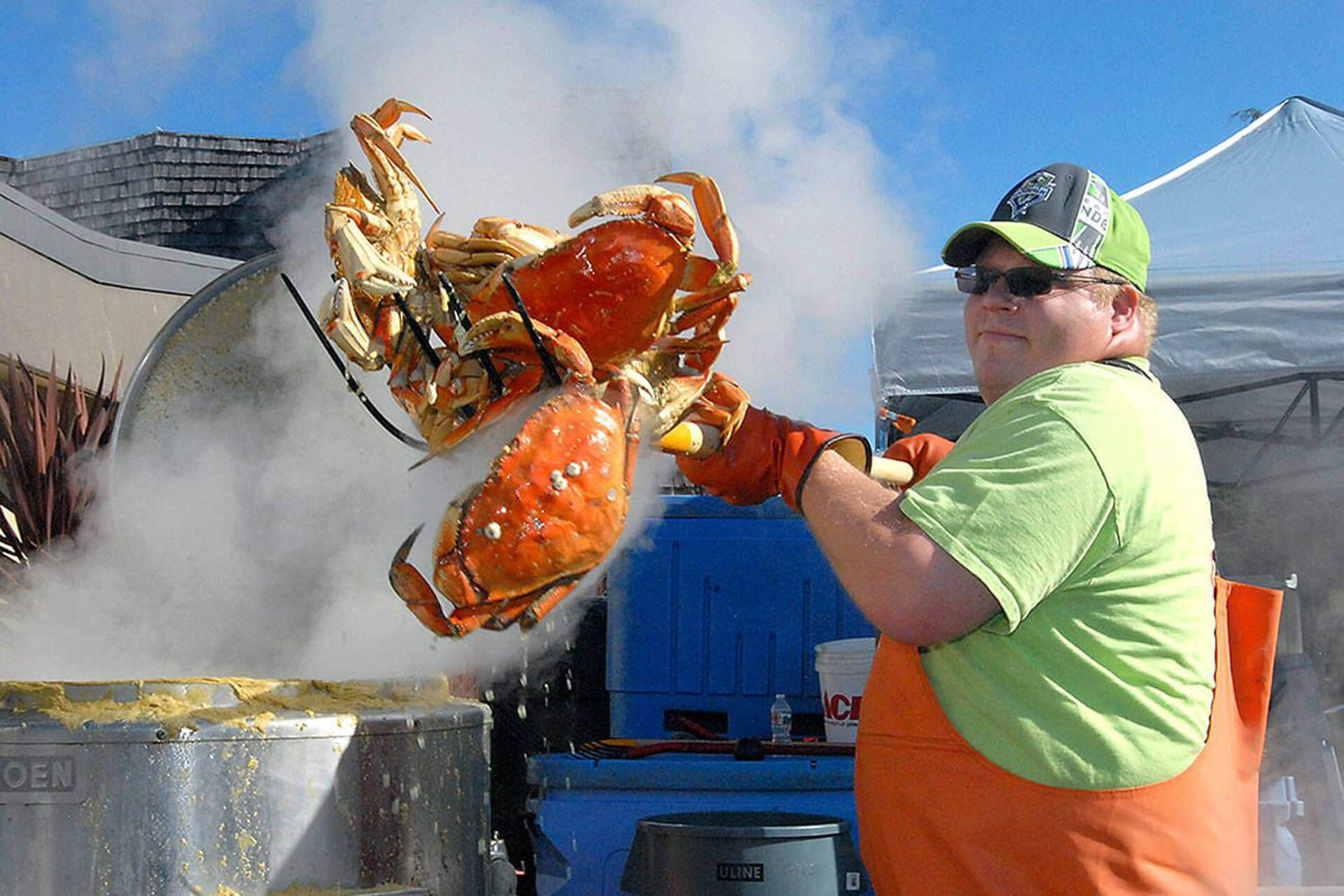 Known as CrabFest, this Washington seafood festival celebrates the Olympic Peninsula, from its fresh seafood and maritime history to cultural traditions. Located on the shores of the Strait of Juan de Fuca, the area offers sweeping views and is just a few miles from Dungeness Bay, home of the famous Dungeness crab. The weekend is packed full of fun activities including crab derbies, live music, rowing demonstrations, a 5k race, arts and crafts, a U.S. Coast Guard Air-Sea Rescue demonstration, and nightly crab dinners (tickets available in advance). Visit the Olympic Coast Discovery Center and the Feiro Marine Life Center to learn about the area's marine life and ecosystems.
Related: Things to do in Port Angeles
OysterFest, Shelton
You'll find bivalves, brews, live music, and more at the annual OysterFest weekend extravaganza. The event includes seafood and other items from 40+ food vendors, a Microbrew Garden & Wine Pavilion, two entertainment stages for live music, kid-friendly activities, educational marine displays, and more. Don't miss the main event – the West Coast Oyster Shucking Championships – where you'll be completely floored at the shucking skill and speed! Camping is also available.
Related: A Salish Sea Road Trip for Oyster Lovers
Salmon Days, Issaquah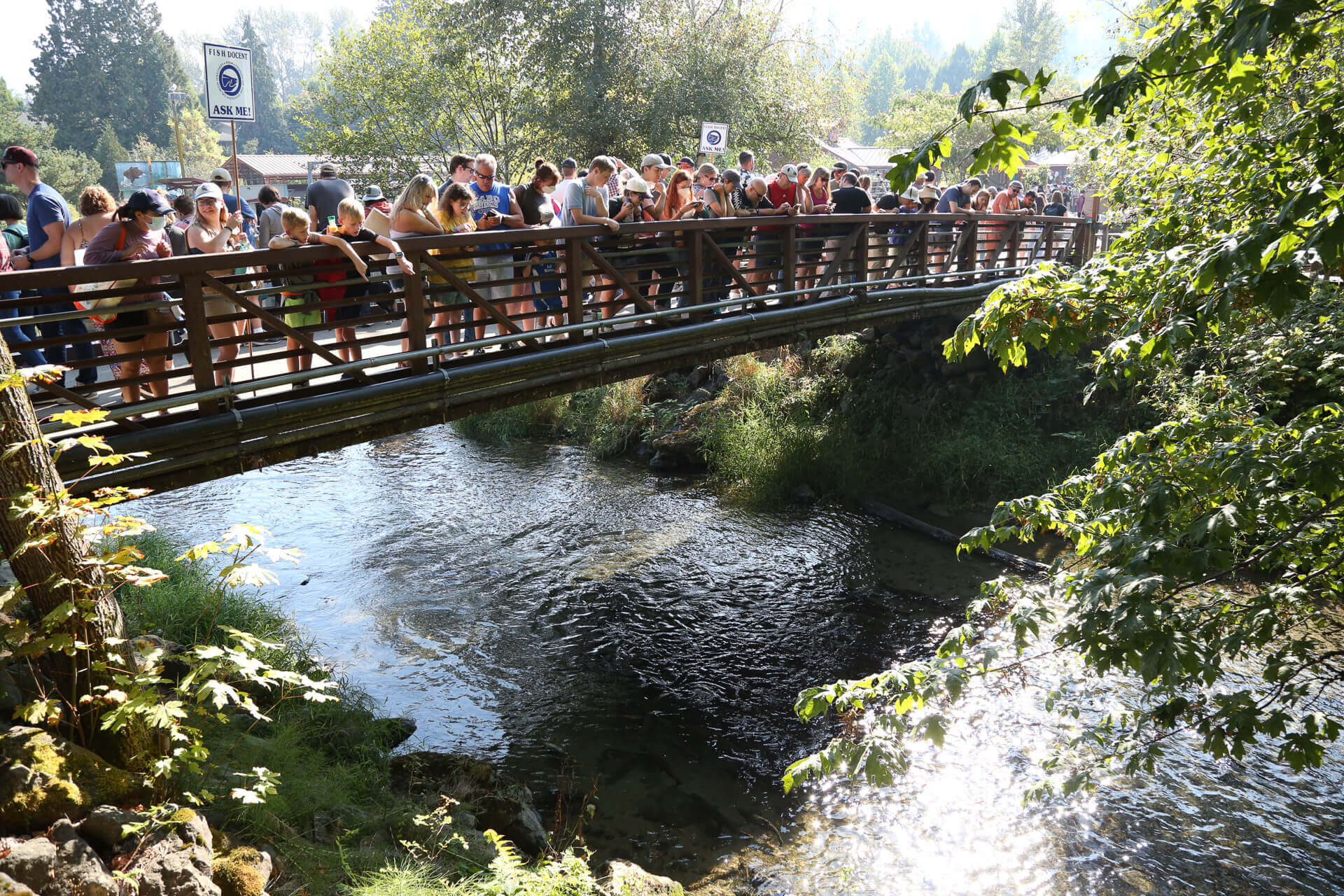 Celebrate the annual return of the salmon at this longtime Washington seafood event in Issaquah. Watch as adult chinook and coho salmon make their way back to the Issaquah Salmon Hatchery to spawn. Check out arts and crafts booths, food vendors, live music, and of course a salmon BBQ. Little ones will love to explore the obstacle course and games in the Field of Fun, while dog lovers can watch dogs catch some air during the DockDogs competition.
SeaFeast, Bellingham
Make your way to Bellingham to celebrate its maritime culture, working waterfront, fishing industry, and local seafood at this northwest Washington festival. Learn about programs that keep Washington's waters clean, fishing industries that work to keep our fisheries sustainable, and all the fun that Bellingham has to offer. Sample fresh seafood, watch cooking demonstrations, walk the Waterfront Trail, enjoy art and live music, and more at SeaFeast.