By Ellee Thalheimer
The most popular hikes in Olympic National Park are bucket-list material, drawing large crowds during the summer months. However, many less-visited hikes travel through the same spectacular natural diversity and offer a more peaceful experience. Spy an elk in an old-growth rainforest along the Queets River. Peruse 300-year-old petroglyphs carved into sea stacks along the shores of the Pacific. And feel good about choosing the path less taken. Spreading out visitor impacts helps support the park's sustainability.
While the trails mentioned below are not considered the most-visited, they can still experience a surge of visitors during the summer. To avoid crowds, arrive in the quieter early-morning hours or plan your hike for mid-week. Alternatively, visit in the fall and spring shoulder seasons when there are fewer people and the weather can be fabulous. Before heading out, check trail reports, find alternatives to crowded routes, and more by downloading the TREAD Map app.
Less-Visited Hikes in Olympic National Park
Visiting these hikes requires vehicles to have an Olympic National Park Pass, except for the Bogachiel Rainforest River Trail, which requires a Northwest Forest Pass.
Lover's Lane Loop Trail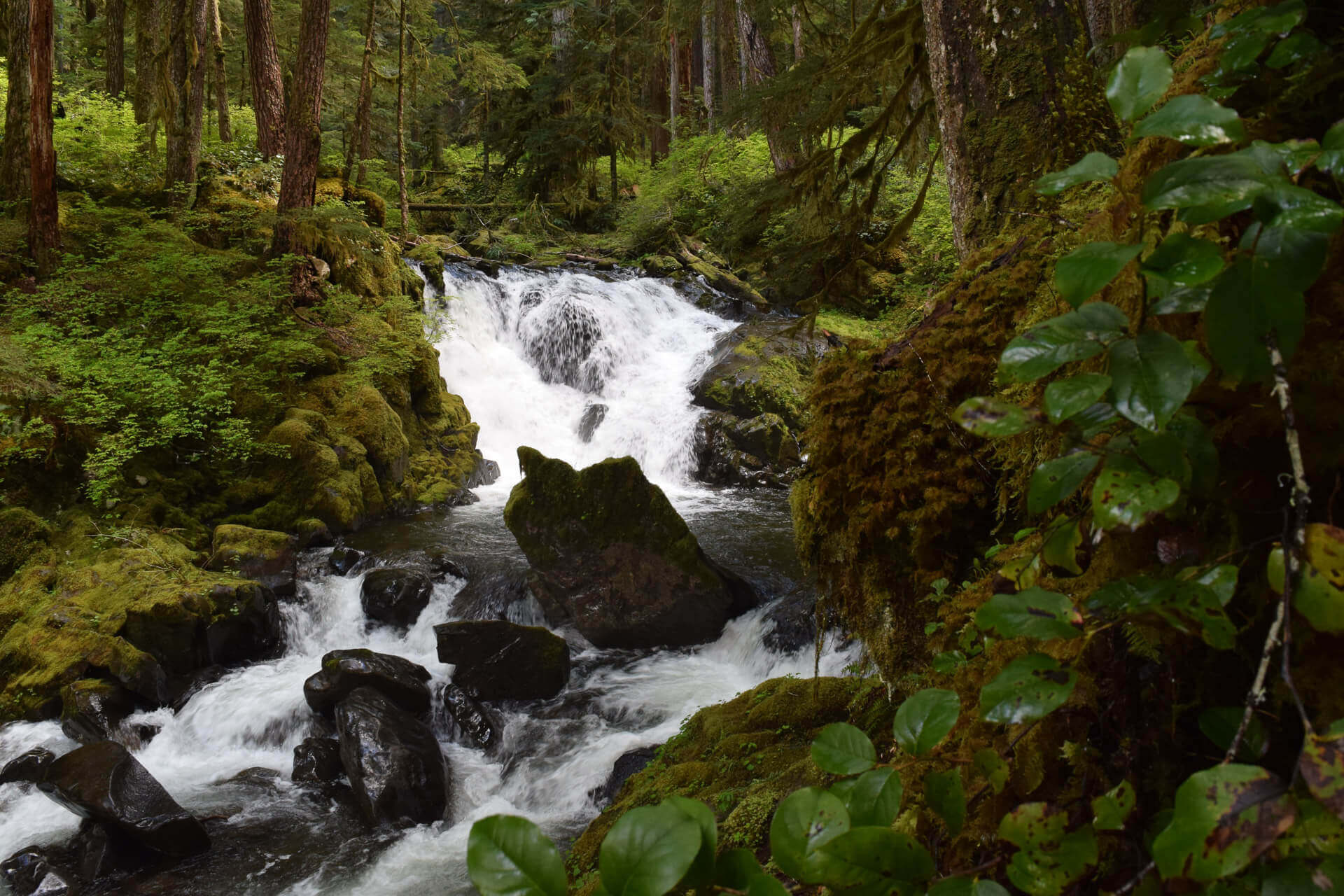 5.8 miles roundtrip
Season: May-October
Good for: rivers, waterfalls, old-growth rain forest
Starting from the campground by Sol Duc Hot Springs, this moderate hike explores both banks of the wild Sol Duc River and the surrounding old-growth rainforest. At the halfway point, a bridge crosses the river, providing a phenomenal platform to observe four-prong Sol Duc Falls that cascades into a deep green gorge. This is an excellent alternative to the popular Marymere Falls trail just north. Hikers can park at the campground or resort with an Olympic National Park Pass.
See Also: Explore These 10+ Gorgeous Waterfalls
Ozette Triangle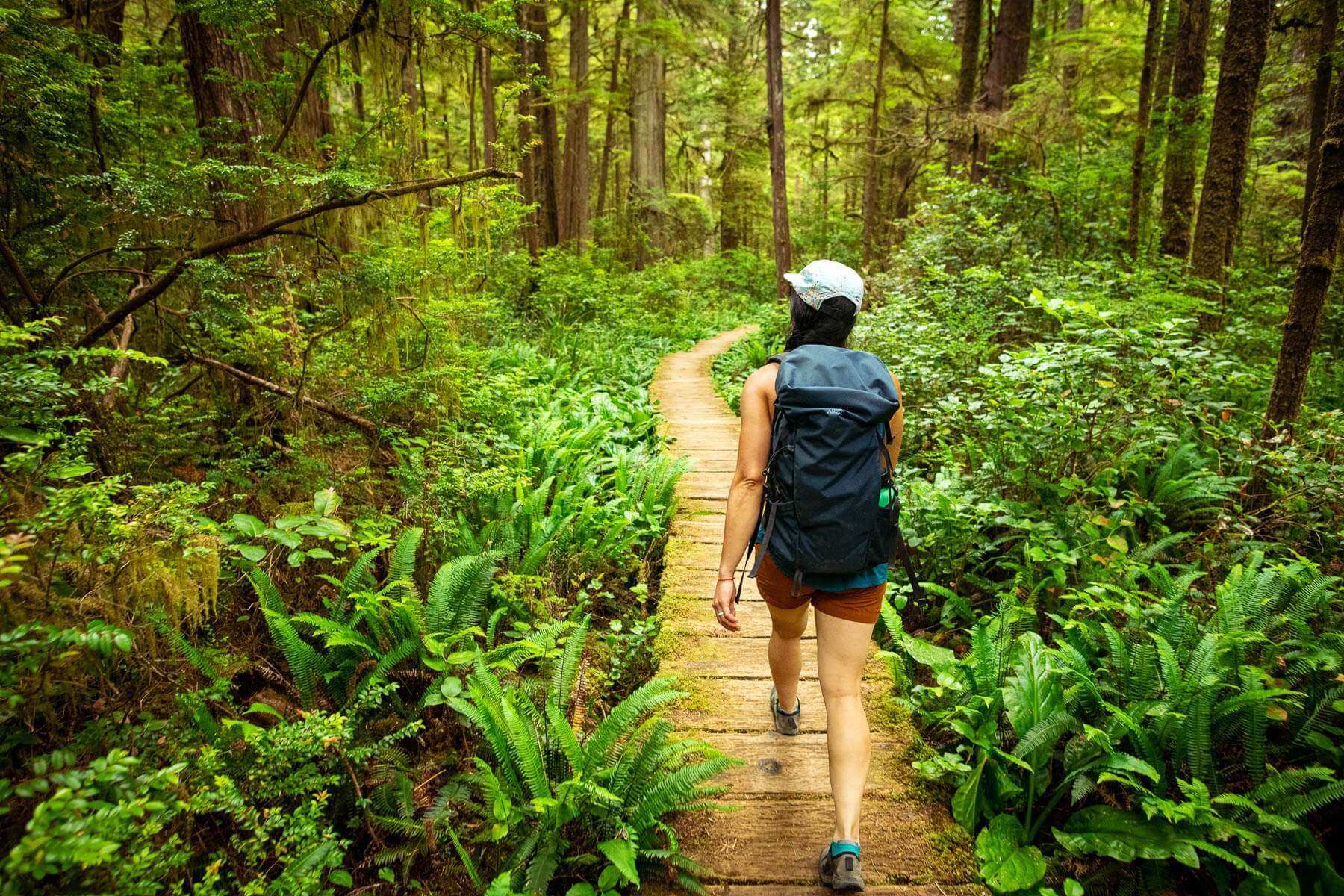 9.4 miles roundtrip
Season: all year
Good for: rivers, beaches, bogs, petroglyphs, sea stacks, tidepools
Also known as the Cape Alava Loop, this hike is a lovely alternative to the ever-popular Ruby, Shi Shi, and Rialto Beach hikes. Though Ozette is still popular, it's more remote and harder to get to, so crowds are somewhat subdued and rarely is there a problem parking.
This long, flat hike has a little something for everyone: tidepools by Wedding Rocks sea stacks, rain forests, a boardwalk through a licorice fern and salal understory, and more. Visitors to the beach area can view 300-500-year-old petroglyphs left by ancestors of the Makah Tribe. Please be respectful of the area and do not tamper with the petroglyphs. During high tide, visitors should be prepared to hike over headlands.
See Also: Things to do on the Olympic Peninsula
Kalaloch Beach 4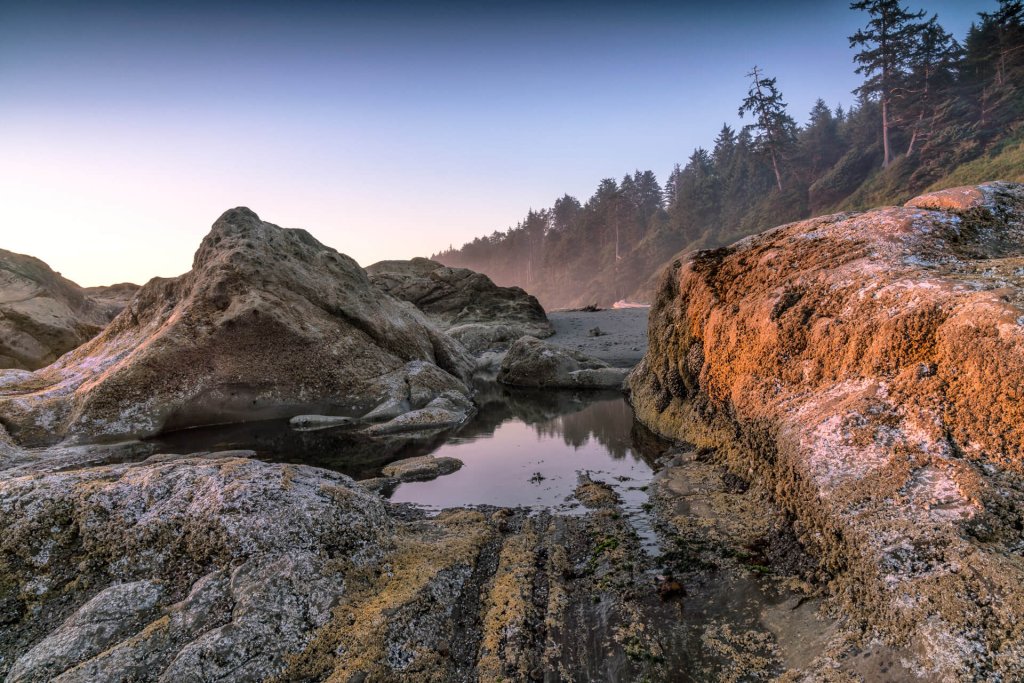 0.5 miles round-trip
Season: All year
Good for: Tidepooling, beaches, short hikes
Near Forks, about halfway between Ruby Beach and Kalaloch Lodge, you'll find Beach 4. Make sure to visit during low tide, as it's one of the best spots in the Olympic National Park to go tidepooling. Beach 4's rocky outcroppings showcase purple sea stars, limpets, and giant green anemones, among other sea life. The trail is signed from Highway 101 and has a parking lot. The quarter-mile hike down to the beach entails switchbacks and some rock scrambling. Then it's another quarter mile to get to the tidepools, which would make the hike distance a mile long as opposed to half a mile total just walking the trail.
Advertisement
Pyramid Peak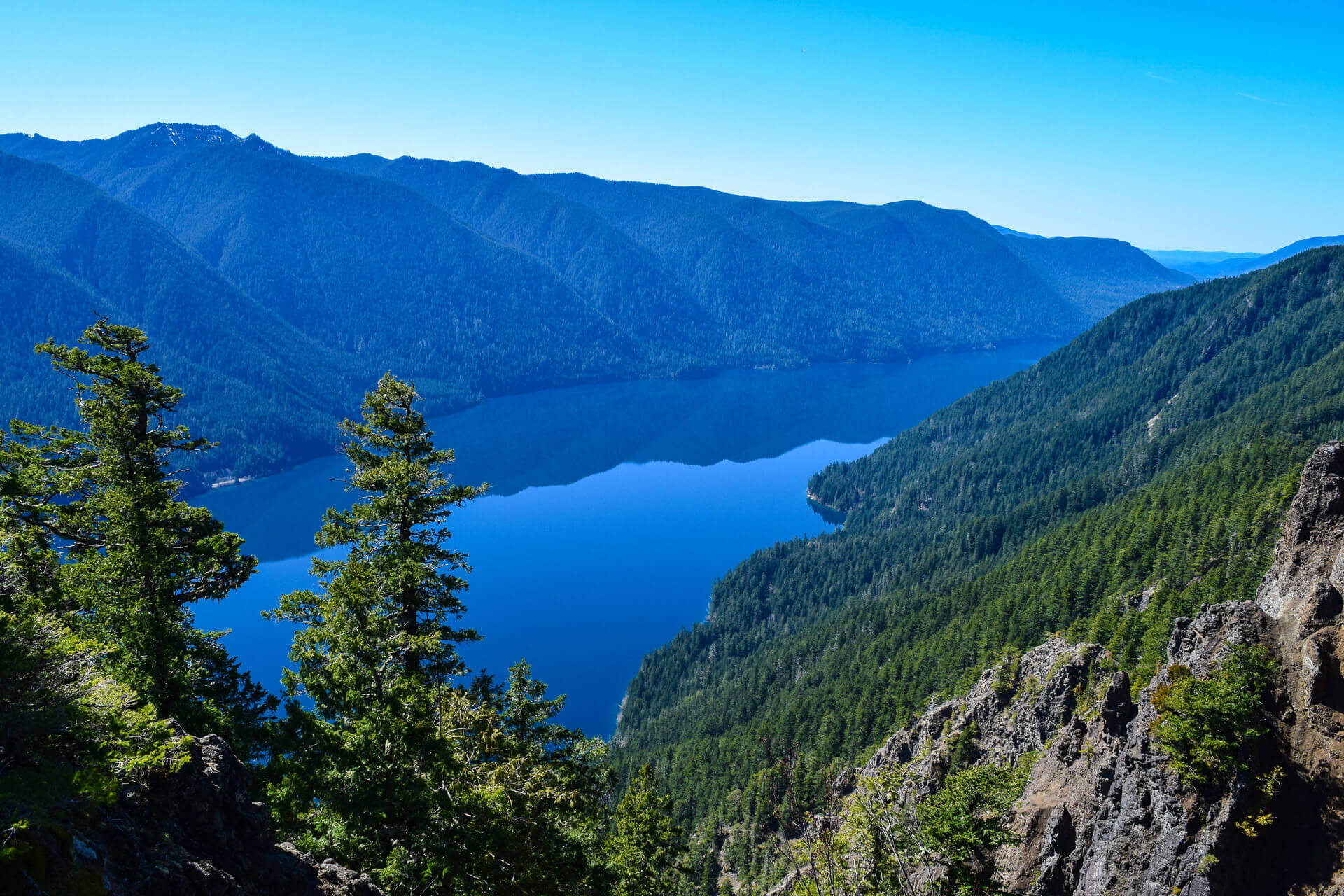 7 miles round trip
Season: May-October
Good for: mountain and lake vistas, historic lookouts, summits
Droves of people head up Mount Storm King for a summit hike, but nearby is the less-traveled Pyramid Peak Trail up Pyramid Mountain. The summit provides equally resplendent views of surrounding mountain ranges and cobalt Lake Crescent. Hikers gain 2,400 feet in 3.5 miles to reach a WWII lookout at the top. Although Pyramid Mountain is a low-elevation peak near Port Angeles and could theoretically be climbed all year, a landslide section makes crossing dangerous during the rainy season. Even during the summer, much caution is advised on the exposed 100 yards traversing the landslide.
Lake Angeles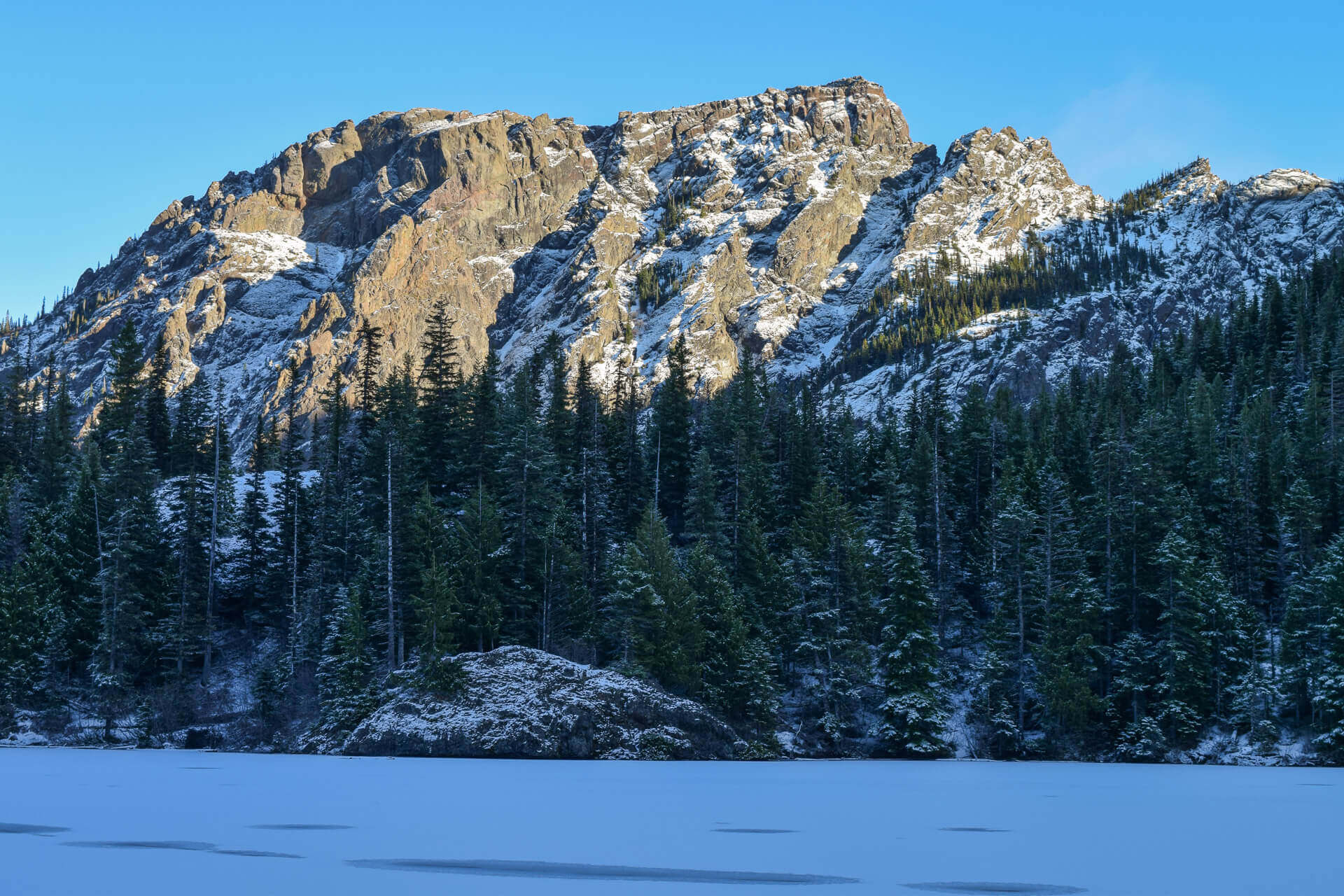 7.4 miles roundtrip
Season: All year (snowshoeing in winter)
Good for: lakes, easy access, elevation gain
Just 15 minutes south of Port Angeles, this trail climbs 2,300 feet within 3.5 miles to Lake Angeles, a teardrop-shaped subalpine basin. The route navigates a looming evergreen forest carpeted with ferns. Once hikers make it to the lake at 4,200 feet above sea level, there are fabulous picnic spots. Keep an eye out for mountain goats on the cliffs above the lake. Because of its easy access, this destination can see more crowds in summer. Come winter, the road to the trailhead is plowed, and this hike becomes a snowshoe route with far fewer users.
To extend this route into a 12.5-mile loop with 4,750 feet of total elevation gain, continue south on the trail past Lake Angeles and connect to the Klahhane Ridge Trail. This trail follows the spine of the ridge north past alpine meadows, basalt outcroppings, and a mountain-filled horizon. This loop is a fantastic choice for a weekend backpacking adventure. If you opt for a backpacking trip, make sure to snag a backcountry camping permit.
See Also: Scenic Snowshoe Trails in Washington
Advertisement
Sam's River Loop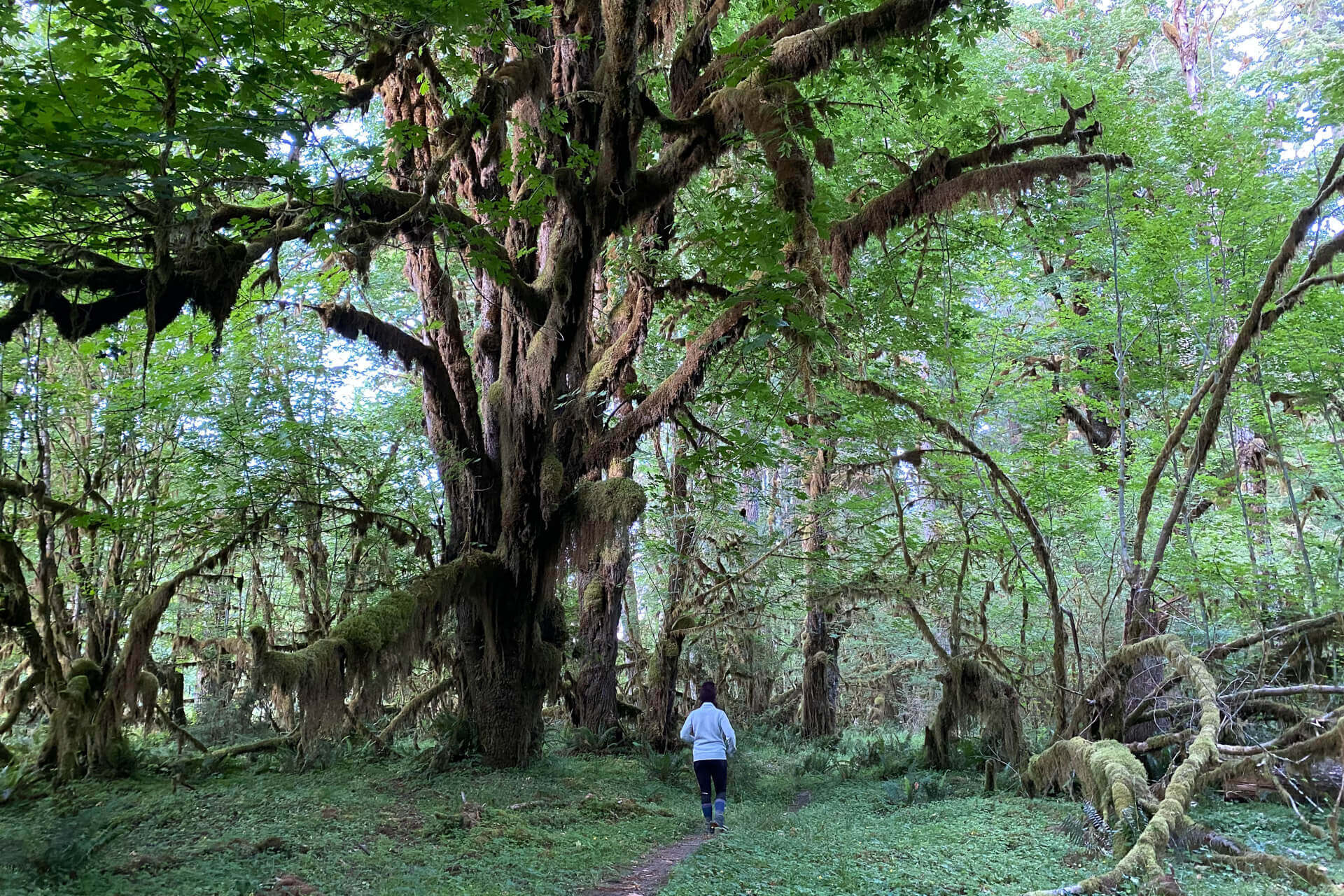 2.8 miles
Season: All year
Good for: wildlife viewing, solitude, rivers
Fewer visitors make the trek to the upper Queets River in the southwest corner of the park, an hour drive from Lake Quinault. Here, Sam's River Loop starts from the abandoned Queets ranger station. This flat trail explores the temperate rain forest bottomlands around Queets River. Keep an eye out for salmon spawning in a side channel or elk grazing under the giant Sitka-spruce, alder, and hemlock. Hikers will also pass the relics of old homesteads.
Maple Glade Nature Trail and Kestner Homestead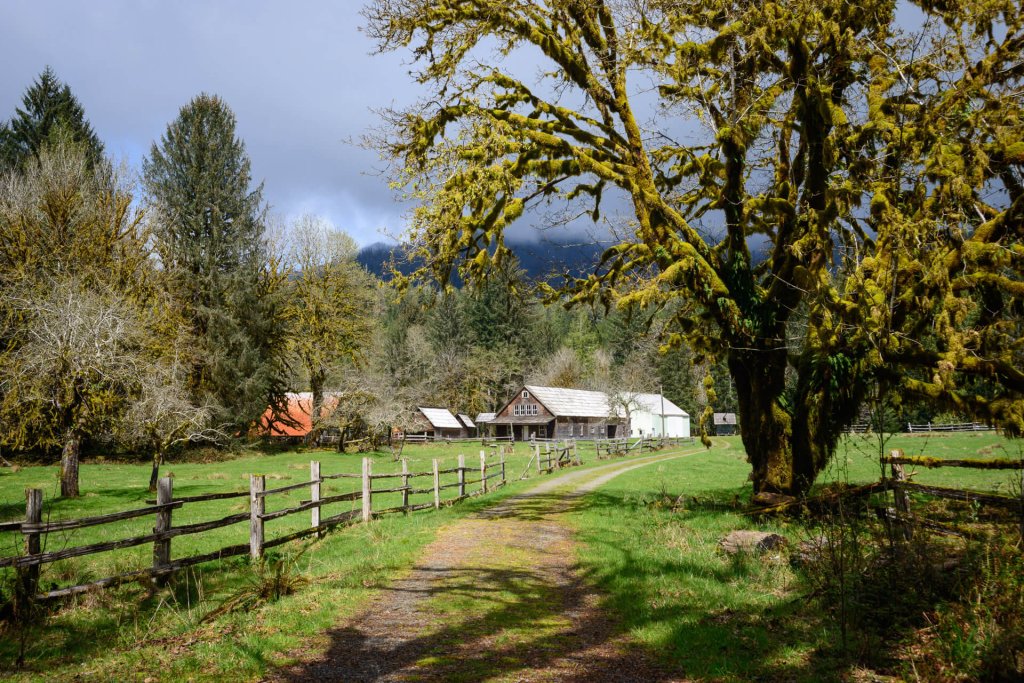 Maple Glade Nature Loop 0.8 miles, Kestner Homestead Trail 1.5 miles roundtrip
Season: All year
Good for: ADA access, homestead relics, rain forests
Starting from the Quinault Ranger Station, the ADA-accessible Maple Glade Nature Loop explores the rainforest bottomlands by Kestner Creek. This trail snakes beneath towering rainforest hardwoods dripping with spikemoss and is a fantastic alternative to the ever-popular and crowded Hoh River Trail. At the trailhead, snag an information pamphlet that highlights rainforest ecology. For more mileage, hike the Kestner Homestead Trail, a longer loop, which connects to Maple Glad Nature Trail. The route explores more of the Kestner Creek rainforest, as well as homestead relics from the 1800s.
Bogachiel Rainforest River Trail
12 miles roundtrip
Season: All year
Good for: Rivers, solitude, old-growth rainforests
This out-and-back trail hugs the north banks of the Bogachiel River. While the trail begins in a younger section of woods, it eventually delves into old-growth temperate rain forests much like those in the Hoh and Quinault valleys. In the summer, the Bogachiel waters run crystal clear and support runs of steelhead. Along its shores, dense brakes of salmonberry please black bears and hikers alike. There are a number of stream crossings, which can be challenging in the winter. At mile 6, the turnaround point is at the junction of the Snider-Jackson Trail. After that, this trail continues about 18 miles to the Mink Lake Trail junction, but the trail past the Snider-Jackson junction is unmaintained and eventually requires navigational skills. Because this hike starts outside of park boundaries, it requires a Northwest Forest Pass.
Olympic National Park Hiking FAQ
What does it cost to visit?
Entering the park requires a pass. They cost is $30 for private, non-commercial vehicles, $25 for motorcycles, or $15 per person for pedestrians and cyclists. The passes stay valid for seven consecutive days, and special discounted passes are available for some groups. If you want to camp, you'll need to purchase additional permits.
See Also: Where to Camp Throughout Washington
When is the best time to visit?
By far the most popular season to hike in Olympic National Park is summer. Go mid-week or early in the morning for fewer crowds. Alternatively, the late spring and early fall shoulder seasons are a bit quieter and also offer gorgeous weather. Winter is the least busy season and can be the perfect time to check out the most popular lower-elevation trails, drizzle and all.
Are there hiking outfitters in the park who will take care of logistics?
Olympic Hiking Co. is a locally owned tour company out of Port Angeles with an ethos of responsible recreation and sustainability. They guide private and group hikes, as well as multi-day backpacking trips. Alternatively, the rangers at Olympic National Park host free, all-ages interpretive hikes and campfire programs throughout the summer. Check out their calendar for dates and times.
How can you recreate responsibly?
Hiking on less-visited trails in Olympic National Park helps distribute the wear-and-tear from visitors and buttresses a sustainable approach to outdoor tourism. Additionally, embracing a Leave No Trace philosophy is an important way to honor wilderness and natural areas. Leave No Trace guidelines include leaving what is found, taking what is brought, and respecting wildlife.
What are the most popular hikes?
The most popular hikes include Hurricane Hill, Storm King, Marymere Falls, Devil's Punchbowl, Sol Duc Falls, Hall of Mosses, Hole-in-the-Wall, High Divide, Five Mile Island via Hoh River Trail, and Staircase Rapids Loop.
About the Author
Ellee Thalheimer is a freelance writer and guidebook author based in the Pacific Northwest who has contributed to publications like Lonely Planet Guidebooks, Alaska Airlines Magazine, and Adventure Cyclist Magazine. When she can't get outside, she writes fiction, drinks local IPAs, and perfects her handstands.