Story & photos by The Traveling Dans
The Columbia River Gorge National Scenic Area runs about 80 miles along the border between Oregon and Washington. We recently took a trip along the Washington side of the Columbia River Gorge and found it has so much to offer for those seeking outdoor adventure.
This post was sponsored by State of Washington Tourism. All thoughts and opinions are our own.
We spent two full days exploring the region, starting in the west and working our way east along State Route 14. Here, we'll highlight things to do on the Washington side of the Columbia River Gorge, from waterfalls to wineries and scenic stops. This itinerary is also entirely dog-friendly, so if you have a pooch as your travel companion, you don't have to worry about leaving them behind!
Getting to the Columbia River Gorge in Washington
Head east from Portland or Vancouver, Washington, to State Route 14. This highway winds along the Columbia River on the Washington side, providing breathtaking views of the river and the towering cliffs. The highway passes through many charming towns including Camas, North Bonneville, Stevenson, Carson, White Salmon-Bingen, and Lyle. The scenery on this route changes as you travel east – beginning with lush greenery and cliffside waterfalls slowly shifting to high grassy plains and bluffs.
Where to Stay
We stayed at Skamania Lodge near Stevenson. We chose this hotel due to its proximity to activities, the large number of amenities they offer, and the fact that they are a very pet-friendly hotel. We stayed in a lodge room, but Skamania Lodge also has several treehouses if you are looking for a unique getaway. This is a great place for families as well – kiddos will find enjoyment in the indoor pool, ziplining course, aerial obstacle course, forested trails, and more!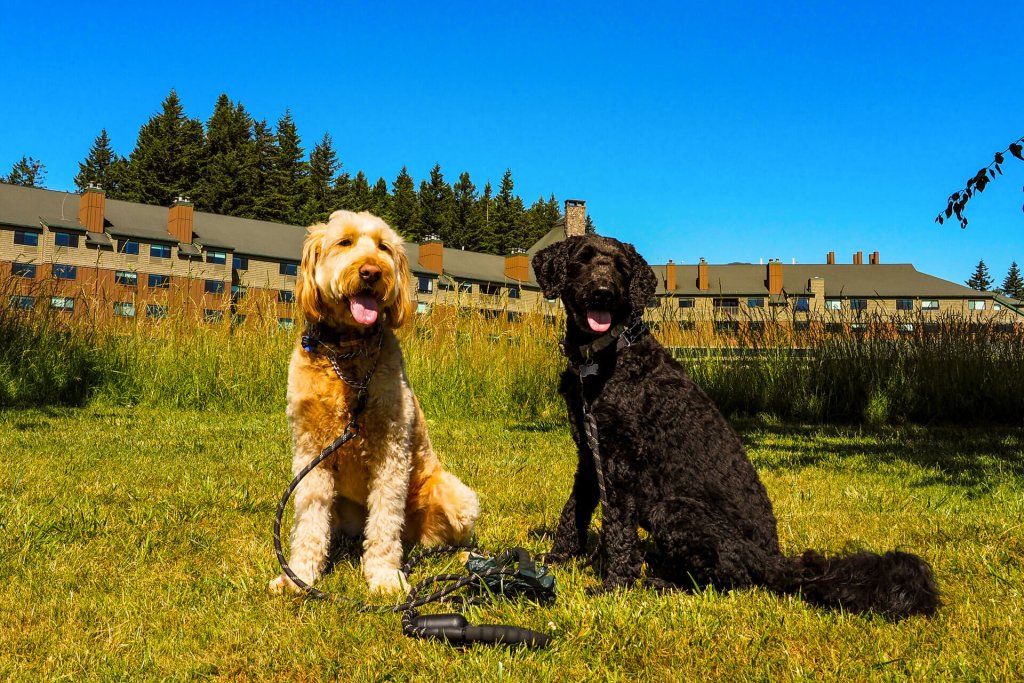 When to Visit
We planned our trip in June and found the weather to be lovely. Spring in the Pacific Northwest can vary, from rain to warm, sunny days. If visiting June through September, you'll likely experience sunny weather perfect for outdoor adventures. Just be sure to book your lodging in advance because this is a popular time to visit. If you want a cozy weekend snuggled up in a lodge, we suggest going in the winter months.
Suggested Itinerary for Columbia River Gorge Road Trip
To make the most of your time in this area, you'll want at least two full days. We drove in on a Friday after work and drove home Sunday evening, staying two nights.
Day 0 (Arrival)
Depending on your travel schedule, you may have more or less time to explore on your day of arrival. We drove from Vancouver, Washington, on State Route 14 to Backwoods Brewing Company in Carson for dinner before heading back to Stevenson to check into our hotel. This brewery has great beer and even better food. We opted for a personal pizza and pulled pork tacos, which is their specialty.
If you have more time on your travel day to explore the area, we recommend checking out The Hammond Kitchen in Camas, Beacon Rock State Park, or Hamilton Mountain on your way to the hotel.
Day 1
Hike to Waterfalls
You'll find no shortage of waterfalls to explore on the Washington side of the Columbia River Gorge area. So many, in fact, you can see three in one morning. Fuel up for your day with breakfast at the lodge before driving to Panther Creek Falls (about 35 minutes from Skamania Lodge). There is a viewpoint about 0.3 miles along the trail, but we recommend taking the other short trail to the bottom of the falls. This waterfall is gorgeous – with so many delicate streams of water coming from the cliffside, it is a waterfall that belongs in a fairy tale.
Next, drive about 30 minutes to Lower Falls Creek. This waterfall is accessed by a 3-mile out-and-back trail with about 700 feet of elevation gain. This waterfall is made of multiple tiers – two of which you can see at the end of the trail.
Last on the list was Spirit Falls. Please note this hike is on private property (although access is allowed) and often closes temporarily in the summer due to wildfire danger. For this one, we drove about 55 minutes toward White Salmon. Spirit Falls is accessed by a short trail (0.7 miles) but the descent is VERY steep, and you'll gain 700 feet of elevation when you hike back out from the falls. You do not want to hike this trail without sturdy shoes and hiking poles. If you are able-bodied enough to make the trek down, you will be rewarded with crystal blue water cascading down a wide waterfall.
Also See: 10+ Gorgeous Waterfalls to Discover in Washington
This trail is partially on private land but is currently open to the public. They have closed access in the past due to fire danger or misuse of the land so if you visit, be respectful and leave no trace.
Tips for exploring waterfalls:
While all these hikes are dog-friendly, please make sure you keep your dog on a leash and pick up after them along the trail.
Download all your maps and directions before heading out. You will lose service along parts of this adventure.
Don't forget to purchase a Northwest Forest Pass or bring 5 dollars for parking at the trailheads. We suggest a Northwest Forest Pass – this is good for a year at most trails in the Pacific Northwest and is only $30 to purchase online or at REI.
Related: Download the TREAD Map app for trail conditions and more
Enjoy Lunch at AniChe Cellars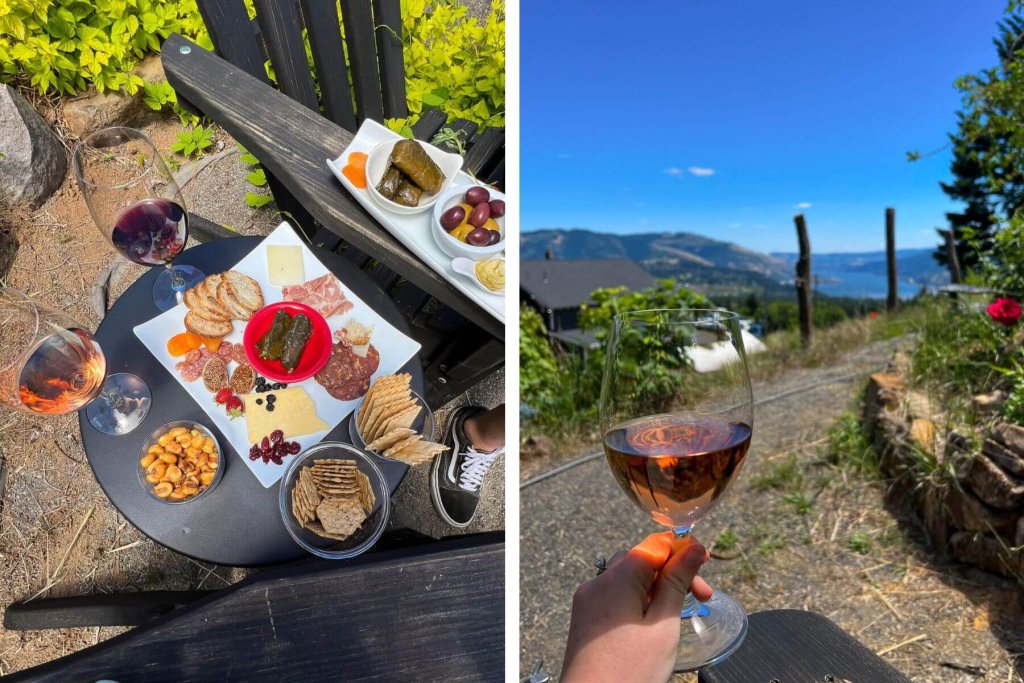 After an adventure-packed morning, we made our way to dog-friendly AniChe Cellars for lunch. This winery has quite a few options for food like charcuterie boards and mezze platters but allows outside food too. If you want something more substantial, we recommend picking up a sandwich from Feast Market.
Reservations are recommended for wine tastings, but if you just want a glass of wine with your lunch you can walk in. This winery has a covered patio, but we recommend sitting in one of the many Adirondack chairs overlooking the Columbia.
Putt Putt Golf at Skamania Lodge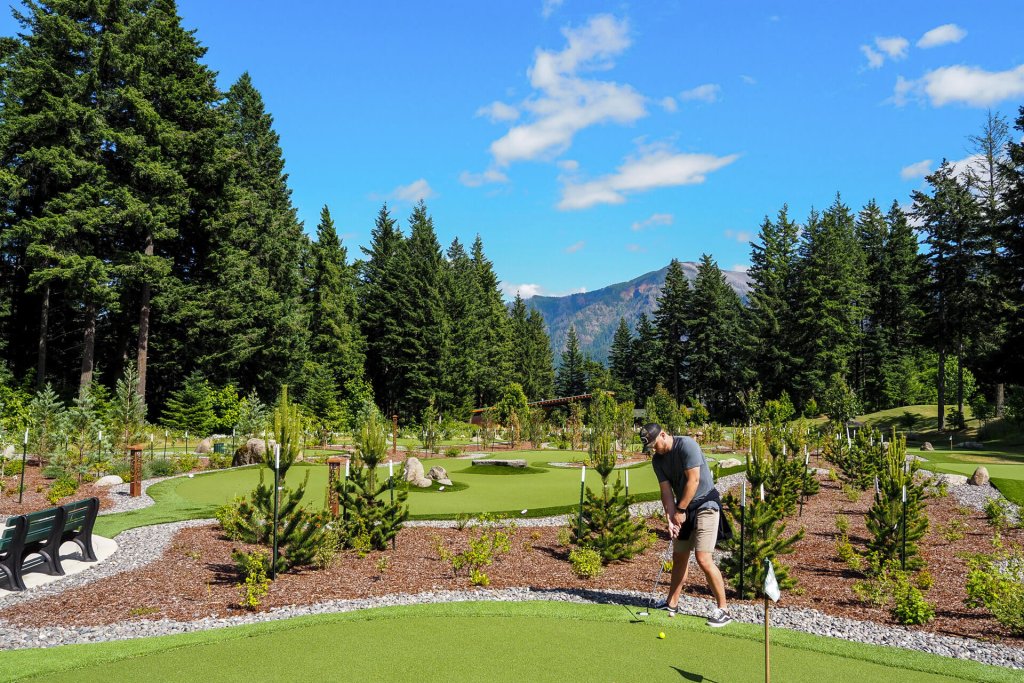 The rest of the day we spent enjoying some of the activities and amenities that Skamania Lodge offers, starting with The Little Eagle 18 putt putt course. No reservations are necessary, and you can purchase tickets to access this course along with drinks and snacks at the golf shack near The Backyard Grill. Clubs and balls are included in the ticket. We loved spending a sunny afternoon relaxing on this course and practicing our putting skills!
After a few rounds of putt putt, we headed to the spa to experience a little time in the sauna and hot tub before getting ready for dinner at Cascade Dining Room, an upscale eatery on the property (reservations are recommended). We spent the evening here enjoying wine, food, and dessert while taking in the views.
Day 2
Explore Skamania's Trails
Breakfast is the best way to start any day, and Skamania Lodge has a great menu along with a breakfast buffet. Did I mention they have a free coffee bar in the lobby as well? We took advantage of that both mornings.
After breakfast, we wanted to explore the trails around Skamania Lodge. Fun fact: if you complete all three trails (about a 5k) and you report it to the lodge, you get a prize! We only had time to explore a few segments of each trail but had a blast forest bathing in the lush greenery that surrounds the property and enjoying the breathtaking views of the Columbia River below.
Head East to Visit the Stonehenge Memorial
When exploring the Washington side of the Columbia River Gorge, be sure to continue past the White Salmon-Bingen area. There are so many hikes, unique sights, wineries, and more as you head east on SR 14, so we set off to explore these areas for the rest of the day.
When road-tripping the Columbia River Gorge in Washington, the views are always spectacular, so the hour's drive from the lodge went fast as we approached our first stop.
Stonehenge Memorial sits high on a cliff and offers incredible views of Mount Hood and the Columbia. This full-scale replica of Stonehenge is the country's first WWI monument erected to honor the dead, specifically those from Klickitat County. We had no idea the Pacific Northwest had its own Stonehenge, so walking around this monument was a unique experience.
Enjoy Lunch at Maryhill Winery
With about 25 wineries on the Washington side of the Columbia River Gorge alone, it can be hard to narrow down where to go. We chose Maryhill Winery because it's dog-friendly, serves a full food menu, has an expansive patio overlooking the Columbia, and is close to the Stonehenge Memorial. After visiting, we are deeming this winery a must-visit! On a sunny day, there is nothing quite like sipping rosé while taking in the views.
Check out the Goldendale Observatory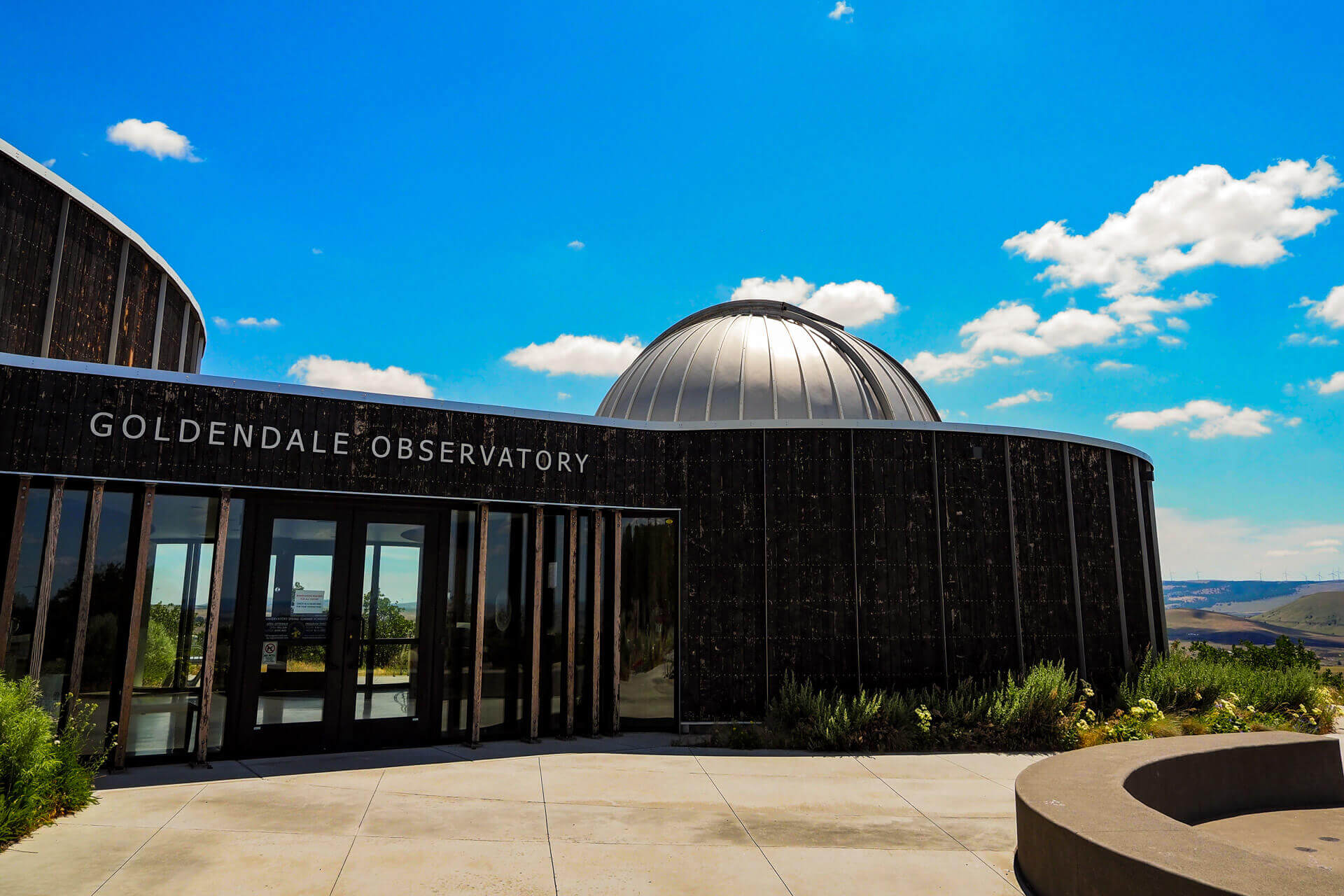 To get to our last stop, we drove north on Highway 97 about 20 minutes to reach the Goldendale Observatory, which sits above the quaint town of Goldendale. This observatory hosts one of the largest public viewing telescopes in the nation, but you'll need to make an appointment before visiting. Even though we had our dogs and could not enter the observatory, we found quite a few outdoor exhibits to enjoy, including the human sundial, a planet walk, and viewing platforms with binoculars pointed toward Mount Hood. We would love to come back for one of their night viewing sessions.
Final Thoughts
It is hard to find a dog-friendly weekend destination that allows you to experience multiple waterfall hikes, wineries, luxury accommodations, and unique sightseeing opportunities. The Washington side of the Columbia River Gorge allows all of this and more. This is a place that we can't wait to return to again and hope this post helps you enjoy a beautiful area of the Pacific Northwest.
About the Author
The Traveling Dans (Danny and Danie), are a travel couple based in the Pacific Northwest. After moving from Arizona, they instantly fell in love with the waterfalls, forests, and mountains that Oregon and Washington have to offer. They spend every free minute hiking, camping, and road-tripping in the Pacific Northwest and beyond with their two adventure pups, Lanai and Dakota.