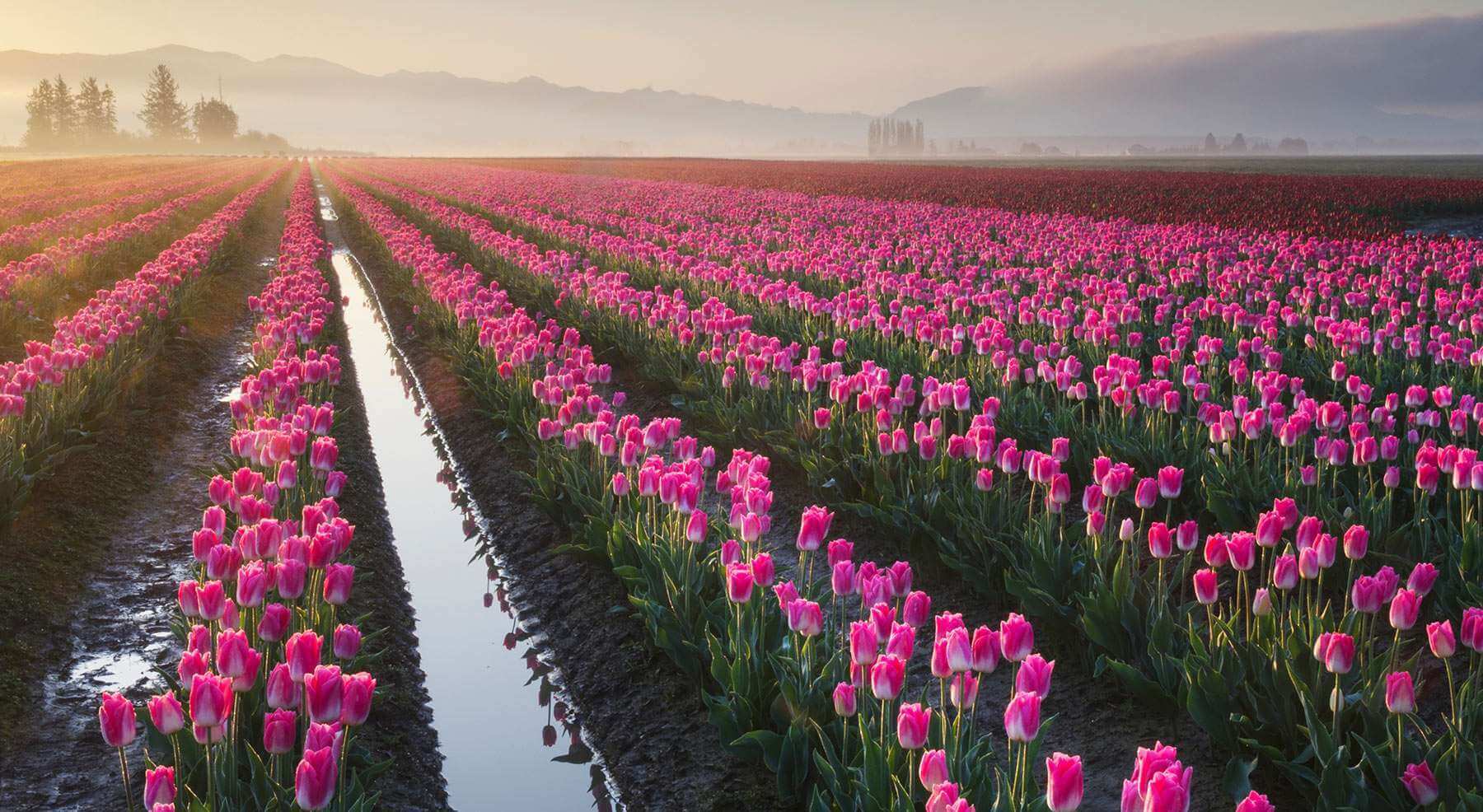 Major Annual Events & Festivals in Washington State
Enjoy a variety of Washington State events and festivals to suite every interest. Major annual events feature everything from food and craft beer to music, blooms, rodeos, and more. Below you'll find a selection of some of the state's major annual events each month.
Jump to a specific month by choosing from the dropdown menu below.
Washington State Events and Festivals by Month
Note: This information was accurate as of publication, but dates and details are subject to change. Please confirm information directly with event operators before planning your trip. This is not a complete list.
January
Lake Chelan Winterfest, Chelan
As temperatures continue to drop, the fun heats up in Lake Chelan. Visitors can enjoy intricate ice sculptures, two fireworks shows, and more across downtown Chelan and nearby Manson.
Ellensburg Winterhop Brewfest, Ellensburg
Beer enthusiasts will love sipping their way through the Winterhop Brewfest, which invites breweries from around the Pacific Northwest to pour beers in downtown Ellensburg venues.
February
Northwest Flower & Garden Show, Seattle
Spanning five days, this impressive show for avid gardeners features more than 20 display gardens, free seminars and workshops, and a marketplace.
Red Wine and Chocolate Weekend, Yakima Valley
Sample Yakima Valley reds accompanied by tastings of special treats at more than 40 wineries during Presidents Day Weekend.
Seattle Museum Month, Seattle
Throughout February, visitors can explore the many museums in greater Seattle. Soar into aviation history, dive into marine life, immerse yourself in pop culture, wander the garden of glass, and more.
Advertisement
March
Penn Cove Musselfest, Coupeville
Celebrate the area's briny mussels and waterfront offerings at Musselfest. Live music, mussel farm boat tours, food stalls, and a chowder tasting competition offer lively fun on picturesque Whidbey Island.
Whatcom Cultural Arts Festival, Bellingham
Celebrate diverse cultures and immerse yourself in arts, crafts, food, song, dance, storytelling, and other creative endeavors in the historic Fairhaven district.
Wings Over Water Northwest Birding Festival, Blaine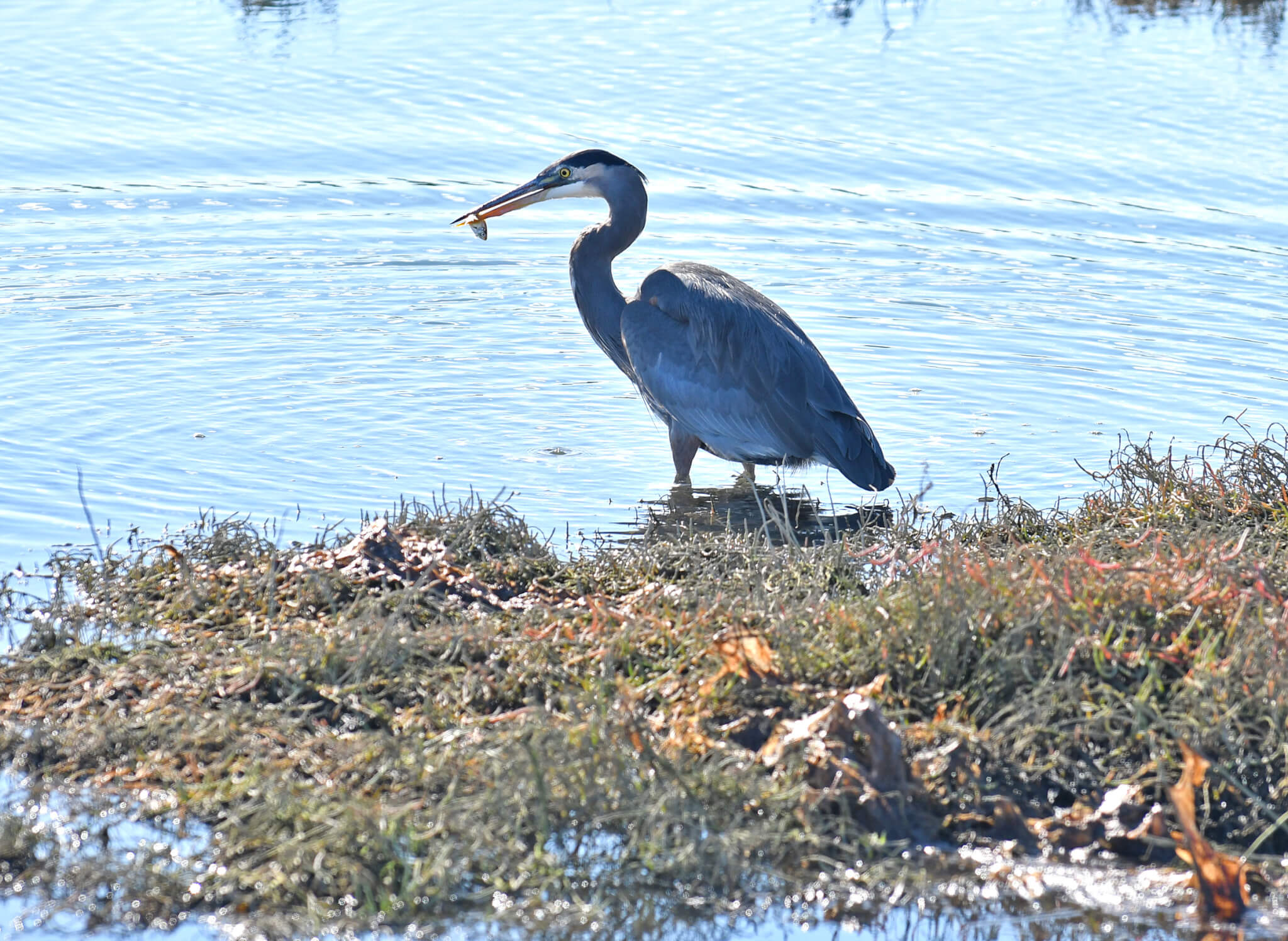 Birders flock to northwest Washington to take part in workshops, birding field trips and cruises, and hear from experts in the field. Plenty of kid-friendly activities will keep birders of all ages entertained.
Winthrop Balloon Roundup, Winthrop
More than a dozen hot-air balloons fill the sky over Winthrop each winter during this three-day event. Perfect for photographers and outdoor enthusiasts who can also explore the area's nordic ski trails.
Advertisement
April
Daffodil Festival, Pierce County
Launched in 1934 to celebrate the agriculture industry, the festival features the Grand Floral Street Parade, which travels through Tacoma, Puyallup, Sumner, and Orting complete with decorated floats, marching bands, and more.
Seattle International Film Festival, Seattle
See the best in international and independent films from around the globe. The festival also features programs, film talks, and a filmmaking camp for youths.
Skagit Valley Tulip Festival, Mount Vernon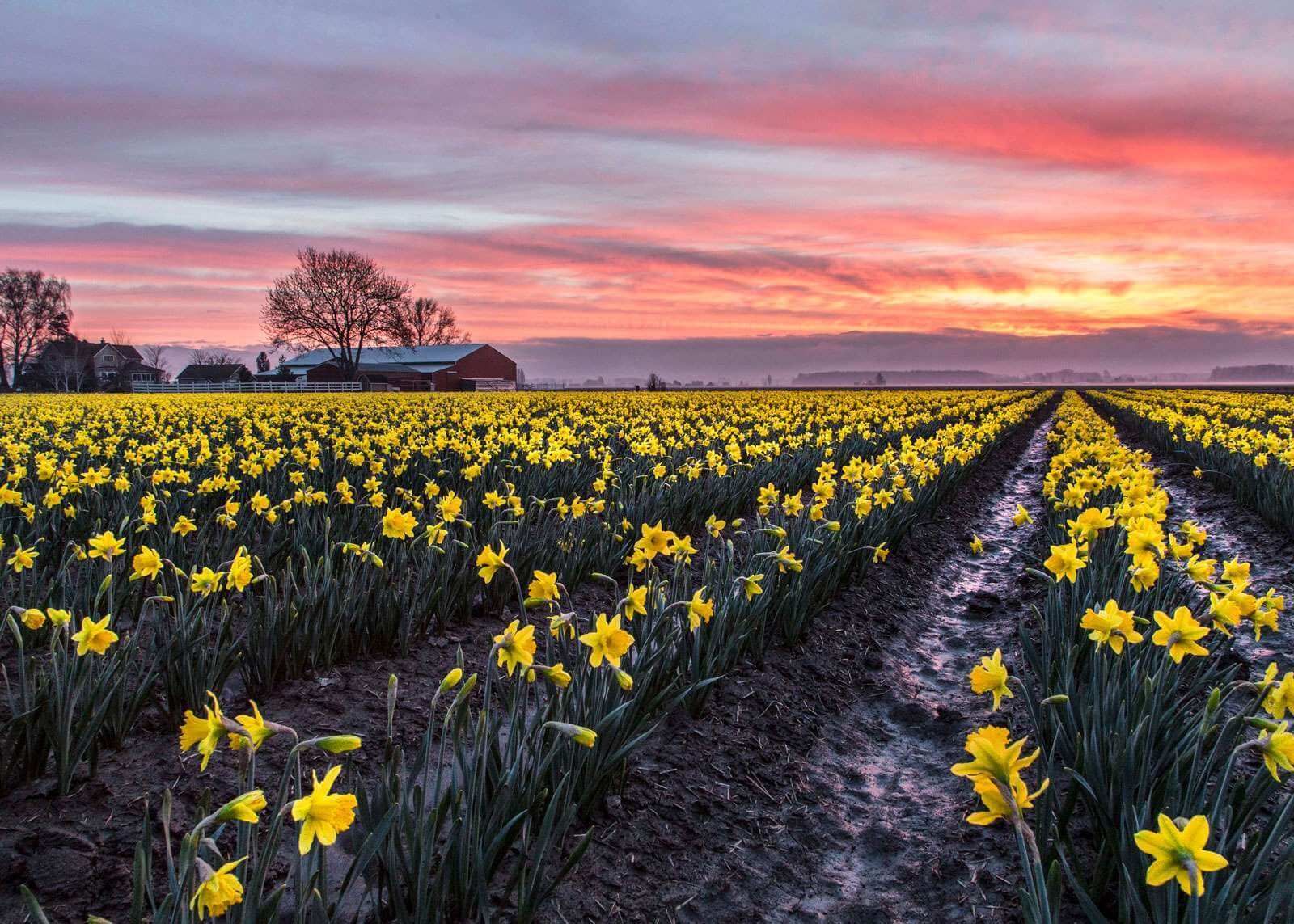 This iconic Washington State event brings visitors to the Skagit Valley each spring to view acres of tulips and daffodils blanketing the valley in a patchwork of color. The month-long festival includes more than just blooms and display gardens. Visitors can also enjoy art shows, a street fair, concerts, and more.
Washington State Apple Blossom Festival, Wenatchee
Launched in 1919 to celebrate the apple industry, the festival has expanded to include a variety of events and family fun, from a grand parade, craft fair, and live entertainment, to a golf tournament and carnival.
Washington State Spring Fair, Puyallup
The biggest celebration of spring spans two weekends at the state fairgrounds in Puyallup. Expect live entertainment, fair food, animals, and rides for all ages.
Whatcom County Home and Garden Show, Lynden
The largest home show north of Seattle showcases the best products for your home and garden with more than 200 vendors.
May
Bloomsday Run, Spokane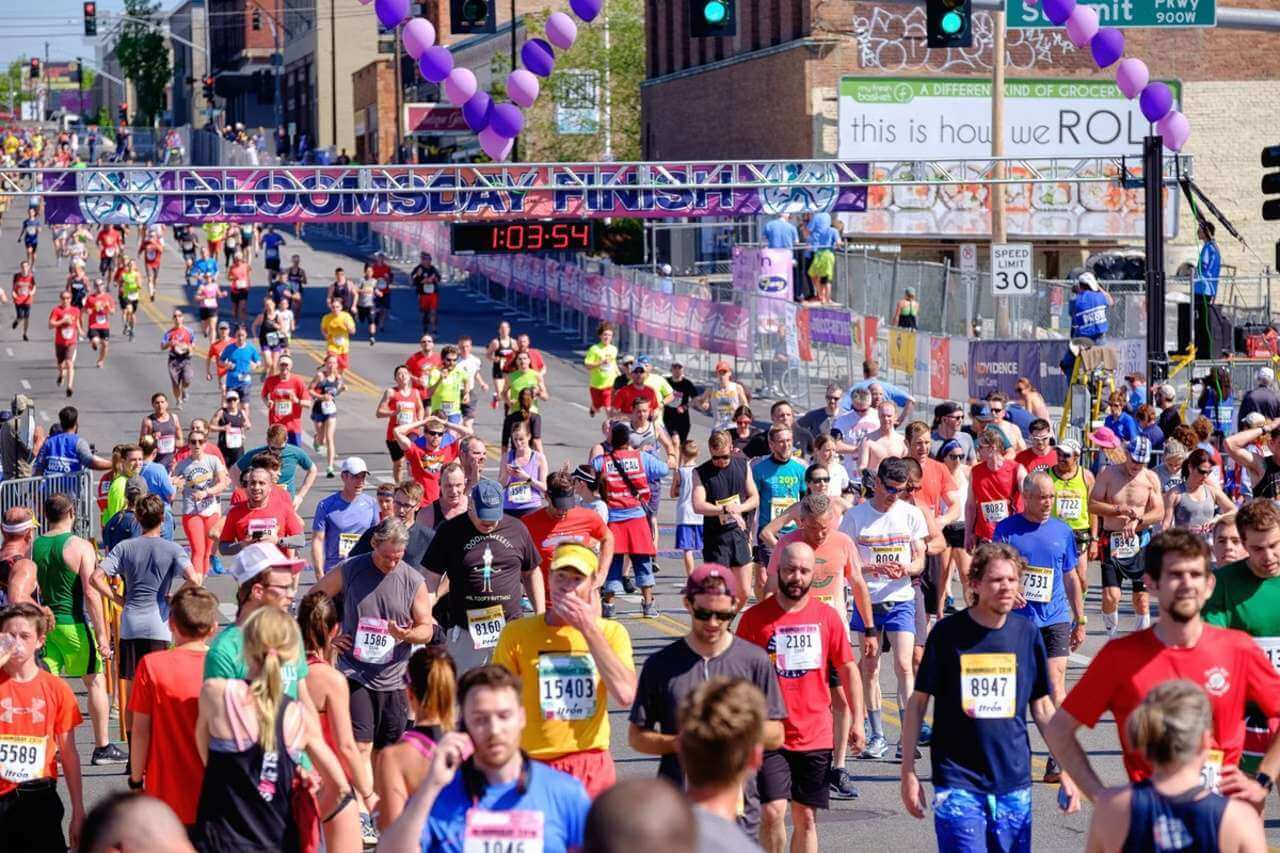 Since 1977, the first Sunday in May has been dedicated to Spokane's Bloomsday Run. The annual tradition and national running event attracts tens of thousands of runners each year.
Ski to Sea, Bellingham
This 93.5-mile relay encompasses multiple sports and runs from the slopes of Mount Baker to the waters of Bellingham Bay. Enjoy a festival at the finish line in Fairhaven featuring live music, food, beer gardens, and more.
Irrigation Festival, Sequim
Billed as the oldest continuously held festival in Washington, this event celebrates the development of irrigation in the area. Families can enjoy parades, arts and crafts, a logging show, and more.
Lake Chelan Wine and Jazz Festival, Chelan
Enjoy a wide range of jazz performances including classic, funk, R&B, Latin, and more playing at wineries and venues around the Lake Chelan Wine Valley. Food and wine is available for purchase at every performance. A Festival Pass provides access to shows across four days.
Northwest Folklife Festival, Seattle
One of the largest folklife festivals in the country is held over Memorial Day weekend. The event boasts performances from dozens of national and regional folk musicians, crafts vendors, and good food.
Packwood Flea Market, Packwood
The multi-day event attracts hundreds of vendors. Visitors can browse an assortment of antiques, artisan gifts, upcycled items, art, and more. The Flea Market happens twice a year and is considered one of the largest in the United States.
Penn Cove Water Festival, Coupeville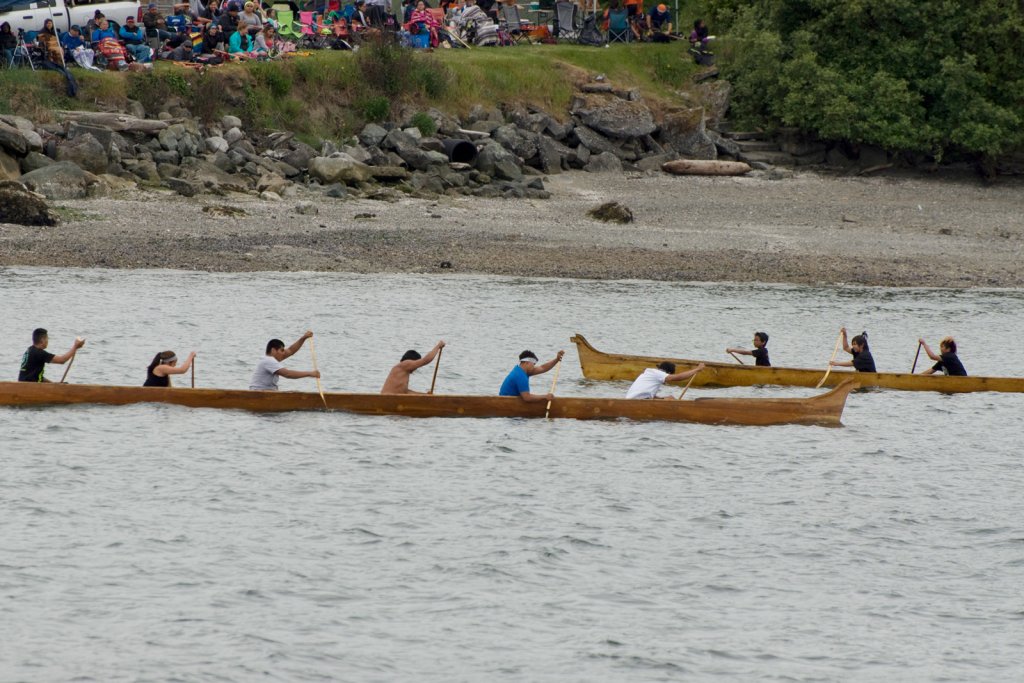 Held in the historic waterfront town of Coupeville, this festival features Native American canoe races, Native arts and crafts vendors, storytelling, music and dance performances, artist demonstrations, food, exhibits, and more.
Spokane Lilac Festival, Spokane
This event celebrates the Spokane community with a week of festivities that combine the city's famous lilacs with community events that culminates in the nation's largest Armed Forces Torchlight Parade.
Viking Fest, Poulsbo
This festival in Poulsbo celebrates Norwegian heritage with plenty of action. Enjoy a carnival and street fair, road races, a strong-man competition, parade, and more.
June
Deming Logging Show, Deming
Originally established in 1963 to raise funds for injured loggers, this event has grown to include dozens of exhibitions that display the skills and tools used in the logging industry. Don't miss axe throwing, speed climbing, log rolling, and more.
Sand and Sawdust Festival, Ocean Shores
This festival in Ocean Shores bills itself as one of Washington's largest chain-saw carving contests. The festival includes an auction, live music, and sand-castle building.
Meeker Days, Puyallup
Pierce County's largest street festival is a community celebration dedicated to historical, educational, and cultural interaction. Enjoy entertainment, craft vendors, kids' activities, food, and more.
Seattle PrideFest, Seattle
Seattle's PrideFest combines advocacy and celebration during an action-packed weekend for all ages. Enjoy entertainment, beer gardens, food vendors, and more at the Seattle Center and Capitol Hill.
Seattle Pride Parade, Seattle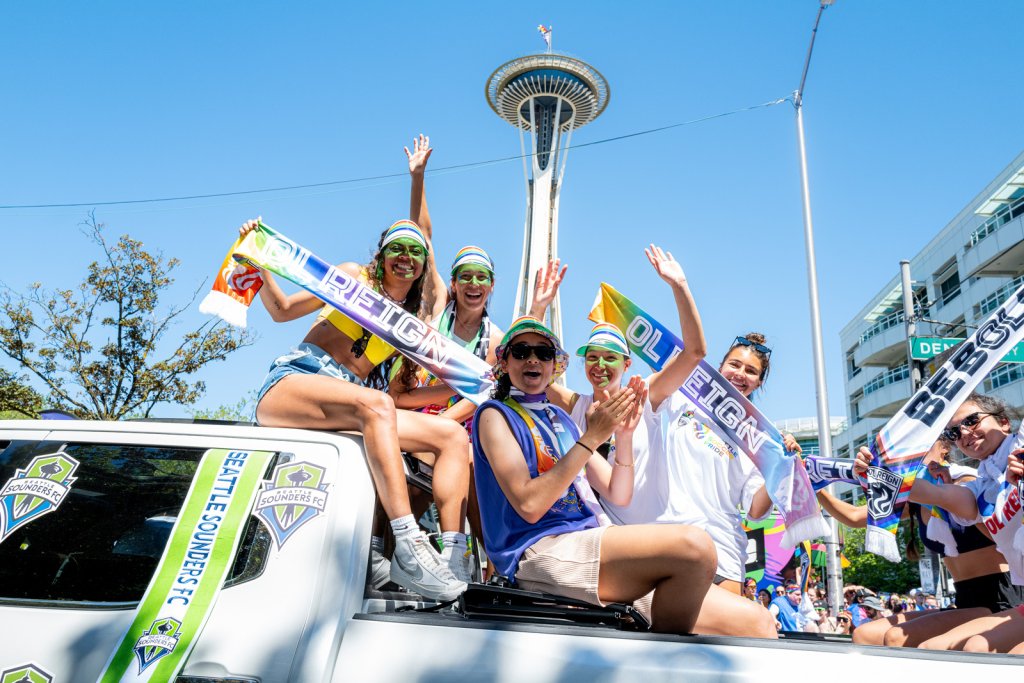 Join Seattle Pride® to celebrate love, diversity, and equality in the vibrant Seattle Pride Parade empowering the LGBTQIA+ community. This is a free, all-ages event along 4th Avenue in downtown Seattle.
Spokane Hoopfest, Spokane
The world's largest 3-on-3 basketball event. Each year, more than 6,000 teams play 14,000 games across 42 blocks in downtown. The Toyota Shootoff and slam dunk competition are highlights.
Washington Brewers Festival, Redmond
This all-ages beer festival takes place at Marymoor Park over Father's Day weekend. Attendees can choose sips from 100 Washington breweries. Food trucks and a live music stage are also on offer.
Rhubarb Days, Sumner
Don't miss this festival featuring a pie-eating contest, a rhubarb bake-off, games, and music.
July
The Taste Northwest, Puyallup
Formerly knowns as The Taste of Tacoma, this massive food festival features dozens of restaurants and specialty food vendors, live musical performances, food competitions, beer gardens, kids' activities, and more. New for 2022, the festival will be held in Puyallup and highlight food from the South Sound.
Seafair Summer Fourth, Seattle
Experience an epic Fourth of July celebration with a choreographed fireworks show and a host of pre-show activities during the day. Enjoy multiple vantage points for either Lake Union, Gas Works Park, or Lake Union Park.
Chelan Pro Rodeo, Chelan
The Chelan Rustlers Saddle Club and Aces Wild Pro Rodeo bring two nights of heart-pumping rodeo fun to the Chelan Valley. Expect bronc riders, bulls, and a performance by the McMillan Family Trick Riders.
Darrington Bluegrass Festival, Darrington
Enjoy a jam-packed musical lineup in a picturesque setting where attendees can camp and enjoy nearby hiking trails.
Northwest Raspberry Festival, Lynden
Held in downtown Lynden, this festival showcases fresh, local raspberries. Enjoy raspberry-themed events and food as well as basketball tournaments, local berry farm tours, and street vendor markets.
Sequim Lavender Weekend, Sequim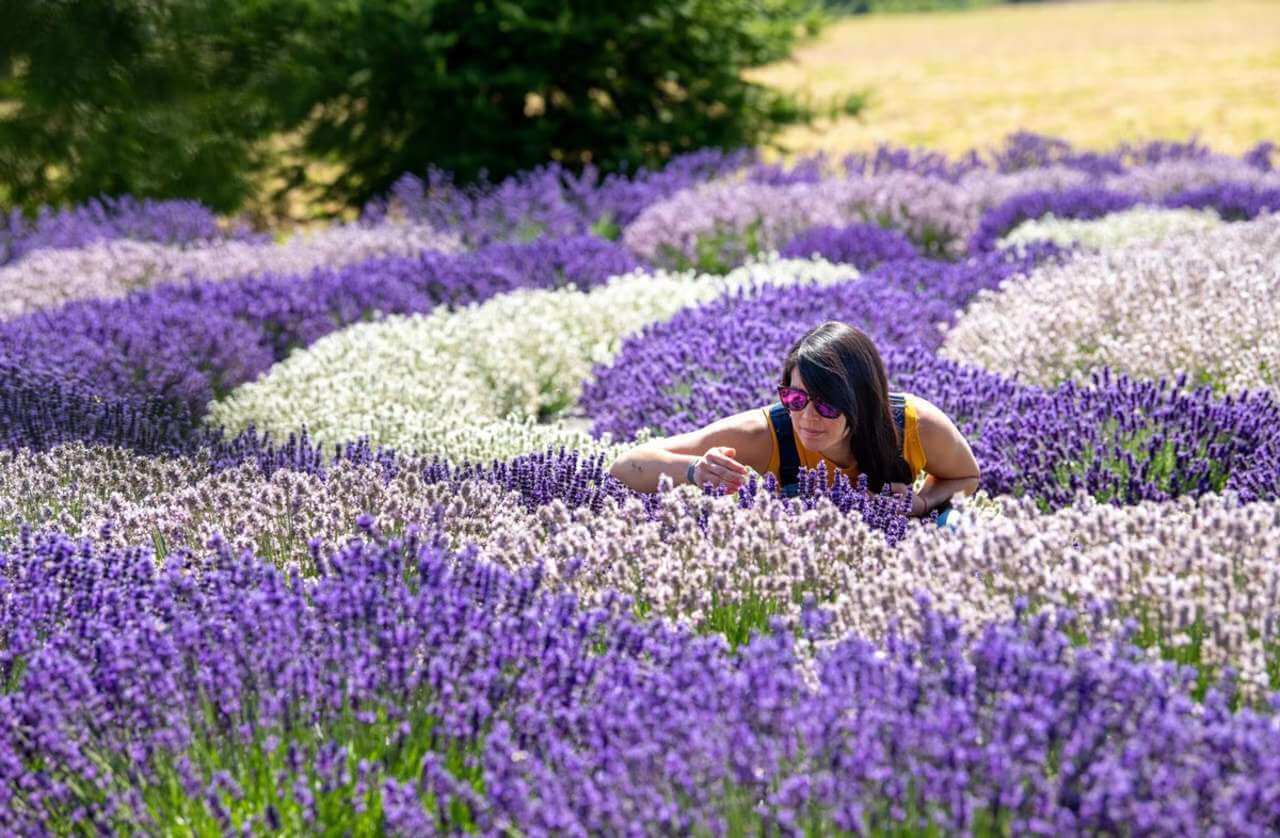 Each summer, the landscape around Sequim on the Olympic Peninsula is awash in purple as lavender fields burst into bloom. Visit during the third weekend in July to experience all things lavender, including the Lavender Festival Street Fair, visits to local farm fields, and more.
Skagit Valley Highland Games, Mount Vernon
Kilts and bagpipes abound at this traditional Scottish event. Enjoy bagpiping and drumming competitions, fiddling, traditional Scottish athletics, and Scottish Highland dancing.
Tri-Cities Water Follies, Tri-Cities
Enjoy three days of hydroplane races and airshows on the Columbia River. Attendees can expect booths, a kids' zone, pit tours, and more.
4 Days of Aloha, Vancouver
Celebrate Hawaiian culture at this four day event in Esther Short Park, featuring live music, dance, arts and crafts, and food vendors.
August
Anacortes Arts Festival, Anacortes
This art bash stretching through downtown Anacortes features 250-plus artisan booths, live music, wine and beer gardens, food trucks and vendors, a kids' area, and a fine art show.
Boeing Seafair Air Show, Seattle
You don't have to be an aviation geek to appreciate this air show spread over multiple days. Watch magnificent aerobatics done by a variety of military and civilian teams, including demonstrations by the U.S. Navy Blue Angels, U.S. Army Golden Knights, U.S. Coast Guard, and the U.S. Air Force.
Makah Days, Neah Bay
This event on the Olympic Peninsula commemorates thousands of years of Makah culture. Tribal members and the public are invited to attend. Enjoy canoe races, a salmon bake, and browse Native American art while learning about the tribe's past and present.
National Lentil Festival, Pullman
The Palouse Region in Eastern Washington grows a quarter of the lentils in the country, and this festival celebrates the legume with street fairs, open-air concerts, cooking demos, a cook-off, parade, and more.
Northwest Washington Fair, Lynden
Enjoy horse shows, a rodeo, livestock judging, food and craft displays, a demolition derby, and nightly entertainment in the grandstands during this 10-day event.
Omak Stampede, Omak
Enjoy heart-pounding entertainment at this annual event and World Famous Suicide Race. Activities include a carnival, kids' night, art show, rodeo, and the Indian Encampment & Pow Wow sponsored by the Colville Confederated Tribes.
Port Townsend Acoustic Blues Festival, Port Townsend
Billed as the largest country blues gathering in the nation. Immerse yourself in the African-American history and traditions from which blues has grown and participate in blues workshops.
Washington State International Kite Festival, Long Beach
Enjoy world-class kite flying and competitions on the Long Beach Peninsula as flyers from around the world convene to awe spectators with choreographed movements and kite battles.
September
Departure Fest NW, Quilcene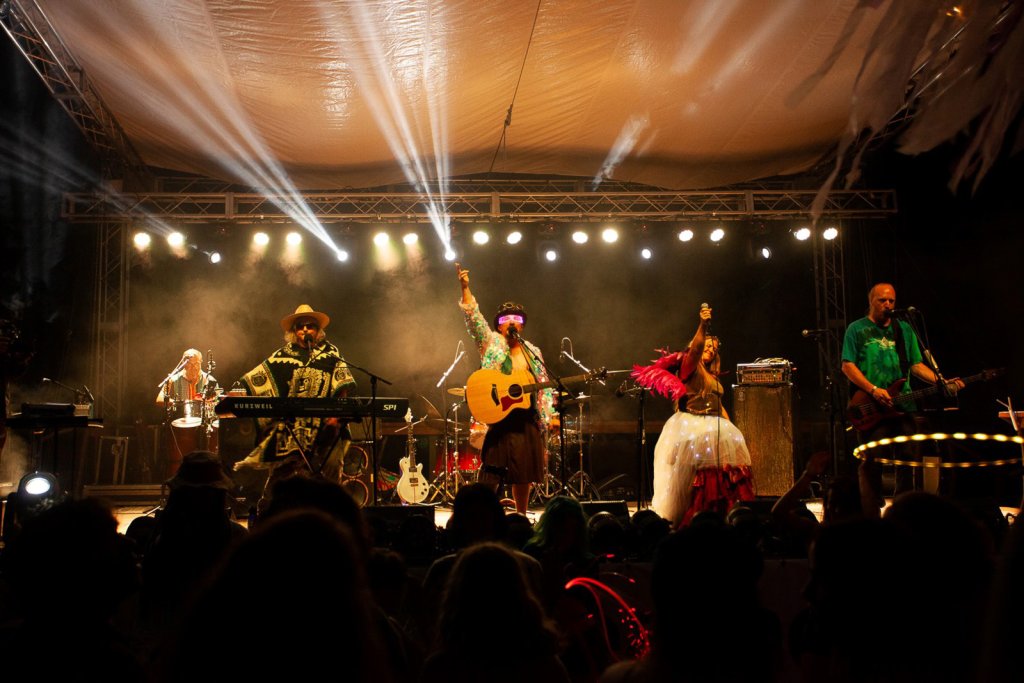 This three-day music festival is held at the breathtaking Lake Leland Amphitheater on the Olympic Peninsula. Attendees can enjoy camping, live music, craft vendors, and phenomenal food. The event takes a community-oriented approach to traditional music festivals by infusing Native storytelling with world-class music, local artisans, and local businesses.
Ellensburg Rodeo, Ellensburg
The state's biggest rodeo takes place over Labor Day weekend and features a carnival, parade, and musical performances.
The Great Prosser Balloon Rally, Prosser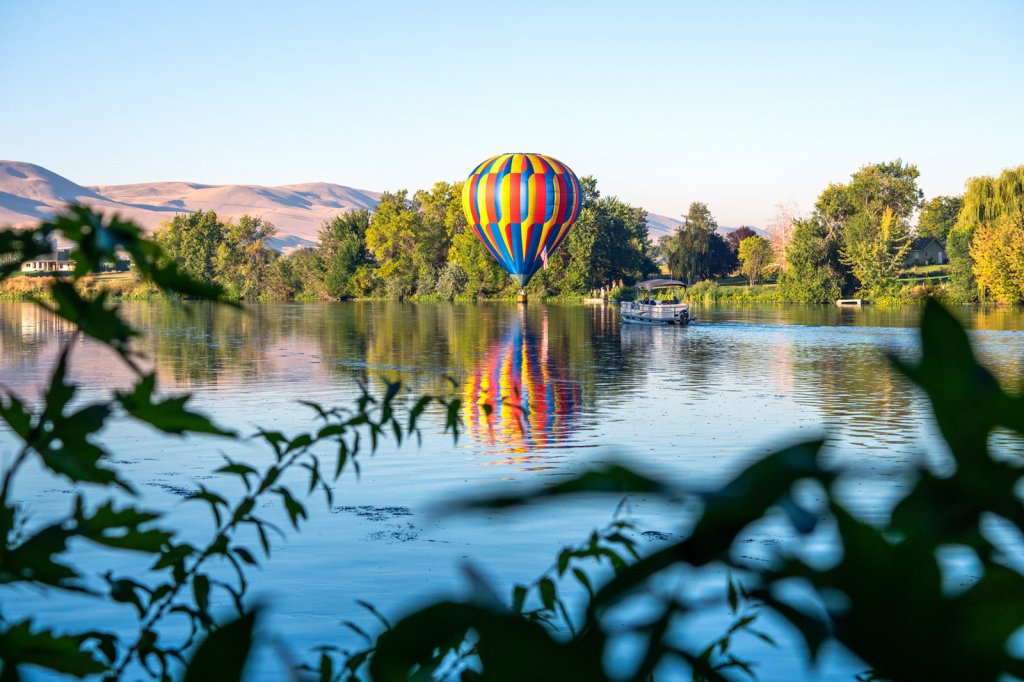 Balloon Pilots from across the western United States converge on Prosser for this annual festival. Don't forget to bring your camera.
Packwood Flea Market, Packwood
The multi-day event attracts hundreds of vendors. Visitors can browse an assortment of antiques, artisan gifts, upcycled items, art, and more. The Flea Market happens twice a year and is considered one of the largest in the United States.
Pigout in the Park, Spokane
This six-day food and music festival held at Spokane's Riverfront Park boasts 90 free concerts on three stages, more than 50 food booths, and three adults-only beverage gardens.
Washington State Fair, Puyallup
Washington's official state fair draws visitors for concerts, rodeos, exhibitions, tons of rides and games, fair food, animal experiences, art booths, and so much more.
Wings Over Willapa, Long Beach Peninsula
Hosted by The Friends of Willapa National Wildlife Refuge and the U.S. Fish and Wildlife Service, this multi-day festival takes place in the Willapa National Wildlife Refuge on the Long Beach Peninsula. Enjoy guided bird walks, a hands-on introduction to wildlife tracking, and other outings as well as a keynote presentation. The presenter for 2023 is award-winning author and wildlife photographer Paul Bannick.
Wooden Boat Festival, Port Townsend
Billed as the largest wooden boat festival in North America, this family friendly event offers visitors the chance to step aboard historic and modern wooden boats, watch demonstrations, and more.
October
Bellingham SeaFeast, Bellingham
This two-day event celebrates Bellingham's maritime heritage legacy, bustling working waterfront, internationally renowned fishing and seafood industries, and culinary bounty. Enjoy live entertainment, seafood, and more.
Dungeness Crab & Seafood Festival, Port Angeles
This annual event celebrates the region's seafood and maritime and cultural traditions. In addition to seafood, visitors can catch live music on two stages, browse more than 75 craft, merchant, and food booths, take part in a 5K, and watch a U.S. Coast Guard demonstration.
Fresh Hop Ale Festival, Yakima
With more than 70 breweries, wineries, and cideries, as well as food and live music, this festival is recognized as one of the nation's best beer festivals. The festival is located in the heart of hop country, which produces more than over 75 percent of the total United States hop crop.
Northwest Chocolate Festival, Seattle
Calling all chocolate lovers. Billed as the largest gathering of artisan chocolate makers in the world, this festival features educational workshops, exhibitors, and samples of indulgent chocolate concoctions.
Oktoberfest, Wenatchee
This traditional Oktoberfest celebration is usually held in the Bavarian town of Leavenworth, but the festival has moved to neighboring Wenatchee. Starting in late September, enjoy kegs of beer, delicious food, and traditional German dancing.
OysterFest, Shelton
Head to Hood Canal for shellfish, brews, music, and the West Coast Oyster Shucking Championships. The seafood festival features tons of food items and hands-on water quality exhibits.
December
Fairhaven Winterfest, Bellingham
Each December, Fairhaven is decked out in lights and holiday decor for the holiday season. Special events and attractions include a holiday market, tree-lighting celebration, horse-drawn carriage rides, visits with Father Christmas, and a lighted bike parade.
New Year's at the Needle, Seattle
The Space Needle ushers in the new year with a big fireworks show when midnight strikes.
Village of Lights, Leavenworth
This Bavarian village was practically made for Christmas. Take in more than half a million lights and enjoy sleigh rides, roasted chestnuts, carolers, kids' activities, and Santa photos from December through February.
Zoolights, Tacoma
More than half a million lights turn Point Defiance Zoo and Aquarium into a holiday display. See a scuba-diving Santa and more family fun.