By Sarah Etinas
Although Seattle is known for abundant outdoor recreation opportunities, the city also boasts plenty of indoor activities for families. From learning through play at museums to getting an up-close look at marine life at the Seattle Aquarium, here are some indoor activities in Seattle and beyond to keep kids entertained.
Indoor Activities in Seattle for Families
No matter what time of year you visit, these activities are sure to be a hit with kids. Before heading out, check hours directly with the attractions.
Play All Day at Seattle Children's Museum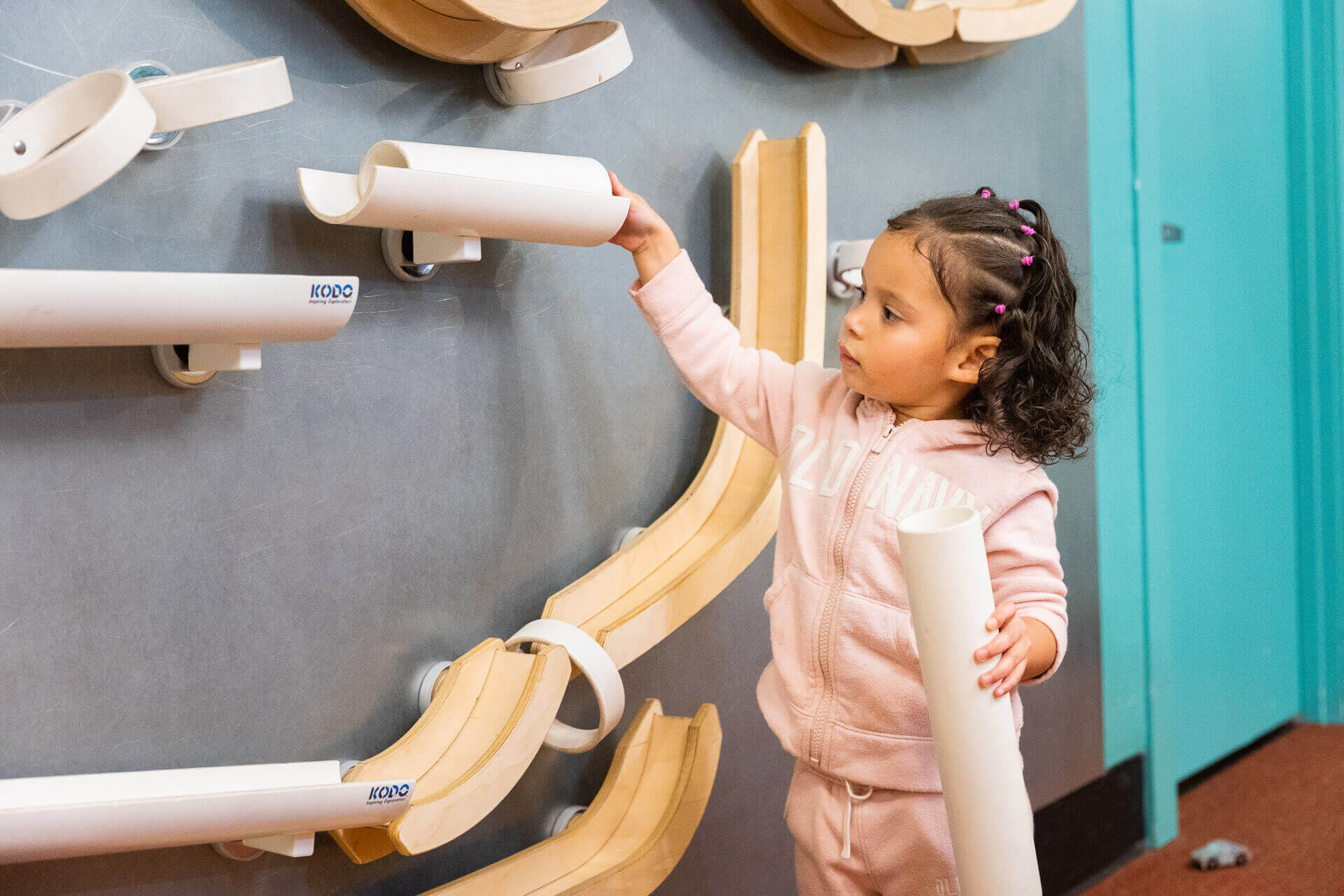 Let your little ones learn through play at the Seattle Children's Museum. With loads of creative, hands-on exhibits and seasonal programming, kids will have plenty to keep them entertained. They can explore the power of air, learn about nutrition at the child-sized Market, craft a masterpiece in the Corner Workshop, discover the stories and art of Washington's many tribal communities, and so much more.
Related: Explore Kid-Friendly Museums Around Washington
Make Marine Friends at the Seattle Aquarium
One of the best things to do with kids in Seattle is visit the Seattle Aquarium. Located on beautiful Elliott Bay, the Seattle Aquarium is home to more than 12,000 animals. From sea otters and seahorses to jellyfish and a giant Pacific octopus, there are so many animals to discover. Kids can watch marine mammal feedings or get their hands wet at Life on the Edge as they (gently) explore Puget Sound tide pool habitat.
Get a Bird's-Eye View at the Space Needle
One of Seattle's most iconic landmarks, the Space Needle offers views that will wow kids and adults alike. Since it opened in 1962, this 605-foot tower has welcomed over 60 million people. Pay this architectural wonder a visit and enjoy panoramic views of downtown Seattle and greater Puget Sound from inside or outside on the glass-walled observation deck.
Discover Your Inner Musician at MoPOP
At MoPOP, the Museum of Pop Culture in downtown Seattle, you'll find plenty of great indoor activities for families. From the iconic instruments in the Guitar Gallery to the extraterrestrial exploration in the Infinite Worlds of Science Fiction, there's something for everyone. If there's one section that you and your family won't want to miss, it's the Sound Lab. With jam studios, DJ turntables, advanced sound equipment, and a whole host of instruments, you'll get to embrace your inner musician and create your own set of tunes.
Related: Fun Things to Do With Kids in Washington
Embrace Your Wild Side at Woodland Park Zoo
This Seattle zoo has quite a few indoor exhibits, making it a fantastic spot to escape the rain or heat. Explore the thriving Tropical Rain Forest exhibit where jaguars, lemurs, frogs, and monkeys are just the beginning of this wild habitat. In addition to captivating animals, the zoo also has an indoor playground known as Zoomazium. Here, little ones can have loads of interactive fun – from crossing rope bridges to climbing trees.
Enjoy Movies and Science at the Pacific Science Center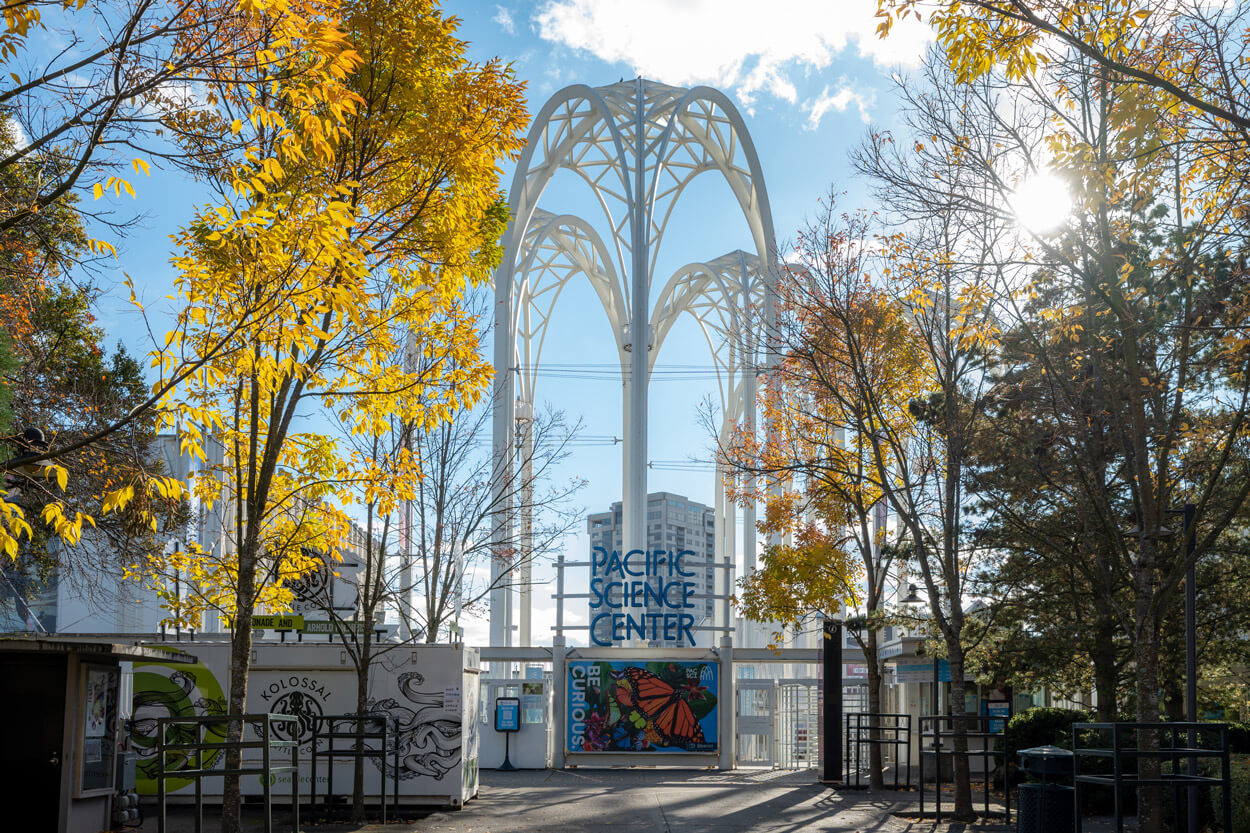 The bigger the screen, the better the movie-watching experience. So, with the six-story screen at Boeing IMAX Theater and 35-foot-tall-screen at PACCAR IMAX Theater, movie showings are pretty epic. Both theaters are located at the Pacific Science Center in downtown Seattle. After your movie, check out other offerings at the Pacific Science Center such as the Laser Dome, Tropical Butterfly House, or the Salt Water Tidepools — both of which are exhibits that are covered by the price of admission.
Marvel at Art at Chihuly Garden and Glass
Everyone, regardless of age, will be captivated when they step into the magical wonderland that is Chihuly Garden and Glass. Featuring the work of renowned glass artist Dale Chihuly, you'll find beautiful bright bursts of blown glass around every corner. Sign up for an audio tour with the family to learn all about the exhibits. Don't miss the Glasshouse, an indoor 40-foot-tall glass and steel structure that holds a 100-foot-long sculpture and offers views of the nearby Space Needle.
Indulge Your Sweet Tooth at a Local Ice Cream Shop
There are quite a few delicious ice cream spots that have popped up in Seattle over the years. Frankie & Jo's, Sweet Alchemy Ice Creamery, and Nutty Squirrel Gelato all serve up tasty scoops. For one of the area's original ice cream hot spots, head to Molly Moon's Homemade Ice Cream. Originally opened in 2008, Molly Moon's now has nine locations scattered throughout the greater Seattle area. And with mouthwatering flavors like honey lavender, salted caramel, and mocha chip, you'll find yourself coming back again and again.
Find Hidden Treasures at the Fremont Vintage Mall
Head to Seattle's Fremont neighborhood for vintage shopping that's fun for the whole family. The Fremont Vintage Mall is packed full of quirky finds, from clothing and accessories to kids' toys. Wander the maze of paths and delight in finding every member of the family something that matches their unique personality.
Put Your Reflexes to the Test at the Seattle Pinball Museum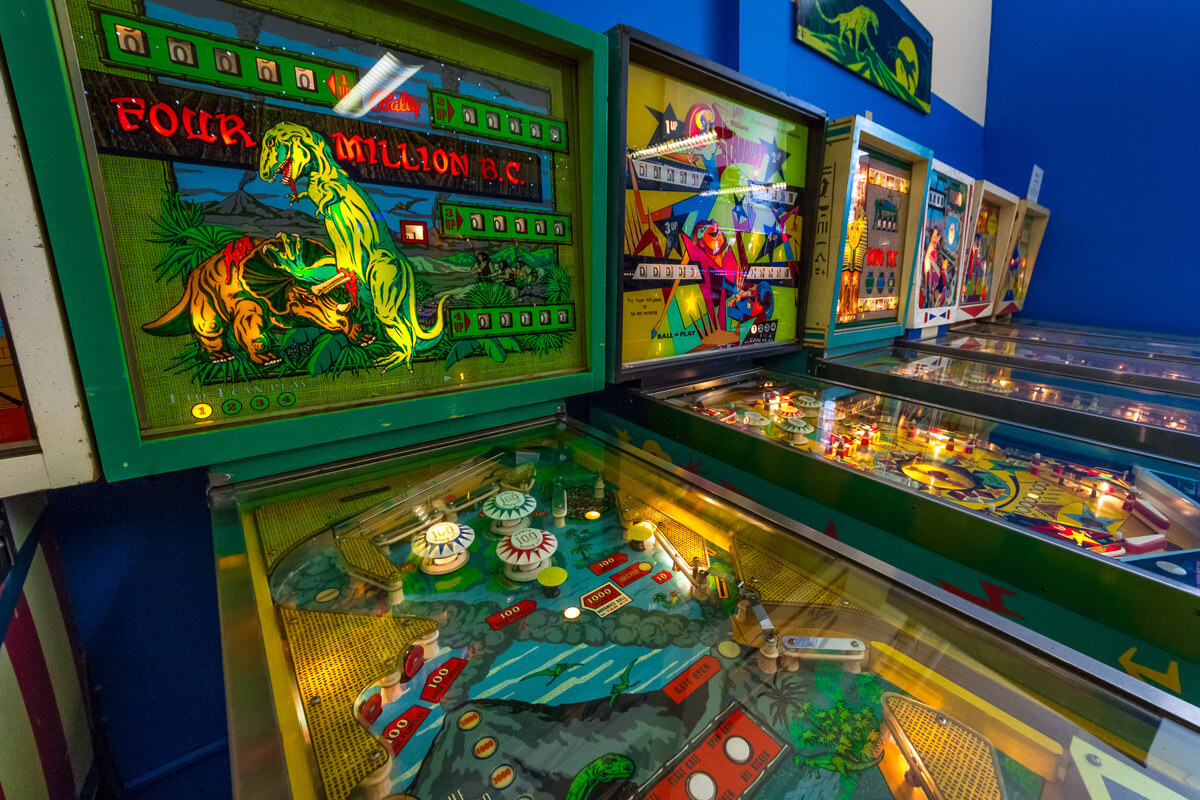 The Seattle Pinball Museum is like an arcade and museum wrapped into one. This unique attraction is great for older kids and features more than 50 vintage pinball machines — including ones that date back to 1934. Each machine has its own theme, twists, turns, and challenges. The Attack from Mars, Toy Story 4, Star Wars Episode 1, and Guns N' Roses pinball machines are just the beginning of the excitement. Admission includes free play on games exhibited. Note: Kids must be 7 or older to play.
Beyond Seattle: Nearby Indoor Activities For Families
Entertain and Educate at Kidsquest Children's Museum
The Kidsquest Children's Museum in the heart of Bellevue is filled with exciting exhibits and programs to keep your kids entertained for hours. In the Recycle Rebuild exhibit, children can use their imaginations and develop their STEM skills by building whatever they can dream up. In the Art Studio, they can embrace their creative side by painting, drawing, and even sculpting. And in the Atrium Climber, they can use their directional skills to navigate their way to the top of this two-story playscape.
Jump Around at Elevated Sportz Trampoline Park
When outdoor activities aren't an option, it can be hard to find a good outlet for kids to get their energy out. Luckily, that's where Elevated Sportz Trampoline Park comes in. Located north of downtown Seattle in Bothell, Elevated Sportz Trampoline Park features a host of exhilarating activities. Reach new heights on 10,000 square feet of trampolines, feel like a spy in the laser maze, and navigate your way through the ninja course. By the end, you and your little ones will feel ready for a role in a Spy Kids remake. Note: Check age and height restrictions.
Enjoy Hands-On Learning at Kids Discovery Museum
Situated on Bainbridge Island, the Kids Discovery Museum (also known as KiDiMu) is a dream for both kids and parents alike. After taking a beautiful 35-minute ferry ride from downtown Seattle, you'll be just a short walk from this hands-on museum. Rock climbing walls, arts and crafts tables, toy railroad tracks, and toddler-friendly grocery stores are just the beginning at KiDiMu.
During your next family trip to Seattle, explore these incredible indoor attractions that'll keep you and your little ones entertained all day long. For more Seattle travel inspiration, check out the Visit Seattle website.
About the Author
Sarah Etinas is a full-time travel writer and avid adventurer who has written for dozens of publications including Time Out, Tripadvisor, and Insider. When she's not writing, Sarah practices what she preaches by traveling to new destinations and hiking to beautiful waterfalls.