By Corinne Whiting
Throughout Washington, abandoned mining communities and eerie ghost towns are sprinkled among some of the state's most beautiful natural terrain. These forsaken or forgotten communities all tell important tales of movement and change, and tend to attract adventurous folks who are drawn to haunted history and modern-day tales of supernatural sightings. Check out the following Washington ghost towns for a dose of history and intrigue.
Explore Washington Ghost Towns
Govan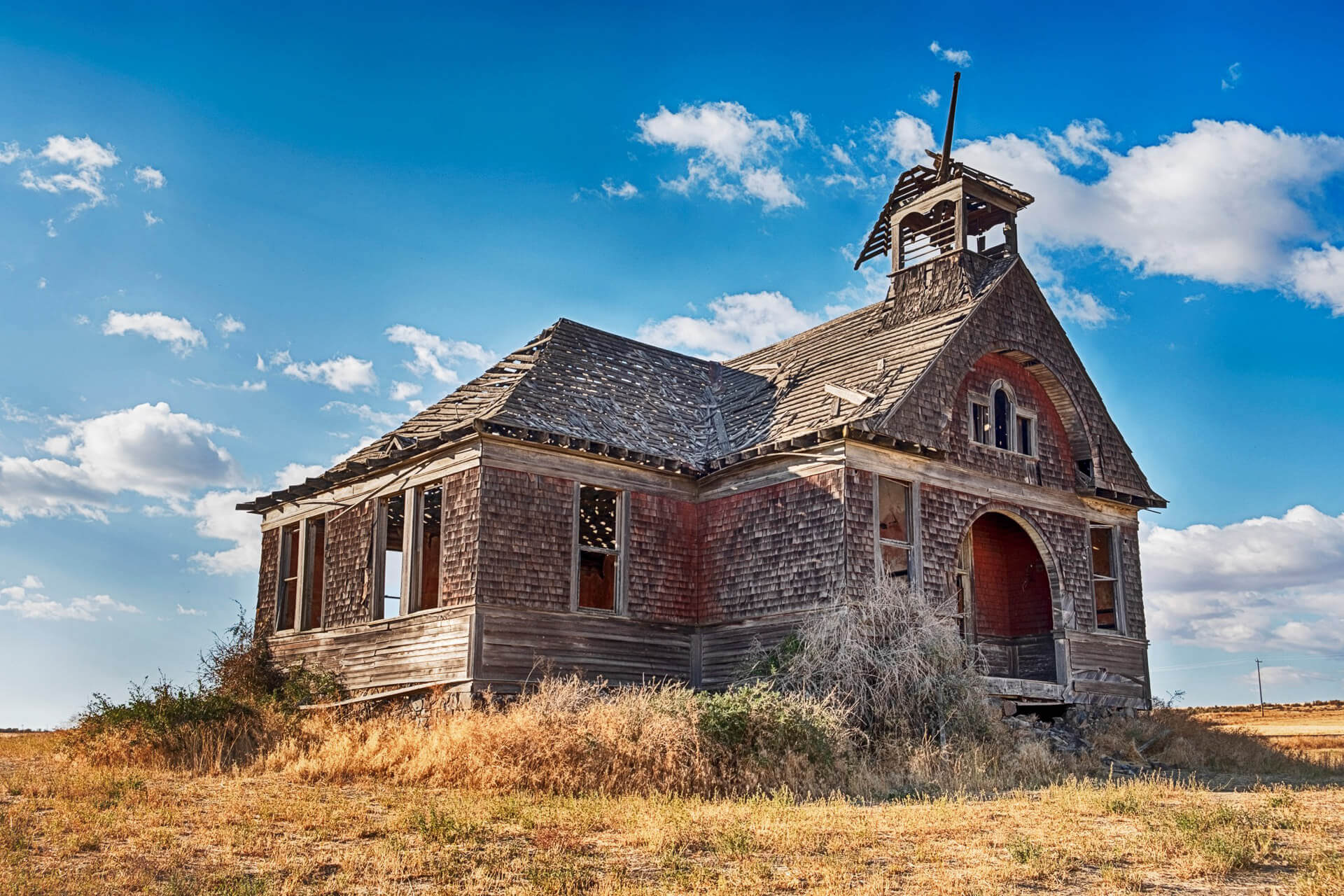 In Govan, located off Highway 2 east of Coulee City, discover firsthand the tumultuous history of a former railway town. Known as the site of several alleged brutal, unsolved murders in the 1900s, Govan first became a site in Lincoln County with the advent of the Central Washington Railway in 1889. The town's demise was hastened by the construction of Highway 2, as farming declined, and advancements in road infrastructure and technology meant people could travel to larger towns. Today, this is one of the most well-know Washington ghost towns where you can see the remains of a post office and historic schoolhouse that closed in the 1940s, a magnet for photographers wanting to capture a mysterious piece of the past.
Sherman
Only 15 minutes northeast of Govan off Highway 2, the town of Sherman also found its start at a time when homesteading was booming — and lost its population as new roads were drawing folks to larger population centers like Spokane. Today you can wander the wide-open terrain's creepy remaining structures like a church, a cemetery, and a schoolhouse, too.
Molson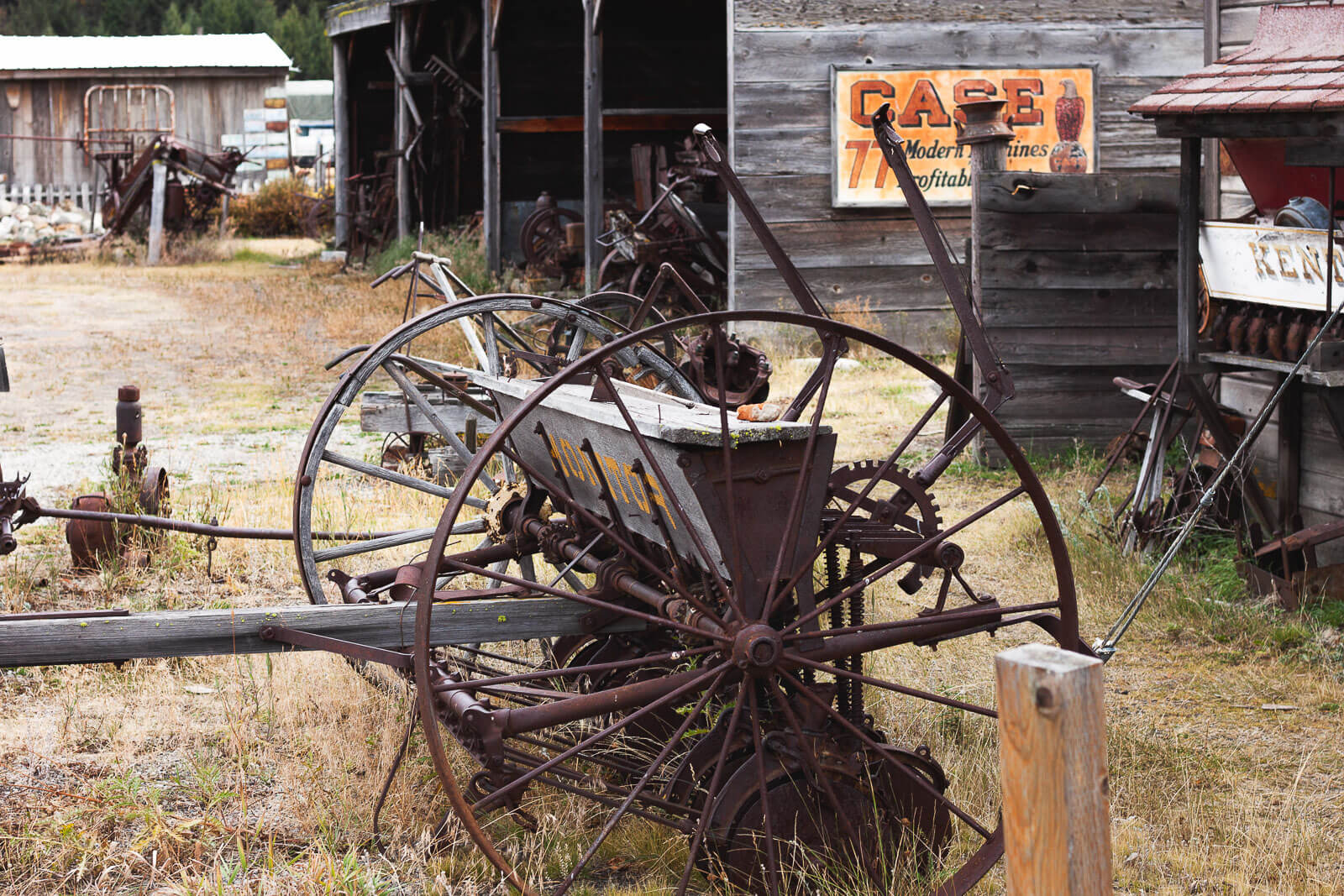 Venture to Okanogan County near the Canadian border, where a once-booming town enjoyed short-lived buzz — first due to mining and then the construction of a railroad. Today, visitors to Molson will find artifacts like farm machinery and old pioneer buildings that were abandoned when most of the population departed for the site of New Molson, after a local filed for a homestead that swept up most of the town's territory. In nearby Oroville, extensive collections of historical memorabilia can be found in the old schoolhouse, which is now a volunteer-staffed museum that's open between Memorial Day and Labor Day.
Related: Discover Washington's Trails & Lakes Region
Melmont
Located on the outskirts of Mount Rainier National Park off Highway 165, Melmont was a coal town founded in 1900. At their peak, the mines here produced 4% of Pierce County's coal production, and the bustling town boasted a hotel, saloon, butcher shop, store, train depot, plus houses for Northwest Improvement Company workers. When the railroad made the leap from steam to diesel and electric power in 1918, the town began to die out. By the 1920s, much of it was destroyed by a devastating fire.
Today, you can hike along the often-muddy Melmont Ghost Town trail — 6 miles roundtrip — that follows an abandoned rail grade. (Note that Mowich Lake Road has seasonal closings.) You'll spy decaying vehicles and storied building foundations, like the remnants of an old wagon bridge abutment and an old school basement. Much of the original wood from this school structure was recycled in the 20s and used to build the Carbon River Ranch, a family home that later became the Carbon River Ranger Station.
Nighthawk
Also in Okanogan County, Nighthawk was one of the oldest mining districts, dating to the 1860s when Washington was only a territory. Many original structures are still standing — the Nighthawk hotel, original schoolhouse, a mining office, and old mill — and can be traced back to 1903, when the boom town served the area's six concentration mills. Over time, operating costs and drops in metal values caused the mines to shut down and the town's population to dwindle.
Monte Cristo
East of Granite Falls off Mountain Loop Highway, journey to Monte Cristo, one of the better-known Washington ghost towns where you can hike to boarded-up buildings and vintage signs. A mining boom brought the village to life in the 1890s, but Monte Cristo couldn't survive funding issues and a dip in mining potential by 1907. Begin at the Barlow Pass trailhead to walk about four miles on the long-closed road, the route taken by miners more than a century ago, alongside the South Fork Sauk River. On this fairly level path — with a few steep spots and one log crossing — enjoy the rusty signage and abandoned equipment that whisk you away to a bygone era.
Chesaw
Located about 30 minutes east of Oroville, this small Washington ghost town is alive with history. Chesaw was named for a Chinese miner who settled in the area and sold supplies to local miners. The town experienced a short-lived boom when placer gold was discovered nearby, and later became a logging community. At its height, the destination was home to a couple of hotels, a three-story livery barn, a blacksmith shop, a couple of department stores, a barber shop, a post office, three saloons, a bank, and more. Today, the town is merely a fragment of what it was, but the remaining structures include a false-front building plus other functioning structures, like a tavern where passers-by can grab a burger.
Claquato
Once the Lewis County Seat, today only two landmarks remain in Claquato: the cemetery (with its famous fir tree, once a shelter for pioneers) and Washington's oldest standing church. Although the church was restored in the 1950s and added to the National Register of Historic Places, it still boasts an original bell and a crown of thorns steeple. The area was originally a seasonal campsite for Native Americans, whose hunting and fishing trails led to the Chehalis and Neuwaukum rivers. In the 1850s, Claquato rapidly evolved into a thriving lumber town under the leadership of Hawkins Davis, until his death due to a fall at the mill. About a decade later, the railroad bypassed Claquato, which led to its eventual abandonment; the town was officially removed from the county records in 1902.
Visiting Washington Ghost Towns Responsibly
Throughout your explorations, be sure to respect the natural surroundings. Leave all plants and remaining structures undisturbed to help preserve the history of the sites. Also remember to pack out everything you bring with you, and do not touch any artifacts you find at these cultural sites. If you happen to glimpse wildlife, remain a safe distance away, and also be considerate of fellow visitors you might pass along the way. Responsible visits ensure that future generations can enjoy these magical glimpses into the past, too.
Set out on a one-of-kind adventure, and discover the storied histories of these Washington ghost towns.
About the Author
Corinne Whiting is an avid traveler, nature lover, and concertgoer who has called both Washingtons home. A freelance writer for 11-plus years, she's contributed to outlets ranging from National Geographic Traveler and 10Best/USA Today to The Seattle Times and 1889 Washington magazine. Her favorite assignments involve interviewing interesting people about their inspiring passions