Home to the most diverse ZIP code in Washington State and full of vibrant culture, Seattle Southside is an excellent base for adventures of all sorts. You'll find incredible shopping, an adorable beach community, Seattle-Tacoma International Airport (SEA), family fun, quirky hidden gems, and so much more.
Seattle Southside is located 15 minutes south of downtown Seattle and is comprised of three cities: Des Moines, SeaTac, and Tukwila. Des Moines, situated on Puget Sound, is the self-designated boating capital of the Pacific Northwest with six miles of shoreline. SeaTac is the official home to Sea-Tac Airport, over 30 hotels, and a nationally acclaimed BMX track. Tukwila hosts family attractions, more than five million square feet of retail space, and The Museum of Flight, the largest air and space museum in the country.
Things to Do in Seattle Southside
Seattle Southside is full of the unexpected, from historical airplanes to risqué fish statues, to hidden gems and the great outdoors.
Visit The Museum of Flight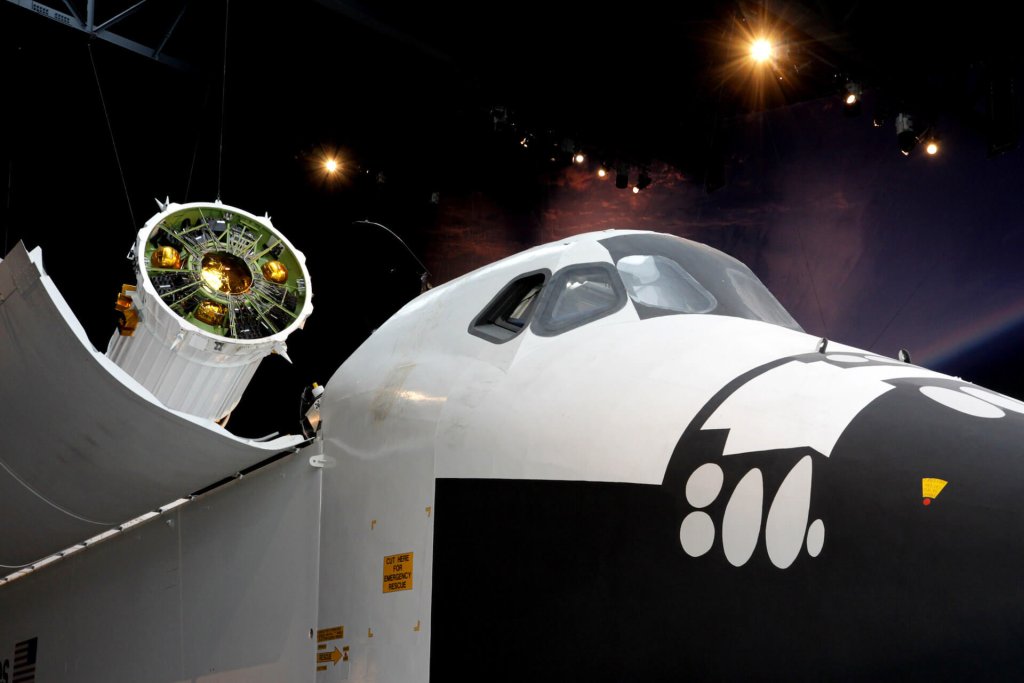 The largest privately owned collection of air and space artifacts in the world, the Museum of Flight offers a fascinating look into the history of human achievement in flight. Featuring the relocated red barn that housed Boeing's original airplane manufacturing wing, a full-scale model of the Space Shuttle that was used to train astronauts, and a huge collection of commercial and military planes, no aspect of flight is missed in this fun and educational attraction.
Indulge at Seattle Chocolate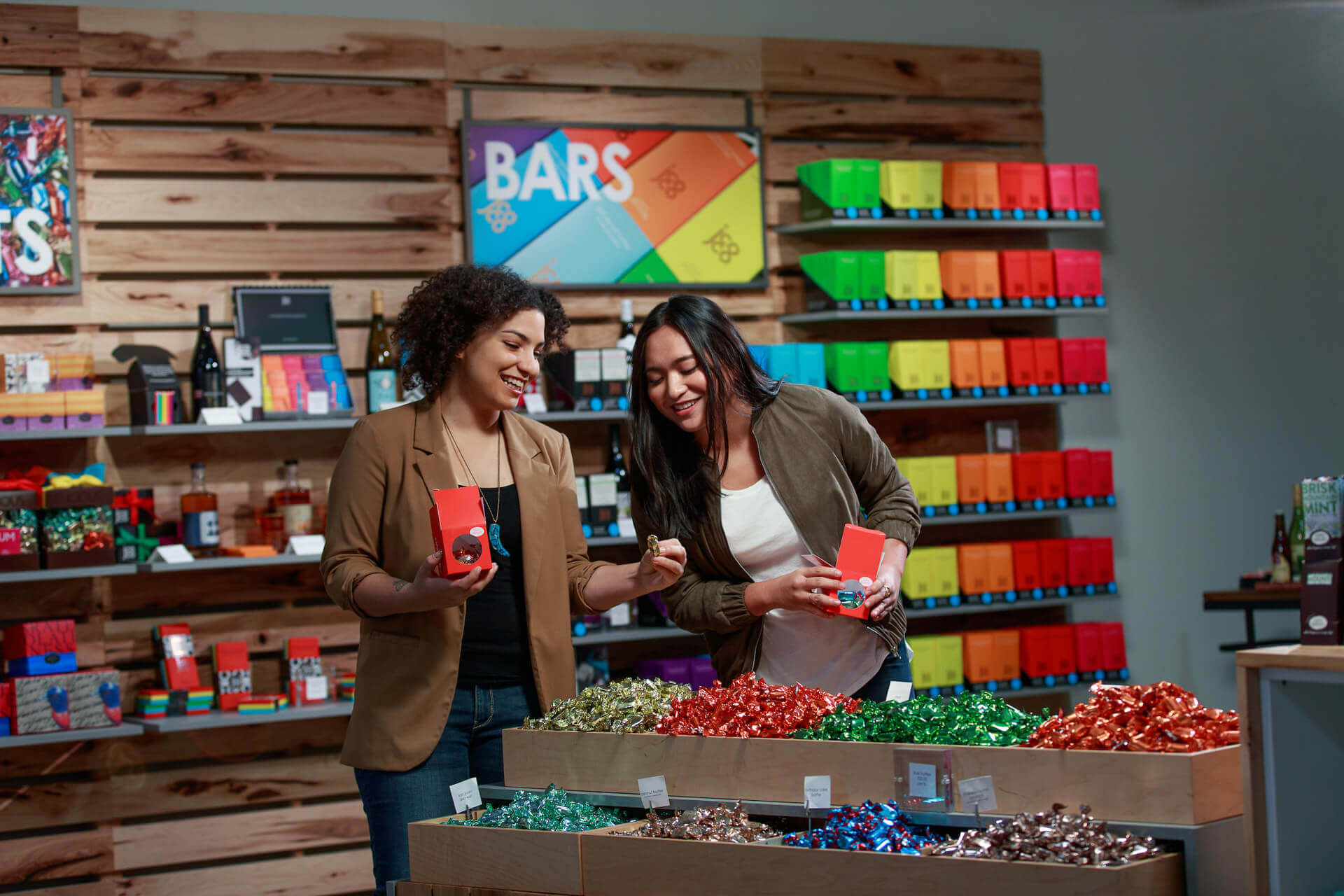 At Seattle Chocolate in Tukwila, you can learn to taste chocolate like a professional (wouldn't that be a nice job?) and see how chocolate truffles and bars are manufactured at a real chocolate factory. Plus, the factory shop has tons of delicious treats you can take home as gifts for friends and family.
Experience Family Fun
Looking for a day of fun both indoors and out? Tukwila's Family Fun Center has it all, from bowling to go-karts to rides and an arcade. Tons of options abound for kids of all ages, and when you need to refuel from the fun, you can stop for pizza at Bullwinkle's Restaurant.
Get Your Game On
Whether you love old-school gaming or the latest cutting-edge technology, Seattle Southside has you covered. Are you into pinball and 80's arcade vibes? The Waterland Arcade in Des Moines is where you want to go. Are you a rhythm game enthusiast? Round One in Tukwila has an incredible selection of the latest bemani direct from Japan. Seeking an epic VR adventure? You and your friends can play virtual laser tag and more in an immersive experience at Dimension XR.
Get Outdoors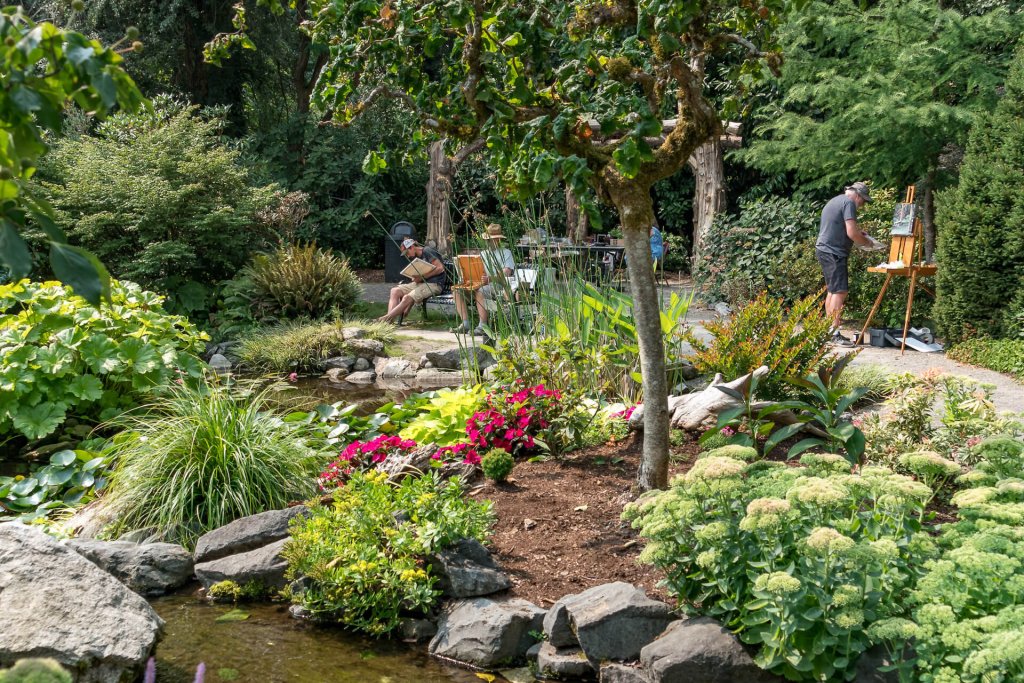 Whether you want to take a walk, jog, or bike, trails at the Interurban Trail, North SeaTac Park, or Des Moines Beach Park are perfect places for you to take in the beautiful scenery. If you prefer a more leisurely stroll while looking at flowers, the Highline SeaTac Botanical Garden features multiple incredible gardens in one, including the Seike Japanese Garden, the Celebration Rose Garden, and the Elda Behm Paradise Garden. And the Seattle Southside Scenes Trail is also a great way to get outside and explore some of the great history, art, and culture of the region, from out-of-this-world encounters to a dog park with Cold War history, you will discover some of the hidden treasures of our region.
Do you love to kayak, paddleboard, scuba dive, or just splash in the water? With lots of beaches to choose from, there are tons of spots to explore the Salish Sea. If you're not traveling with your gear, there are also places to rent from, such as Des Moines Snack Shack for kayaks and paddleboards or Eight Diving for scuba gear.
Advertisement
Food + Drink in Seattle Southside
Seattle Southside includes some of the most diverse ZIP codes in Washington State, and the cuisine choices in the area reflect that diversity. You can dine around the world without leaving the area and enjoy some truly stellar food while you do so. Here are just a few of the highlights:
Spice Bridge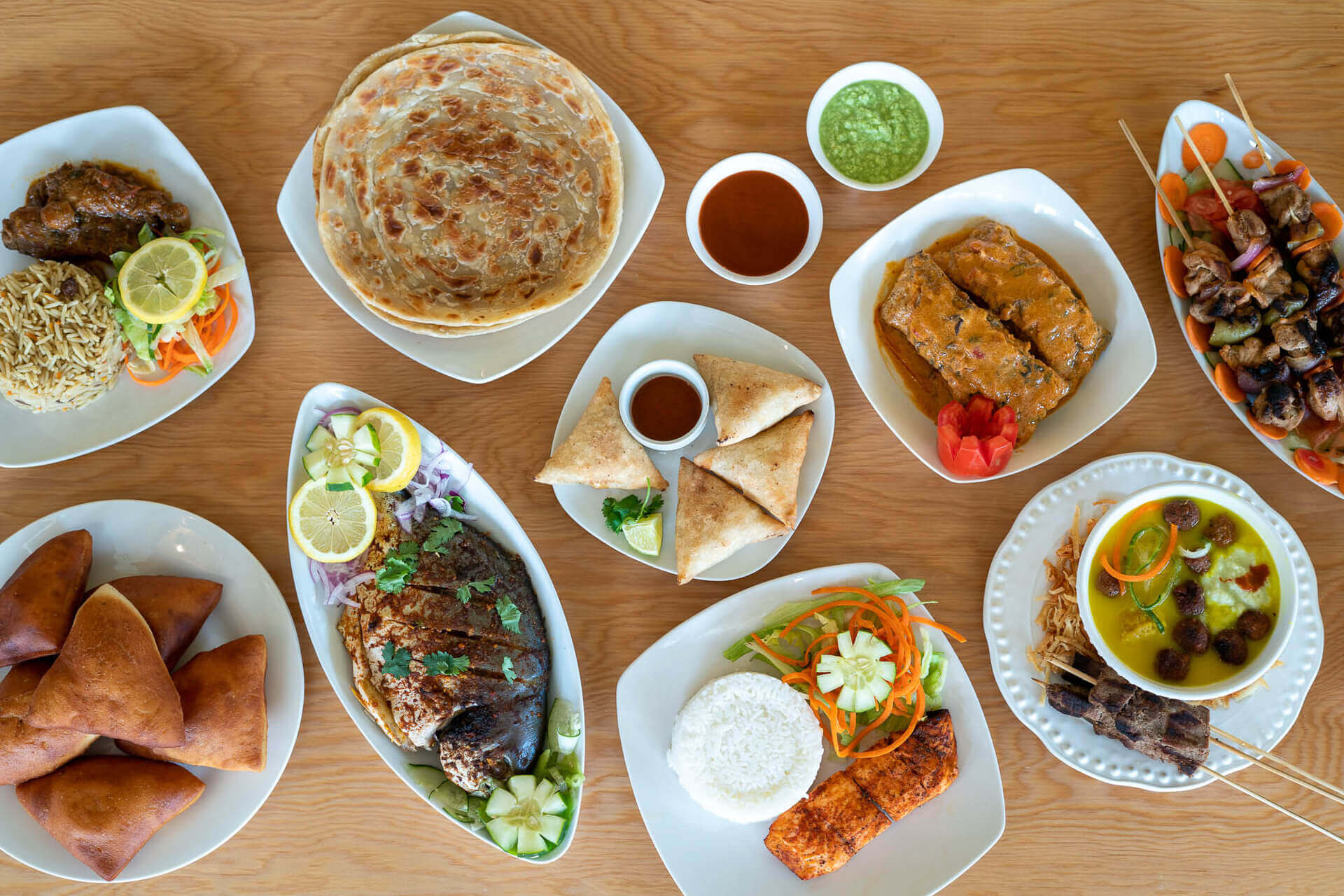 One of the standout food attractions in Seattle Southside is the Spice Bridge Food Hall, which serves as an incubator for aspiring restauranteurs, supporting women and minorities who wish to start their own businesses. The selection changes regularly based on who is in the incubator, so it's worth multiple visits to try food from all over the world under one roof.
Star Coffee
This star of the local Ethiopian food scene serves far more than just coffee. Star Coffee was recently selected as the best Ethiopian food in the Seattle area by The Infatuation. Traditional Ethiopian dishes like the vegetarian combo with rotating components like lentils and misir wot, Tibs FirFir, a lean lamb grilled and diced, and Gomen Be-Siga, sizzling beef and collard greens are mouthwatering. Each comes served on warm injera bread serving as the perfect base for every delicious bite.
Copperleaf Restaurant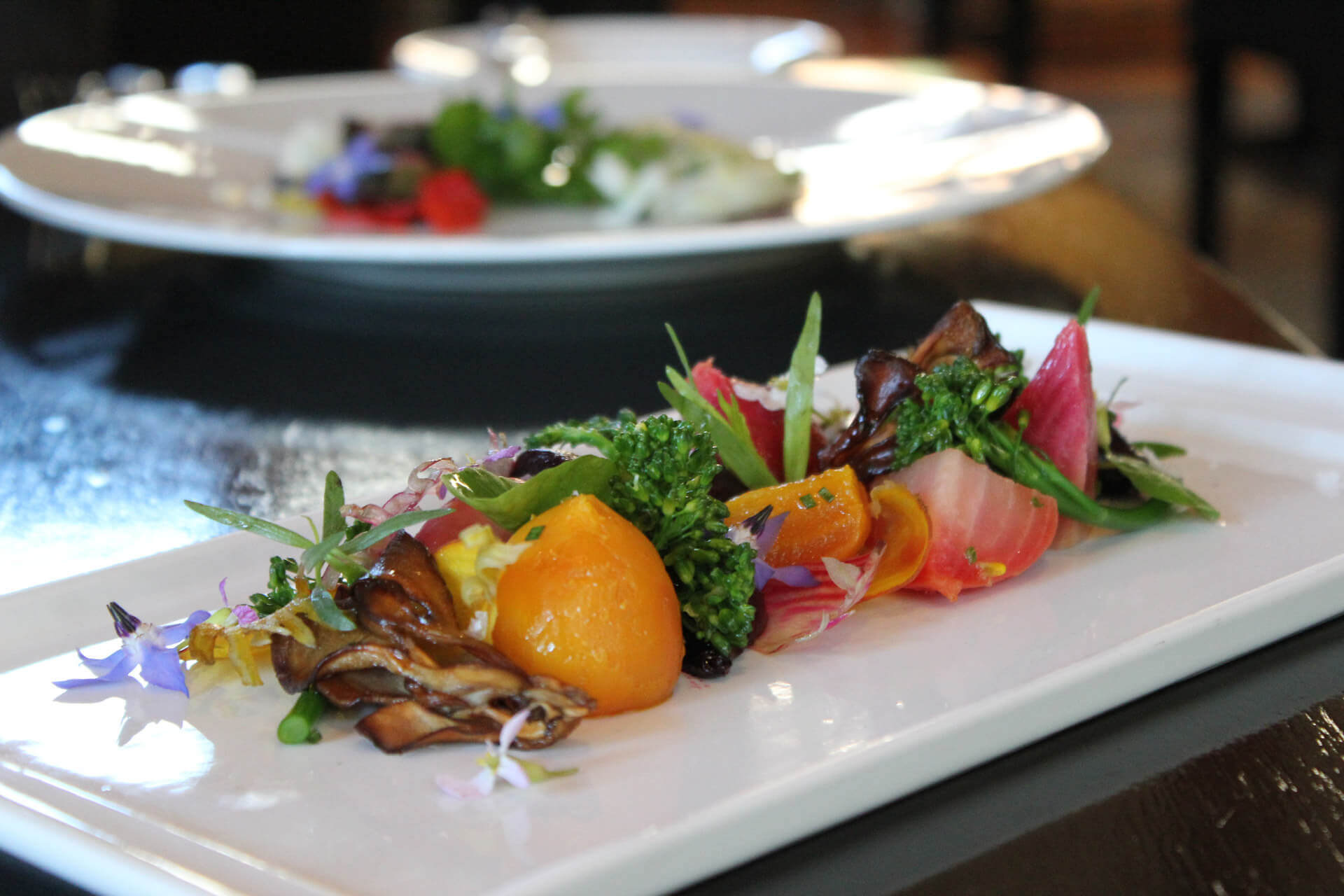 If you want local ingredients prepared to perfection in harmony with the seasons, Copperleaf Restaurant is the way to go. Some of their ingredients come from the on-site gardens, and others are sourced locally to ensure everything is fresh, seasonal, and tied to the land. For true PNW flavors, try the House Smoked Bristol Bay Salmon served with a toasted baguette, chive goat cheese, frisse salad, or the RR Ranch Porterhouse for Two, a 26oz bone-in grilled beef, roasted garlic, herb butter, seasonal vegetables, and Yukon-sourdough gratin.
The Eatery
Including a food court might seem like an unconventional choice, but The Eatery at Lam's Seafood in Tukwila offers a rare opportunity to taste across Asia in one spot. Get mochi donuts from Dochi, banh mi sandwiches, poke, dim sum, pho, and boba tea all in one place. With that much selection, make sure you come hungry.
Wine and Mead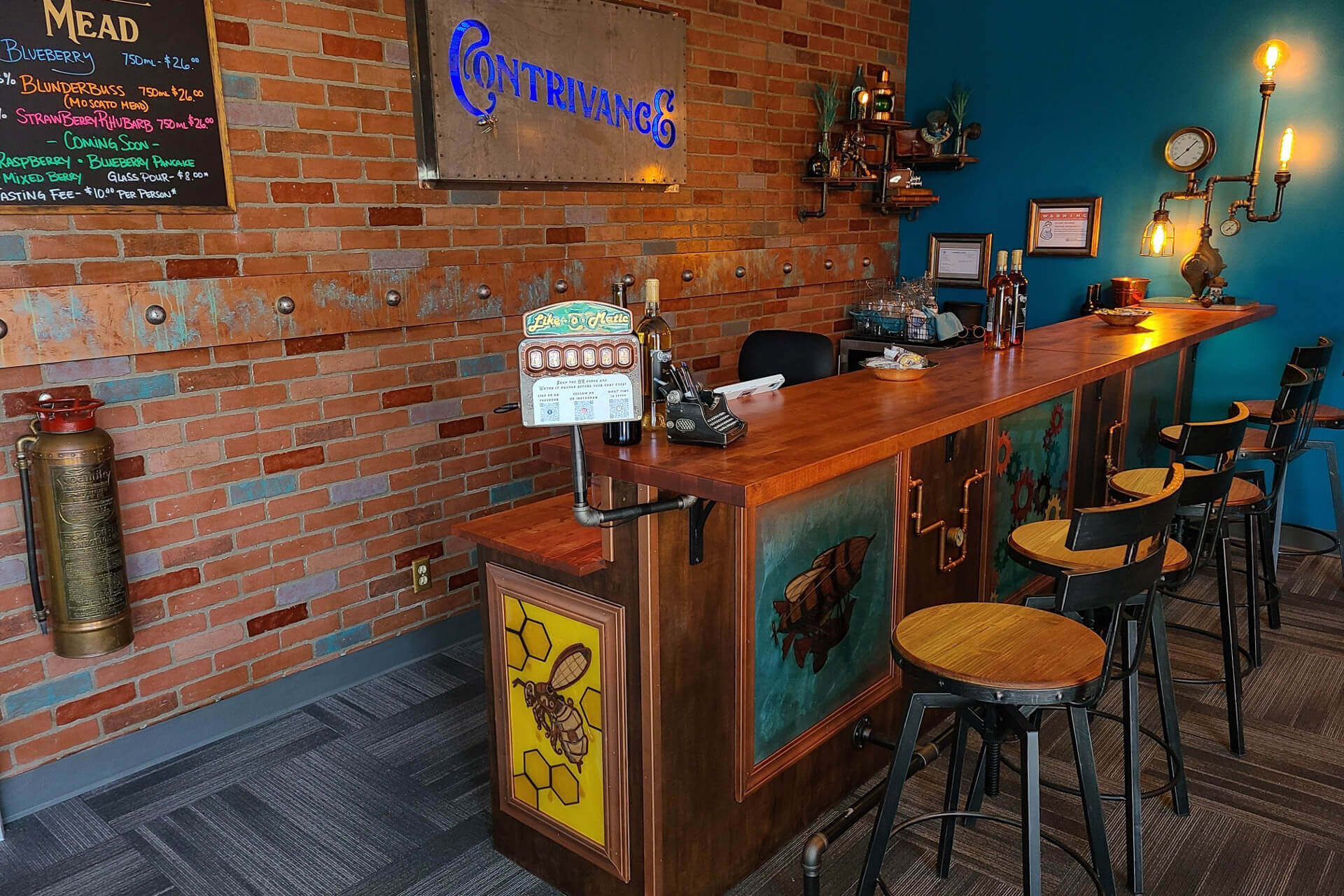 Have you ever wanted to drink like a Viking? Seattle Southside is home to two different local meaderies, Contrivance Wine & Mead and Oppegaard Meadery, both of which brew mead, or honey wine, to perfection. This sip isn't just sweet – fruits, herbs, berries, spices, hops, and other ingredients make the flavors of mead far more complex and interesting than simple honey. Not feeling quite so adventurous with your wine ingredients? Bacovino Winery offers more traditional grape wines, as does Contrivance.
Shopping
Westfield Southcenter Mall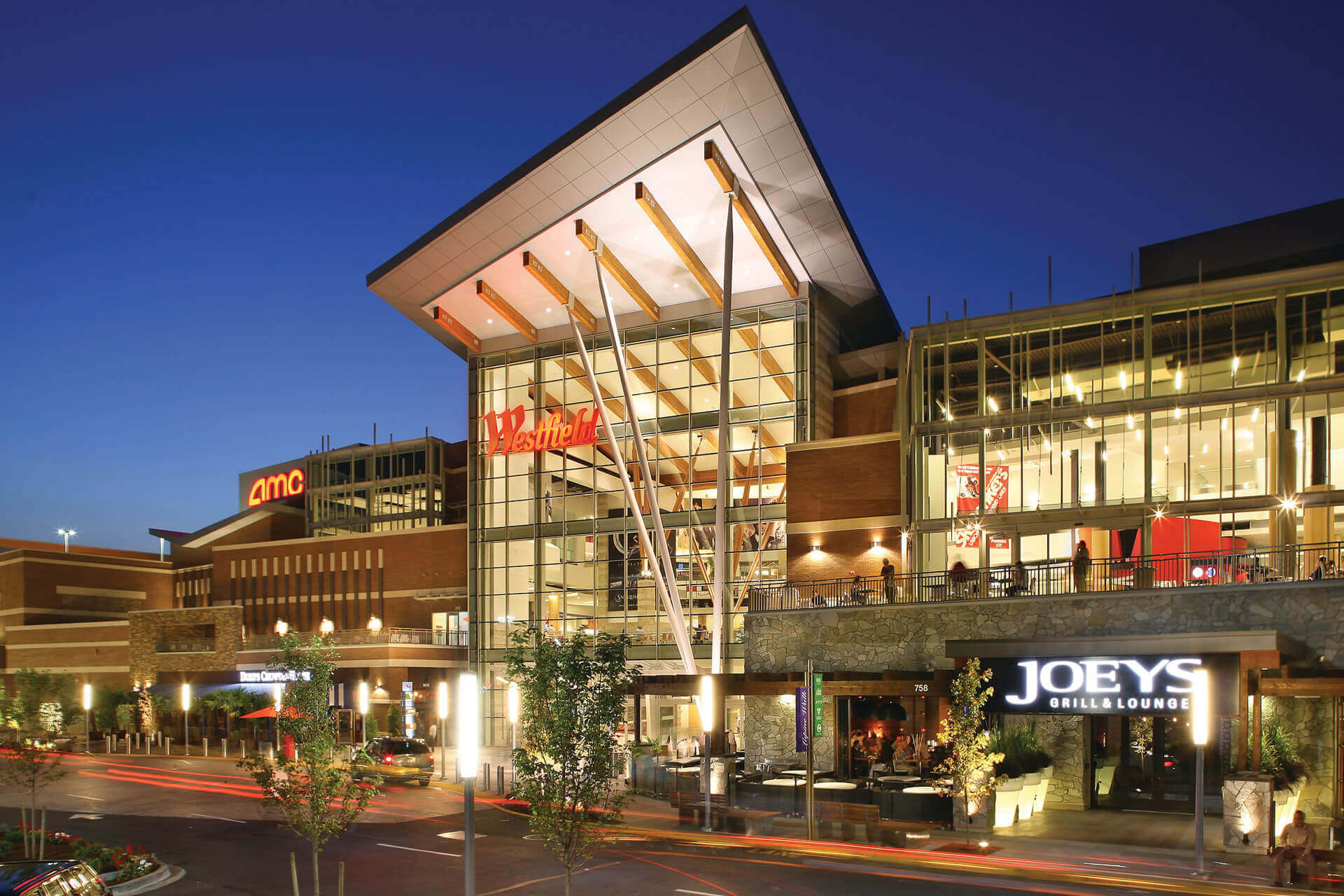 Westfield Southcenter Mall is the largest indoor shopping mall in the Pacific Northwest, and whether you're just browsing or have your heart set on shopping 'til you drop, you'll find a wide selection of stores to fulfill your every retail desire. Explore more than 200 retailers including Nordstrom, Apple, Coach, Seafood City, H&M, UNIQLO, LEGO, and Seattle Team Shop. You'll also find lots of fantastic places to stop and refuel, whether you want a huge selection of dim sum from Din Tai Fung or ice cream from SomiSomi.
Retail Heaven
The shopping isn't limited to the mall – the entire Southcenter area is a shopper's paradise. Whether you are looking for luxury discount shopping at Nordstrom Rack, specialty sporting goods from GOLFTEC, Puetz Golf Superstore, or Rock Creek Archery, or new furniture from one of the many furniture outlets located in the area, you can find all kinds of fun stores in the Tukwila area.
Des Moines Farmer's Market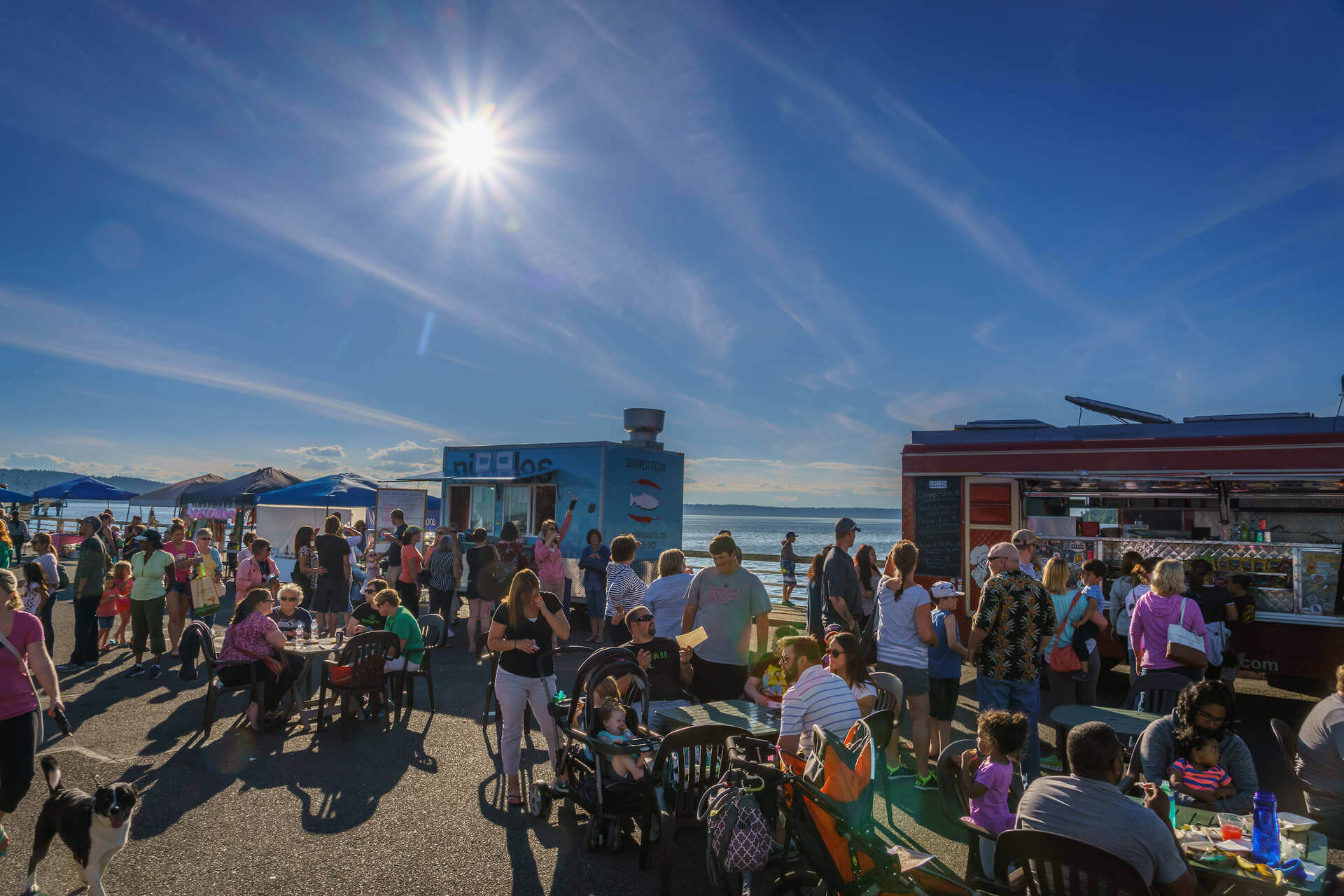 This fantastic farmer's market only takes place during the summer months, but it's worth the wait every year. Not only do you get an outstanding selection of fresh produce, local crafts, and delicious treats, but you get to enjoy the beautiful views of the Puget Sound and Olympic Mountains that the Des Moines waterfront has to offer. And if you want to toast your successful finds, visit The Quarterdeck, located next door, for a glass of wine or craft beer and more of that incredible view.
Major Annual Events & Festivals
Poverty Bay Blues & Brews Festival
Delicious craft beer and the strains of blues music, all combined with the kind of beautiful atmosphere only a Pacific Northwest summer can provide? Yes, please. Taking place every August at the scenic Des Moines Beach Park, the Poverty Bay Blues & Brews Festival is more than just a good time – it's a fundraiser for the local Rotary Club.
Seattle Seawolves Rugby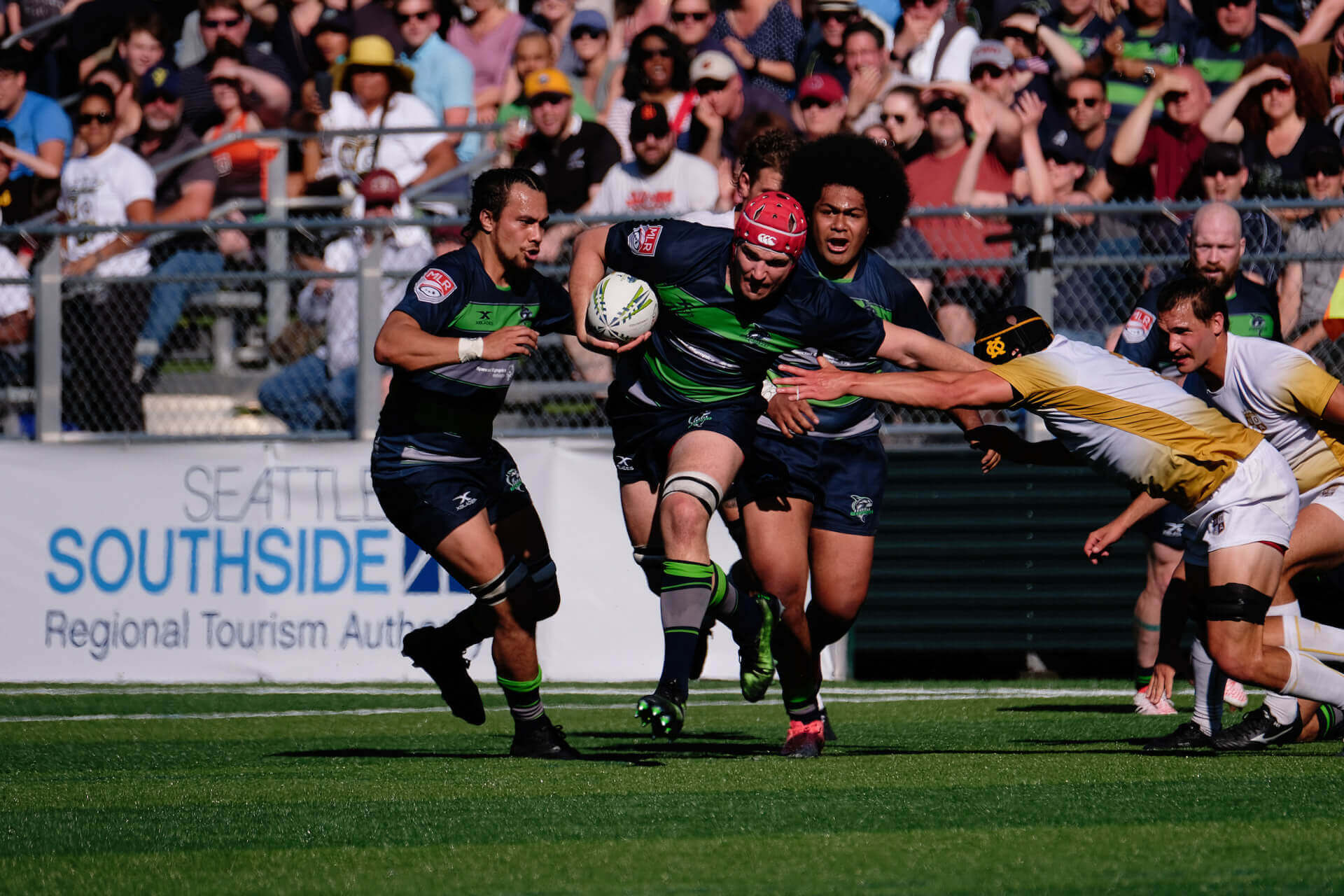 Take in a Major League Rugby game at Starfire Stadium in Seattle Southside, home to two-time MLR champion Seattle Seawolves. Rugby is an electrifying sport with tons of physical action, and the fanbase is enthusiastic and welcoming to newcomers. Visit Seattle Southside between January and June to take in a game during the Seawolves' season.
Men In Black Birthday Bash
The first reported sighting of the mysterious Men in Black took place in Des Moines on June 22, 1947, and today local historians and UFO enthusiasts celebrate the event annually at the Men In Black Birthday Bash. Wear your best black suit and sunglasses because this party is out of this world.
Seafair and the Blue Angels
Seafair is a month-long celebration all around the greater Seattle region from July 4 through the beginning of August. One of the highlights is the Blue Angels' performance the first weekend in August. You can watch the Blue Angels take off and land from the Museum of Flight in Tukwila, but bring your earplugs – it will be loud! Their performance can be seen all around Seattle but watching them take off and land is a special thrill.
Advertisement
Where to Stay in Seattle Southside
With more than 60 hotels and motels, all located conveniently near the airport, there is a wealth of options for places to stay. And while all the options are stellar, there are a few standouts that are worth highlighting.
Cedarbrook Lodge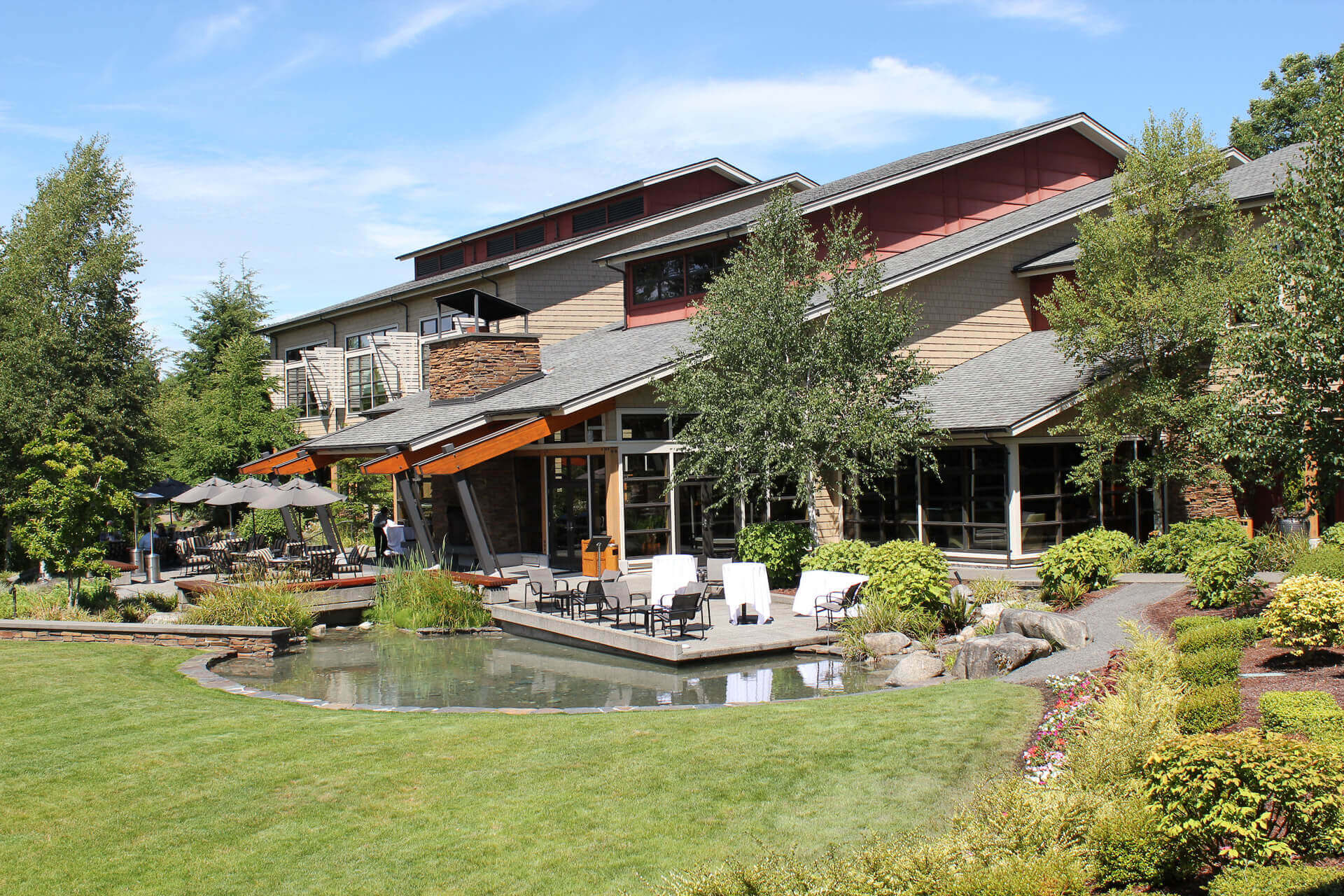 Formerly a corporate executive retreat, the Cedarbrook Lodge is a beautiful, lush, hidden gem. After a recent stay, a writer from Forbes asked in the title of their article, "Is This the Best Airport Hotel Ever?" From their verdant grounds, delicious food at local-ingredient focused Copperleaf Restaurant, and lux treatments at The Spa at Cedarbrook Lodge many travelers find that answer is a resounding yes.
Hotel Interurban
If you want to stay right next to a retail paradise, Hotel Interurban in Tukwila is the place for you. Located right next to Westfield Southcenter mall, the plush accommodations, with delicious eats from their Rendition restaurant, are sure to replenish and rejuvenate you for another day of retail therapy.
Aloft
Not only is Aloft a fun and modern hotel, but if you can't leave home without your dog, Aloft is the place to stay. With pet-friendly accommodations and no pet fee for dogs under 40 lbs., you and your canine companion can stay in luxury without being separated by a kennel.
Four Points by Sheraton Seattle Airport South
Want a room with a view of the Puget Sound? At the Four Points, view rooms are stunning and well worth a splurge. Take in breathtaking views and catch some rays on their pool deck when the weather is sunny or relax in their huge lobby for cozier times. Plus, if you drive an electric vehicle, charging stations are available for use.
Know Before You Go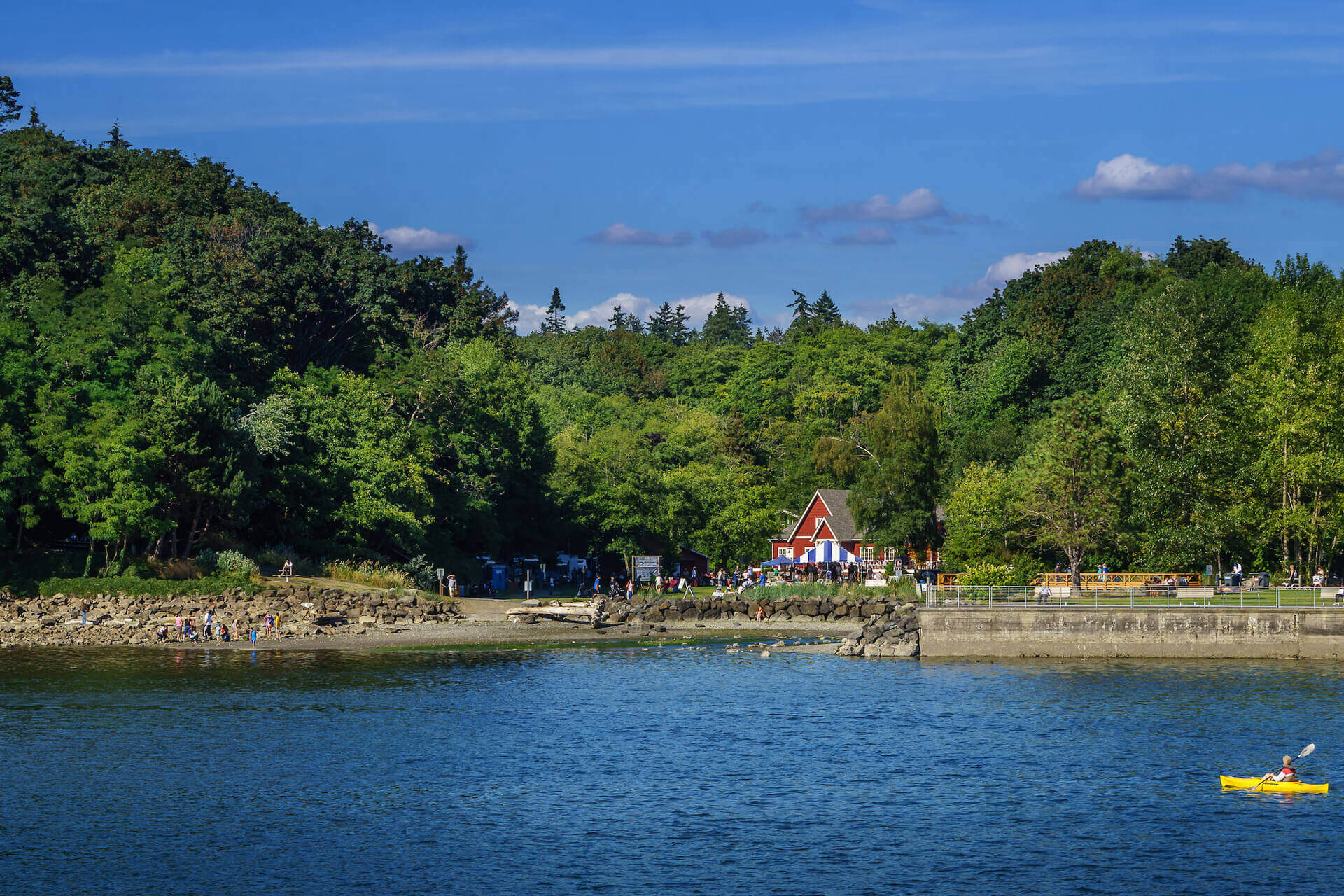 The summer months tend to be the busiest time for visitors, so consider visiting at a different time of year to avoid the crowds. Whether you're enjoying the summer sun at Des Moines Beach Park, crisp autumn walks along the Interurban Trail, a snowy winter's day at the Robert Morris Earthwork, or a perfectly blossom-filled spring walk through the Highline SeaTac Botanical Garden, there are always wonderful sights just around every corner.
Many Seattle Southside hotels offer free shuttles between the airport and their hotel, and a free shuttle service is available between hotels in SeaTac and the Westfield Southcenter mall for convenient access to the retail district.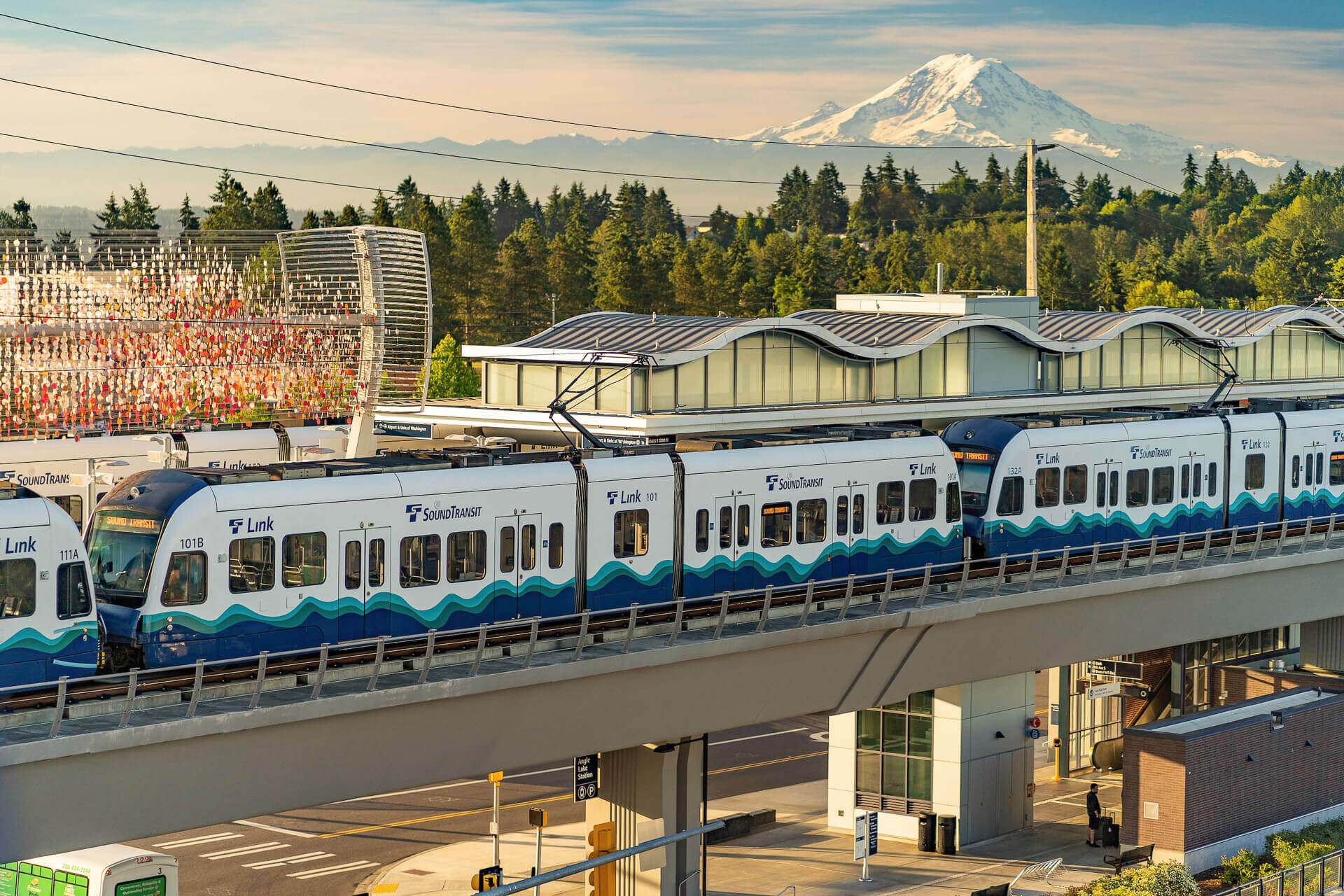 SEA is located right in the heart of Seattle Southside, so you have lots of options to help you get around, with access to public transit, Amtrak railways, car rentals, freeways, and ferries. If you prefer to get around by bike, the Interurban Trail runs through Tukwila, Kent, Auburn, Algona, and Pacific along a near-straight 14-mile-long route beside the historic Interurban Rail Line, and lots of bike lanes are available on city streets.
If you need a break from the everyday, Seattle Southside is the place to be. This wonderful region is charming in its own right but can also serve as the perfect home base for all of your adventures, whether you're exploring the Seattle sights or visiting Mount Rainier.
Looking for more trip inspiration? Let Explore Seattle Southside help.
Featured image credit: Explore Seattle Southside