Sponsored by Washington State Parks
About Washington State Parks: Washington State Parks cares for Washington's most treasured lands, waters, and historic places. State parks connect visitors to the diverse natural and cultural heritage that provides memorable recreational and educational experiences that enhance people's lives.
Locals and visitors alike love Washington State for its diverse camping, from rivers and forests to beaches and lakes. It's no secret the state has its share of wet weather, but with a hearty spirit, the right gear, and a little prep work, Washington's famous precipitation doesn't have to ruin your camping vacation. In fact, rain camping in Washington can be the perfect way to relax as you listen to the rain on your tent (or yurt) and soak in the moody landscape.
First off, you don't have to actually camp in a tent to enjoy a rainy night in the woods. Several Washington state parks offer cabins, yurts, and vacation homes guaranteed to keep you cozy and dry. RVers also have the right idea by bringing their own roof and heat.
But let's say you're all fired up for tenting it! Staying dry is the ultimate goal. Ditto for staying warm. Even with your car 10 feet away, you can still become cold and soggy. Here are a few state parks to check out and tips for how you can prepare for rain camping in Washington.
Best State Parks for Rainy Camping in Washington
Although Washington sees the most rain during the winter months, precipitation can happen at any time of year. The below state parks are good options for rainy camping in Washington thanks to amenities like shelters, lodging options, and thick forest canopies.
Lake Wenatchee State Park
Climb a mountain, try stand-up paddle boarding, or settle into your camp chair and soak your feet in an alpine lake. Kick back with a book, teach the kids to swim – or do it all – at Lake Wenatchee State Park.
Camping is available year-round at Lake Wenatchee. Spring and summer are usually dry but can be unpredictable due to the campground's proximity to the Cascade Mountains. In winter and rainy weather, you'll appreciate the heated restrooms, hot showers, warming shelters, and fire pits. Whether you prefer powder or sunshine, Lake Wenatchee offers ample opportunity to try new things.
Fort Townsend Historical State Park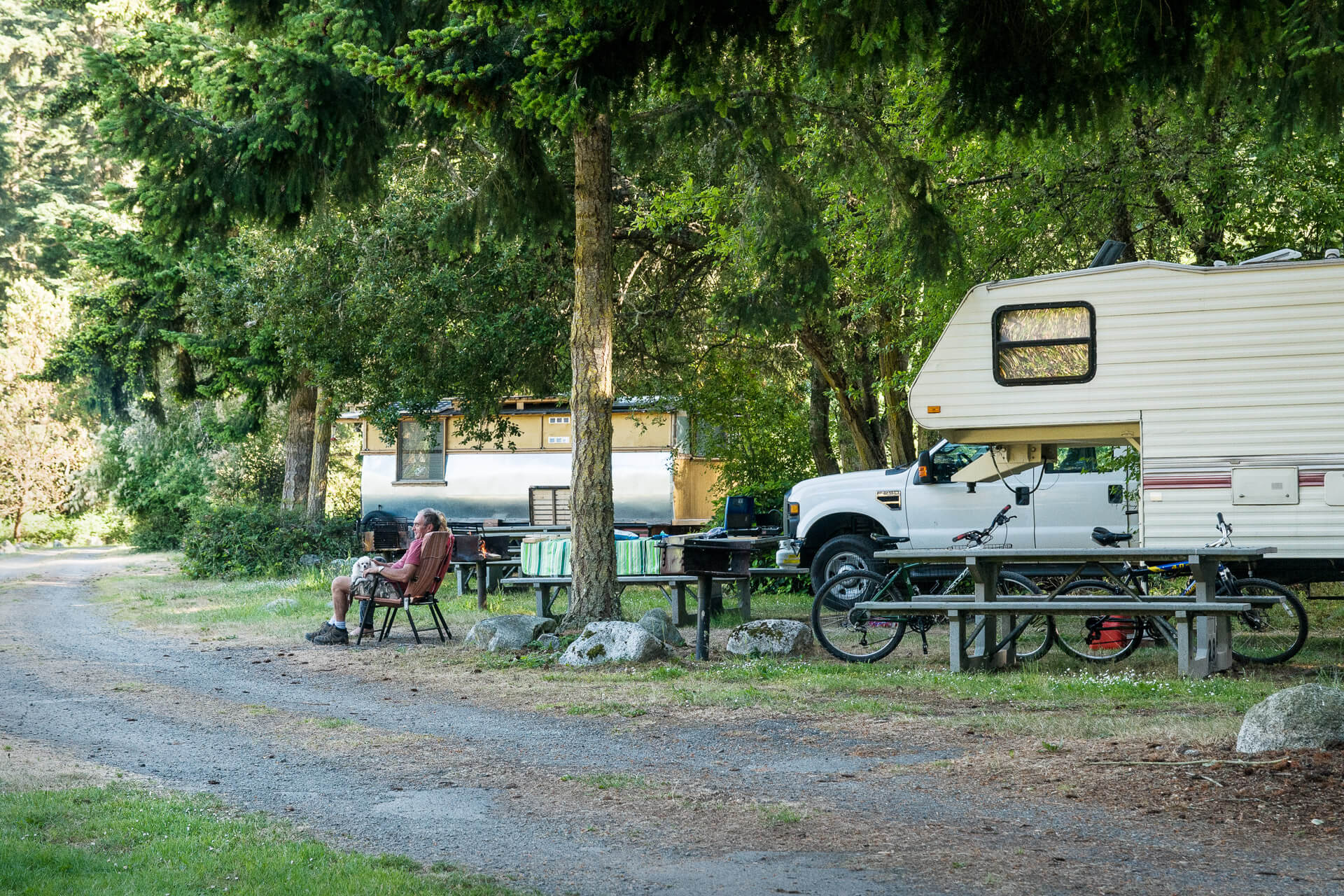 Looking for a base near the Olympic Peninsula's Port Townsend without the crowds? Book a site at Fort Townsend Historical State Park, 6 miles from town.
On the surface, Fort Townsend is a classic state park with forested campgrounds and a pebbly beach. But a closer look reveals a hidden past. Walk the parade lawn to find interpretive plaques lining former Officers' Row. Explore a historic torpedo tower that held state-of-the-art technology during World War II (and is now part of the group campground). Hit the beach for big sky views over Puget Sound.
In addition to all the surrounding historical sites, Fort Townsend State Park offers 40 reservable standard campsites with restrooms and showers on site as week as picnic shelters if you need to escape the rain.
Ike Kinswa State Park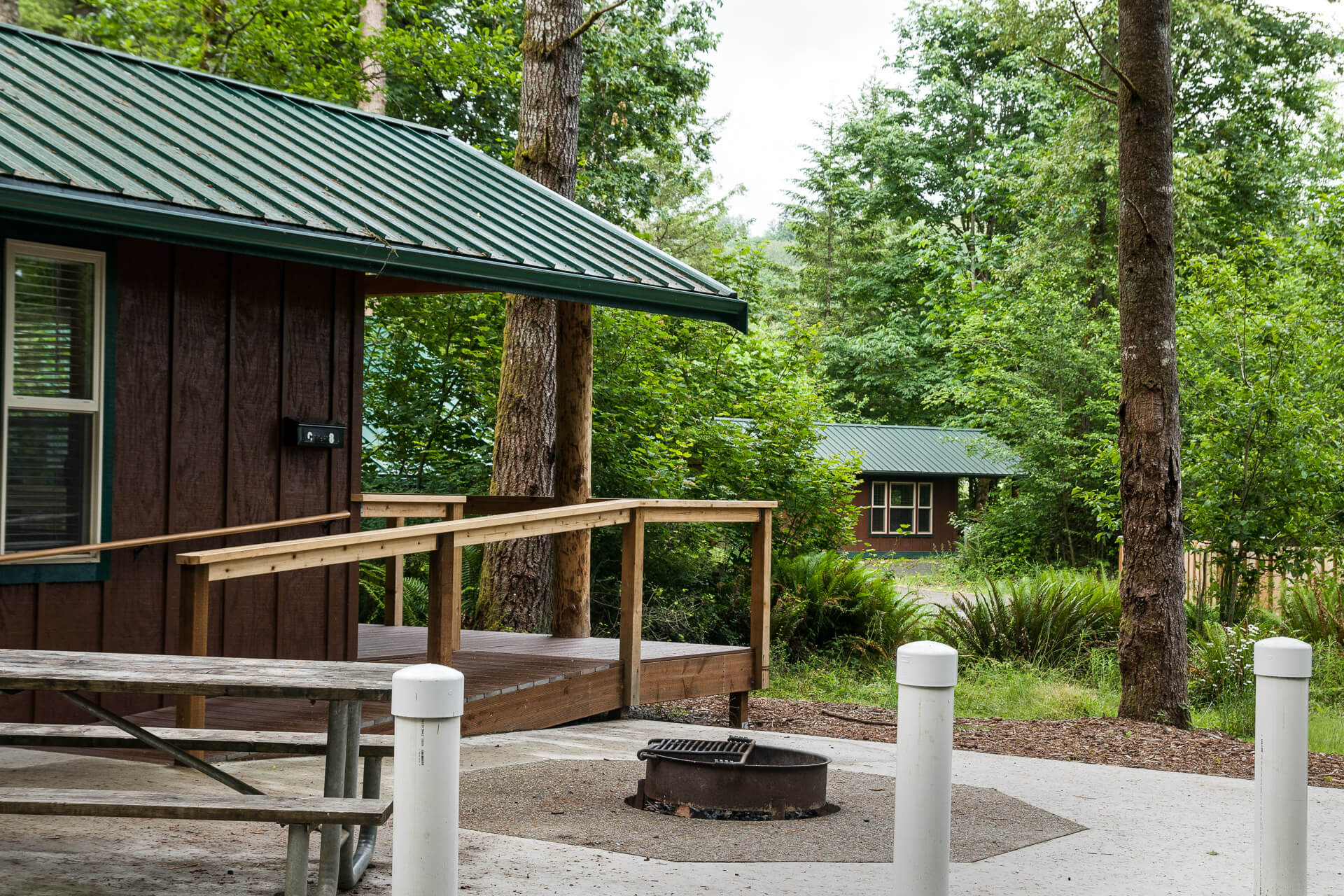 Wake up to the pitter-patter of rain, make your favorite hot beverage, and stroll to a misty lake.
Ike Kinswa State Park sits in a lowland forest on Mayfield Lake amidst rolling farmlands. The park offers easy access via U.S. Highway 12, only 20 miles east of Interstate 5. The park's flat 1.5-mile trail is perfect for your first wet-weather hike.
Not into braving the elements? Check into one of the park's heated cabins (be sure to reserve in advance) and use the cabin's microwave to heat up a beverage to enjoy on the covered porch.
Some other options for rainy camping in Washington
Grayland Beach State Park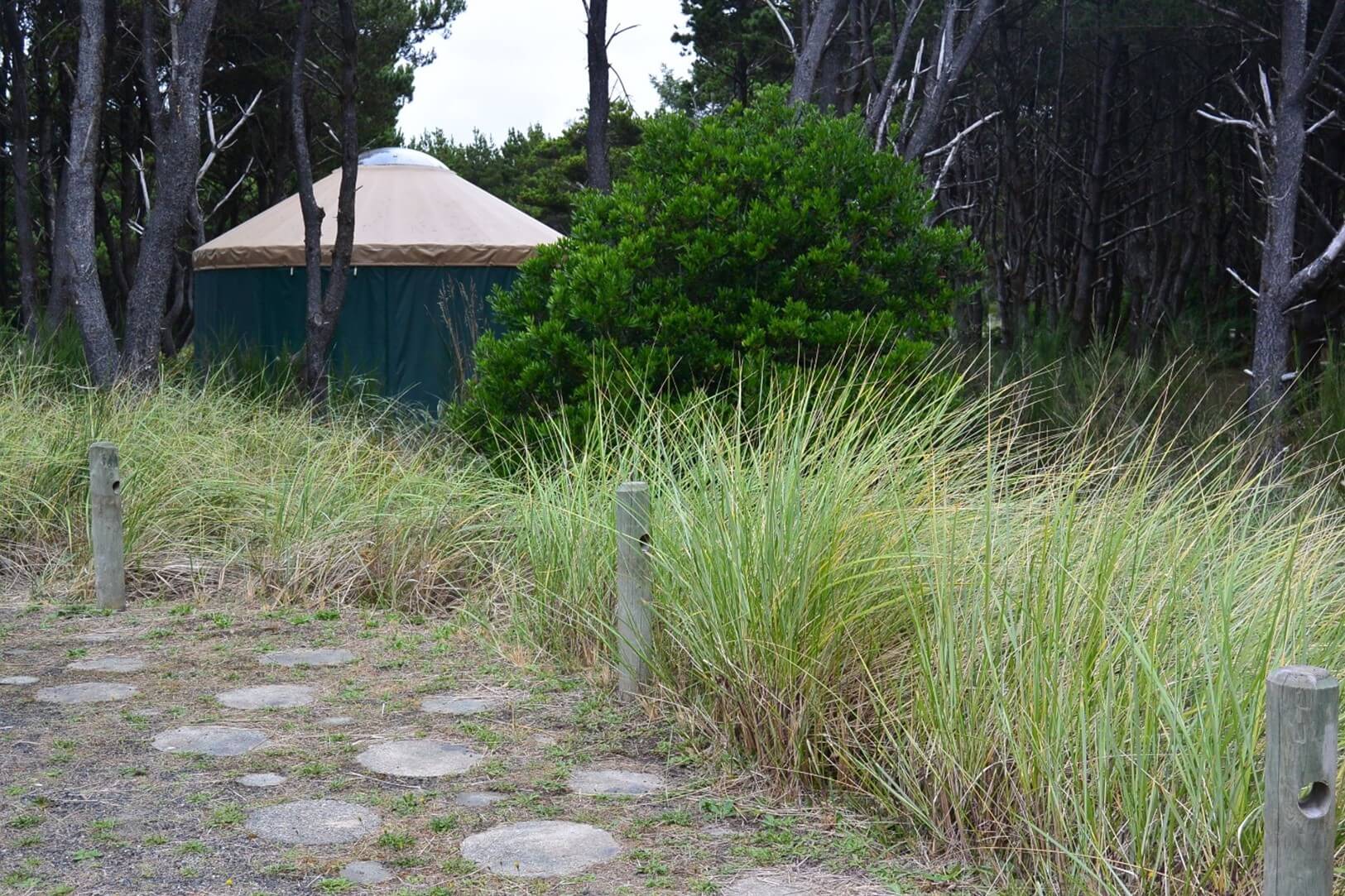 Snuggle up in a yurt, your RV, or a sturdy tent at this beach park south of Aberdeen and watch storm clouds roll in off the ocean.
Cabins, Adirondack shelters, vacation homes, and yurts like the one pictured above at Grayland Beach give you many options for rainy camping in Washington.
Bogachiel State Park
They don't call it the Olympic Peninsula rain forest for nothing, Set up your tent tarp or canopy at Bogachiel State Park and take in the lush forest of mosses, lichen, mushrooms, and big trees
Kanaskat-Palmer State Park
Set in the forest 45 minutes from Federal Way, Kanaskat-Palmer is made for rain camping. The park gets bonus points for its four picnic shelters, kitchen shelter, and six (reservable) yurts, so you can cook, socialize, and stay dry.
Millersylvania State Park
A campground and picnic shelters in a stand of old-growth forest near Olympia make Millersylvania the perfect place to embrace some rain.
Tips for Rainy Camping in Washington
Once in your tent, open the vents to prevent condensation. This may seem counterintuitive but trust us. Rain outside the tent is much better than moisture inside!
Place the tent footprint or tarp inside (not under) your tent to keep ground moisture at bay.
Pitch your tent in a flat or rounded spot, not in a divot or concave area. Otherwise, you could wake up in a puddle.
String tarps between trees, or use weighted, free-standing canopies for extra shelter. This adds a living room and kitchen to your site. (Rangers recommend webbing over the rope when hanging tarps between trees.)
Place overhead tarps or canopies seven to eight feet above the fire pit when making a campfire. Your lungs will thank you.
Find out whether the park has kitchen shelters, and whether those shelters have fireplaces. You may still get a campfire, even if it's too wet to start one at your site.
Check with the park about heated bathrooms, hot showers, and electricity.
Best Gear for Rainy Camping
Unlike backpacking, car camping means you can bring all your gear! These are a few items Washingtonians swear by for rain camping success:
Rolls of trash bags
Multiple sets of layered non-cotton clothing, waterproof rain jackets, and pants. (Gortex is the bomb, and wool base layers stay warm-ish when wet.)
Synthetic sleeping bags and puffy jackets. Cotton and down are toasty when dry, but useless when wet.
Extra socks, mittens, and shoes.
Headlamp/flashlight, extra batteries, games, books, and downloaded entertainment.
Duct tape and dryer lint soaked in Vaseline (two all-weather fire starters).
Hand/foot warmers and adhesive heating pads.