Sponsored by Okanogan Country
About Okanogan Country: With stunning scenery and endless opportunities for recreation, Okanogan Country is a must-visit destination. Come explore the largest county in Washington State and see why it's one of the most popular Pacific Northwest destinations.
Expanding throughout north-central Washington State, Okanogan Country's captivating landscape is shaped by years of fires and regrowth. Stunning views and a rich history of fire lookout towers scattered throughout the region are waiting for you to discover.
Built primarily in the early 1900s, fire lookout towers were erected on peaks high enough to offer clear views of the surrounding valleys and mountains. During fire season, lookout staff would hike to and live in these towers, scanning the area for lightning strikes, smoke plumes, and other signs of natural disasters or fires.
Today, many of these towers still stand, and Okanogan Country boasts the highest number of remaining towers in Washington State. Take advantage of this opportunity to enjoy a day hike or plan a week-long adventure to visit multiple towers and witness the ways fire has shaped this unique landscape.
Okanogan Fire Lookout Towers
Methow Valley Lookouts
Goat Peak Lookout, located in the Methow Valley, is a must-see. This tower is famous for its stunning golden larches, and "Lightning Bill" Austin, one of the Forest Service's few remaining seasonal full-time fire lookouts, spent 19 years at this tower before moving to Leecher Mountain in 2015.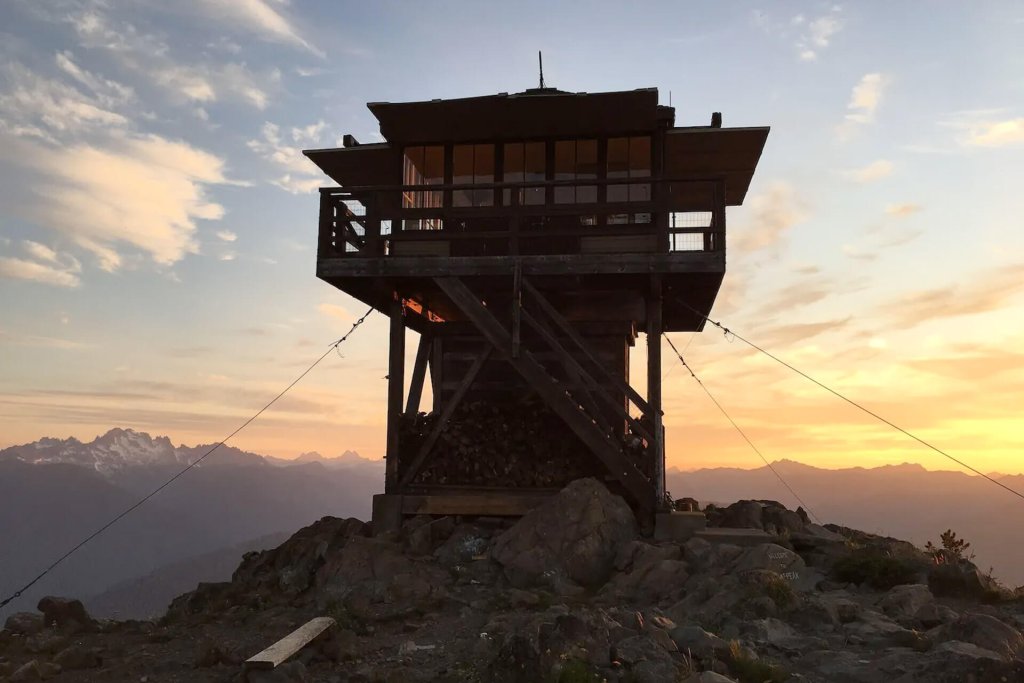 Lookout Mountain holds the record for the highest number of first fire reports in the Methow Valley. If you time your visit for the summer season, the gate is typically open from Twisp, and it's a fantastic short (but steep in places) 1.5-mile round-trip family-friendly hike. It provides sweeping views that take in the full breadth of the North Cascades, starting with Mount Baker and Mount Shuksan and continuing to Eldorado Peak and the glaciers of Boston Basin.
Another iconic fire landmark is the North Cascades Smokejumper Base. The birthplace of smokejumping, it is right in the heart of the Methow Valley of Okanogan Country. The base saw its start in 1939 with experimental trials. Today, there are just over 400 smokejumpers at nine primary locations in the western United States and Alaska. Visitors can drop by the North Cascades Smokejumper Base for a free tour during fire season, generally from May through September.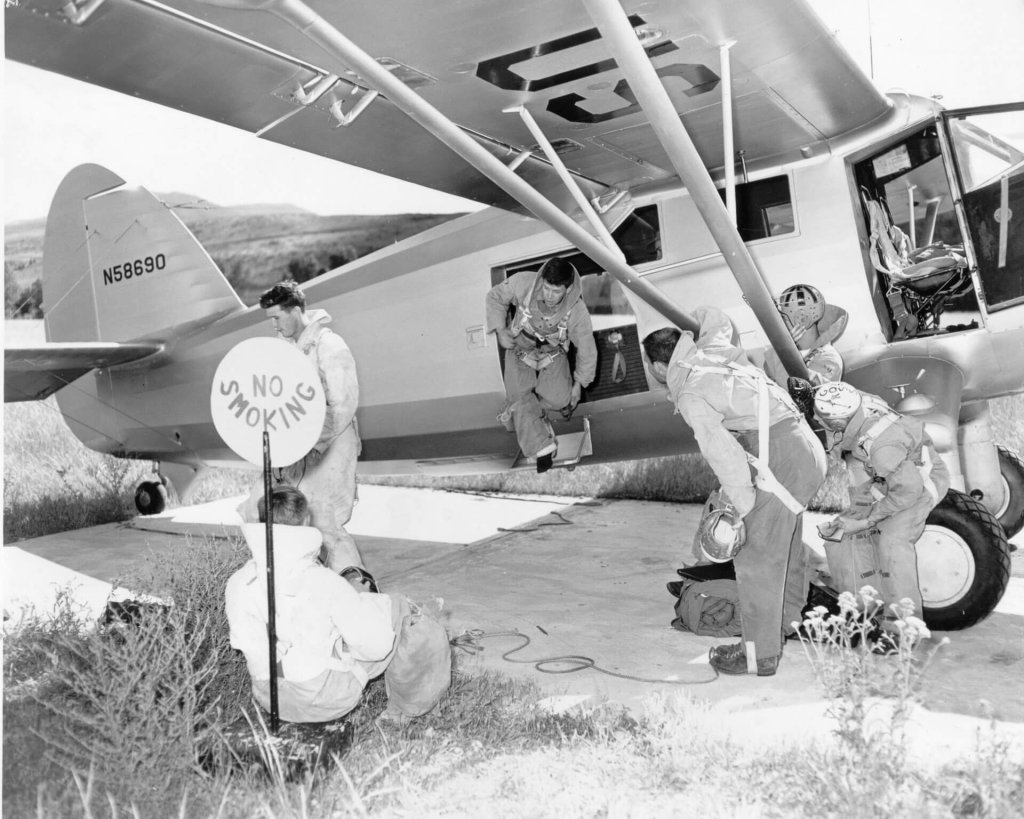 Central Okanogan Lookout Towers
Mount Leecher, home to a 100-year-old tree-top crow's nest, is another must-see if you're traveling in Okanogan County. This structure was moved from Chiliwist Butte in 1954 before being restored in 2009 and narrowly escaped the Carlton Complex Fire of 2014. From the trailhead, it's a pleasant one-mile walk without much elevation gain.
"The walk to the summit is classic Okanogan. Big valley views, cotton candy painted skies, enormous ponderosa pine, elegant Douglas fir, and dry grass fescue & shrub," says Christine Estrada (A Forest Service fire lookout who runs the social media channel "Where in the Wild is Chris?"). Though the lookout is locked when not staffed, you can climb up and soak in the sweeping views of the Methow Valley from just below the cab. Or, try visiting during fire season (May – September) while Bill Austin known as "Lightning Bill" is on duty. He's always happy to show visitors around.
Northern Okanogan Lookout Towers
Northern Okanogan County is also home to more great fire lookout towers to explore. Located west of Tonasket, Aeneas Mountain overlooks the Sinlahekin Wildlife Area from an elevation of 5,167 feet. It's easy to access, with the road leading 5.5 miles up the northside and a 0.5-mile walk along the ridgeline to the 1980-style cab.
Even though Franson Peak is located in neighboring Ferry County, you can find its historic Franson Peak Cab in the Molson Museum. When the current structure was built in 1986, the 1950s cab was relocated to the Molson Museum. Located in the Okanogan Highlands, the remote ghost town of Molson, east of Oroville, offers both indoor and outdoor museums. Check out the historic cab at ground level – it encapsulates history and artifacts from our one-of-a-kind region.
"While the lookout is in Ferry County, its historic cab is in the remote historic town of Molson, east of Oroville."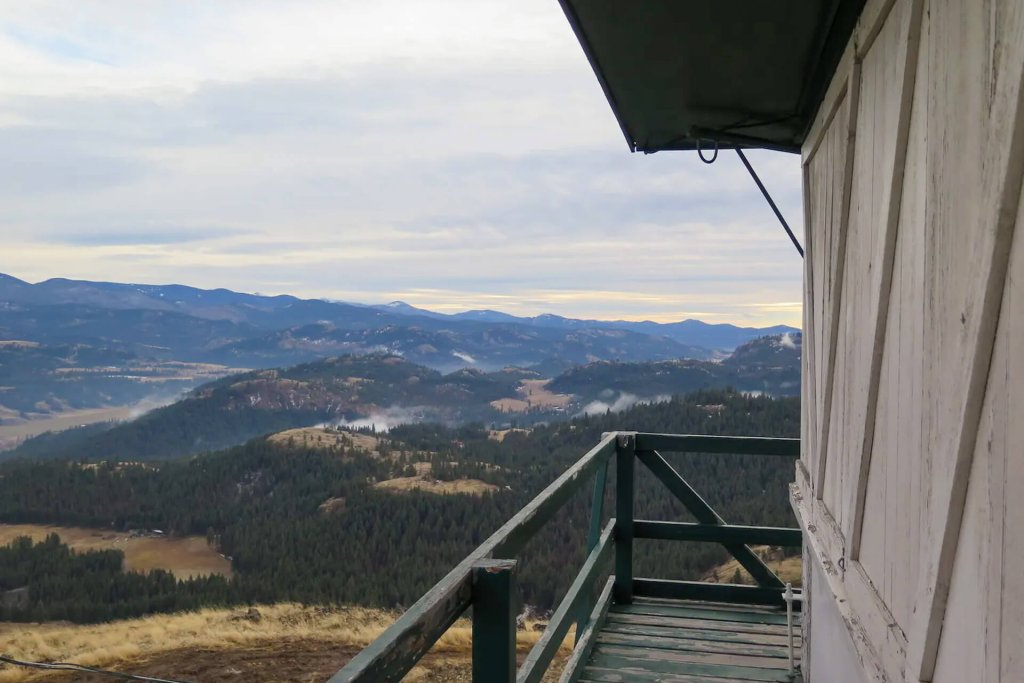 East of the Okanogan River, Mount Bonaparte is the third-highest peak in the state. This trail welcomes hikers, equestrians, and ORVs alike to a trail that climbs from Bonaparte Lake to the actively staffed Bonaparte Lookout. Bonaparte's fire lookout also has a historical cabin built in 1914. A good time to do this hike is in the fall when the tamarack trees turn a beautiful golden yellow.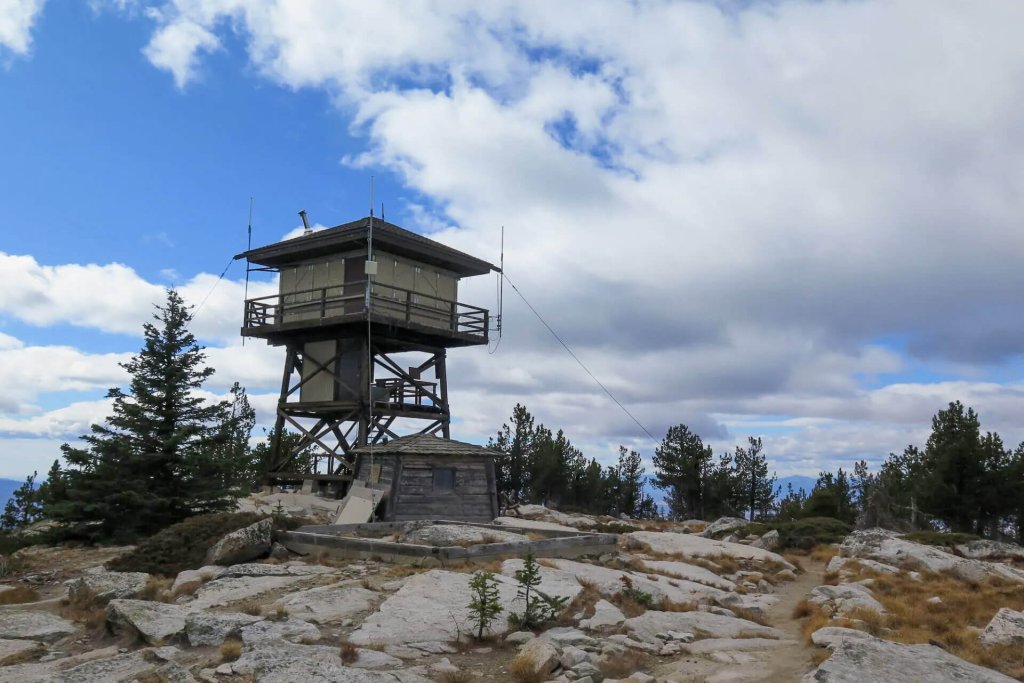 Get a Fire Shaped Landscape Map
Okanogan Country's Fire Shaped Landscape Map is free and available digitally or can be mailed to you, providing the locations of all local fire lookout towers, as well as the mosaic landscapes of the wildfires, color-coded by year. Explore the historic structures and the stunning landscapes of Okanogan Country and experience the beauty and history of this unique region.
The fire lookout towers in Okanogan Country are bucket list destinations for anyone who loves hiking, camping, or just appreciating the beauty of the great outdoors. From stunning views to fascinating history, there is something for everyone in this unique and beautiful region of Washington State.