Sponsored by TOURS at Climate Pledge Arena
About TOURS at Climate Pledge Arena: This expertly guided, behind-the-scenes journey tells the rich story and transformation of Climate Pledge Arena, from the 1962 World's Fair to the $1.15B redevelopment completed in October 2021.
Story by Aleenah Ansari
Just because there isn't a game or show in Seattle doesn't mean that there isn't something to experience at the Climate Pledge Arena, which is home to the Seattle Kraken, Seattle Storm, and incredible live music artists.
Now, you can take a look behind the scenes of this storied facility on the Climate Pledge Arena tour, a 75-minute tour of how this innovative venue came to be. Whether you're a sports fan, music lover, or someone passionate about sustainability, there's something for everyone.
But first, a little history. What was originally built for the 1962 World Fair in Seattle is now Climate Pledge Arena, which sits at a whopping 800,000 square feet.
Its current mission? Be the most progressive, responsible, and sustainable arena in the world.
Tour Climate Pledge Arena in Seattle
If You're All About Sustainability
You'll love hearing about the Climate Pledge, which inspired the name of the arena. The Climate Pledge was co-founded by Amazon and Global Optimism with the mission of getting to net zero carbon emissions ten years ahead of the Paris Accord. Sustainability efforts show out throughout the arena, whether that be through the water bottle filling stations throughout the arena, solar panels on the outside of the arena and off-site supplementary renewable energy, or portions of ticket proceeds that are used to purchase carbon offsets.
The arena even has a Rain to Rink system, leveraging Seattle's 150 rainy days by capturing rainwater and sending rainwater to a 15,000-gallon cistern, which becomes the ice played on by the Kraken. Plus, most of the arena's food and snacks are locally sourced within a 300-mile radius of the arena, and the arena is committed to being zero-carbon and single-use plastic free by 2024.
If You're a History Buff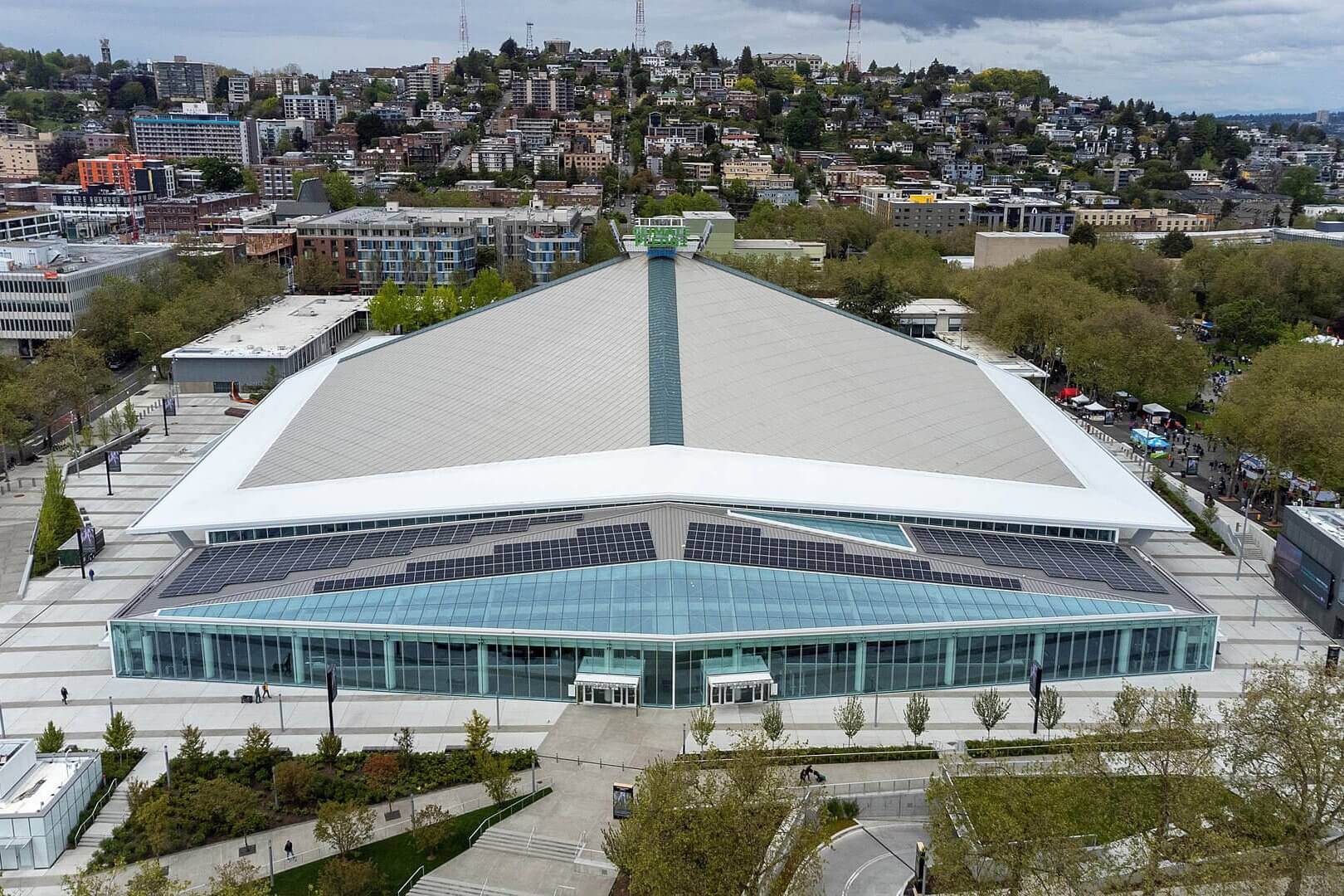 During this tour, you'll learn what parts of the original arena are intact, and how it fits into the cultural fabric of Seattle. For instance, the arena's roof is inspired by the shape of a traditional woven cedar hat, an homage to the Coast Salish people who have been stewards of the land where Seattle is today. This 44-million-pound roof was part of the original design created for the 1962 World's Fair, and it was hoisted overhead for a year during construction.
If You're a Sports Fan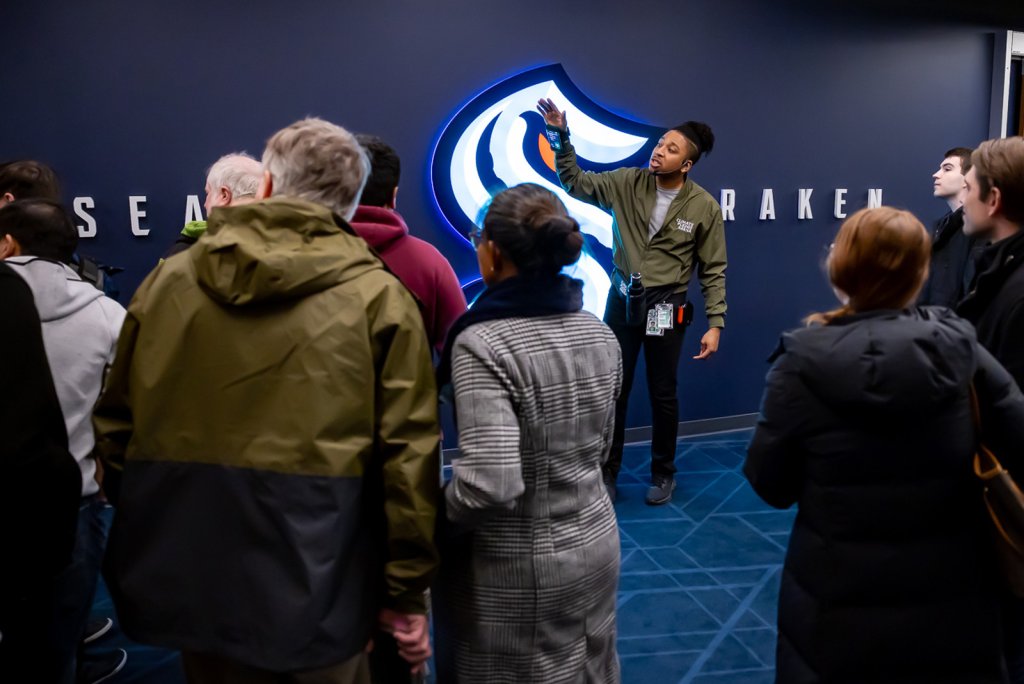 You're in for a treat. During this tour, you'll visit the locker room for the Seattle Storm, who've won four WNBA Championships. Check out their locker room and see if you can spot any familiar names overhead. Oh, and their hype video will make you wish you had one too. You'll also get to see the locker rooms used by the Kraken, and the hockey sticks that they choose from prior to getting on the ice.
If You're a Music Fan
Get ready to jam out. One of the most exclusive parts of the tour is the Amazon Artist Music Lounge, which artists can use to record exclusive song takes on Amazon Music. You'll see mementos and posters from performances that have been at Climate Pledge Arena starting with Foo Fighters and Death Cab for Cutie, who headlined a sold-out benefit concert to celebrate the arena's re-opening in October 2021. You'll even head down the same hallway used by your favorite artists right before they take the stage to a roaring audience of up to 17,000 cheering fans.
The Climate Pledge Arena is a must-visit for anyone who wants to see Seattle in a new way. Your backstage passes await.
Book your Climate Pledge Arena tour today.
Know Before You Go
The tour itself takes approximately 75 minutes.
Tours are only available in English and are ADA accessible. If you need accommodations, send an email at least 72 hours in advance to tours@climatepledgearena.com.
Purses, small bags, and backpacks are allowed on the tour.
There is street parking as well as garage parking at the 1st Ave N. Garage. You can also take public transit from the Seattle Center Monorail or use local buses.